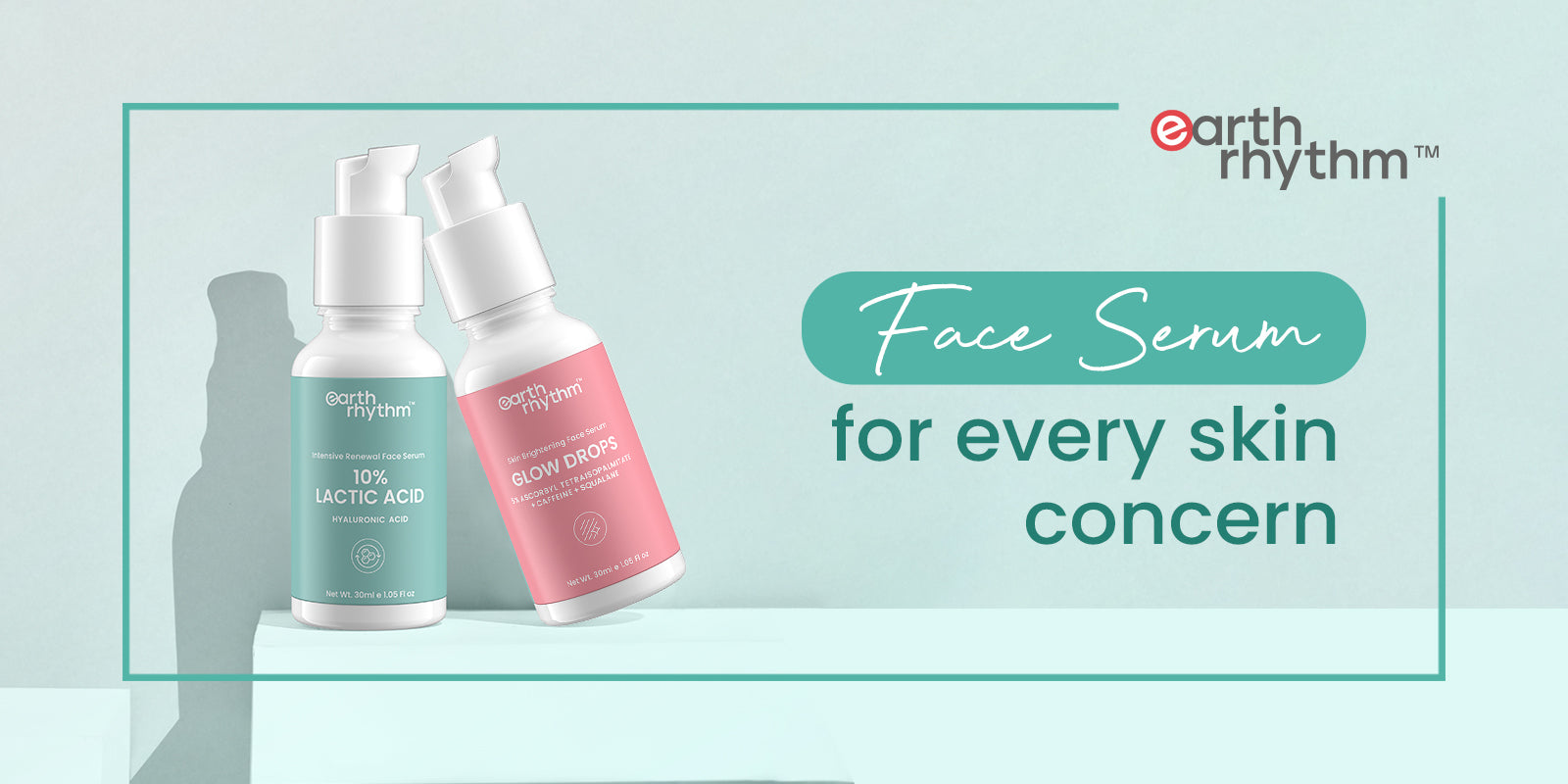 A Guide To Choose The Right Face Serum For Your Skin Concerns
Vitamin C or Niacinamide? Hyaluronic acid or Salicylic acid? Which ingredient is your go-to pick? Well, there's no denying that our skincare routine is ruled by serum, and we do love that, don't you? These miracles in a bottle deliver active ingredients— potent repair boosters and free-radical fighting antioxidants that go deeper in your skin. It's a fact that it feels like some sort of magic oil that transforms skin overnight. Well, clearly our beauty industry is obsessed with serums lately and doesn't show any signs of reverting to a NO serum skincare world. Earth Rhythm have channeled our face serum obsession to bring you the right formula you need to tackle your skin concerns like pigmentation, acne, wrinkles, fine lines, and dryness.
But, First Know About Face Serum? 
For all the skincare newbies, a face serum works like a magic potion that helps in eliminating any of the skin concerns that leave you with a healthy and gorgeous glow. High concentration of active ingredients like Glycolic acid, Hyaluronic acid, Vitamin C, and Retinol, effectively treat skin issues like fine lines, dull skin, wrinkles, dark spots, hyperpigmentation, and much more. Also, serums are lightweight and come in various formulas to suit different skin types.
Select Best Face Serum For Hydrating Skin
If there's anything that your dry skin needs—hydration. Time to make friends with Hyaluronic Acid as it holds 1000 times its weight in water, which makes it a perfect moisturizing ingredient.
Multi Molecular Hyaluronic Acid Serum:
Enriched with powerful ingredients, this serum helps to take care of extreme dryness as well as maintains minimal maintenance of your skin. Multi Molecular Hyaluronic Acid Serum helps to restore and retain hydration in your skin that makes it look healthy and plump. The combination of five essential ceramide complexes helps to keep your skin hydrated. 
100% Sugar Squalane Serum: 
Unique, 100% plant-derived, this Sugar Squalane Serum derived from sugarcane is an exceptional hydrator that prevents ongoing loss of hydration that impairs dermal suppleness. Suitable for all skin types, this serum hydrates, illuminates, and cleans skin, thanks to the special blend of ingredients. Hey, wait! You can even apply Sugar Squalane Serum to your hair as it increases heat protection, adds shine, and reduces breakage potential.
100% Squalane Plant Based Serum:
Natural & plant-based, Squalane derived from olive oil helps your skin to prevent moisture loss and contributes to a stronger barrier. It is considered to be a good option for dry and irritated skin that needs a soothing and moisturizing ingredient. 100% Squalane Serum feels surprisingly lightweight and non-greasy while allowing your skin to get all the benefits.
Select Best Serum For Skin Brightening:

 
From exfoliating Lactic Acid to nature brighteners Licorice and Vitamin C, there's something for every skin type. Well, good news, there's no dearth of skin brightening products! 
Glow Drops Skin Brightening Serum: 
Infused with Vitamin C, it helps in maintaining skin radiance and boosts collagen production. Glow Drops revitalize your tired skin and restore radiance. The serum comes infused with Caffeine that helps in tightening, brightening, reducing wrinkles and dark circles. While Ascorbyl Tetraisopalmitate works as a powerful antioxidant and brightening agent for your skin. Result: Radiant, soft & plump skin.
Clear Skin Vitamin-C Serum:
Give your skin a boost with a daily dose of Vitamin C that helps to neutralize free radicals and boosts collagen synthesis. Comprising antioxidant properties, it helps to aid your skin's natural regeneration process that helps your body to repair damaged skin cells. Clear Skin Vitamin-C Serum by Earth Rhythm increases and improves hydration and protection.
Select Best Serum For Skin Texture Correcting
Even toned skin texture is something we'll dream of but ahh, it's the hardest thing to achieve if you aren't using the right products. If you're suffering from patchy skin or dark spots or uneven skin tone, exfoliating agents like Alpha Hydroxy Acids (AHAs) and Beta Hydroxy Acids (BHAs) are your saviors!
2% Alpha Arbutin & Hyaluronic Acid Serum: 
Fast-acting, our serum evens out skin tone as it has Alpha Arbutin that helps in improving uneven skin complexion. And Hyaluronic Acid helps to reduce the visibility of fine lines and retains the moisture. Well, welcome your smoother & plumper skin cells with 2% Alpha Arbutin & Hyaluronic Acid Serum! 
10% Niacinamide Serum:
Infused with Niacinamide, Ceramide Complex, and Hyaluronic Acid, Earth rhythm 10% Niacinamide lightweight serum strengthens the barrier function, reducing the visibility of fine lines while creating a plumping effect. Let your skin soak the goodness of nourishing ingredients overnight and wake up to radiant skin. 
Upgrade your skincare regime with a face serum that suits your skin type and concerns. Trust us, your skin will thank you! Now that you're well informed about ingredients in a serum that match your skin, dive deep into the serum skincare regime.
Related Articles:
Popular Searches: