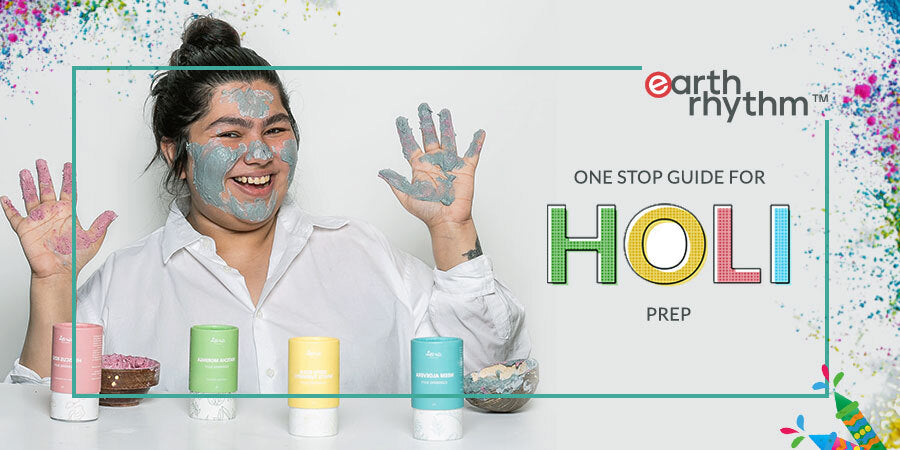 Hassle-Free Holi Skincare Routine For Pre & Post Holi
With Holi in just a few more days, we know you must be gearing up for those carefree days. That time of the year is back yet again when you can get yourself drenched in colors and celebrate the vibrant festival. Holi is all about celebrating with dry colors (aka gulal) and buckets of water, but unfortunately today the colors come with synthetic pigments that are harmful to the skin. Why compromise on the fun when you can prep your skin in advance? 
If you're planning to play Holi this year, you got to do some skin prep. The impurities and tanning along with the colors may damage skin, but there's a routine you can follow to ensure skin stays hydrated all through the festival (of course, after that too). Earth Rhythm brings you a routine you can follow pre and post-Holi with our super nourishing products.
Pre-Holi Skin Care 
Prevention is better than cure and this Holi, we're going to take the step to follow a pre-Holi skincare regime. The vibrant colors can have harsh chemicals that can lead to allergic reactions, inflammations, and rashes. Just follow pre-Holi skin care tips to keep your skin safe amidst all the fiesta. 
Lather Yourself With Facial Oil 
Before you step out to be in action, slather on a generous amount of cold-pressed facial oil. The Holi colors are heavily pigmented and come packed with harmful chemicals and our facial oils prevent them from penetrating into the skin. Facial oils act as a barrier on the outer layer of your skin and don't make skin look greasy or oily. 
Recommendation: Tamanu Facial Oil helps to nourish, condition, and replenish your skin. It creates a protective layer for your delicate skin and neutralizes the damage caused by UV rays. Henceforth, it breathes new life into sun-baked and dehydrated skin!  
Sunscreen Is A Must
One of the essential pre-Holi skin care tips is to wear your sunscreen at all times. It's not just that the colors can affect your skin, but also the harmful UV rays that peep in. Invest in a lightweight sunscreen with SPF 50 that will shield your skin from sun damage and minimize photo-aging as well. 
Recommendation: Slather Ultra Defence Hybrid Sun Fluid-SPF 50, all over your face and areas can be exposed to the sun. The harmful UVA rays along with the exposure to colors and water tend to take away the moisture from the skin causing tanning. It's a fast-absorbing and non-greasy SPF that provides a moisturizing sensation while protecting your skin. Also, don't miss out on applying SPF on your neck and back of your ears. 
Protect Your Lips
We often forget to protect our lips and it is one of the most sensitive parts of the skin. We all think rubbing water off from your colored lips can save them, but let's not forget that the residues stay back in form of dead skin. It can ruin the health of our lips! 
Recommendation: Don't step out without slathering lip balm on your lips. Earth Rhythm's Lip Butter provides 24 hours of moisturization to lips. Apply a good amount of it on your lips before playing Holi as it will not only guard them against any kind of damage but will also nourish them. 
Post-Holi Skincare 
After playing Holi, you might have got exhausted and want to get rid of all the harmful colors. You must be conscious and gentle towards your skin as excessive running can irritate skin and can cause fine particles of colors to seep deep into your skin. Follow these post-Holi care skin care tips to achieve that healthy skin. 
Double Cleanse Always
Dust of the color from your face using a cleansing balm as it works to get rid of the grime that gets trapped in your pores. It's gentle for the skin and is an excellent product for removing nasty colors. Follow it up with a mild and non-irritating cream cleanser to remove all the impurities completely and leave your skin feeling nourished. 
Recommendations: Get your hands on Gel To Cleanse–Pumpkin Enzymes, it will help you to get rid of colors from the face and provide nourishment. Massage it in a circular motion and wash it off with lukewarm water. Use a gentle cleanser to remove all the color, chemicals, and impurities from your face. Next, use a mild foaming cleanser – Restore Hydrating Cream Cleanser to remove the remnants of the hue. This cleanser keeps your moisture barrier healthy and doesn't strip off the natural moisture. 
Moisturize Your Skin 
The harsh colors and UV rays strip the skin of its moisture and oils. After cleansing, moisturize your skin as it will further prevent your skin from feeling dry. Save your skin from harmful chemicals by slathering your skin with a nourishing gel. Our Face Gel are lightweight and get easily absorbed into our skin and calming down your inflamed skin and rashes.
Recommendation: Earth Rhythm's Aloe Vera Gel as it has cooling properties that soothe the skin and help with hydration. This gel works for all skin types and promises to be long-lasting. And Aloe Vera is a soothing plant that eases down your irritated skin! Also, don't forget to apply the gel all over your hands, and stomach too.
Some Skincare Tips & Tricks For Holi You Can Follow
Following a skincare routine is essential, but there are a few things that you should be careful about before you step out to play Holi. 
Keep Yourself Hydrated
Do you also feel dehydrated while playing Holi? One of the major keys is to be hydrated all-the-time y drinking plenty of water. Taking frequent sips during the day keeps you energized, hydrated and prevents your skin from getting dehydrated and drying. 
Ice Treatment To Calm Skin 
Does your skin feel itchy and burning after playing with colors? The best remedy to cure your skin post-Holi is by rubbing ice cubes over your neck and face. It helps in shrinking the pores and making your skin smoother. And with the constant exposure to UV rays and color, skin starts feeling irritated, so it's better to take a natural route! 
Note: Post Holi, stay away from facials, waxing, bleaching. Let your skin heal and repair first and it is advisable to avoid fragrance too. 
That's a wrap-up for the tips to protect your skin this Holi. Make the most of the colorful festival & stuff yourself and your loved ones with desserts (gujia). We hope you and your family have a safe and Happy Holi!
Related Articles:

Popular Searches: