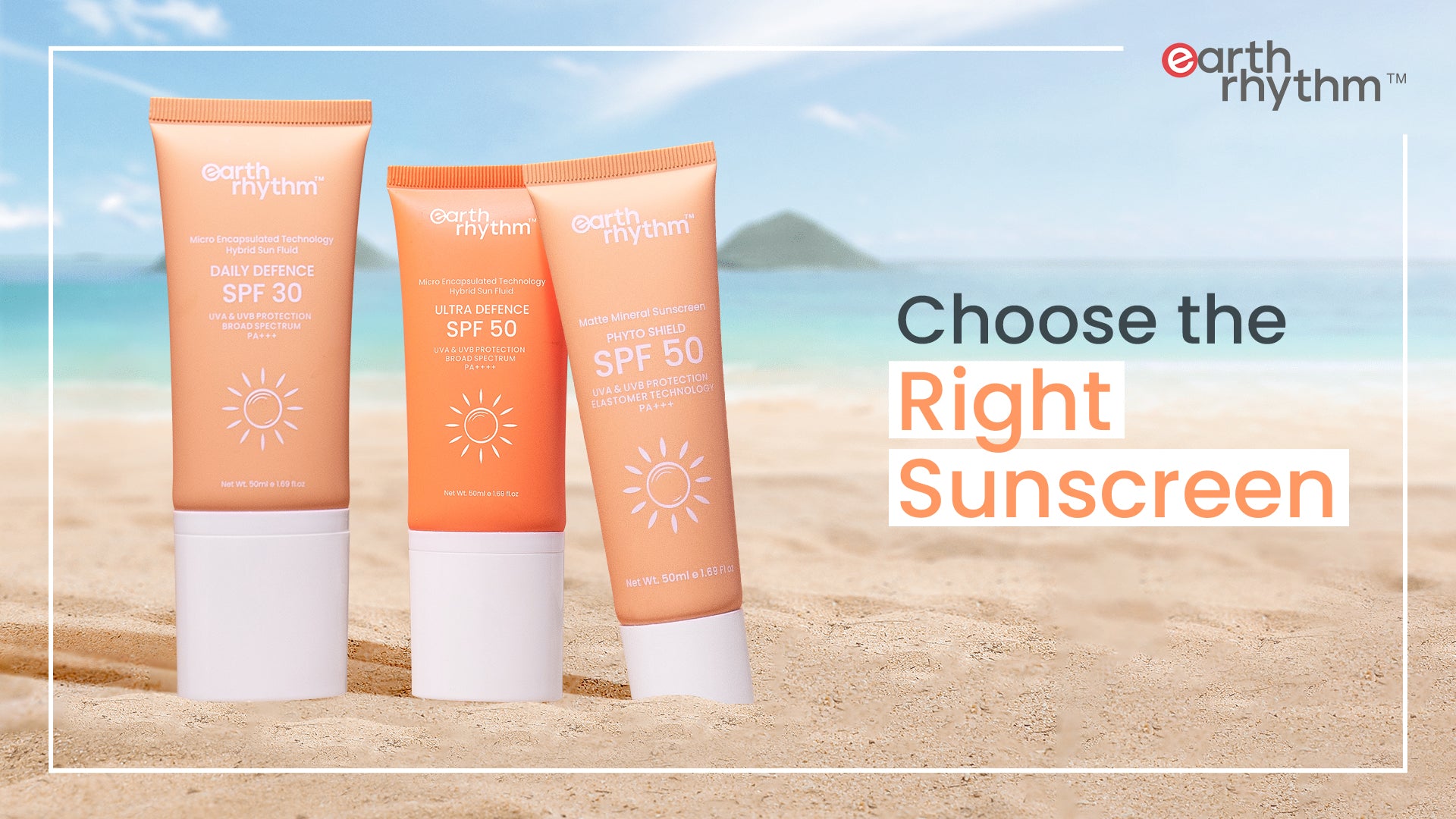 How to Choose the Right Sunscreen for Your Skin?
With the onset of summer, pigmentation caused by harsh rays of the sun is particularly bothersome. The skin concern that is commonly bothersome is pigmentation caused by the harsh rays of the sun. Even on cloudy days, our skin is susceptible to sun damage. This is why wearing sunscreen is a must! Continuous exposure to the sun can lead to sunburn and a host of skin issues. This can lead to signs of premature ageing commonly known as photoaging. Exposure to UV rays can also cause skin inflammation that is particularly cumbersome for people with psoriasis or rosacea.
Mineral, Hybrid and Chemical Sunscreens, What is the Difference?
With a plethora of sunscreens available the first step to knowing your sunscreen is to distinguish between a chemical and a physical sunscreen.
A physical or a mineral sunscreen creates a barrier that shields it from the sun's rays. Reflecting off the sun's rays, it reduces damage by the sun, mainly dark spots and hyperpigmentation. Suitable for skin sensitivities, a mineral sunscreen provides maximum broad-spectrum protection against both UVA and UVB rays of the sun.
A chemical sunscreen, on the other hand, does not sit on your skin and gets easily absorbed. It inactivates the effect of the UV rays of the sun through a chemical reaction. Since its effect requires the product to be absorbed, you need to apply it at least 20 mins before sun exposure.
Combining the compounds of both a mineral and a chemical sunscreen, a hybrid sunscreen gives you the ease of application as well as a broad-spectrum coverage.
Choosing The Right Sunscreen Based on Your Skin Type
Dry Skin
Just like your moisturiser, your sunscreen needs to be hydrating if you have dry skin. Ensure that it is free from artificial fragrances as it can irritate your skin.  A hybrid or a chemical sunscreen is ideal as it absorbs into your skin to nourish it from within. Ultra Defence Hybrid Sunscreen SPF 50 is ideal for dry skin and has a soft water-resistant finish. It is a lightweight gel-based fluid that gives long lasting protection against UVA & UVB rays.     
Oily Skin
It's a common myth that using sunscreen can aggravate acne. On the contrary, Not applying sunscreen can lead to a host of skin issues like sunburn , hyperpigmentation as well as  dry and  itchy skin . A mineral sunscreen is the best bet when it comes to choosing a sunscreen for oily and sensitive skin as minerals such as zinc oxide protect the skin from the harmful effects of the sun. It is also light and non-greasy, so it doesn't clog pores and gives a matte look to your skin. The Earth Rhythm's range of mineral sunscreens are just right for oily and sensitive skin. With 9% Zinc Oxide, the Phyto Shield Matte Mineral Sunscreen is an ideal choice for oily skin. Having SPF 50 this fluid sunscreen gives a matte finish, is non greasy and leaves no white cast. With a lightweight texture, the Mineral Sunserum has ingredients like Zinc Oxide, Vitamin E and Sunflower Oil that heals, protects against the harmful rays of the sun, and maintains oil balance. Effectively preventing Sun Damage, the Mineral Sunstick has the benefits of a sunscreen in a stick. Made for effortless application, it glides smoothly on your skin to provide effective coverage and protection.
Normal Skin
People with normal skin are blessed when it comes to selecting a sunscreen as they can use both mineral as well as chemical sunscreens. Be it cream, roll on or stick, it is suitable for normal skin. The Invisible Sunstick is a fuss free sunscreen on the go that is ideal for normal skin. Weightless and with a light silky finish, the Invisible Sunserum has nourishing ingredients like Almond Oil, Jojoba Oil and Vitamin E, it is perfect for everyday wear.  
Combination Skin
A combination skin has both oily and dry areas thus hybrid and mineral sunscreens are an excellent choice. They are hydrating yet not greasy. Gel based Sunscreens are ideal as they are nourishing yet non greasy. They not only shield your skin from the sun but also moisturise and nourish it. They also form an excellent base under your makeup.
Conclusion:
Cream or gel, mineral or chemical, whichever sunscreen you choose, just like your other skincare products, it is important for your sunscreen to be suited to your skin type too. While mineral sunscreens are good for people with oily and sensitive skin, a hybrid or chemical variety is suited for dry skin. Combination skin needs the care of a gel based sunscreen and a normal skin is blessed so as to be comfortable with all kinds of sunscreen. A must especially for summers, do make it a point to incorporate it in your skincare routine and your skin will surely thank you.
Related Articles:
LIP & CHEEK TINT
Moisturizes Lips + 100% Natural Ingredients + Give Natural Flush Look
Sale price

M.R.P.

₹349.00
M.R.P.
Regular price

₹499.00
MURUMURU BUTTER SHAMPOO BAR
Softens Hair + Tames Frizz + Deep Conditions Hair + Detangles Hair
Sale price

M.R.P.

₹246.35
M.R.P.
Regular price

₹379.00
PHYTO CERAMIDE DEEP MOISTURIZER
Prevent Dryness+ Enhance Moisture Balance + Reduce Fine lines & Wrinkles
M.R.P.

Sale price

₹249.00
M.R.P.
Regular price

₹499.00