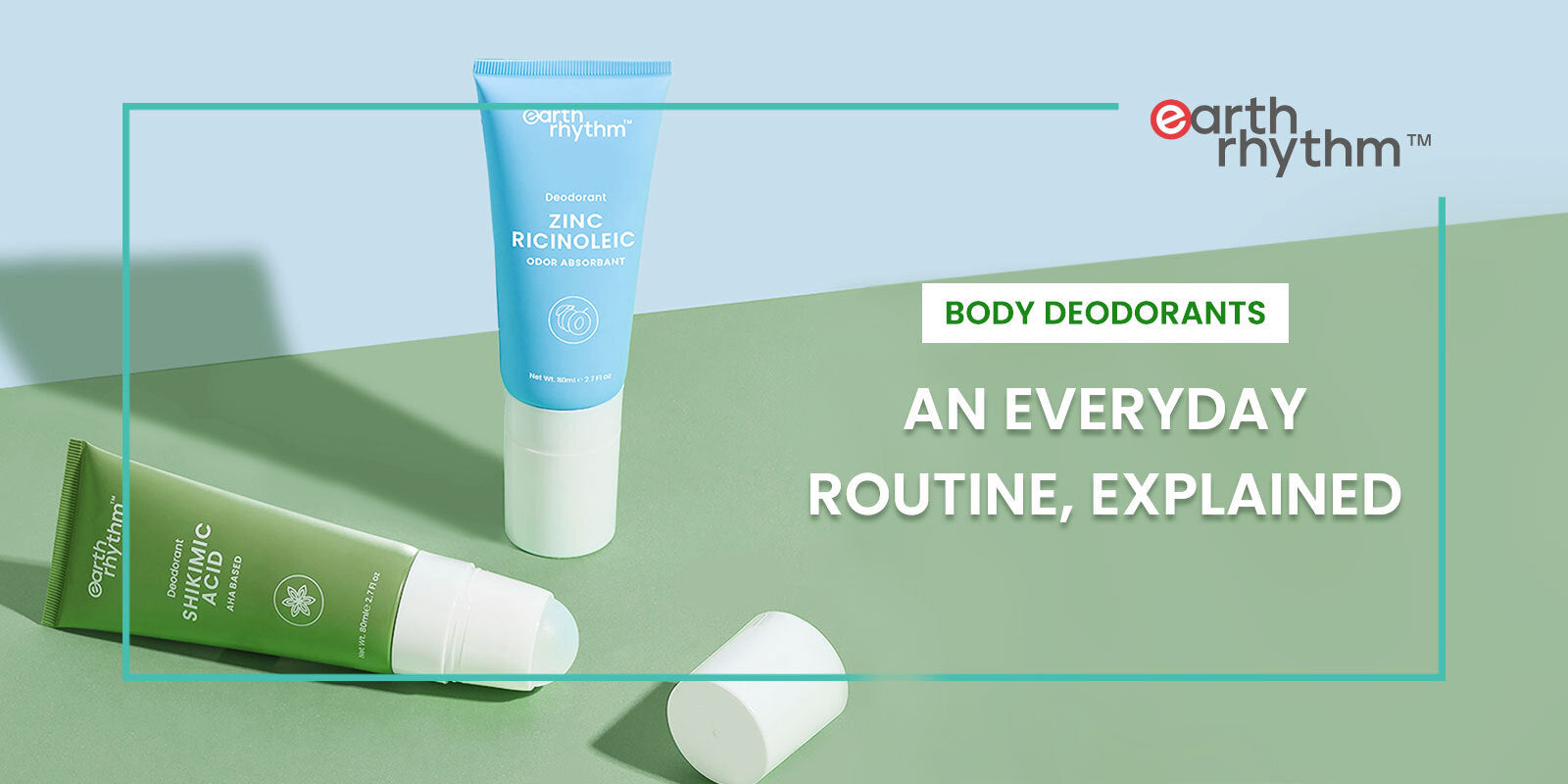 New Launch – Earth Rhythm Deodorants
It's Six O'Clock in the morning, and you've just come out of the shower after a rigorous workout session. Okay, that sounds improbable; we'll make it at 8 in the morning. So it's 8 O'Clock in the morning, and you've just come out of the shower after a rigorous workout. What we'll discuss today is an integral part of your post-shower routine. Deodorants. 
Let's be honest; we've all used deodorants. The market is full of deodorants for men & women and even unisex fragrances, but have we ever tried knowing what they are? Humans have masked their bodily stink for centuries with a covering fragrance, scents or perfumes. This was until about a century ago when antiperspirants were invented. Unlike deodorant perfumes, antiperspirants don't cover your body odor, and they stop its production.
What Causes Body Sweat?
Sweat and the odor are generated through the sweat glands in your body. These are of two kinds: 
Eccrine Glands

Apocrine Glands
The Eccrine glands are spread over most of your body parts and open directly to the surface of your skin. They are usually active when your body produces heat.
The Apocrine glands are found in areas where you have hair, like your armpits. These produce more sweat when you're under stress that is odorless unless it reacts with the bacteria on your skin.
Deodorants have antiseptic elements that kill or disable bacteria in your armpits that survive in the warm and moist conditions of your armpits that cater for a hospitable environment for corynebacteria and other sweat-eating microorganisms. 
Deodorants vs Antiperspirants: What should you use?
Among other things, the one major difference between deodorants and antiperspirants is that the former masks your body odor while the latter stops/controls your sweat. 
You can easily find niche products in the market for both categories, like a deodorant roll-on for women or an antiperspirant spray for men. The varieties are endless, and the deodorant industry is estimated at a whopping 18 billion dollars. So let us have a look at some more differences between the two:
Are considered cosmetics

Has antimicrobial properties

Masks odor
Antiperspirant:
It is considered a drug 

It is regulated by the FDA

Blocks sweat glands
1: Odor Absorbant Deodorant
Our Odor Absorbant Deodorant is gentle, calming, and perfect for all skin types. This natural deodorant--Odor Absorbant Deodorant is completely free from chemicals, and it helps to reduce underarm odor and pigmentation. It has ingredients like Zinc, Ricinoleic, Aloe Vera and Hyaluronic Acid helping the deodorant form a protective layer around sensitive underarms' skin to control odor and sweat. 
2: Exfoliating Deodorant
Earth Rhythm's Exfoliating Deodorant is a blend of nourishing, purifying ingredients that help neutralize body odor while improving the underarm texture and unclogging your sweat ducts. The effective formula with Shikimic Acid keeps you fresh all day long because long-lasting freshness makes a great impact. 
It is suitable for all skin types and is especially very well-suited for sensitive skin; Exfoliating Deodorant has a quick-absorbing formula that soothes, softens, and nourishes your underarms. With no chemicals and alcohol, it is safe on the skin and keeps your skin smelling clean and feeling confident all day long.
All this and much more available only at Earth Rhythm. Stop procrastinating and start acting on things that make a difference, things that are 100% natural and safe for you and also for the environment. Choose wisely, Choose EarthRhythm!