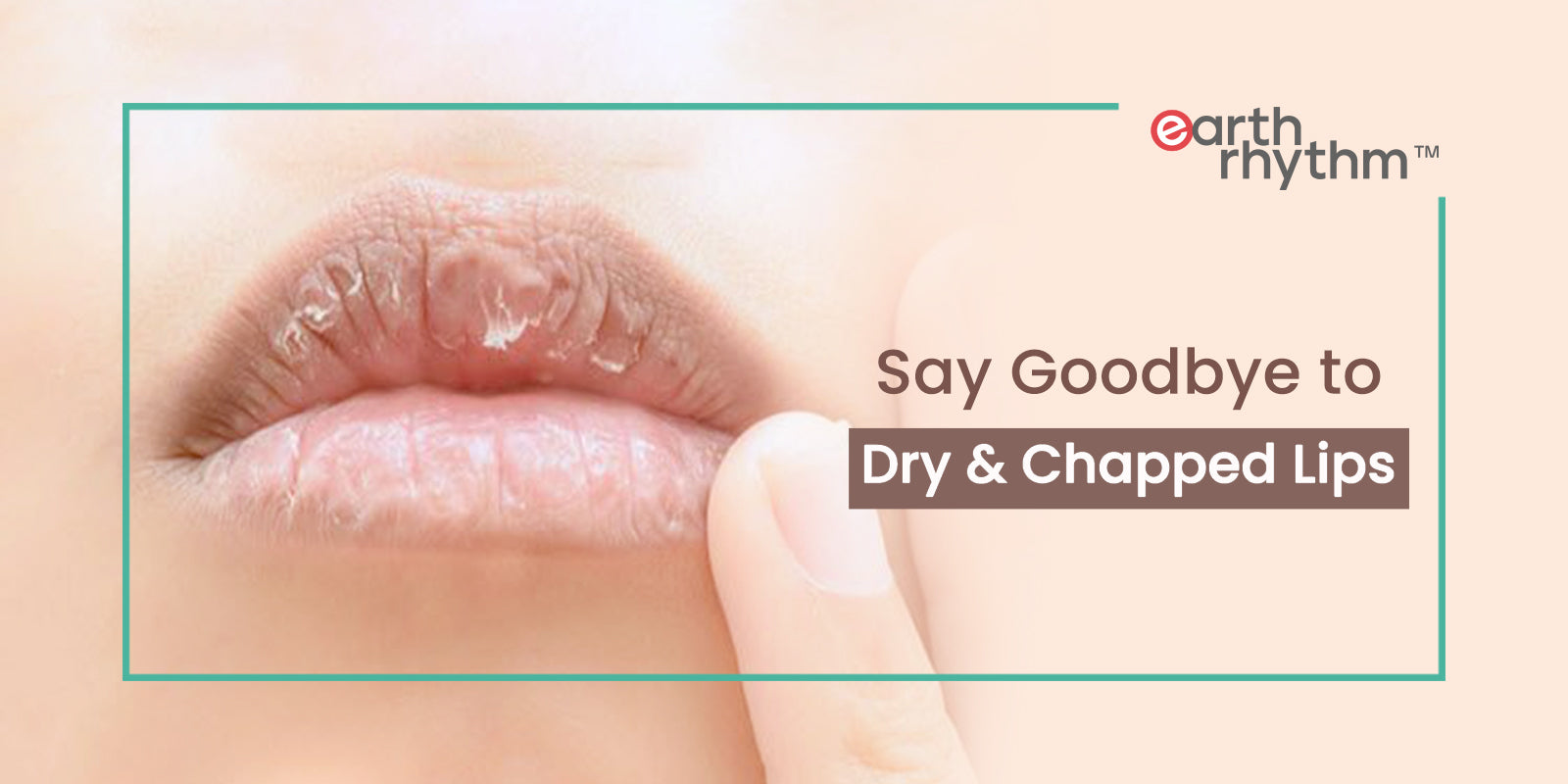 Your Lip Care Routine For Dry & Chapped Lips
I don't know if you need to hear this, but your lips deserve the same amount of attention & care as your skin. Unless it's the fall season, we forget to take care of our lips! But hey, the winter is already here, and a lip balm alone can't take care of chapped and dry lips. Similar to your skin and hair care routine, you need to include some simple steps in building up a natural lip care routine for chapped and dry lips. However, during the fall season, our lips tend to look arid land than quenched bliss. 
For a softer and smoother pout, all you need to do is invest in a lip care routine immediately and team Earth Rhythm is here to help you to tweak and pamper your lips. It's time you invest in a little extra TLC for lips during the season of chill. So, shall we begin? 
Why Are My Lips So Dry? 
Before we deep dive into the lip care routine, one should know the root causes of why lips get chapped and dry especially during the winter months. During this season, our lips become flaky and dry which makes even our lipsticks look dull and dry. Get Natural Flush Makeup Look Use Earth Rhythm Lip & Cheek Tint.
Licking Your Lips: 
Did you just do that? Ahh, we all have the habit of licking our lips while reading or even thinking. But every time you lick your lips, you're introducing saliva to your skin as there's a chemical that helps to break down the food for digestion. And unfortunately, it tends to break the skin around our lips. Licking your lips not only dehydrates lips, but also worsens the chapping condition. Well, take a sip of water every time you feel the urge to lick your lips! 
Dehydration of Lips: 
Do you drink enough water so that your lips don't feel dehydrated? Chapped and dry lips are common signs of dehydration and to solve this problem, you need to drink more water, indulge in more fruits, and cut down on your caffeine intake. We're not putting you in a spot, but if you don't, it's a red flag! 
Dry Lips Due to Smoking:
Smoking is indeed as bad for your lips as it's for your health! Nicotine gets absorbed into the lips while inhaling the cigarette smoke that leads to pigmented lips. It's better to cut down on your smoke if you don't want your lips to get darkened.
Lip Care Routine For Dry & Chapped Lips:
Since the season of giving and gifting is on, we thought of providing you with the best and simple lip care routine for chapped and dry lips. And now that the winter season is here, one must follow a lip care routine to keep their lips nourished and moisturized. 
# Cleanse Your Lips
Clear away your lipstick, lip liner, or gloss as cleansing is essential before proceeding further. It helps in removing traces of lip makeup, pollution, or even tinted lip blam. Before hitting the bed, cleansing is essential for getting the most out of the lip care routine. 
Products Recommendation: Gel To Milk Cleanser - Pink Pomelo
# Exfoliate Your Lips
Out with the old and in with the new, well it applies to your dead skin too! A lip scrub delivers instant results as it helps to get rid of dead skin cells and flaky skin. Simply take powdered sugar and mix it with a spoonful of honey and two drops of peppermint oil (or your fav facial oil). Well, hello natural lip plumper! Try and exfoliate every alternate day during the winter season to get rid of the dead skin. So, set the morning reminder and scrub away!
# Protect Your Lips
Lipstick dryness? Are you thinking about how to reduce visible lip lines or how to protect your lips from sun damage? It's time to bring a lip serum home to wake up your lips enriched with Grapeseed Oil, Jojoba Oil, and Pomegranate Flower Extract. Protect your lips with a serum to lock in the moisture as the glossy texture will make them look juicy and plump.  
Product Recommendation: Tinted Lip Balm With SPF 30
# Mask Your Pout
There's nothing more indulgent and pampering than a boost of moisturization during the winter cold breeze. Before applying a lip balm, mask your lips to get plump and soft lips! Before hitting the bed, apply an adequate amount of Lip Mask as it helps in melting out stubborn dead skin cells while providing you abundant moisture. 
Product Recommendation: Peptide Lip Mask For Dry Chapped Lips
# Befriend Your Butter Balm
Your last and final step in lip care routine is to moisturize them and make them look soft and nourished. Lip balm is formulated to prevent drying of lips and to moisturize due to environmental factors. The moisturizing butter and oils help to penetrate deep into the skin while healing them. It not only makes your lips look divine but makes them look super hydrating! 
Product Recommendation: Hyaluronic Acid Lip Butter Balm For Dry Chapped Lips
What do you do to protect your lips from the harsh winter breeze? And if you still don't know how to get rid of flaky, dead, and chapped lips, drop us your queries and we'll help you with the best solution for your lips. 
Related Article: How to Lighten Dark Lips?
FAQs
How Do I Take Care of My Lip Routine?
For taking care of your lips, one needs to follow a proper lip care routine that includes cleansing, exfoliating, sealing with a serum, a lip mask, and finally, a lip balm to lock in the moisture. Through this, it will help you to protect your lips and seal proper nourishment. 
How to Get Rid of Chapped Lips? 
The key to getting rid of chapped lips is to exfoliate and then nourish them every alternate day. To exfoliate your lips you can mix powdered sugar with vaseline with two drops of peppermint oil or honey. Well, you'll get plumped lips the next day. Once the exfoliation is done, nourish them with lip balm.
What to do when you get a burning sensation on your lips? 
Toss some ice cubes in a plastic bag and then use the cold compress on your lips. One can even soak a soft towel in cold milk and dab on your lips to ease the swelling for instant relief. And if you're having any blisters around your lips, don't pop them instead use a soothing aloe vera gel or consult your dermatologist.