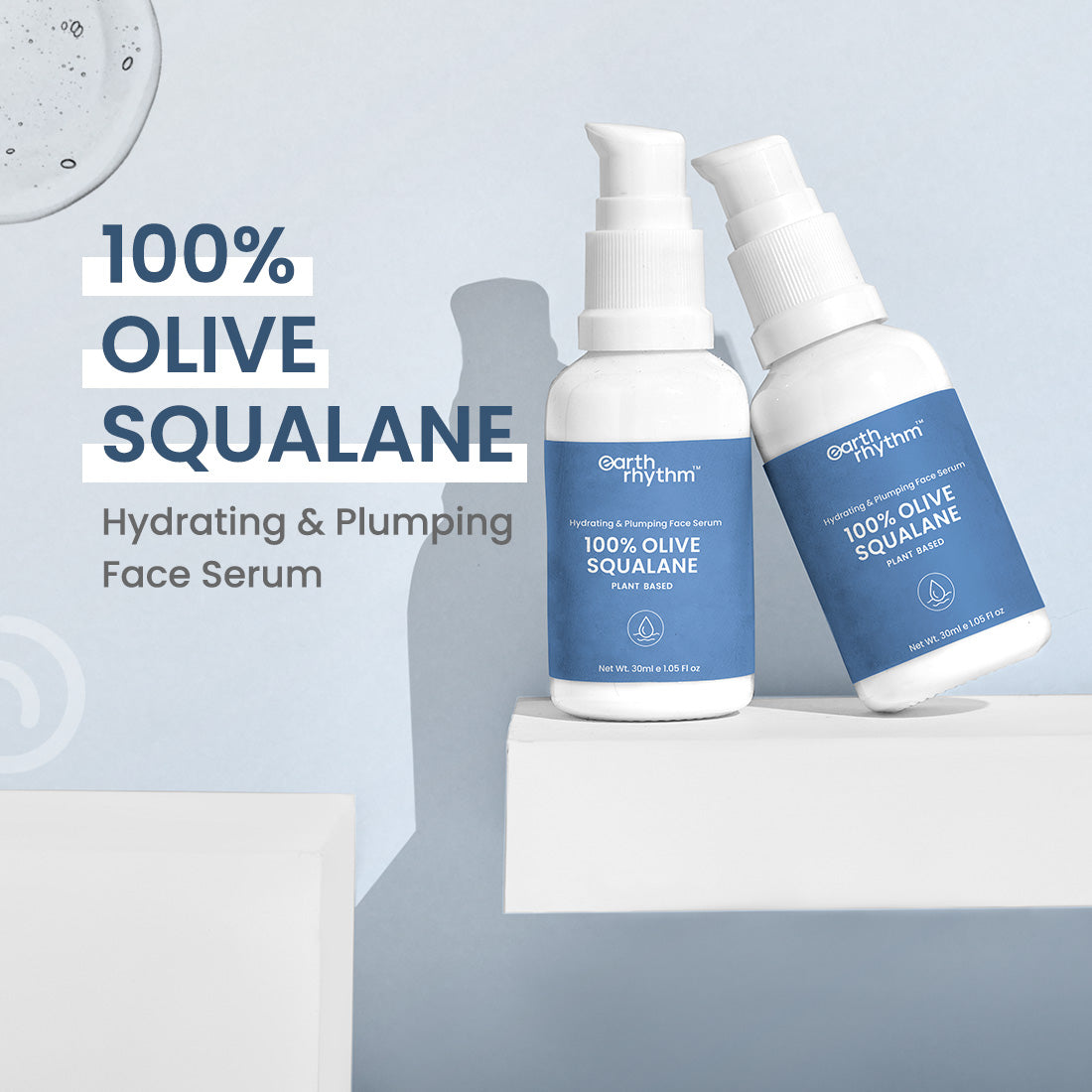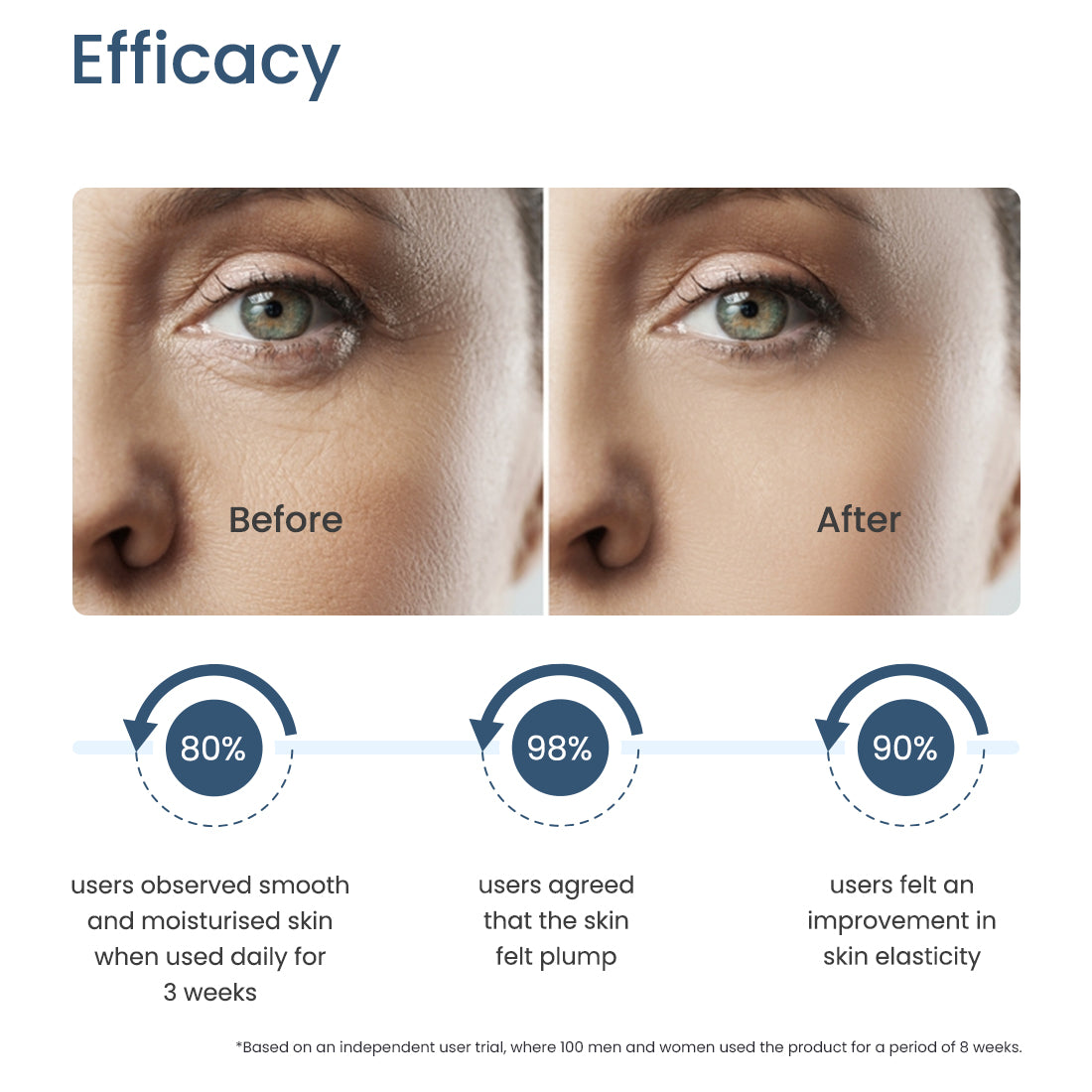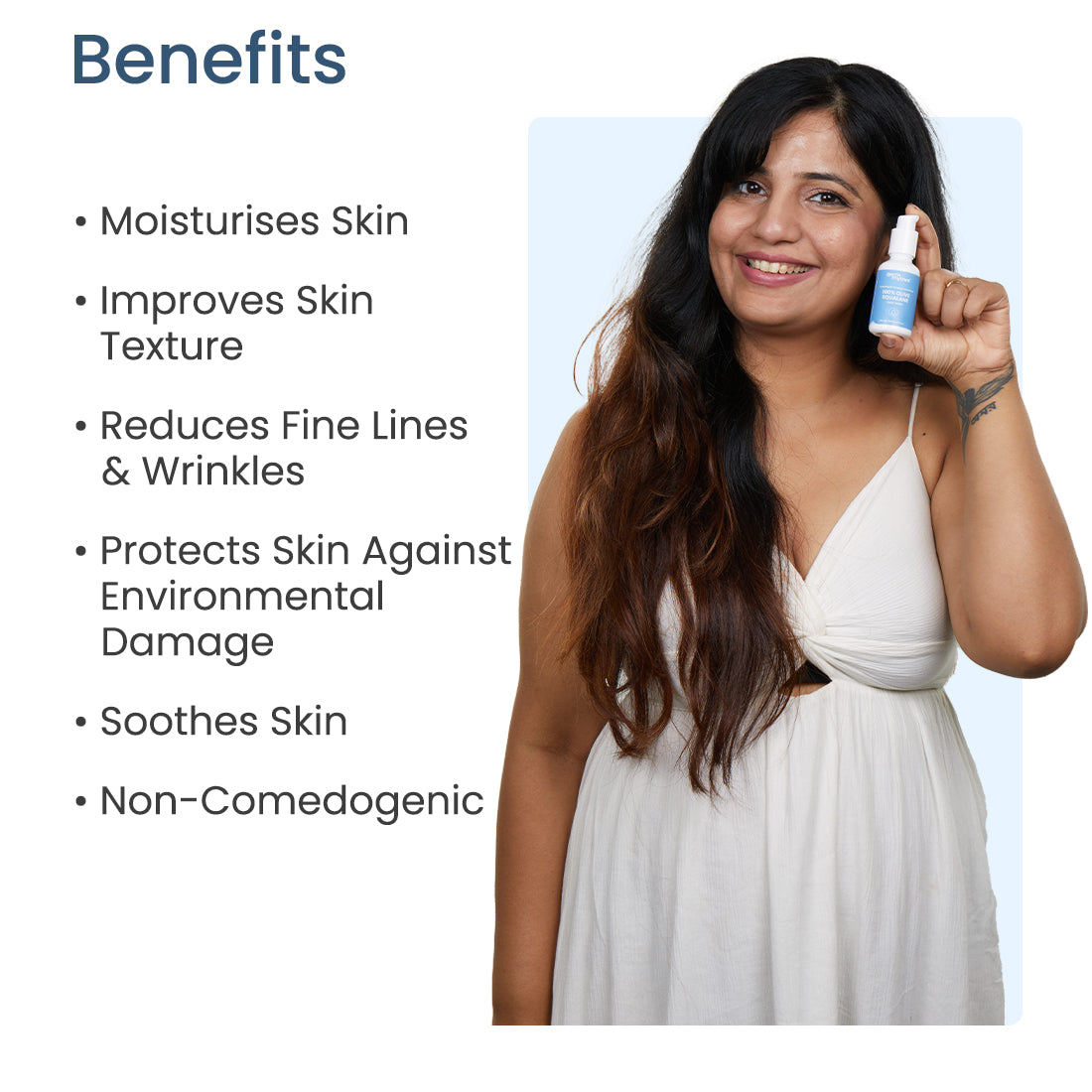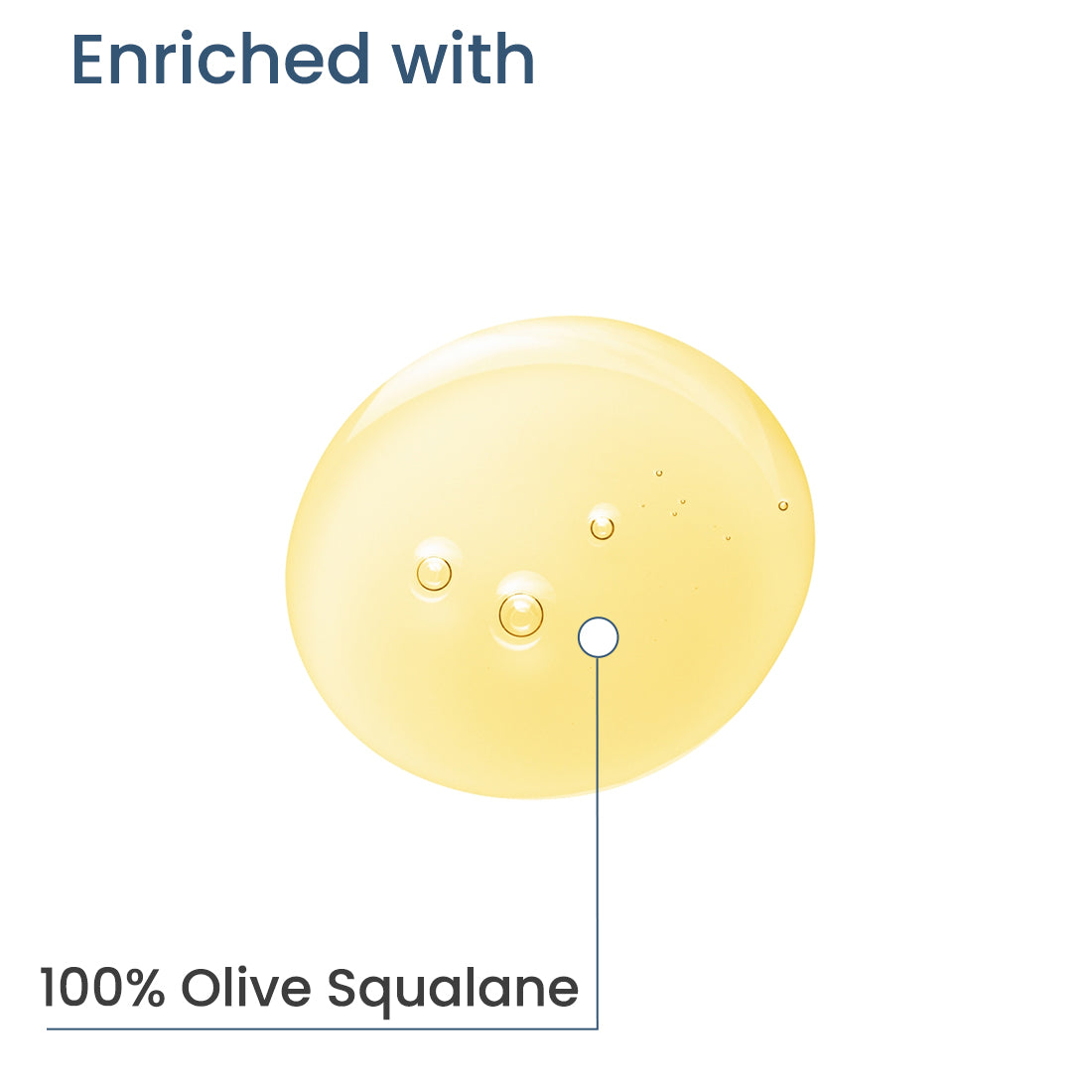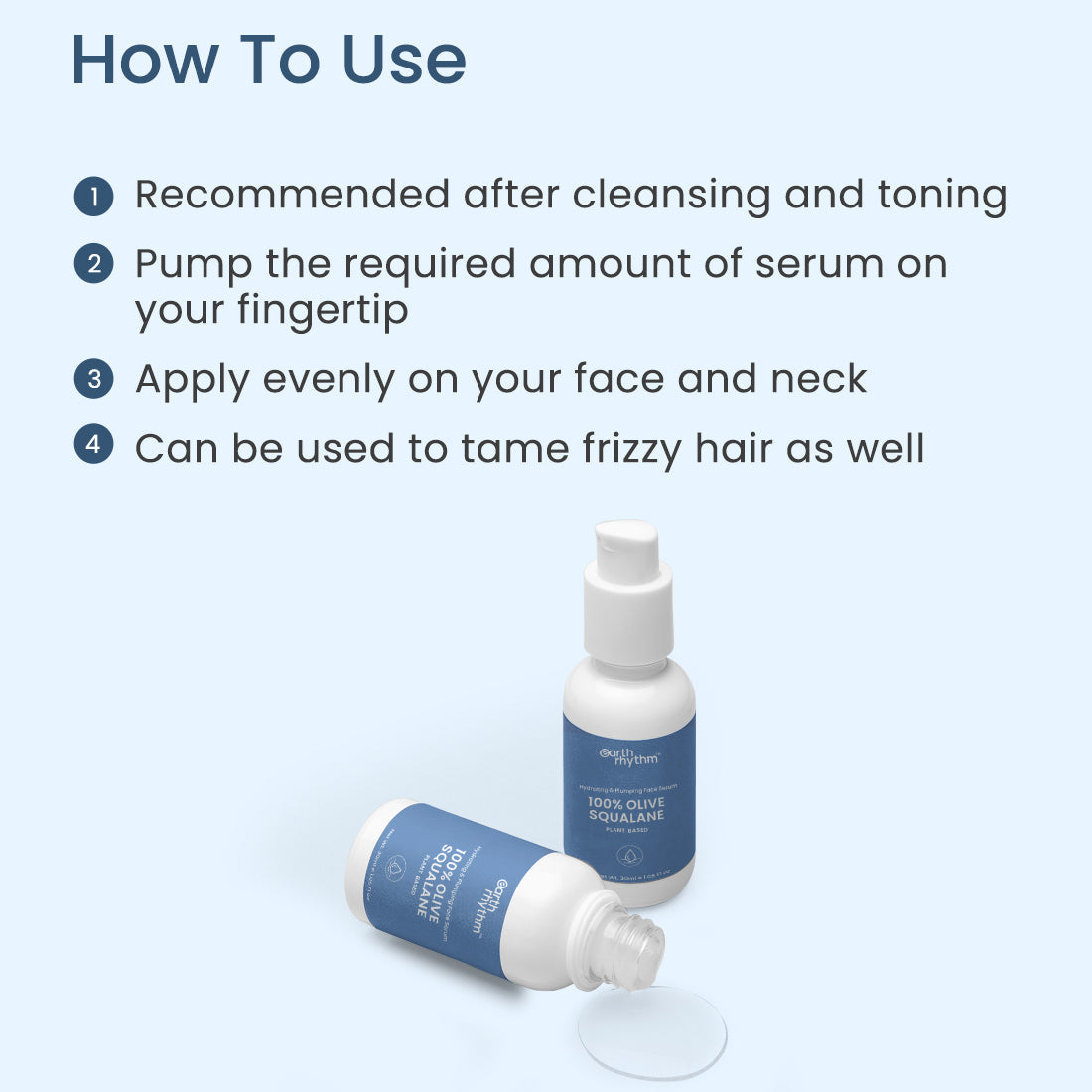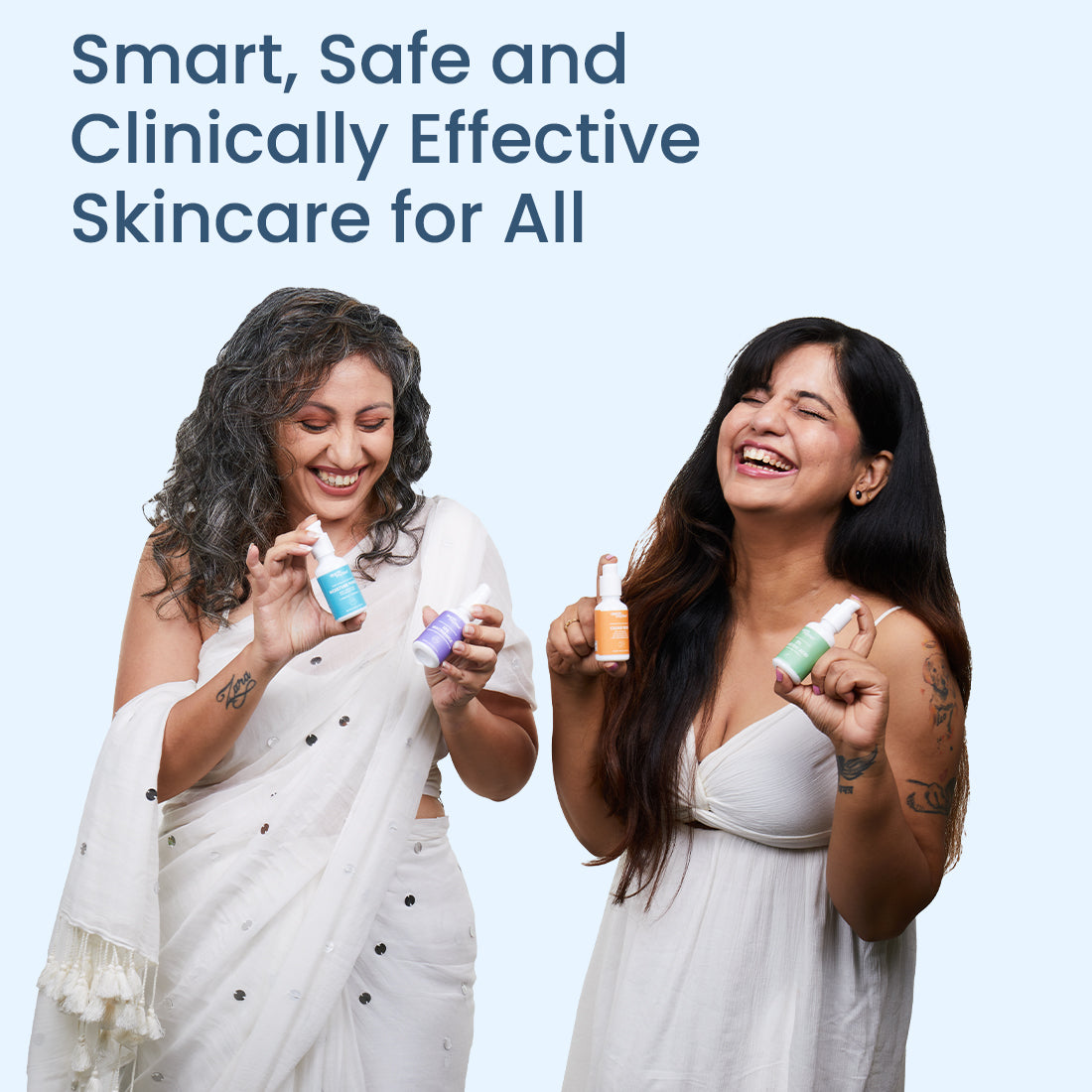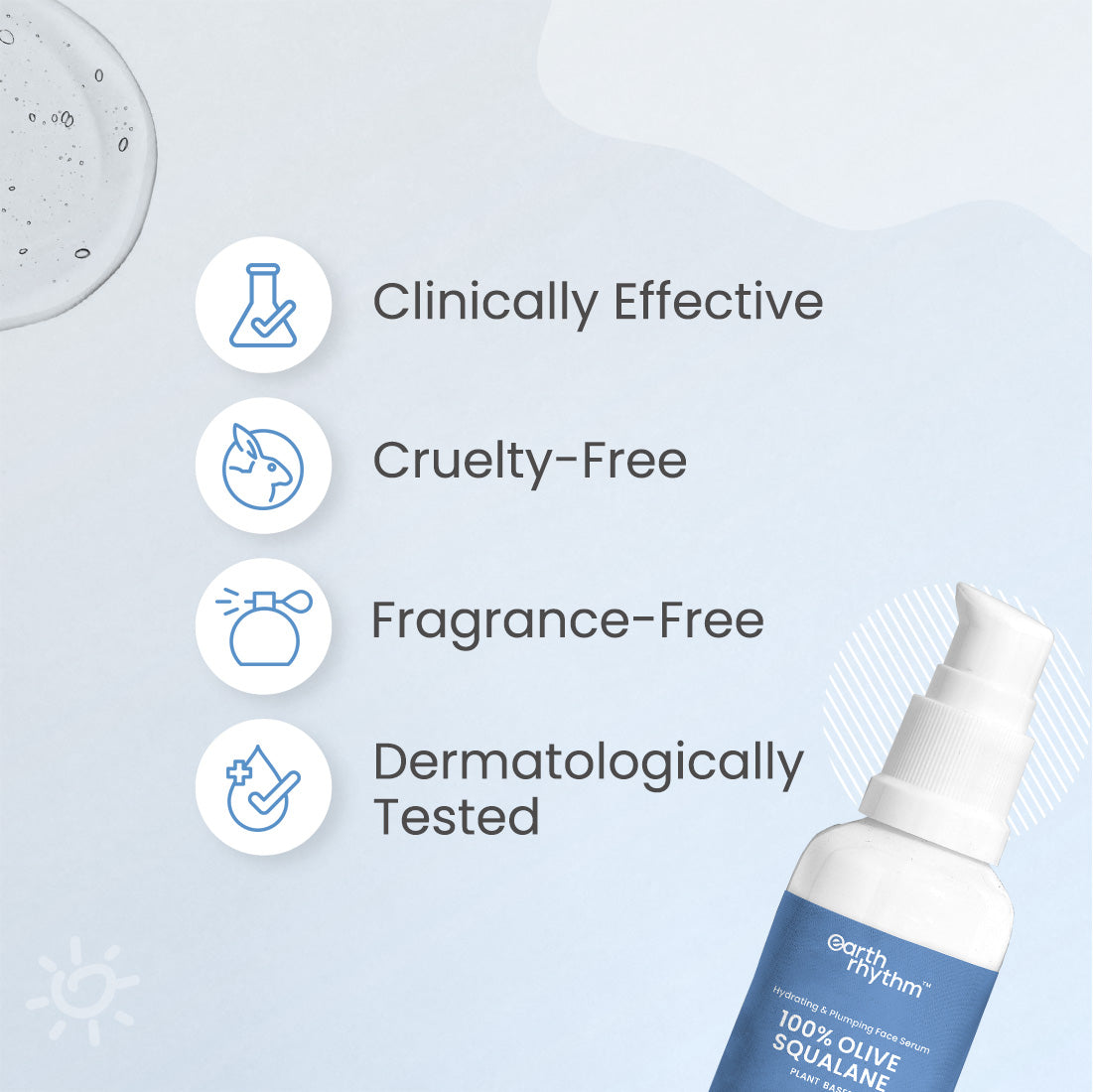 100% OLIVE SQUALANE SERUM PLANT BASED
40% OFF
M.R.P.

Sale price

₹449.40
M.R.P.
Regular price

₹749.00
(/)
Inclusive of all taxes. Shipping calculated at checkout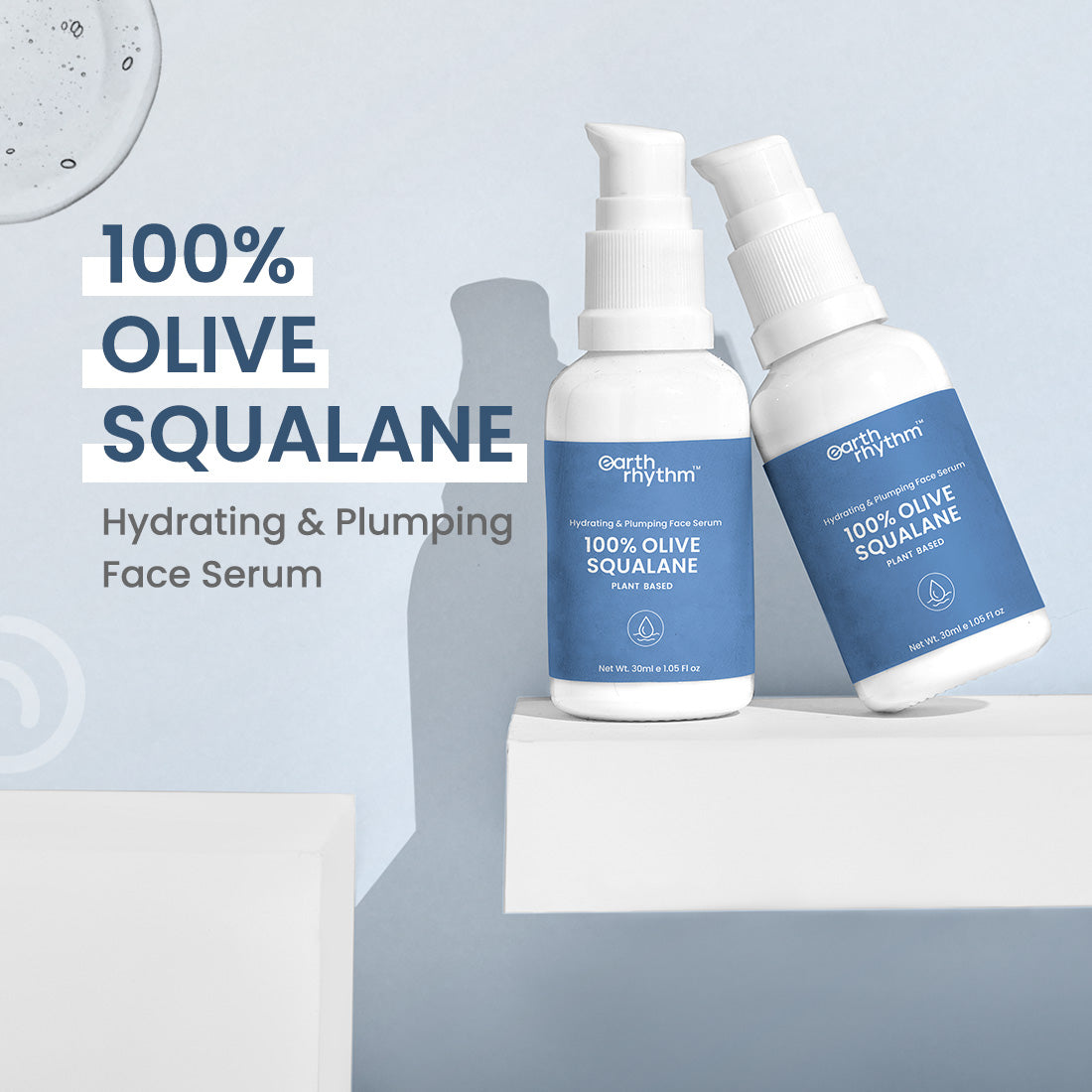 100% OLIVE SQUALANE SERUM PLANT BASED
M.R.P.

Sale price

₹449.40
M.R.P.
Regular price

₹749.00
Choose options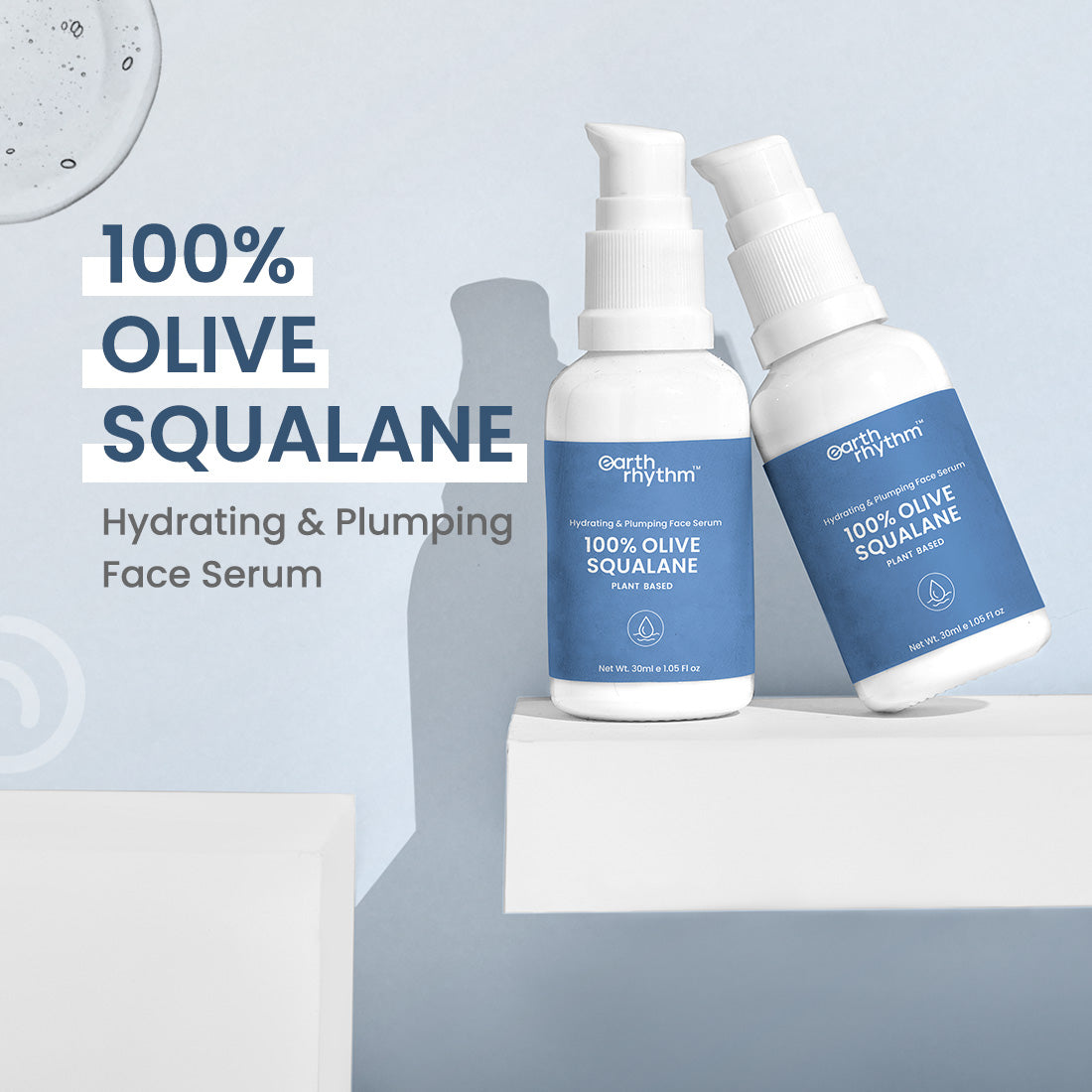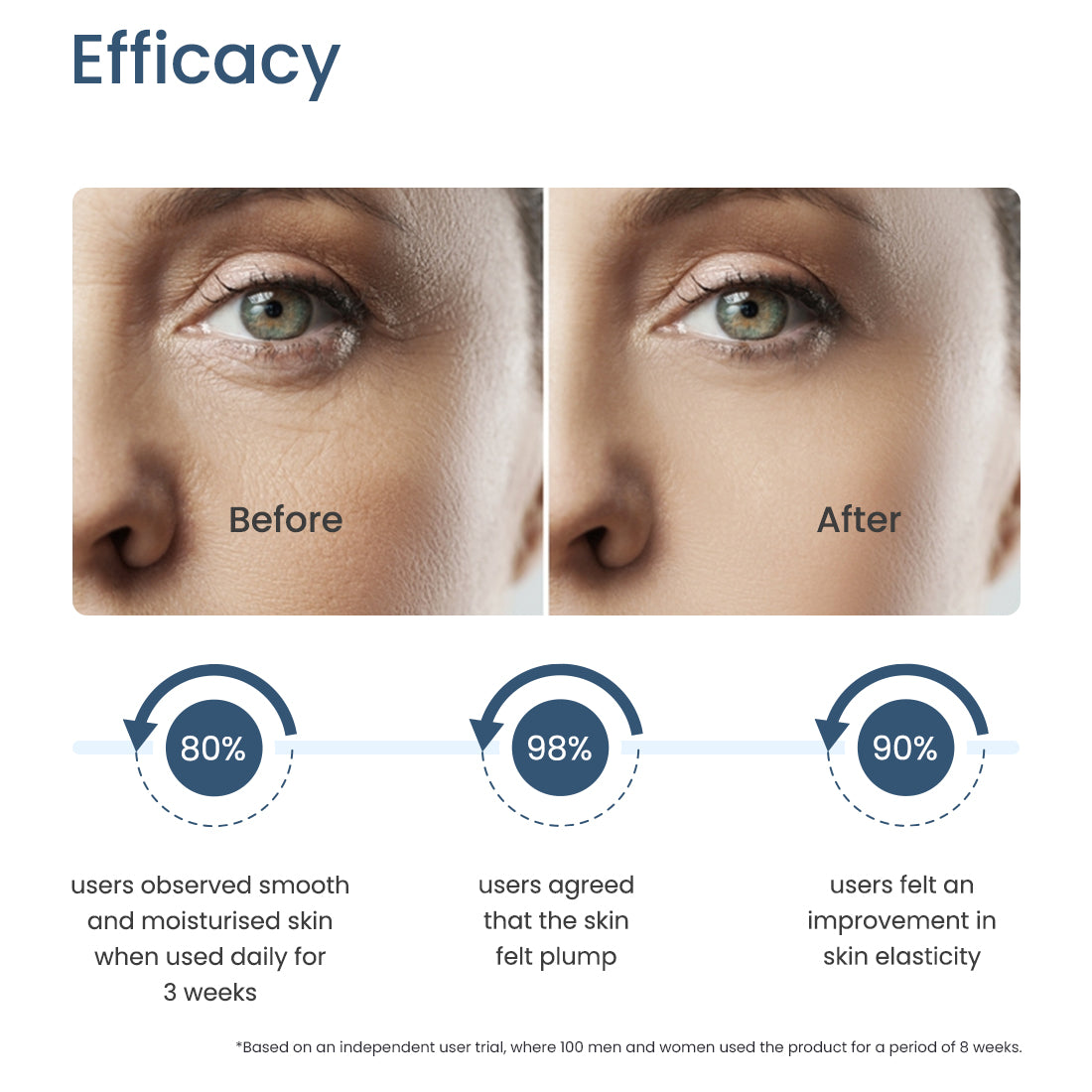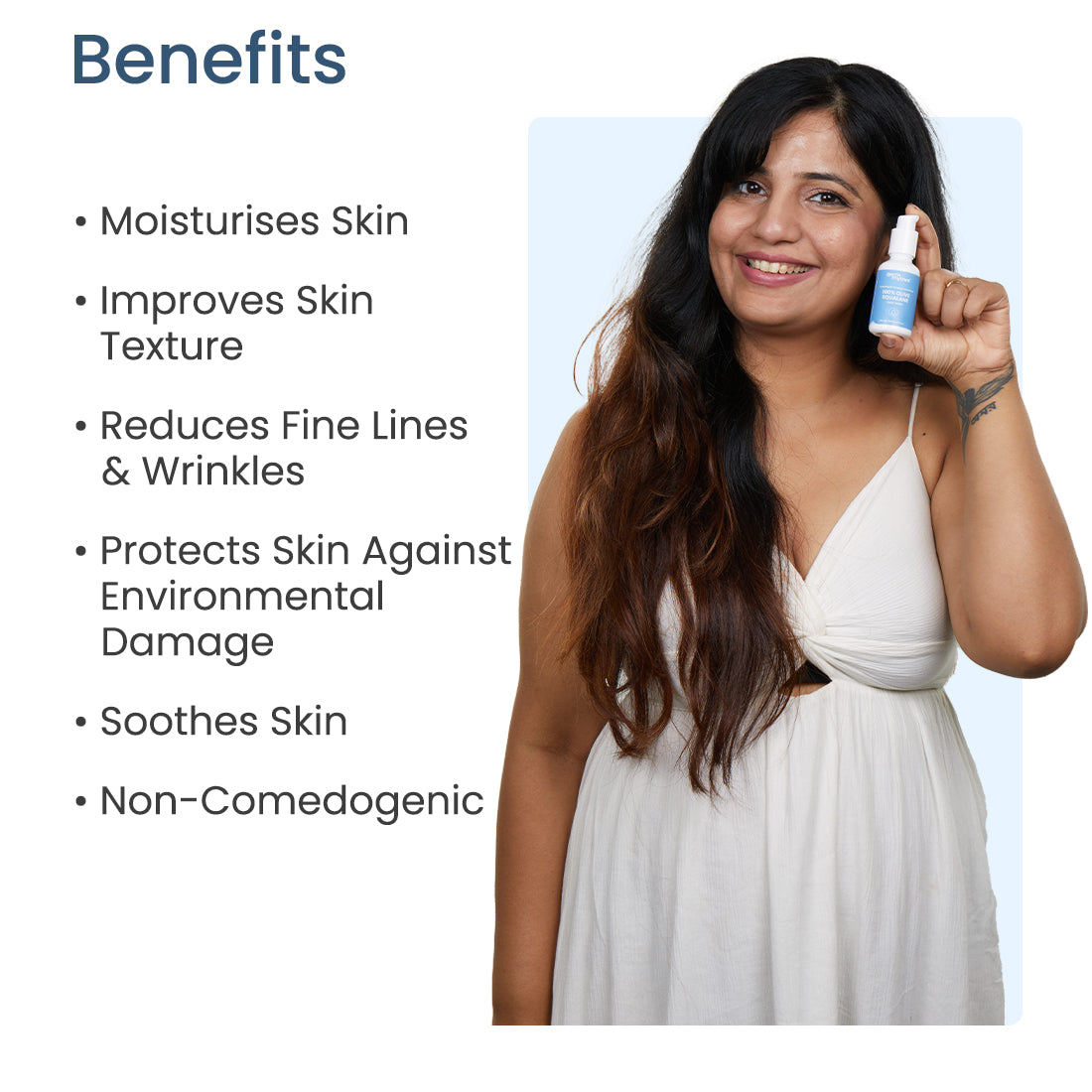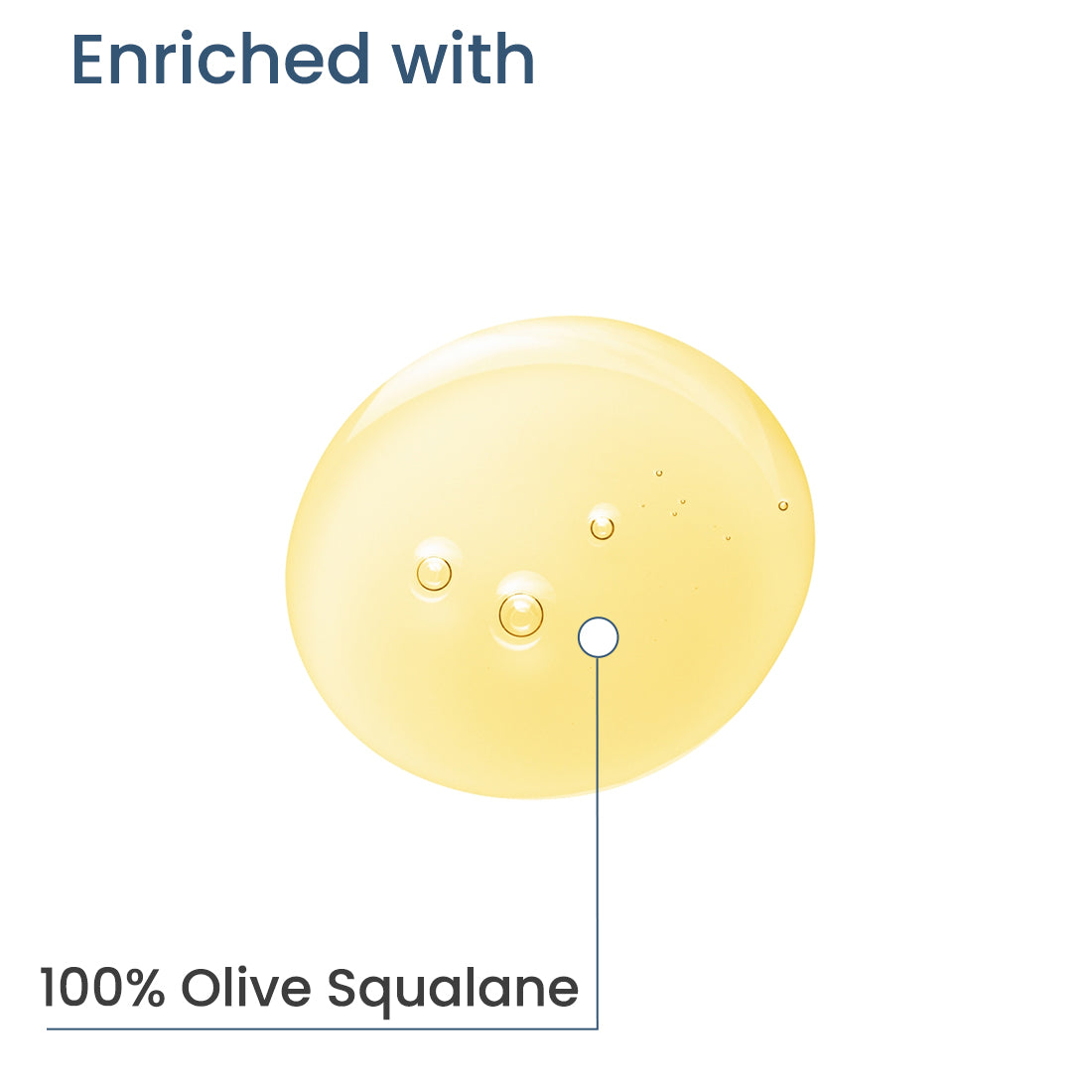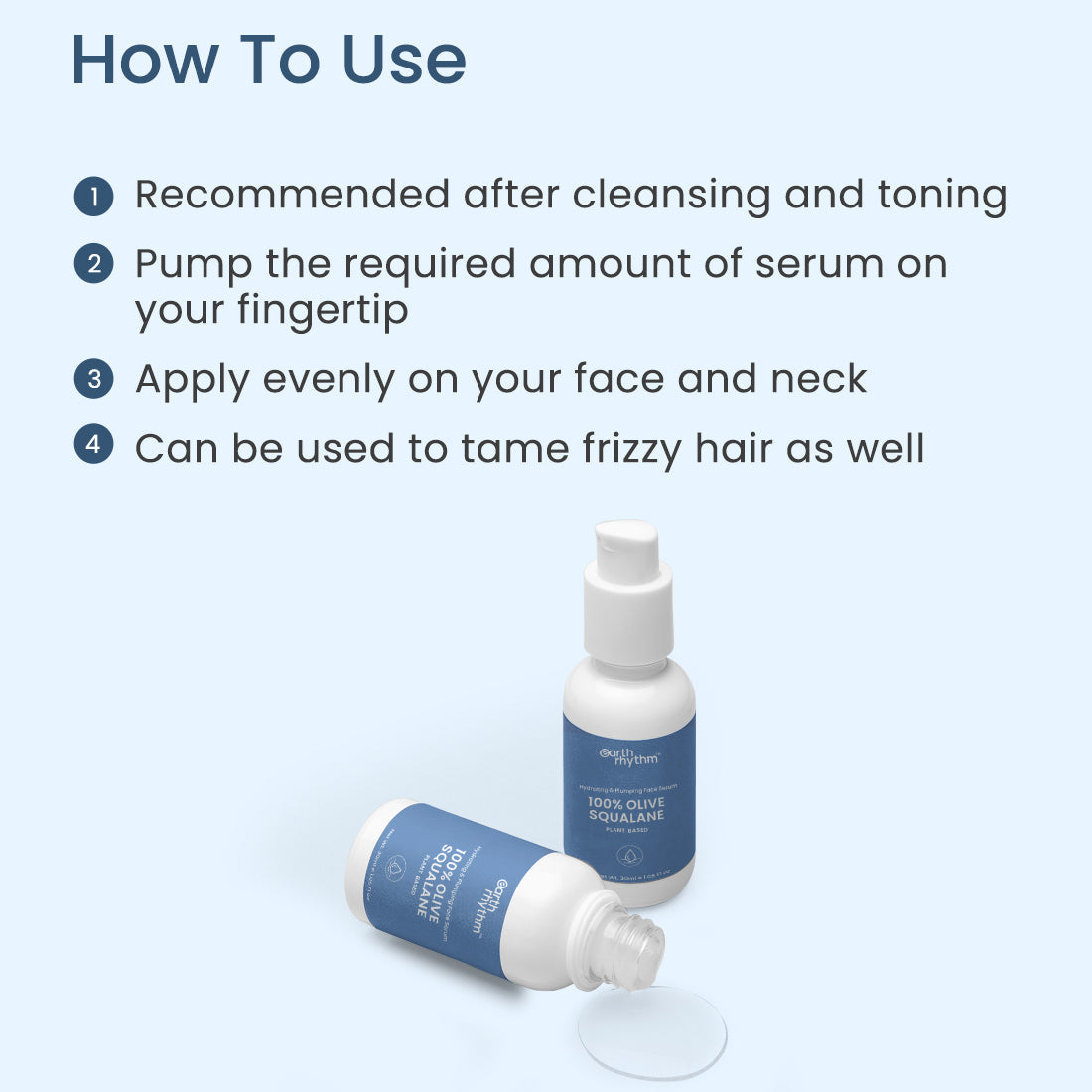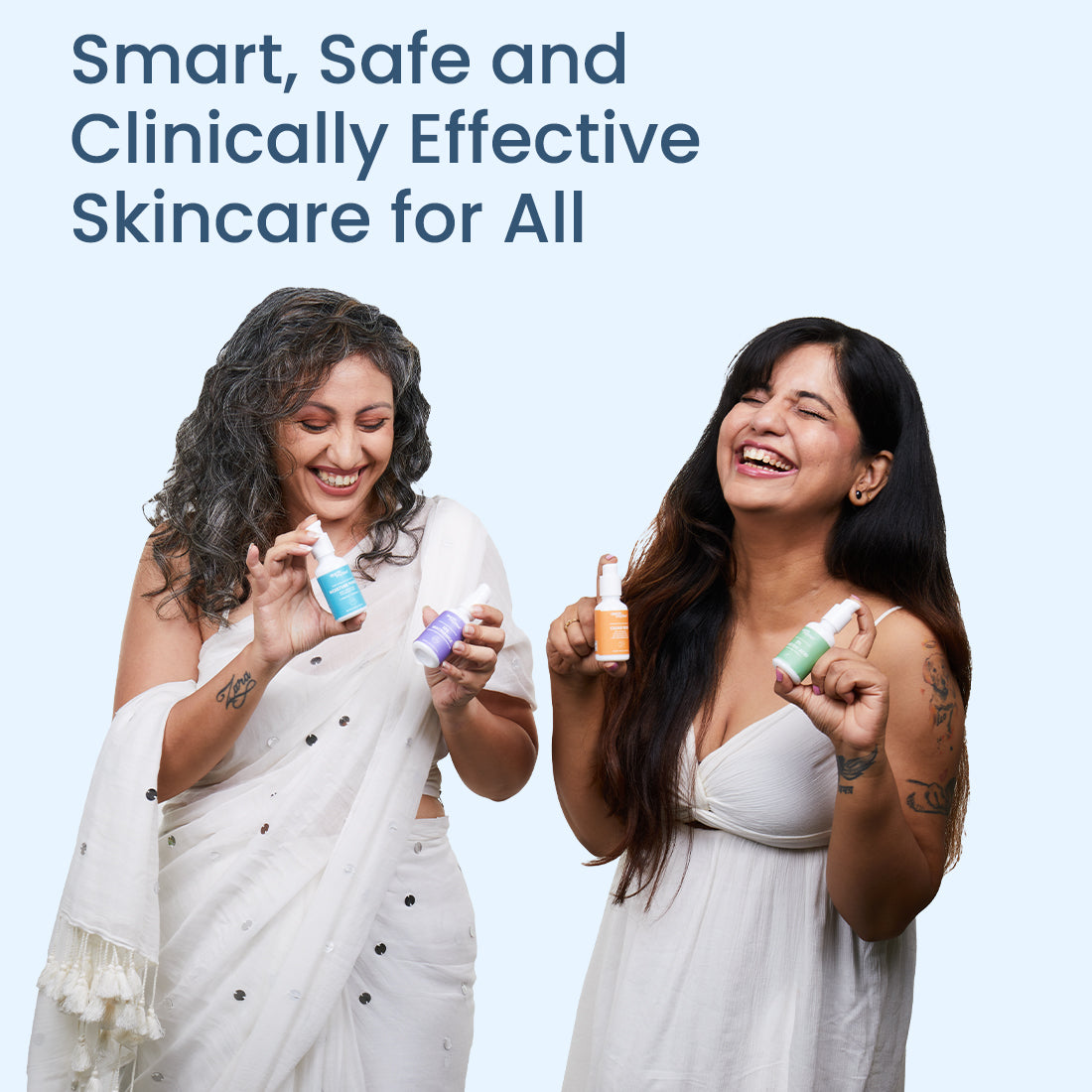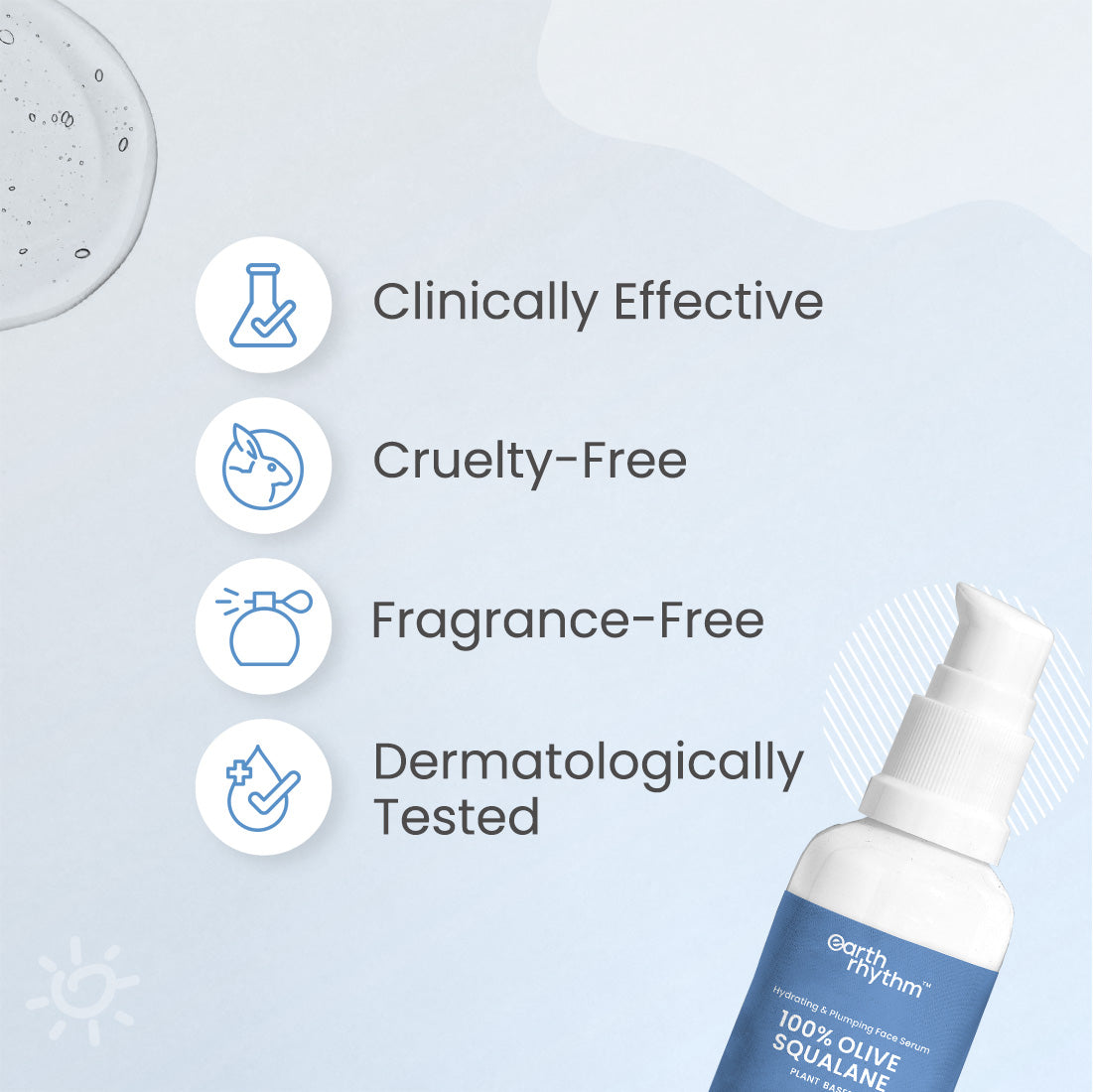 TAMANU FACIAL OIL
Reduce Pigmentation + Fades Acne Scars + Diminishes Fine Lines
M.R.P.

Sale price

₹179.70
M.R.P.
Regular price

₹599.00
GINSENG & ACAI BODY YOGURT
Makes Skin Plump + Moisturizes Skin + Increases Collagen Production
M.R.P.

Sale price

₹173.70
M.R.P.
Regular price

₹579.00
DRY & FRIZZY HAIR CARE KIT
Restore Hair Moisture + Tame Frizz + Deep Conditions Hair + Maintain Hair Growth
Sale price

M.R.P.

₹916.00
M.R.P.
Regular price

₹1,832.00
More Information

100% Squalane plant-based Serum

Skincare is vital for everyone! When it comes to rejuvenating our skin, we leave no stone unturned, right? Earth Rhythm has come up with a solution to all your problems. A renowned skincare brand, Earth Rhythm is benefitting all. As a brand, our (Earth Rhythm) products are bringing a change in your outlook towards skincare. Introducing our fellow readers with 100% Squalane Plant-Based Serum, it's natural, it's effective, and smooth. Keep on reading to know its benefits and properties.

Squalane is a plant-based ingredient & skin-friendly for all Indian tones that help in preventing moisture loss. It is non-greasy, lightweight also can be applied to your hair before straightening it, or stepping out in the extreme sun as it helps to add shine and reduces breakage.

Texture of 100% Squalane Serum

Squalane Face Serum is a lightweight, effective that suits all skin types. It has a smooth texture unlike other sticky creams and serums, this doesn't harm your skin. If you have dry skin, Squalane is the smoothest face serum as it gets easily absorbed into your skin. Yes, your skin will feel rejuvenated and retain all the natural moisture.

What are the benefits of Squalane Serum?

The squalane oil is an exceptional hydrator and this Face Serum is 100% Plant-Derived. It can prevent ongoing loss of hydration that impairs dermal suppleness. Let's talk about the benefits of 100% Squalane Serum in depth.

-Squalane - The Savior

Our body is enough capable to produce oil, sweat but this is under ideal climatic and environmental conditions. With your hectic schedule, our skin tends to lose the glow, shine, and charm. 100% Squalane Serum comes to our rescue! This face serum made of squalane copies your skin's natural oil and glow ingredients, tagging it as an excellent emollient. The natural antioxidants properties are well capable of protecting your skin from carcinogens. With growing age, our skin becomes rougher, drier, and dehydrated. Squalene is a natural lipid produced by our skin cells that is skin-friendly.

-A Boon To Dry Skin

An important question is how to treat our dry skin? The answer to it is Squalane Face Serum. Squalane Face Serum boosts moisture to dry skin, retains the natural oils, and repairs damage. The intense formula helps to restore skin moisture and works wonders for your skin. Say no to dryness, dullness, and patches by using this serum daily in your skincare routine.

-A Soothing And Effective Skincare Mantra

Earth Rhythm bestows pure plant-based skincare products that know what's nourishing for your skin. Squalane Face Serum's unique ingredients help your skin to recover from dryness and discomfort. One can apply it daily on your skin and see the effective transformation.

-Skin Protector

Earth Rhythm believes in skin supremacy via natural ingredients and Squalane Face Serum is a bounty. It does not just protect your skin from getting dry but also fights against damage. It's easily applicable for your convenience. Select this as your skin deserves the best ingredients to stay healthy and nourishing.

-Reboot Moisture With Squalane

Squalane Face Serum prevents harshness or dryness of the skin. It locks in moisture and protects your skin from damages as serums are important to fight against skin aging. It's a moisturizing element, skin protector, and repairer of dull and dry skin. Well, your worries are over as Squalane Face Serum is here to seize the day.

-A Light Face Serum

Everyone wants a skincare product that is effective yet not heavy. Such a combination is hard to find but that's where Earth Rhythm shines. Yes, Earth Rhythm is a brand that promises the best products for every person. It presents Squalane Face Serum that is lightweight. Its moisturizing effect is good yet it doesn't give you the heaviness or stickiness. It's smooth, it's light and it gets absorbed quickly in your skin to make it soft and supple. There's no hassle in applying it. Just clean your face and apply Squalane Face Serum after that and observe your skin repairing day by day. Absolutely recommended for daily use, the Face Serum benefits dry skin. It's a blessing for Summer, Winter, and other seasons as well.

-Creates Stronger Barrier

Natural & plant-based, Squalane derived from olive oil helps your skin to prevent moisture loss and contributes to a stronger barrier. It is considered to be a good option for dry and irritated skin that needs a soothing and moisturizing ingredient. 100% Squalane Serum feels lightweight and non-greasy while allowing the skin to get all the benefits.

-Soothing Formula

It's the Squalane Face Serum is a fantastic formula for every skin type that soothes down every skin, especially sensitive skin. It's a plant-based serum with a non-greasy texture that gets absorbed into your skin very fast. It saves your precious time and lets you focus on your busy schedule. It's a happy helper for your skin! Honestly, Squalane Face Serum has brought a revolution in the field of skincare.

How to use Squalane plant-based Serum?

Face serums are little vitals of magic that are meant to transform skin and make it look more radiant, spot-free, youthful, and just overall beautiful and healthy. But are you confused about how to use a face serum in the right way? Do you have questions like- should it only needs to be applied at night? Should I apply it after the moisturizer? If these questions are bothering you, read on to know house to use a face serum in the right way.

Step 1: Rinse your face, pat it dry and then apply Earth Rhythm's Squalane Face Serum in small drops onto the skin's surface.

Step 2: Spread the lightweight serum on the face by using your index and middle finger together.

Step 3: Let the smooth, non-greasy natural serum absorb into your skin and see the change.

P.S. Use daily to see the rejuvenating effect on your skin.

Earth Rhythm's focus is always on the gentleness of the skin & believe in preserving moisture to bring softness to the skin. The Squalane Face Serum is completely based on plants so there are no harmful ingredients in it. We choose components from the lap of nature and formulate the perfect face serum for you.
See All Ingredients

| Ingredient | Ingredient Type | Source | Benefit |
| --- | --- | --- | --- |
| Squalane | Natural | Plant | Humectant, Moisturising, Protect skin barrier |
Amazing!!
The best oil you can use for your skin
Good and hydrating
It is light weight and penetrats in to the skin very well .
Nice and light oil
Squalene is a great oil, very light and gives a nice glow to the skin. But I am disappointed with the packaging and services of Earth Rhythm. The product got spilled both the times.