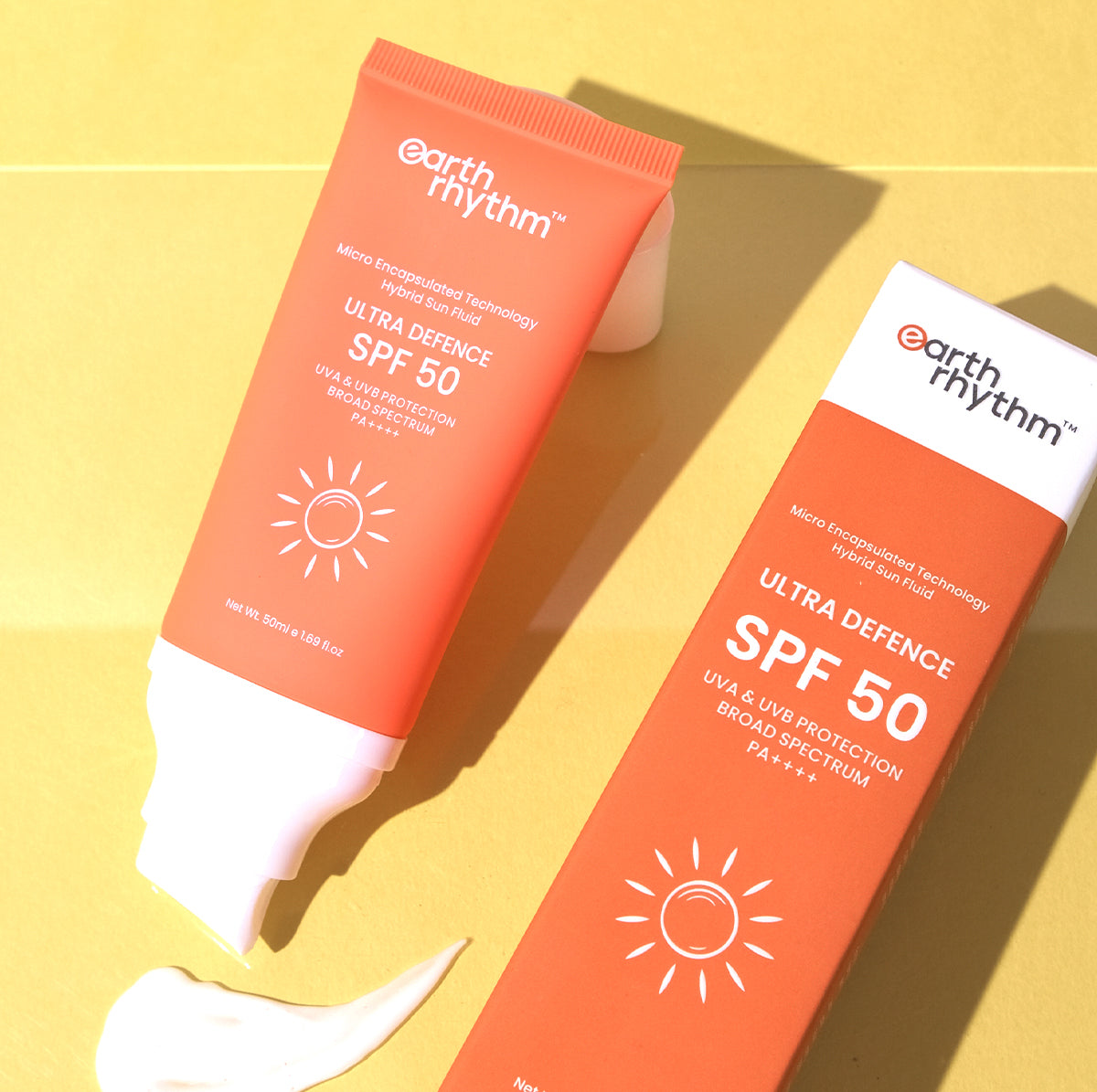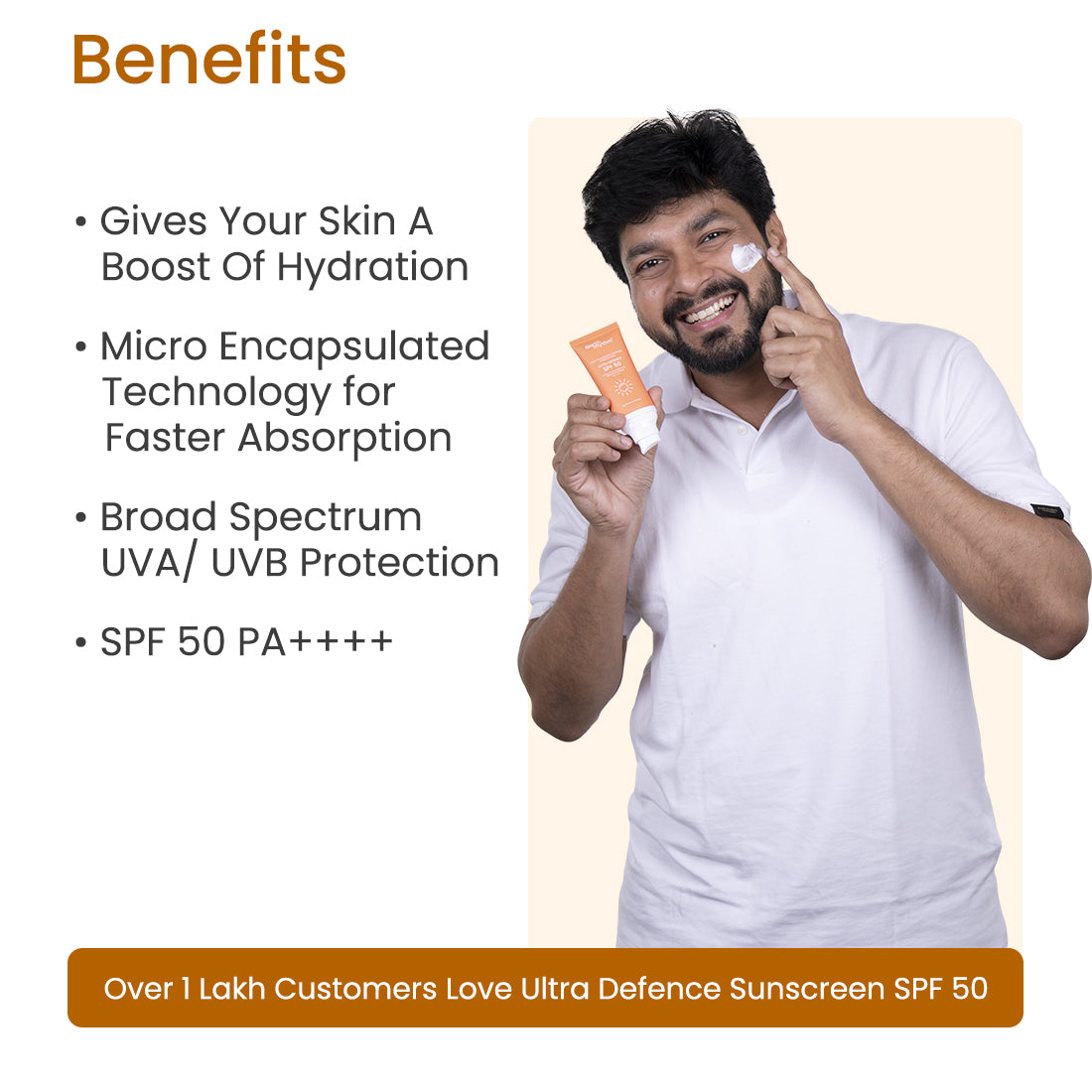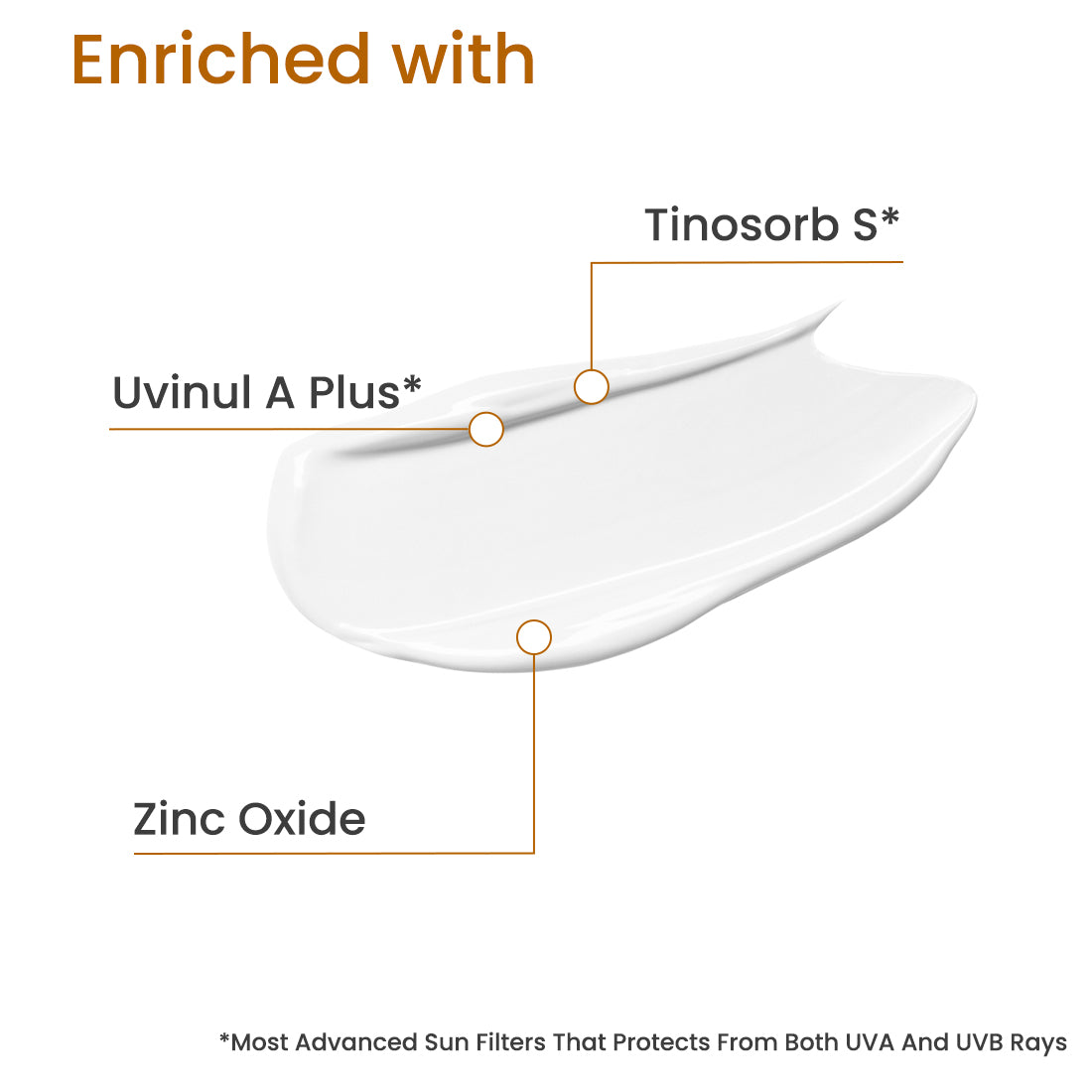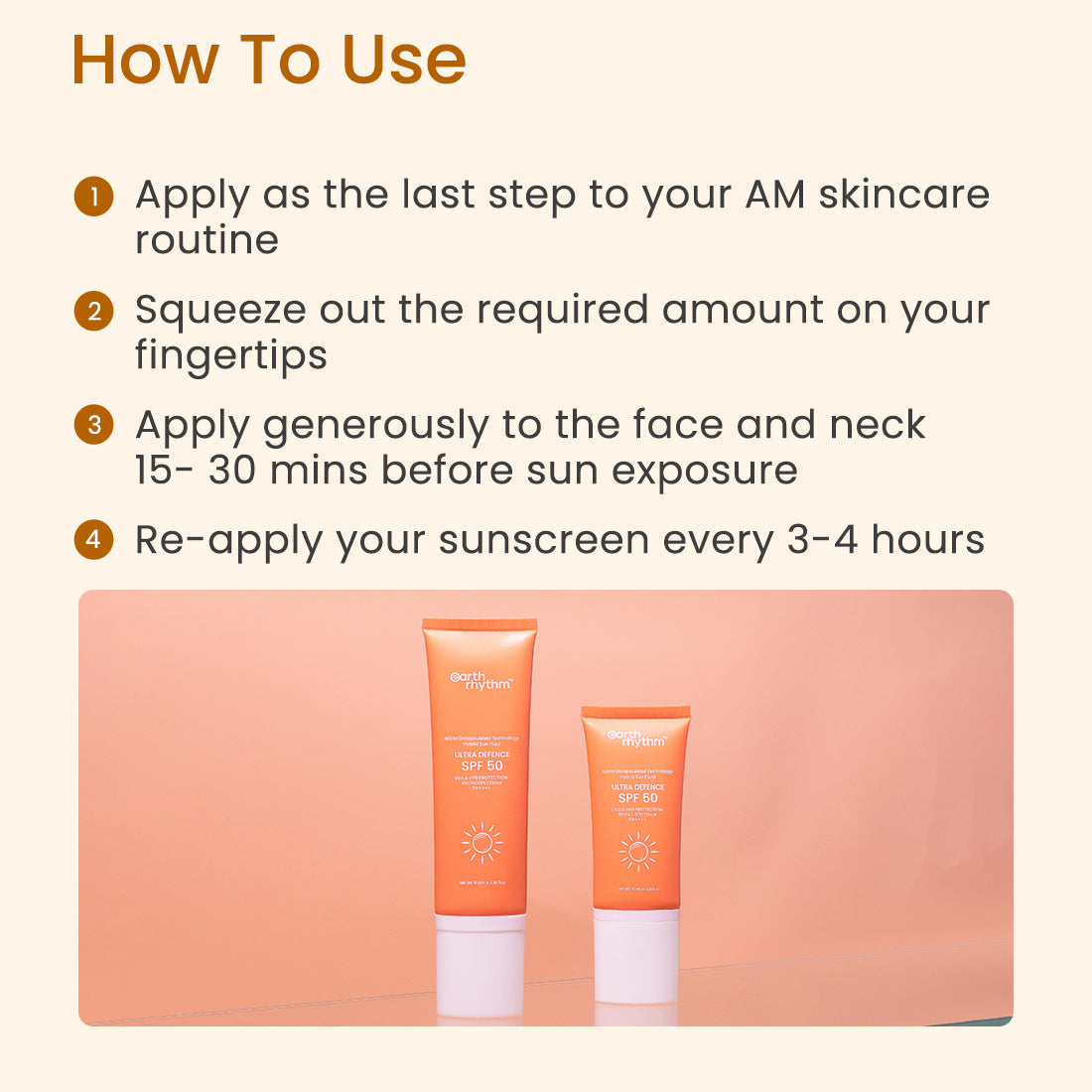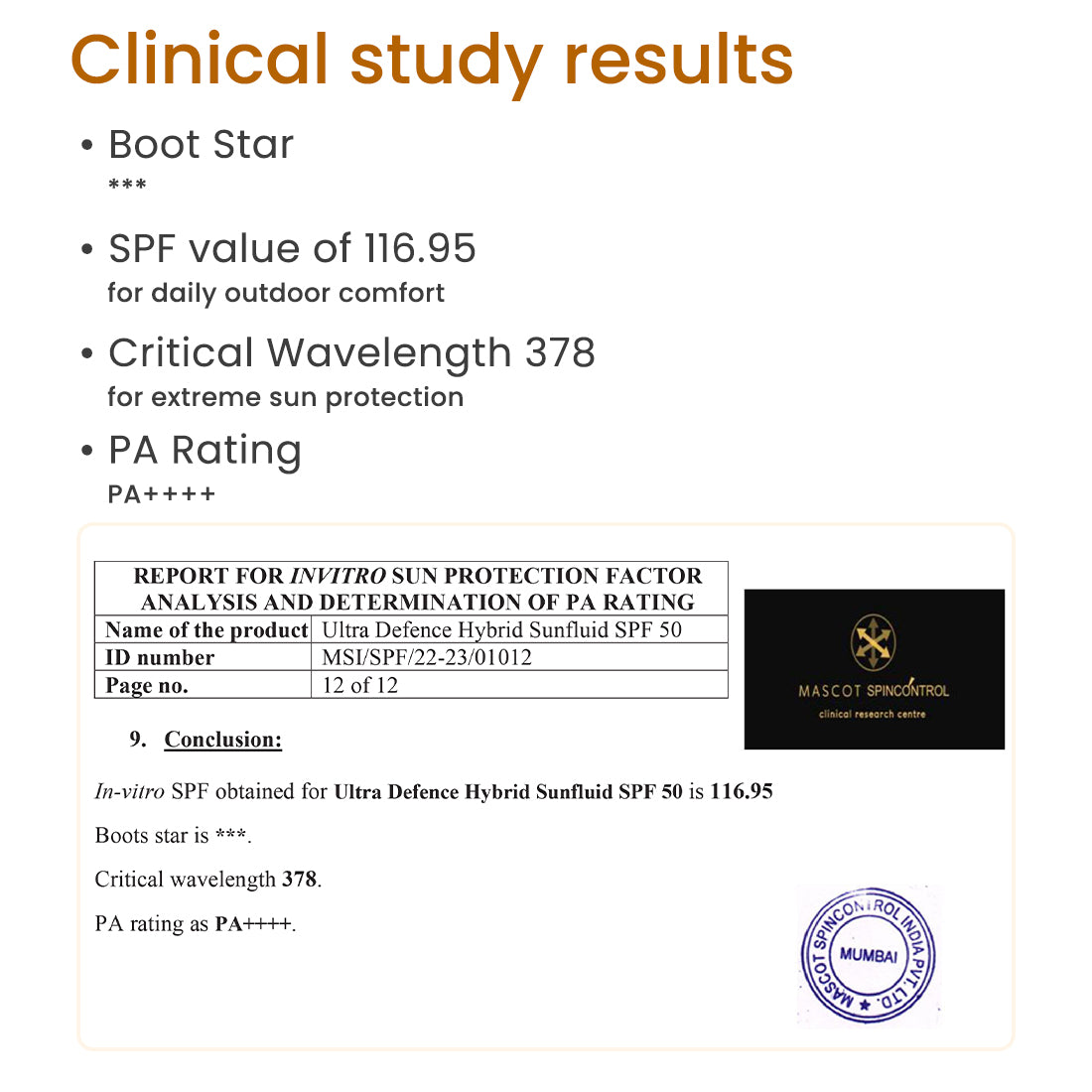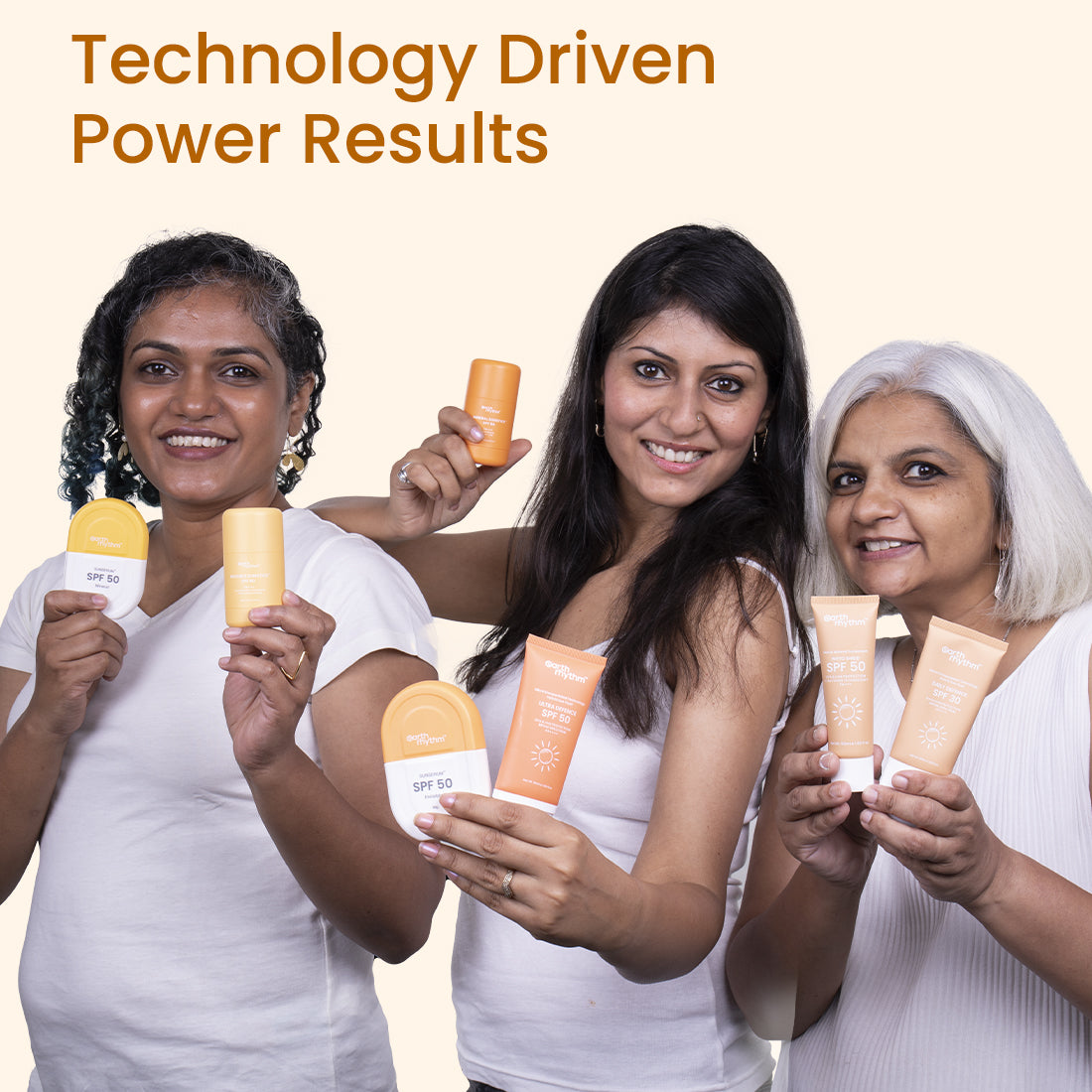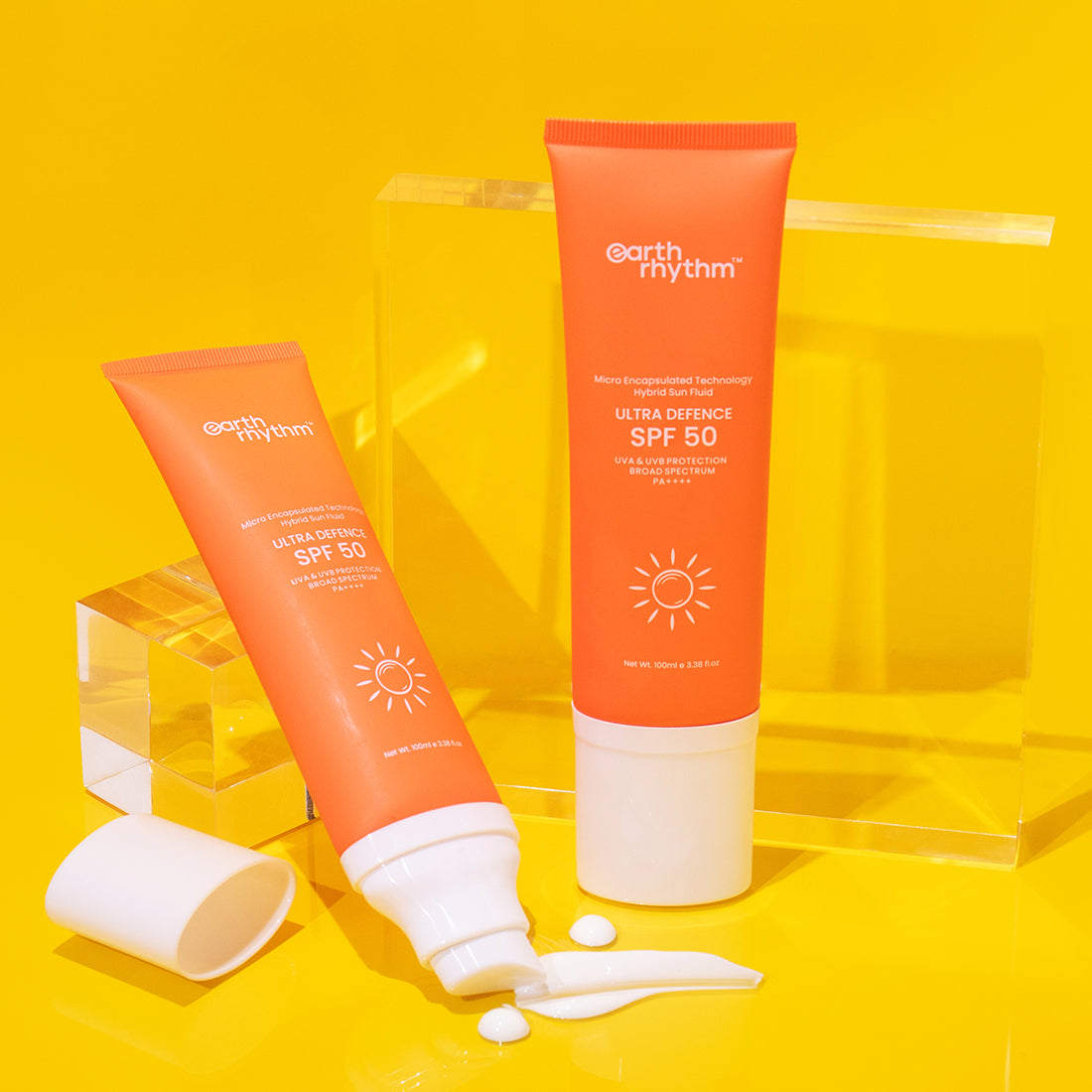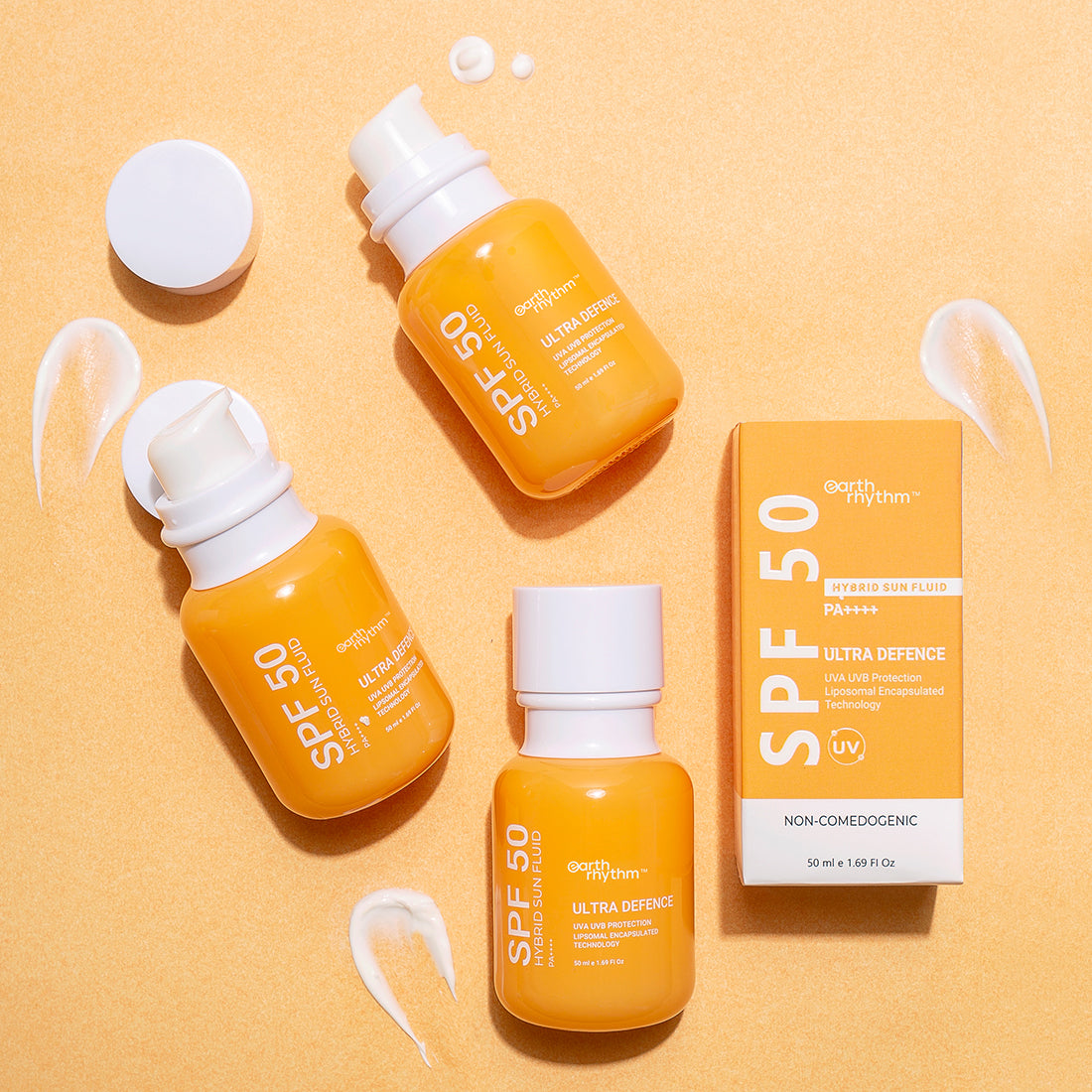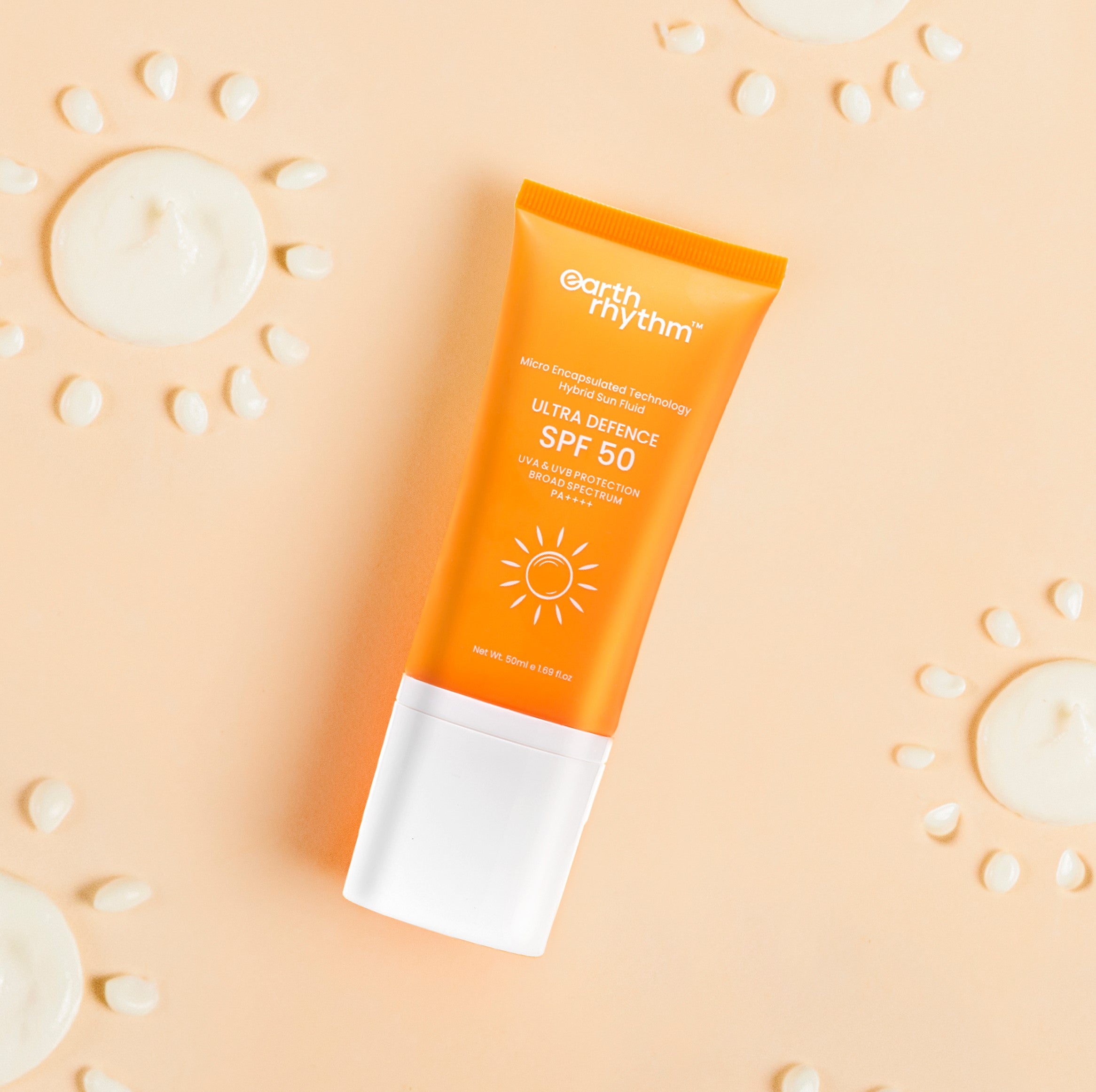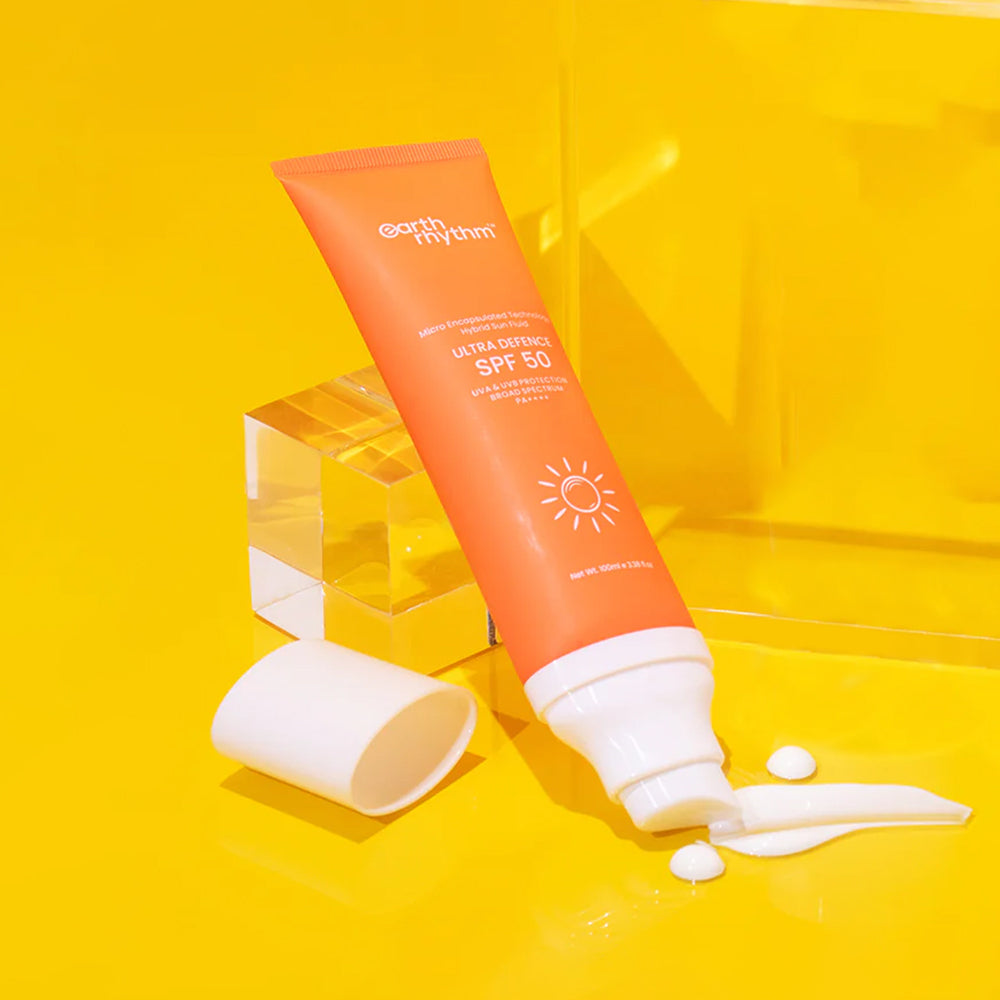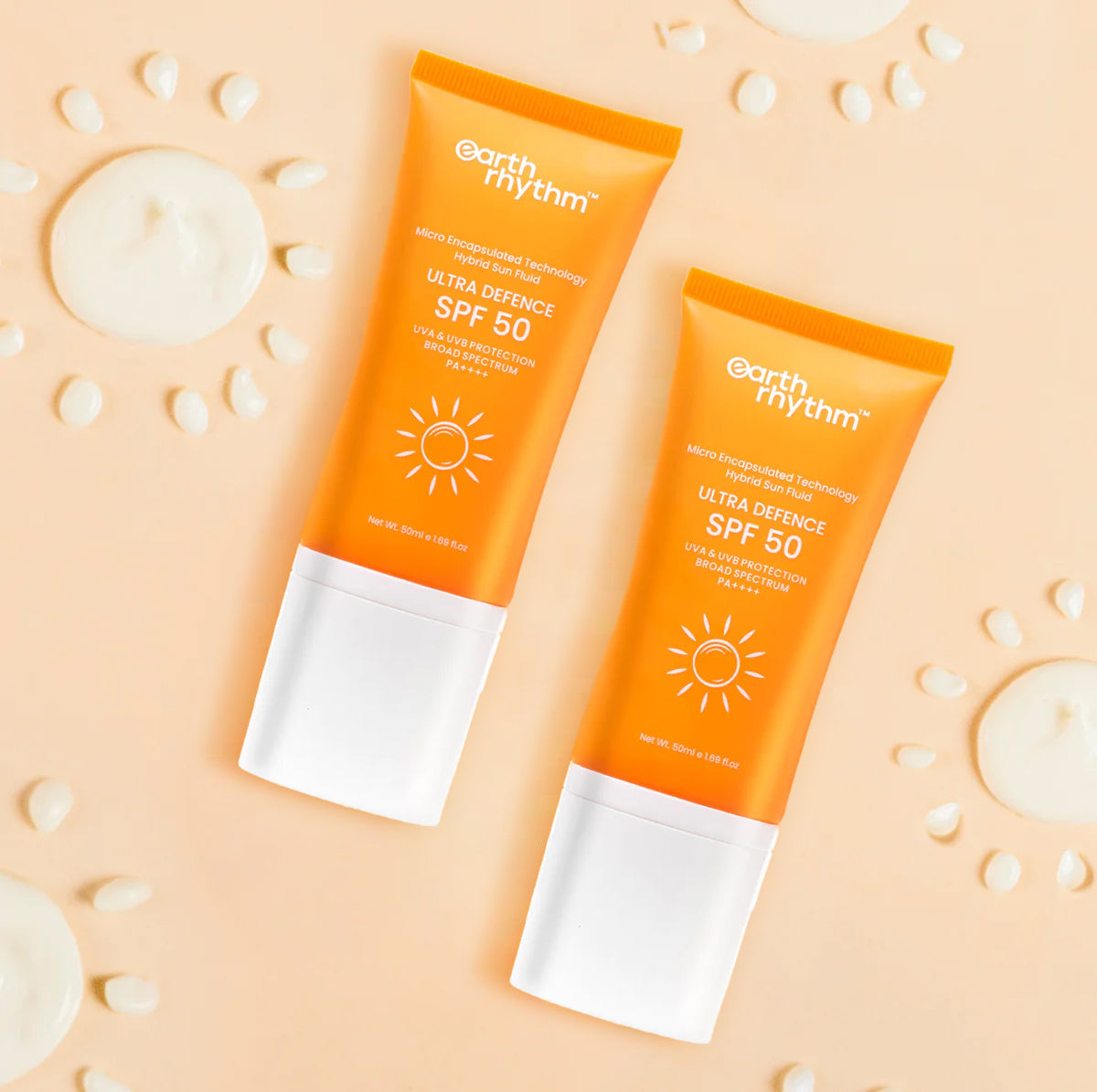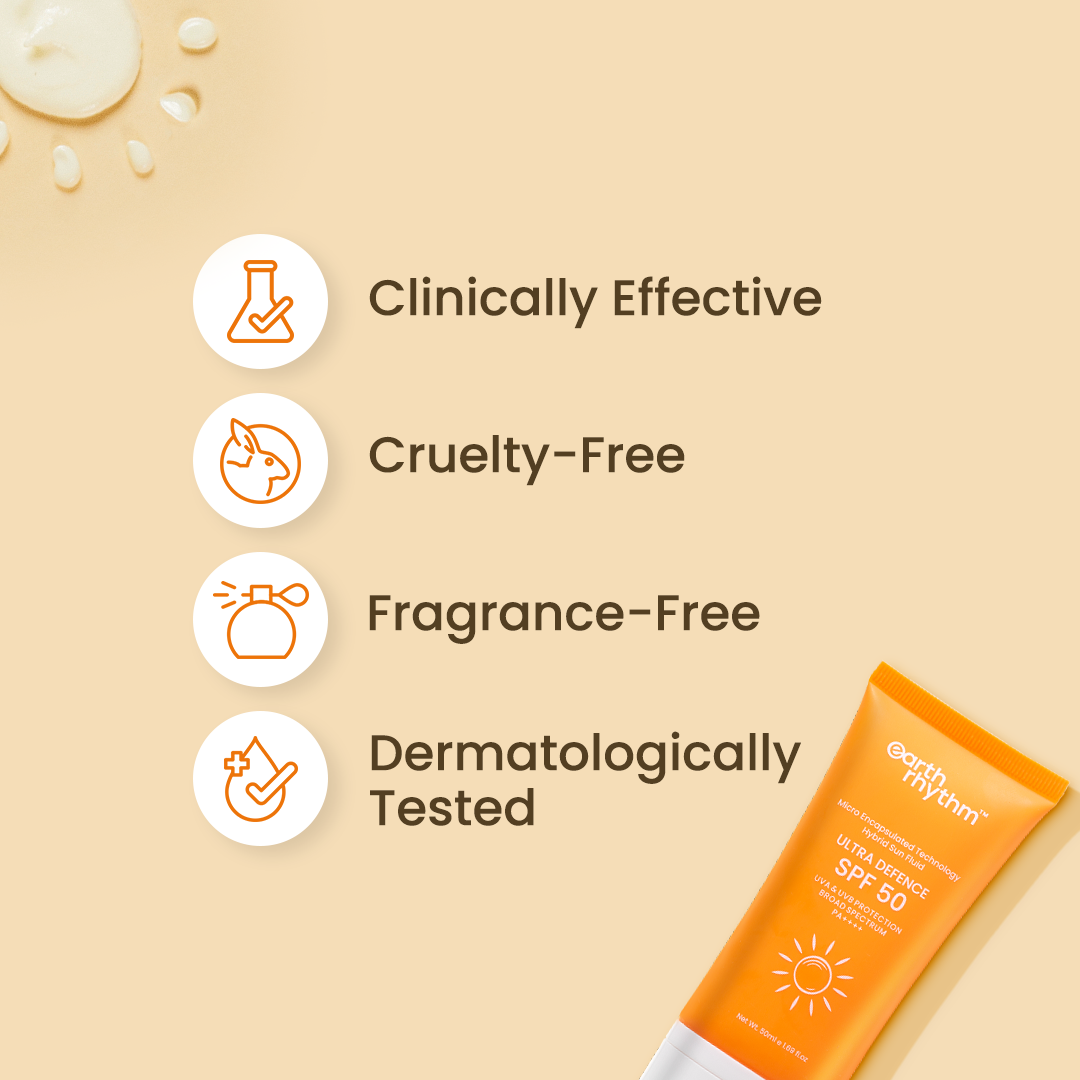 ULTRA DEFENCE HYBRID SUNSCREEN FLUID - SPF 50
Non Sticky + No Tint + PA++++
25% off
M.R.P.

Sale price

₹336.75
M.R.P.
Regular price

₹449.00
(/)
Inclusive of All Taxes. Shipping calculated at checkout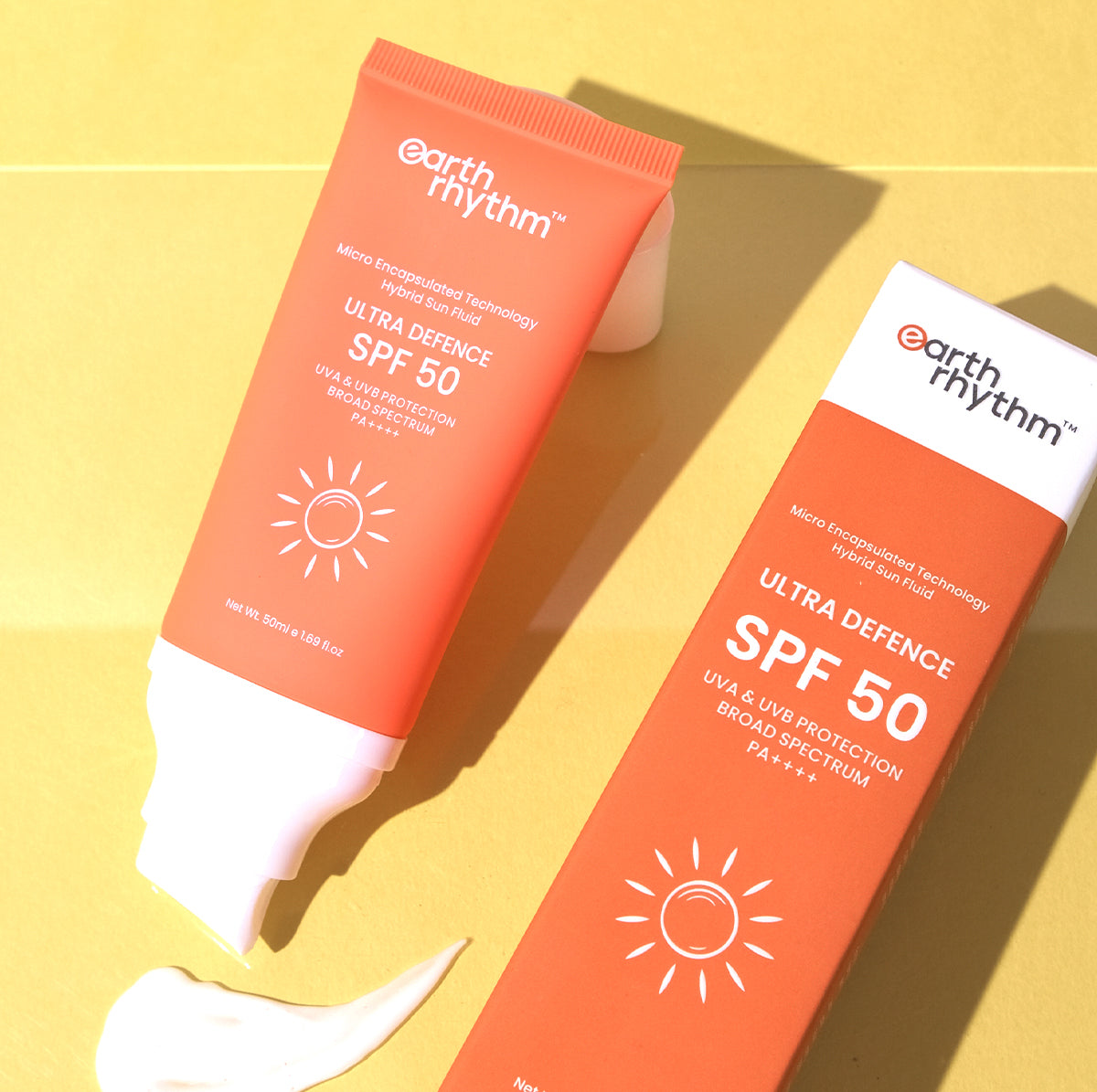 ULTRA DEFENCE HYBRID SUNSCREEN FLUID - SPF 50
M.R.P.

Sale price

₹336.75
M.R.P.
Regular price

₹449.00
Choose options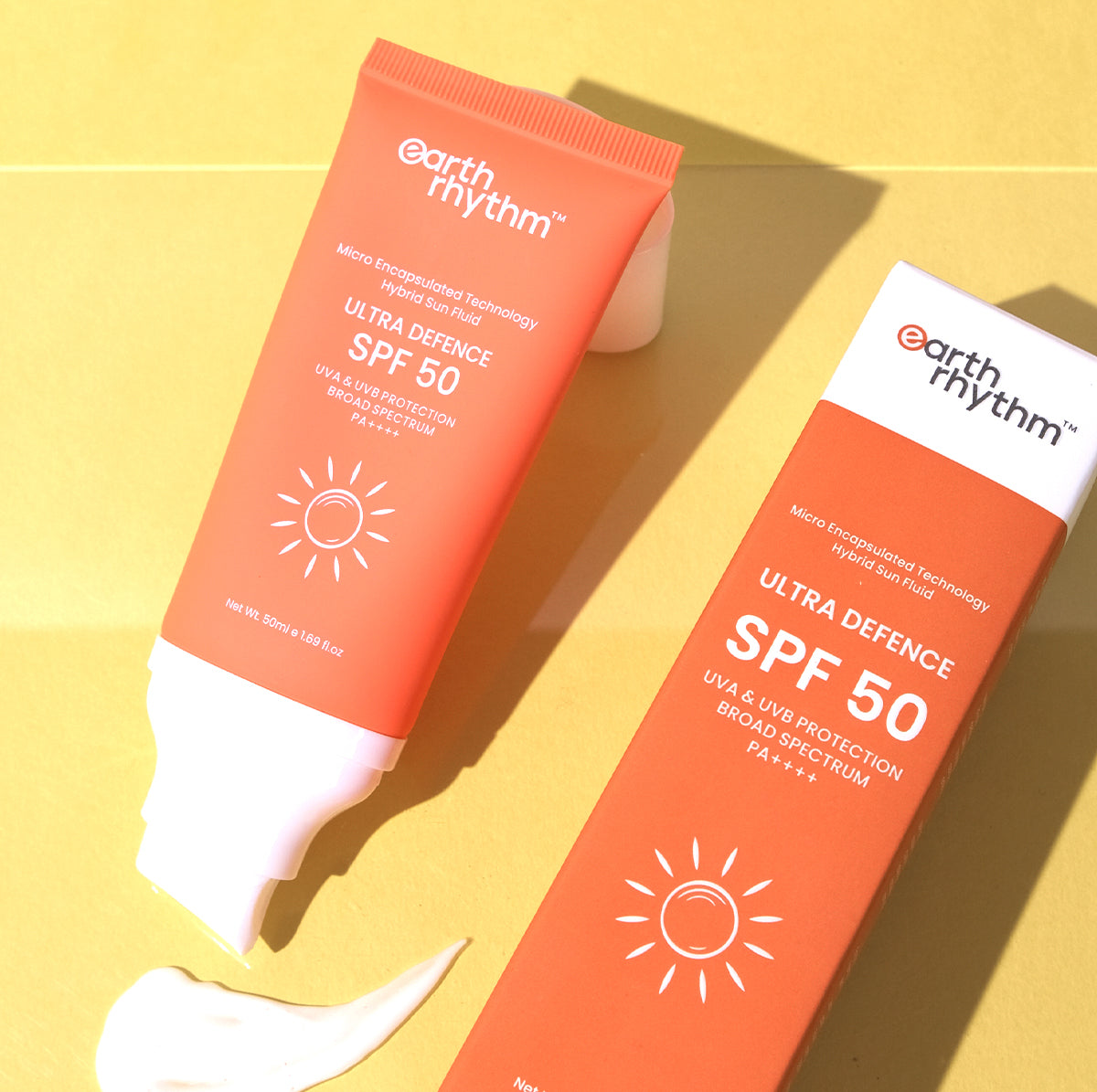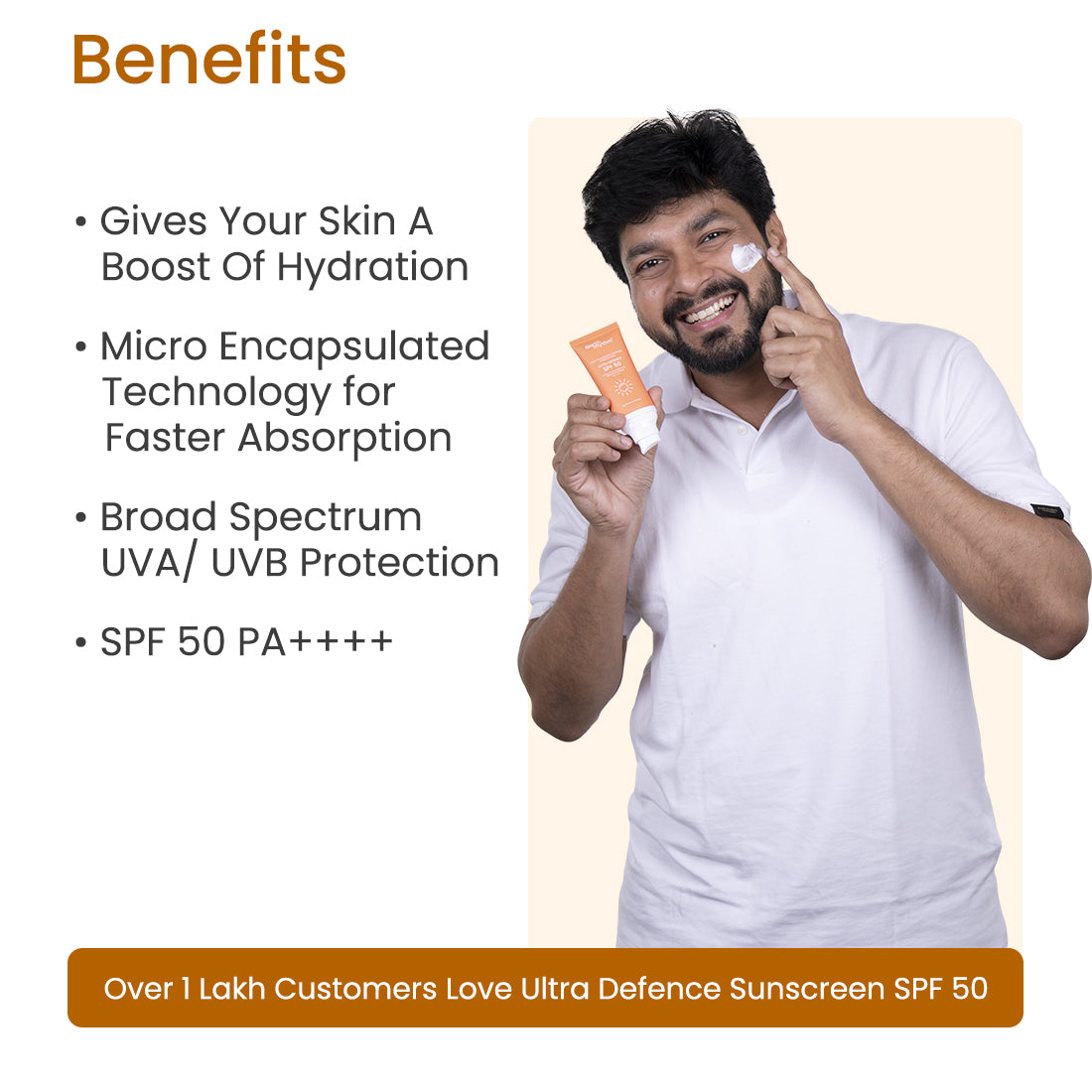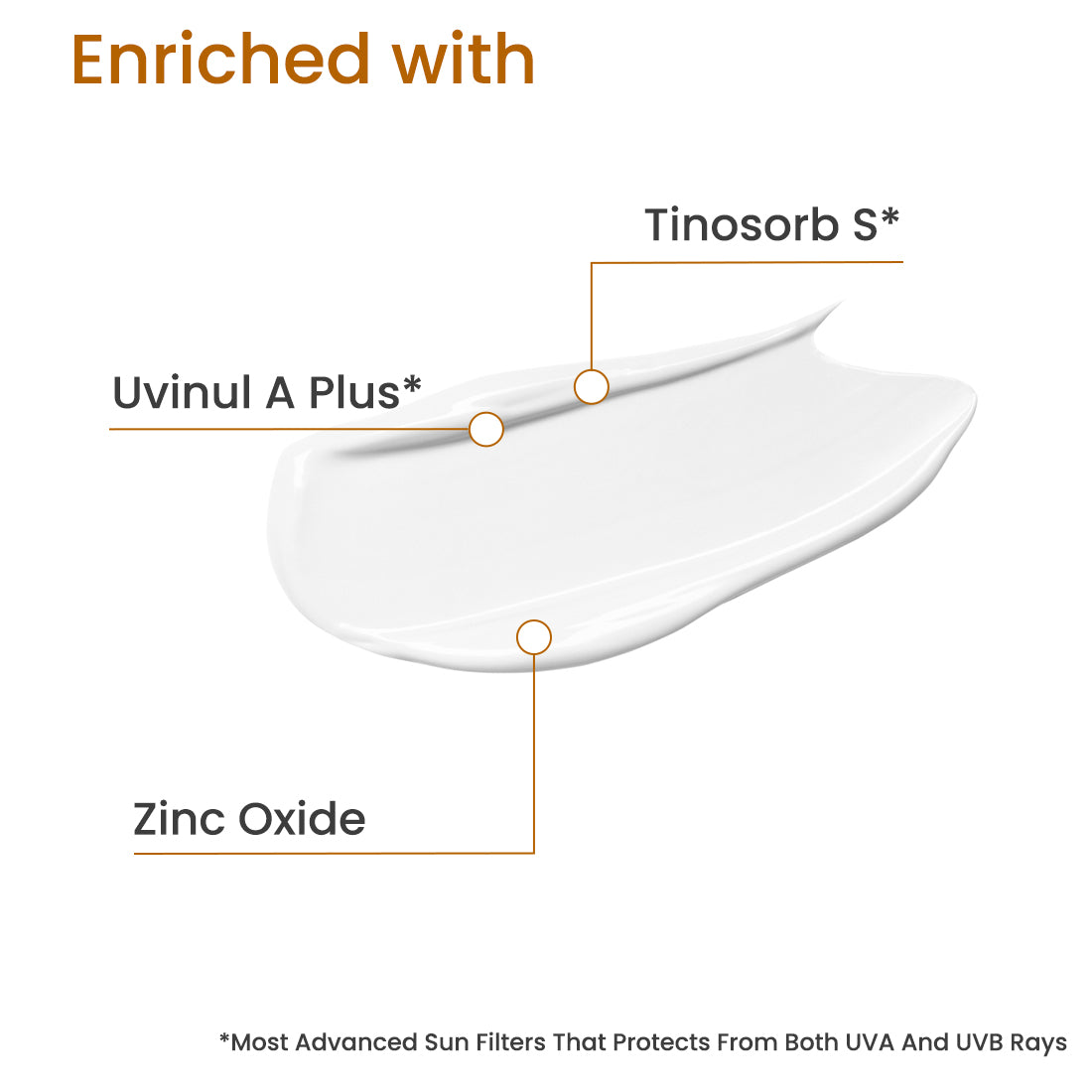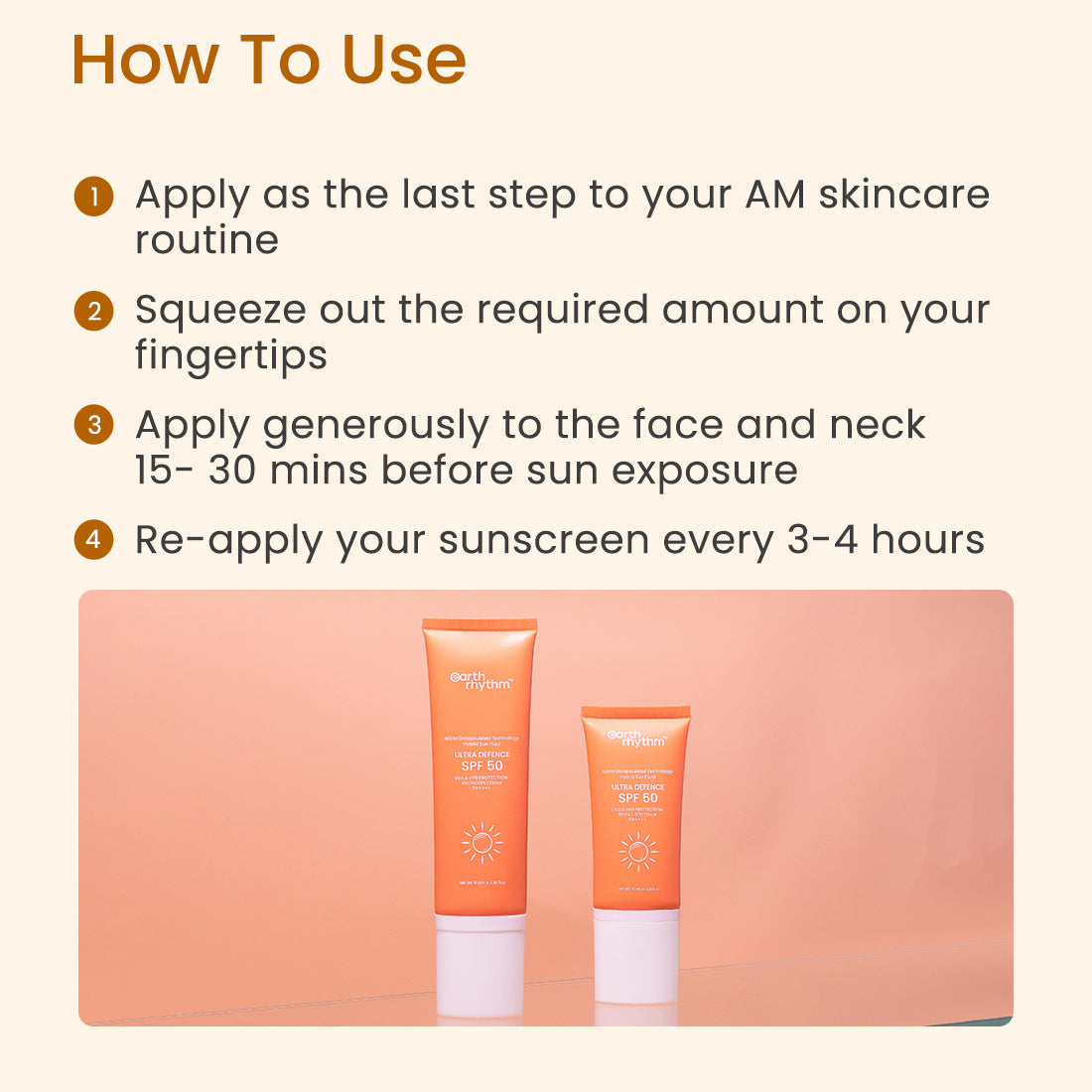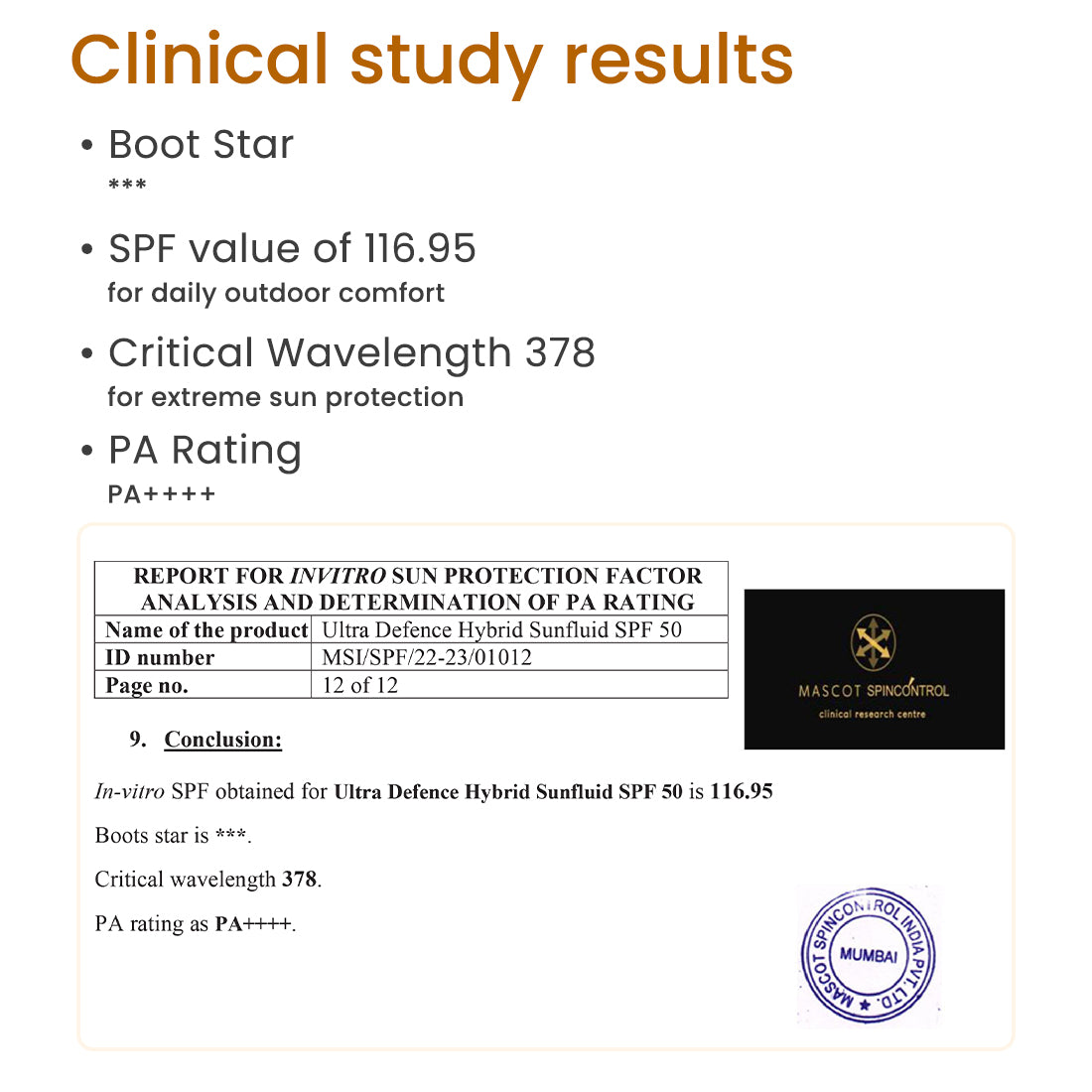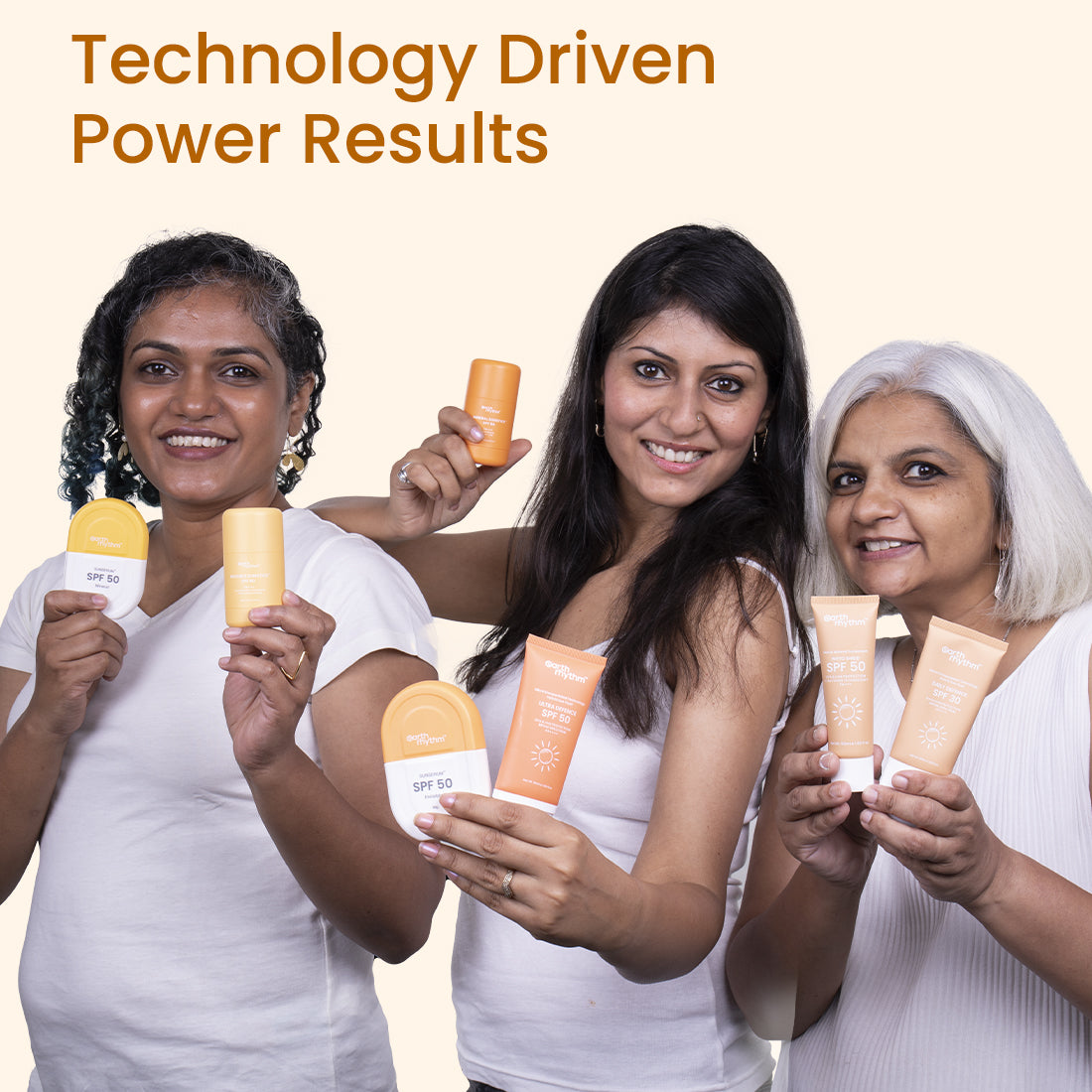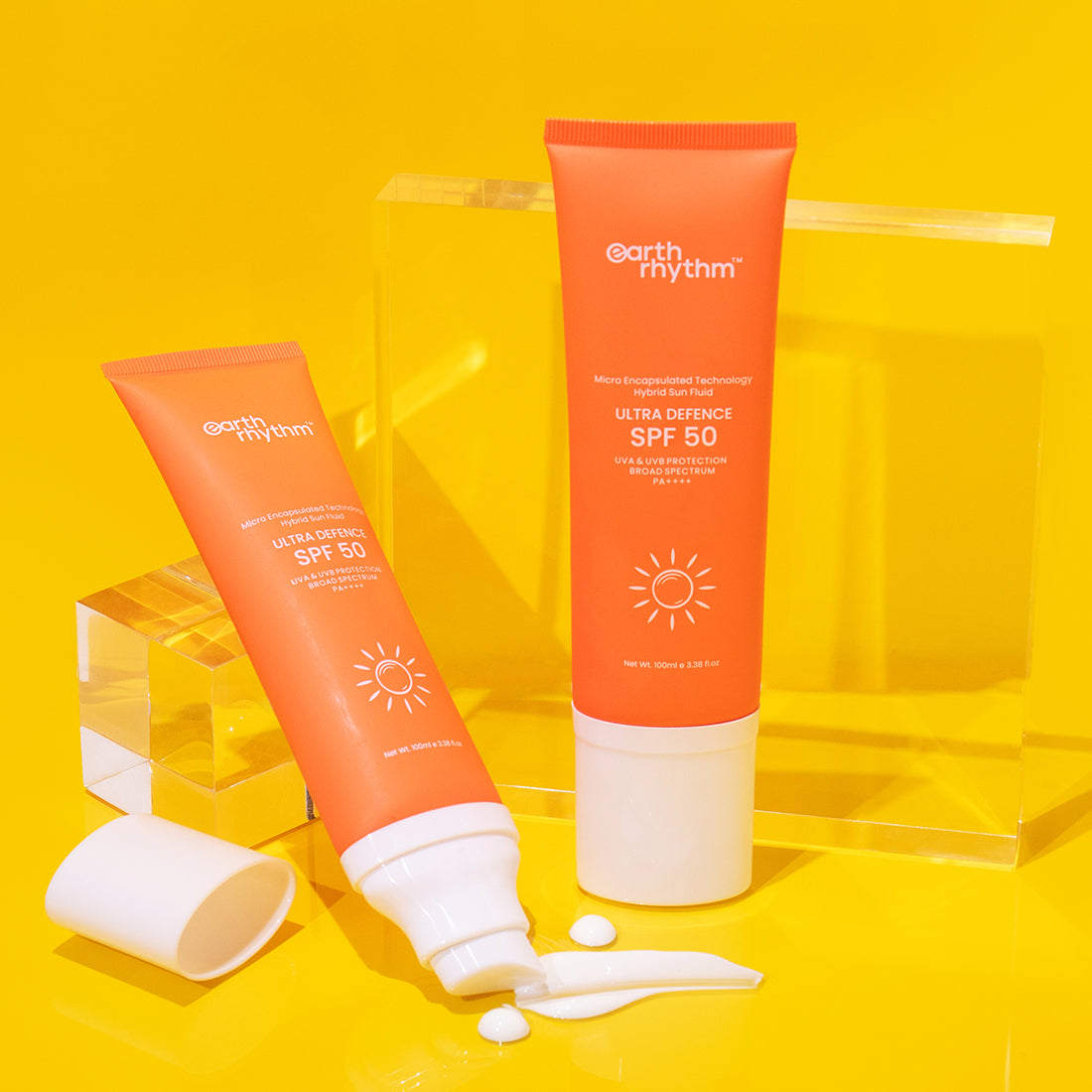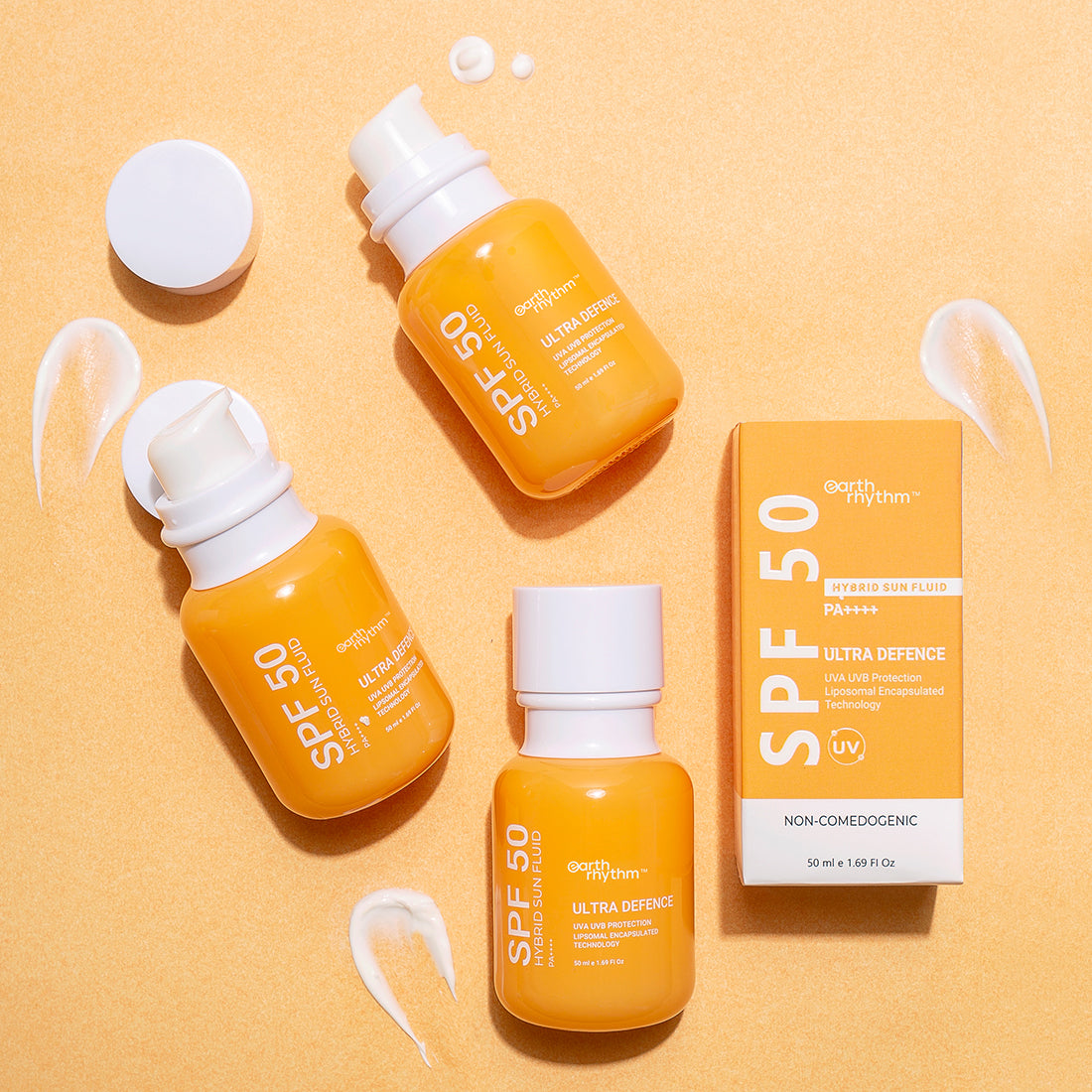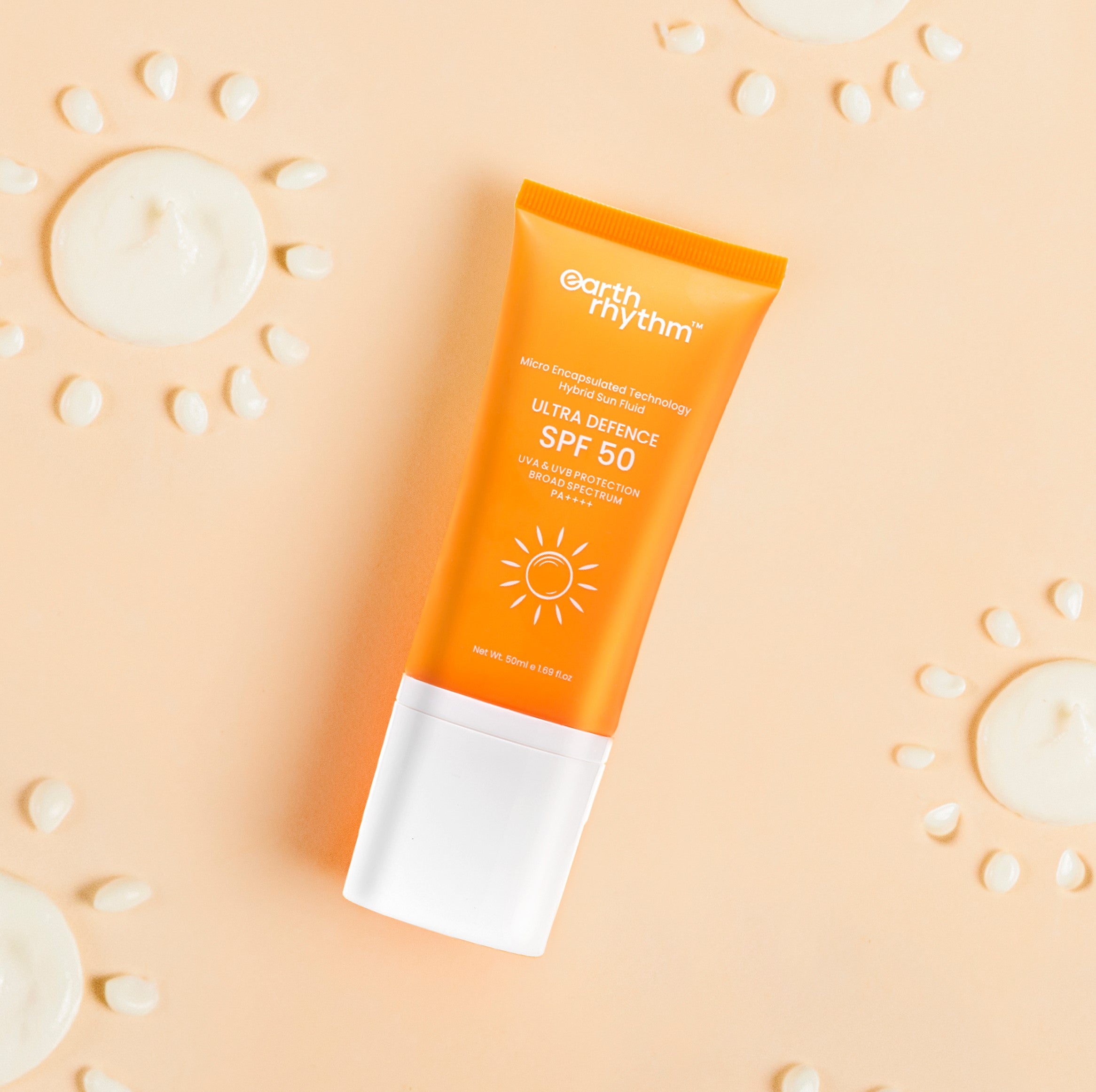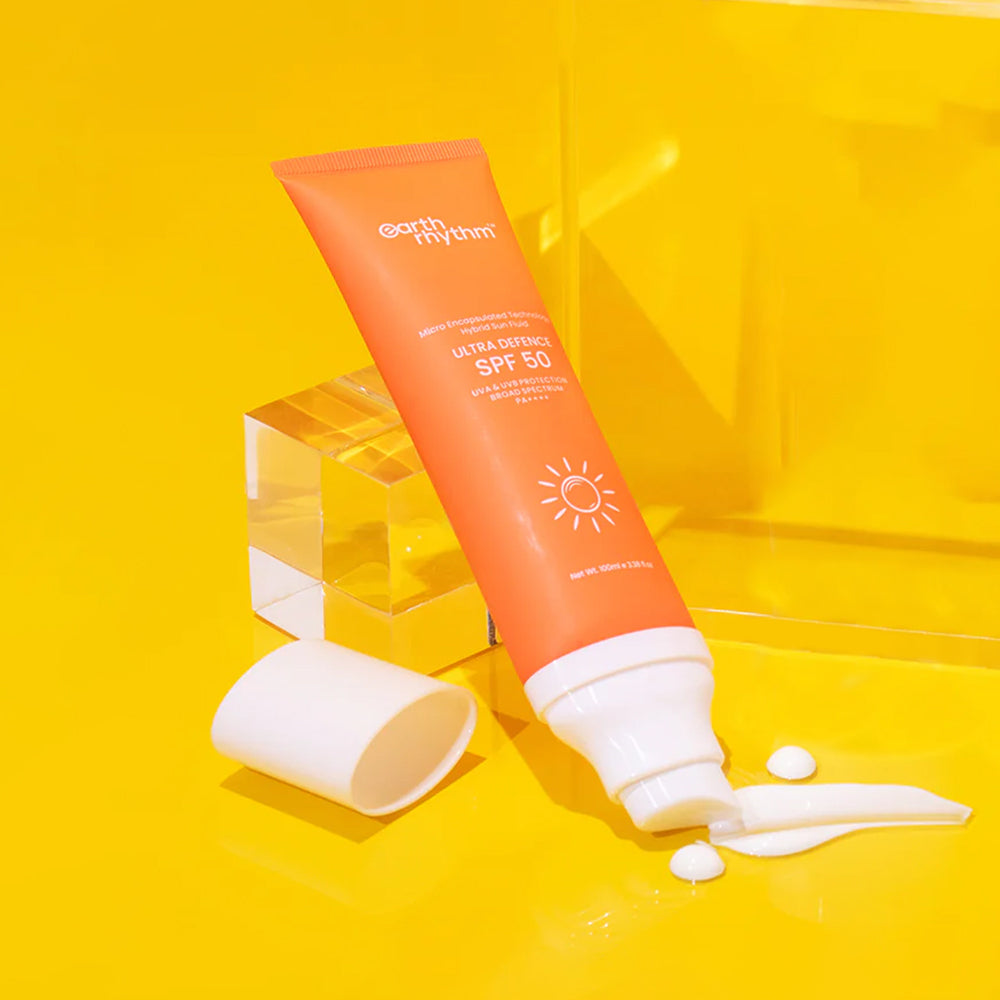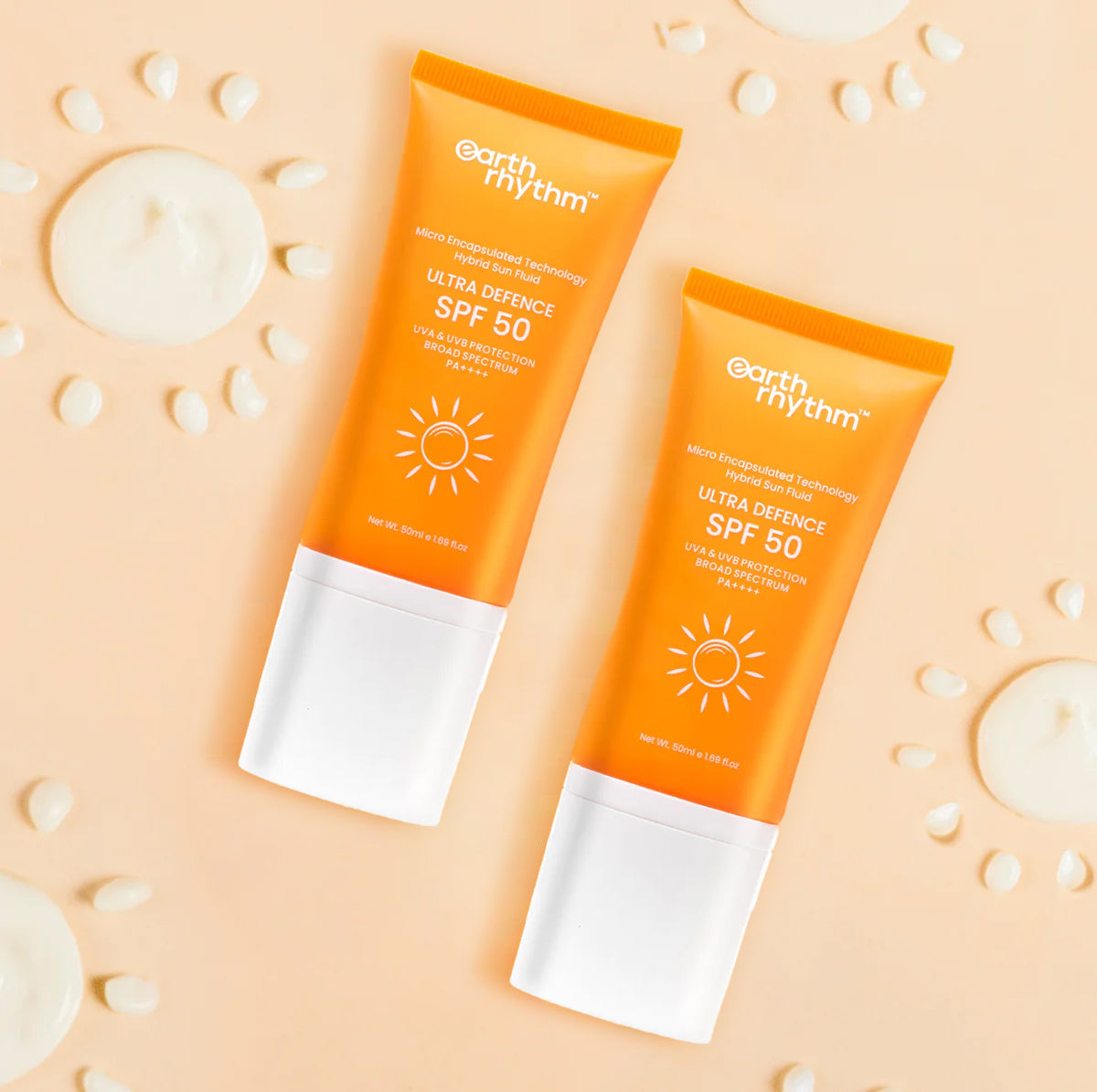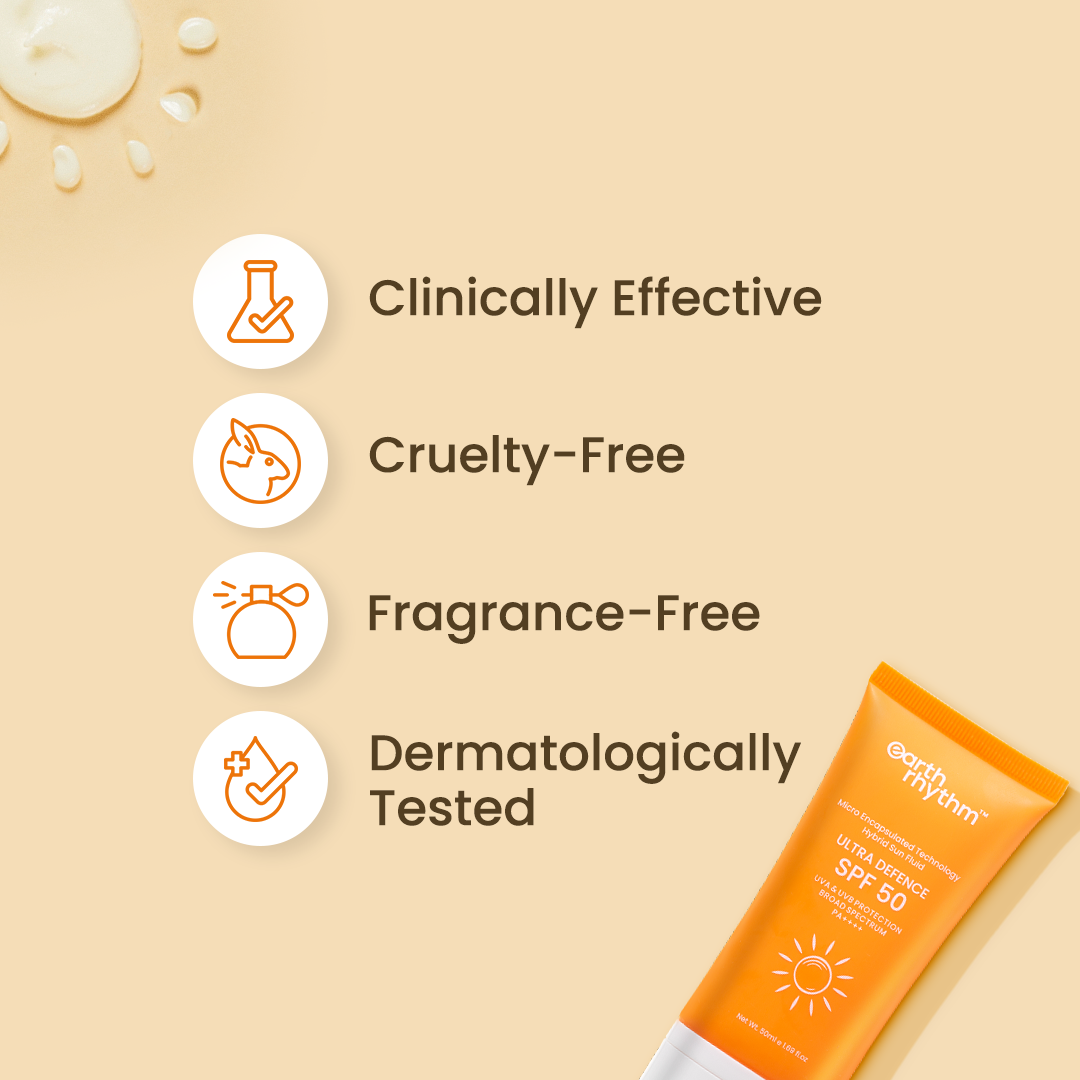 LIP & CHEEK TINT
Moisturizes Lips + 100% Natural Ingredients + Give Natural Flush Look
Sale price

M.R.P.

₹349.00
M.R.P.
Regular price

₹499.00
MURUMURU BUTTER SHAMPOO BAR
Softens Hair + Tames Frizz + Deep Conditions Hair + Detangles Hair
Sale price

M.R.P.

₹246.35
M.R.P.
Regular price

₹379.00
PHYTO CERAMIDE DEEP MOISTURIZER
Prevent Dryness+ Enhance Moisture Balance + Reduce Fine lines & Wrinkles
M.R.P.

Sale price

₹249.00
M.R.P.
Regular price

₹499.00
FAQs
If you tend to have oily skin, you would never want to slather up your face with Sunscreen as it would make your skin feel over oily, making it feel suffocated. Instead, go with sunscreen for oily skin with a soft, dry, water-resistant finish, giving long-lasting protection against the UVA and UVB rays. If you put up too much oil based sunscreen gel on your face chances are that you will develop acne and other skin related issues.
Use broad-spectrum sunscreens preferably with an SPF value of 30, spf 40 or more regularly, whether outdoors or indoors for any skin. It is always suggested to use spf 50 sunscreen. It offers maximum protection against both UVA and UVB rays, unlike ordinary ones.
The SPF rating on a sunscreen bottle stands for Sun Protection Factor, a measurement of how long you can stay outside during the day and be protected from the sun's burn-causing UVB rays. UVA rays are present, too; this is where the PA+ rating system comes into play. Some sunscreens include PA+ rating on their products. The letters "PA" followed by plus signs (PA+, PA++, PA+++, and PA++++) on a label are a rating system developed in Japan to represent how much UVA protection the product offers. PA++++ effectively isolates the sun's harmful ultraviolet rays and prevents premature aging of your skin. It prevents dark spots, sunburn, and premature signs of aging.
Sunscreen should be applied to every type of skin be it dry or acne prone skin. However, the best Sunscreen for dry skin can be the one that offers maximum moisturization and contains hydrating ingredients. Also need in mind to use the one which has all natural ingredients with no added use of chemicals and additives.
You should go for the Ultra Defense Sun Fluid-SPF 50 as it helps protect the skin against the deadly and harmful effects of the sun and its harmful UV rays and is suitable for all skin types. It has a soft, dry, water-resistant sunscreen finish. In addition, it is a oil free sunscreen with a formulation that includes both mineral and chemical filters that are encapsulated for long-lasting protection against UVA and UVB rays.
More Information

Ultra Defence Hybrid Sunscreen SPF 50

Best SPF 50 sunscreen for face in India, Sun protection gets a new definition with Earth Rhythm's Ultra Defence Hybrid Sun Fluid SPF 50. The harmful UVA and UVB rays that cause much skin damage are kept at bay with the daily use of this prominent sunscreen. It's perfect for sensitive and oily skin and provides long-lasting protection against the sun rays. It's a unique blend of both mineral and chemical filters that allows all-around defence for your skin. The water-resistant finish of this sunscreen keeps your skin soft and sweat-free. Ultra Defence Hybrid Sunscreen SPF 50 works as a shield to protect your sensitive and oily skin from the harmful UV rays of the Sun.

Texture Of Ultra Defence Hybrid Sun Fluid SPF 50

Earth Rhythm's Ultra Defence Hybrid Sunscreen SPF 50 keeps sun damage at bay as we understand the climate in a tropical country like India. This mineral sunscreen has a gel-based lightweight texture that comes with a portable and easy package. It is stored in an airless pump-based tube that is both pocket & travel-friendly.

Comes with no harmful ingredients, Best Sunscreen for oily skin and has a summer-friendly texture. It evenly spreads on the skin without any hassle or stickiness. Its broad spectrum acts effectively on skin and manages to give 360° protection. This all-rounder sun protection formula works evenly on the most sensitive skin. Other than that, it's wholly natural that has no harsh chemical properties but only pure fundamentals from the lap of mother nature.

Earth Rhythm's SPF 50 Sunscreen Benefits:

The soft, dry, water-resistant texture of the Ultra Defence SPF 50 Sunscreen is free from chemical sunscreen filters and is made up of non-toxic formula.

Mineral-Based Sunscreen :

Earth Rhythm's Ultra Defence Hybrid Sunscreen Fluid SPF 50 has a mineral-based formula. The balance of chemical and mineral filters of the powerful sunscreen plays a vital role when it comes to protecting your skin from the harmful UVA and UVB rays of the skin. The soft, dry, and water-resistant finish of this sunscreen provides all-over sun protection and care for your skin. So, you can stop worrying about harmful chemicals and shift to this pure mineral sunscreen that thoroughly works on your skin.

Broad Spectrum In Action:

Sunblocks are the saviours of your skin! So, you need the best Sunscreen for Dry Skin formula that spreads evenly all over the surface of your skin. In order to do so, Earth Rhythm has invented a superior quality sunscreen that has a broad spectrum. Best sunscreen for acne-prone skin Ultra Defence Hybrid Sunscreen SPF 50 works smoothly and fully on your skin all day long. It fights against the harmful UVA and UVB rays that can cause massive damage. The broad spectrum of sunscreen allows it to spread widely and evenly on the skin. Thus, it covers the face and other areas that are bare to the scorching sun rays.

Bye-Bye To Sun Damage:

Best sunscreen for everyday use in India Ultra Defence Hybrid SPF 50 Sunscreen works perfectly on the skin and protects it from harmful UV rays. We are aware that sun damage can cause premature ageing to the skin and this is where Earth Rhythm offers you the perfect solution. Our Ultra Defence Hybrid Sunscreen best with SPF 50 cares for your sensitive and oily skin by providing utmost protection against UV rays.

Only chemical-based sunscreens can invite more skin problems, but this SPF has both mineral and chemical filters that work together to give you 100% protection against sun damage. So, say goodbye to sun damage with this effective sun protection formula and use it daily for better results.

Wrinkles:

UV rays of the sun can damage the collagen in your skin. Wrinkles can thus be a result of sun exposure apart from being an outcome of the natural process of ageing. The sunscreen that you apply protects the collagen and other protein from breaking down due to the sun rays. Earth Rhythm Ultra Defence Hybrid SPF 50 Sunscreen helps to reduce wrinkles.

Non-Toxic Formula For Safety:

Skincare products tend to cause skin irritations due to their chemical and toxic properties. That's why Earth Rhythm has formulated a non-toxic best sunscreen for oily skin – Ultra Defence Hybrid Sun Screen SPF 50. With zero toxic properties and zero irritable ingredients, the sun fluid is a pro at its work. The effective and powerful formulation of Ultra Defence Hybrid Sunscreen SPF 50.

How to use Sunscreen SPF 50?

Following are the steps to use sunscreen every day:

Step 1: Cleanse your face with a gentle cleanser

Step 2: Exfoliate your face (once a week)

Step 3: You can tone, apply serum and then apply moisturiser on your face according to your choice

Step 4: Take a generous amount of sunscreen as your last step of the skincare routine

Step 5: Put the sunscreen in a dotted pattern on your face and try to blend it into the skin

Step 6: Put sunscreen on your ears, neck, hands , elbows and other exposed areas and massage until it gets absorbed into the skin.

Step 7: Reapply the sunscreen in the same way every three to four hours.

The easiest way to incorporate sunscreen into your daily routine is to apply it in the morning. But the first step is to choose the right sunscreen for your skin.

Choose as per your Skin Requirements: Most people skip applying sunscreen for the white cast after application. People with medium to dark skin tones or Indian skin tones prefer to apply sunscreen with no white cast. When looking for the best sunscreen for oily skin, it's important to find a product that will protect your skin without leaving a greasy or heavy feeling on your face. Hence, choose a sunscreen according to your skin. Use earth rhythm ultra defence hybrid spf 50 sunscreen for oily skin.
Use a Broad-Spectrum Sunscreen with SPF 50: You can apply best sunscreen daily as part of your morning skincare routine. With that, you need to be sure about the amount of SPF your skin requires. A broad-spectrum sunscreen with SPF 50 works well on Indian skin for sun protection.
Apply as per the Sun Exposure: Apply the best sunscreen at least fifteen minutes before you walk under the sun, and you can reapply the sunscreen every three to four hours depending upon the sun exposure your skin has. You can also apply sunscreen indoors since the UV rays can reach you there too.
Wash off Before you go to Bed: At the end of the day, washing off sunscreen before you go to bed is necessary.

The best choice will be a broad-spectrum sunscreen with only naturally occurring mineral filters which protect against the sun's UVA and UVB rays. Such sunscreens will be safe for you and the environment as well. You should apply a chemical sunscreen for oily skin before you apply a moisturiser, but applying a physical sunscreen should be the last step of our skincare regimen. Apply physical sunscreen only after you have moisturised your face.

Popular Searches:

sunscreen | best sunscreen | sunscreen cream | sunscreen best | sunscreen for oily skin | best sunscreen for oily skin | best sunscreen for face | sunscreen for men | best sunscreen for dry skin | sunscreen for dry skin | sunscreen spf 50 | best SPF 50 Sunscreen for oily skin | best sunscreen for men | tinted sunscreen | acne uv gel sunscreen | sunscreen for sensitive skin | best sunscreen for acne prone skin | best sunscreen for combination skin | sunscreen for sports person | best swimming sunscreen | best sunscreen for swimming india | water resistant sunscreen spf 50 | sunscreen for swimming pool | best waterproof sunscreen for swimming | best sunscreen for cricketers | best sunscreen for football players | best sunscreen for beach | best sunscreen for cycling | SPF 50 Sunscreen For Women | Sunscreen SPF 50 For Indian Summer
See All Ingredients

| Ingredient | Ingredient Type | Source | Benefit |
| --- | --- | --- | --- |
| Distilled Water, | Natural | Water | Solvent |
| Sodium Polyacrylate | Synthetic | Lab Synthesized | Gelling agent |
| Dimethicone | Synthetic | Lab Synthesized | Emollients, Nourishment, |
| Cyclopentasiloxane | Synthetic | Lab Synthesized | Gelling agent, and binding agent. |
| Trideceth-6 (and) PEG/PPG-18/18 Dimethicone, | Synthetic | Lab Synthesized | Emollients |
| Bis-ethylhexyloxyphenol Methoxyphenyl Triazine, | Synthetic | Lab Synthesized | Emollients |
| Diethylamino Hydroxybenzoyl Hexyl Benzoate, | Synthetic | Lab Synthesized | Emollients |
| Zinc Oxide, Polyacrylate Crosspolymer-6, | Synthetic | Lab Synthesized | High UV filter |
| Tocopherol, | Synthetic | Lab Synthesized | Anti-oxidant |
| Phenoxyethanol, Triethylene Glycol. | Synthetic | Lab Synthesized | Preservative. |
ULTRA DEFENCE HYBRID SUNSCREEN FLUID - SPF 50
ULTRA DEFENCE HYBRID SUNSCREEN FLUID - SPF 50