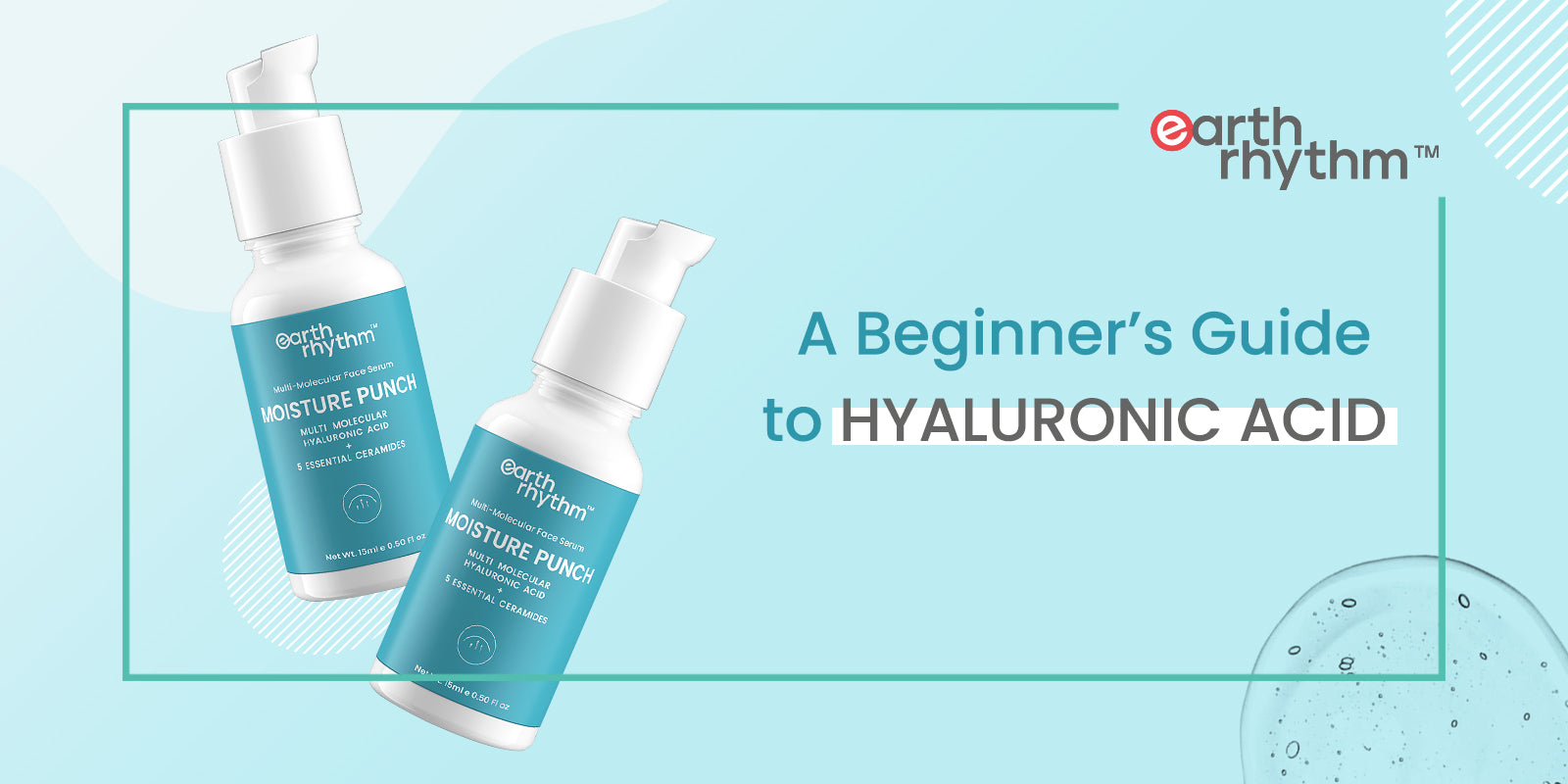 A Complete Guide To Hyaluronic Acid: Benefits, Products And How To Use It?
Given the day & age and people's inclination towards skincare, knowledge and awareness of skin ingredients have been a constant hunt. Like our body, our skin absorbs whatever is fed to it, hence the emphasis on natural & clean beauty and skincare products are a lot nowadays. 
One such ingredient is Hyaluronic Acid, you might have heard this word a lot of times during the discussions related to skincare, let us explain you more about what is hyaluronic acid. It is a gooey, slippery substance that the body produces naturally and is found throughout the body but especially in eyes, joints and skin. Hyaluronic Acid plays a vital role in improving the skin health and it's main function is to retain water to keep your tissues moist and lubricated. You've probably already read about it, but knowing its correct usage is paramount to getting the most out of its many benefits. 
Benefits of Using Hyaluronic Acid on Skin
Hyaluronic Acid is fairly new to being an integral part of skincare. The reason for this is its numerous benefits, some of which have been listed out for you: 
It's a Super Hydrater:

A major property of Hyaluronic Acid is its ultra-moisturizing nature. It works as an exceptional hydrating agent helping your skin balance the ever-so-vital water content. Products with Hyaluronic Acid, be it serums, face cleansers, or moisturizers, are great for retaining moisture in your skin and giving it that plump look.

Heals the skin:

Hyaluronic Acid has skin-healing properties. Yes, you heard that right! It helps smooth your skin's texture and is also helpful in healing scars and getting rid of marks.

Rich in Anti-ageing Properties:

Another plus of incorporating Hyaluronic Acid into your everyday schedule is its unique anti-aging property. Hyaluronic Acid is beneficial in fading the visible signs of aging, giving you younger and more supple skin.

Gives Skin a Better Flex:

Hyaluronic Acid helps skin stretch and flex, giving you the healthy skin you've always desired.
How to Incorporate Hyaluronic Acid into Your Skincare Routine?
It is recommended that Hyaluronic Acid-based products, especially face serums/oils, be used right after cleansing your face with a mild cleanser, while the skin is still damp, because it leaves the skin with maximum hydration-retaining ability. People with extremely dry skin can follow this up with an occlusive product like petroleum jelly to hold that moisture in their skin further. 
There are several Hyaluronic Acid-based products, from face serums to cleansers and more, available only at your favourite skincare & beauty store - Earth Rhythm! Know more about them below: 
Hyaluronic Acid Cleanser Face Wash: 
One of the best-selling products in the face cleansing category, this face wash is suitable for dry skin as it includes 6 essential ceramide complexes besides the moisture lock-in benefit of Hyaluronic Acid. It also restores the skin's barrier and smoothly cleans the dirt and makeup from the face. 
This amazing Hyaluronic acid Serum by Earth Rhythm is known for repairing and nourishing damaged skin while locking the moisture in and leaving skin well-hydrated. Moreover, it comes with a pump bottle, making it quite easy to dish out the desired amount. For best results, try using it twice a day.
2% Alpha Arbutin+Hyaluronic Acid - Skin Clarifying Serum
Another power-packed face serum from Earth Rhythm, this one is enriched with Alpha Arbutin and Hyaluronic Acid. Apply it twice, regularly for effective results as it can help you prevent freckles, even out the skin's complexion and fade sun spots.
Phyto-Ceramide Deep Moisturizer with Hyaluronic Acid
It is another hero product of Earth Rhythm that includes Phyto ceramides, Hyaluronic acid and Vitamin E to give your face the much needed hydration and nourishment. Phyto Ceramide Deep Moisturizer is one of the best moisturizers if you have a dry skin as it offer instant intense nourishment. 
Conclusion:
So, what are you waiting for? Download the Earth Rhythm App or shop directly at www.earthrhythm.com for your favourite picks. At Earth Rhythm, you can grab not just the essentials of face care but you will get some of the top products for hair care, bath/body care and makeup. Some of the top favorites of ER customers include sunscreen, face serum, butter cream soap, day & night cream, hair serums and murumuru shampoo bar. However, we have a wide range of products that you can choose as per your requirements.
Recommended Hyaluronic Acid Based Products:
LIP & CHEEK TINT
Moisturizes Lips + 100% Natural Ingredients + Give Natural Flush Look
Sale price

M.R.P.

₹349.00
M.R.P.
Regular price

₹499.00
MURUMURU BUTTER SHAMPOO BAR
Softens Hair + Tames Frizz + Deep Conditions Hair + Detangles Hair
Sale price

M.R.P.

₹246.35
M.R.P.
Regular price

₹379.00
PHYTO CERAMIDE DEEP MOISTURIZER
Prevent Dryness+ Enhance Moisture Balance + Reduce Fine lines & Wrinkles
M.R.P.

Sale price

₹249.00
M.R.P.
Regular price

₹499.00