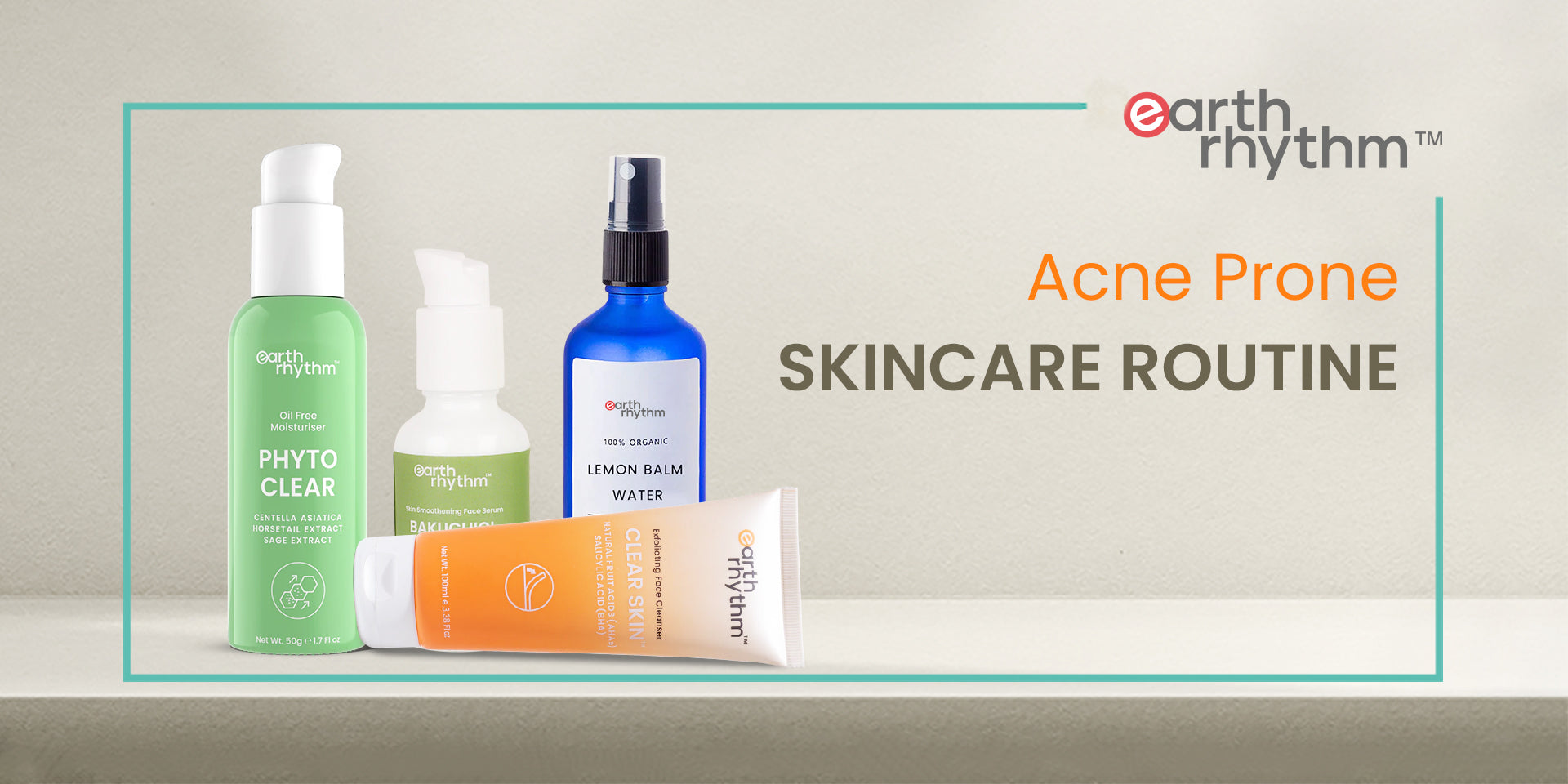 The Best Acne-Prone Skincare Routine - Earth Rhythm
Acne is defined as a skin condition where the hair follicles plug with oil & dead skin cells. If you have acne-prone skin or if you suffer from adult acne, you need to take extensive steps to take care of your everyday skincare routine. However, when it comes to creating a routine for yourself, it becomes difficult, especially for people with adult acne. You hardly have the time and mental space to maintain an acne-prone skincare routine.

Although it is a fairly common problem and nothing that cannot be treated, we recommend acne skin care routine products & follow acne skincare routine, not only to have clearer acne and brighter skin but also because it is healthy for you. The general norm is to follow a nighttime skincare routine; most people use their skincare products before going to bed. However, though it is a successful method of giving your skin the surveillance it needs, you should also follow a daytime routine to keep your skin clear, bright and smooth. Use Earth Rhythm acne/pimples skincare products for better results.

Let us have a look at the skincare routine for acne scars you can follow:
Best Routine For Acne-Prone Skin:
There is a step-by-step process to following your Pimples/acne-prone skincare regime. Here is what to do for your acne-prone skin in the morning:

Step 1 Use a Cleanser: The first thing to do is clean your face with a suitable face wash. While it is suggested that you rinse your face twice a day, the morning face wash is deemed the most crucial. In the case of acne-prone skin, we suggest the Exfoliating Face Cleanser with AHAs & BHAs.

Step 2 Tone your Skin: The pores of our sweat glands clog sometimes. It is suggested in such a case that you use a toner to balance the pH of your skin and remove any extra impurities or oil that may have stuck into your face. In addition, we highly recommend the Green Tea & Cucumber Face Mist for your acne-prone skincare routine.

Step 3 Use a Face Serum: Medication for active acne is prescribed usually when it's aggravated. Consult your dermatologist to get the medication best suited for you. Taking medicines without consultancy can have an inverse effect on your face. For milder use, we recommend using Face Serum with 10% Niacinamide.


Step 4 Use a Moisturizer: Using a moisturizer can be a little tricky. In your acne-prone skincare routine, the moisturizer should be different for your daytime and nighttime schedules.

For your daytime routine, a moisturizer acts as the separating layer between your skin and the dust and the sun. For that reason, SPF protection becomes necessary in a moisturizer.
The moisturizer (or a skin cream) for your PM skincare routine, as opposed to your daytime routine, should not have SPF protection. Rather a mix of retinoid derivatives of hyaluronic acid that hydrate your skin better.
Related Article: 5 Best Tips For Acne-Prone Skin
Things to Consider For Acne-Prone Skincare Regime:
In the process of your skincare routine for acne-prone skin, there are more things to keep in mind than any other skin type. Here are a few considerations that you must consider while following a skin regime.

Your application order could vary from what's given above. Consulting a dermatologist is deemed suitable dermatologist-recommended skincare routine for acne. Although the general saying is to apply the products from the thinnest to the thickest viscosity.
Do not use too many products. Using too many products can aggravate your acne and make it worse, causing skin irritation and/or blocked pores.
Patience is the name of the game. No product in the world can give you immediate results for acne treatment. Give your skincare routine for acne time to show its effects.
Not every product is suitable for everyone. Results for different products can differ for different people. If any product feels harsh on your skin or starts irritating, immediately stop the use and consult your dermatologist right away.

Acne is generally a problem faced by teenagers and people at a young age. Adult acne is much less common but evenly disruptive. There could be many reasons for adult acne. PCOS or Polycystic Ovary Syndrome. Conditions like irregular periods, facial hair, scalp hair loss &/or weight gain are common in PCOS. Apart from PCOS, stress is another booster that can lead you to follow an acne-prone skincare routine. Although, if your acne is not conditional to any of these and is a part of an underlying condition, consult expert dermatology clinics.
Earth Rhythm Recommended Products For Acne Prone Skin:
For any other skin remedy, you might have, Visit Earth Rhythm and find the perfect match for your skin.