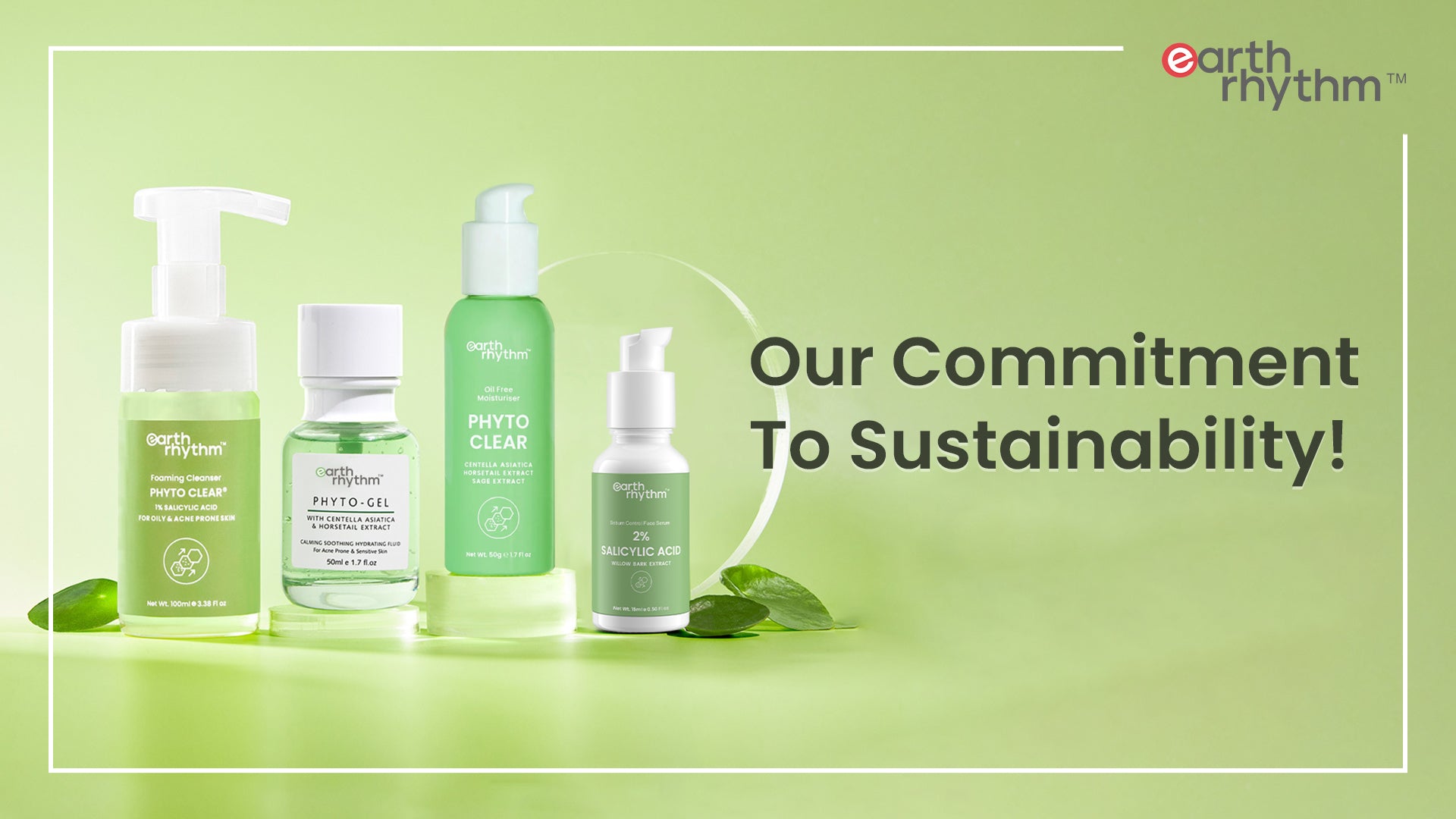 A Deep Dive Into Earth Rhythm's Approach Towards Sustainability
In today's time, our beauty and skincare world is flooded with products claiming to be either organic, natural, herbal, or ayurvedic. Do you think that just labeling the products solves the purpose? The products we apply to our skin get absorbed into it, so it's important to make sure that only the best of ingredients are invested in the skin and personal care products. And we at Earth Rhythm, believe in being transparent to our audience. 
Earth Rhythm is known as a D2C skin and personal care brand that rose to fame within a short period for its excellent quality of products. Earlier known as Soapworks India, now called Earth Rhythm - It is certified Natural by EcoCert and is free from any chemicals or parabens. We house a unique range of products like emulsifying clay face masks, cleansing balms, shampoo bars, solid conditioner bars, lip balms, and body butter, and much more. We also sell environmental-friendly zero waste tools such as reusable cleansing pads, wooden toothbrushes, neem comb, and kohl pencil. 
We're incredibly proud to call Earth Rhythm a sustainable and clean beauty brand. However, we're gradually working to become more earth-friendly and waste-free as we grow. We're always learning and working on becoming sustainable and we always will be. Our work on sustainability has been a journey in itself and we're more than happy to continue on the same path. So, here's a little lowdown on what we've been working on & what we have achieved so far. 
ECOCERT Certified
We're certified by ECOCERT, one of the world's largest certifying bodies and one of the best-known labels in the field of standardization in regards to natural cosmetics. Applying synthetic products to your skin, loaded with chemicals and preservatives, contributes to aging– even if the products claim to have anti-aging properties. The damage that the chemicals and preservatives do to our skin will ultimately outweigh any of the good they might do.
Cruelty-Free
Earth Rhythm is a PETA-approved brand and is not only a cruelty-free brand, but also uses ethically grown ingredients for its wide range of products. Our luxury yet affordable skin and personal care products work miracles on all skin types. Furthermore, from the start of the production process to the final product, nothing goes through animal testing or is derived from animals which makes it 100% cruelty-free.
Clean, Safe & Clinically Tested
At Earth Rhythm, we believe in smart and safe skincare! All the products you use are good for the skin and Earth too. Each of the formulations is created in-house by our trained chemists and is made to be safe, effective, and backed by cited scientific research. We have a range of professional-grade skincare products that focus on quality ingredients that we know will work for your skin. 
Inclusivity
All the Earth Rhythm's campaigns feature gorgeous people from all walks of life and tbh, we're kinda tired of those picture-perfect and photoshopped models. Earth Rhythm is a proud woman-led company & we walk & talk when it comes to inclusivity. Real beauty lies in embracing your skin, irrespective of any gender, age, caste, orientation & preferences. We celebrate beauty for an inspiring and diverse community that isn't limited by labels or tags. Also, we at Earth Rhythm employ people with special abilities like autism and down syndrome to make our workplace 100% inclusive. 
Sustainable Approach
Earth Rhythm follows a practice to use raw materials that are sourced in an ethically responsible and environmentally friendly manner. We're an eco-conscious brand & believe in ethical consumption and believes in giving back to our Mother Nature in a more sustainable approach with every order.We have made our packaging further sustainable with Recycled Plastic that is ready to be used again; 100% Sugarcane derived Bioplastic. Also, we stay away from bubble wraps & instead we have invested in honeycomb papers for all our shipments.

Also, we're on a quest to become a Plastic Neutral brand by the end of 2021. And being in the beauty space for years, Earth Rhythm has been creating skin and personal care with utmost care for its customers and using environment-friendly ingredients. The D2C brand is creating incredibly sustainable approaches and being true to its brand ethics. Looking forward to adding more steps to our sustainability journey! As mentioned, it's a process- a never-ending, to be exact. There'll always be work to do, ways to waste less, and ways to do better. 
Thank you for reading, we hope this was helpful for you! For more interesting news, tips and tricks, keep reading and supporting us like always.
Popular categories