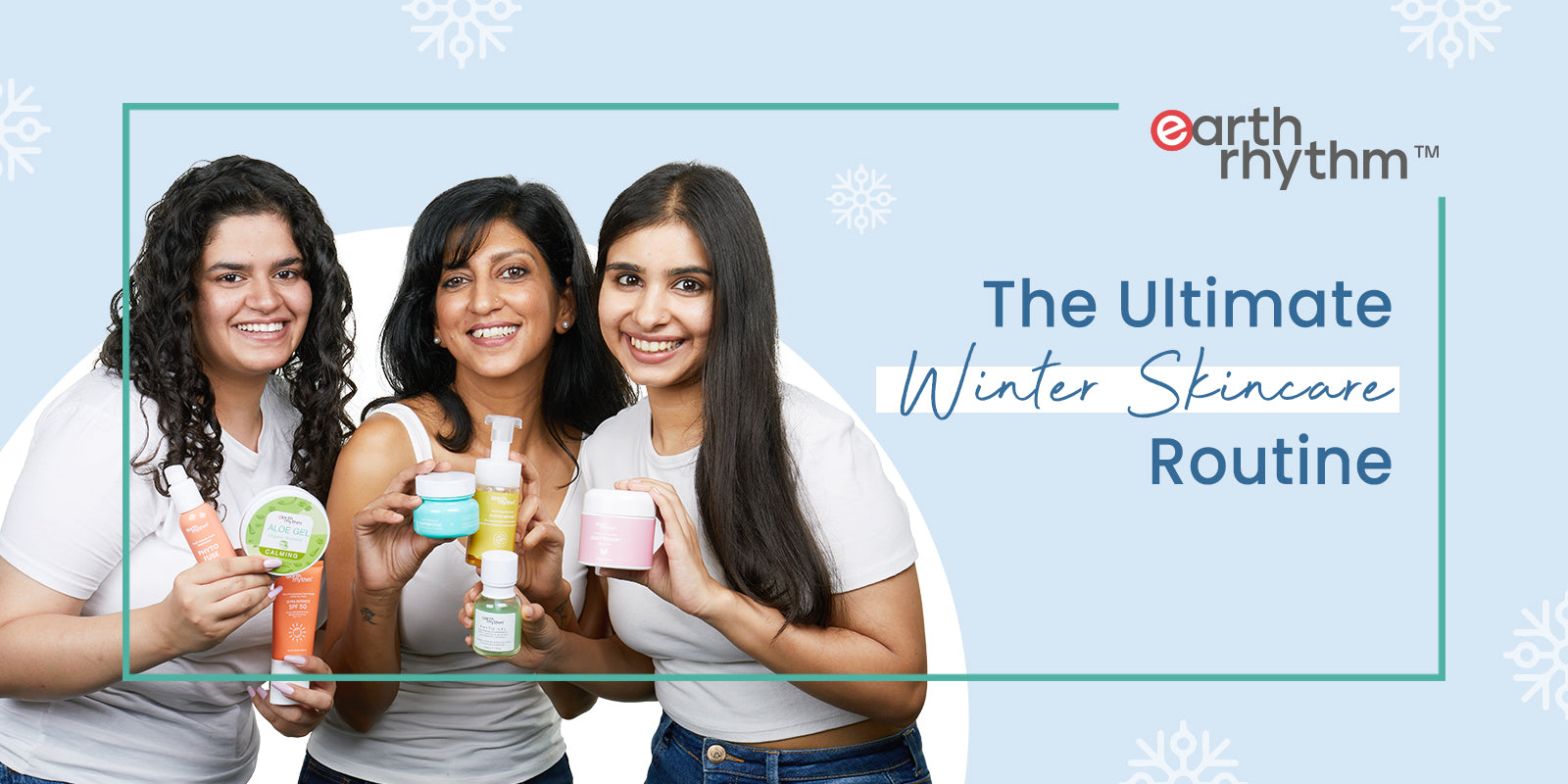 It's Time To Switch Your Skincare Routine From Summer To Winter
When the temperature drops, we all bundle up with boots, jackets, and scarves, forgetting that we're leaving our faces exposed. As summer's scorching heat and steam humidity slowly turn into early sunsets and drier air, the season change in the weather has largely impacted our skin than you might think. The weather will make your skin excessively dry, itchy, and dull with the lack of moisture. 
It's important to give your skin some extra TLC during the winters because it's one of the most exposed areas getting affected. This is why it's essential to have a proper winter skincare routine and well, it should be different from your summer skincare regime (of course, take notes).  
Our skin interacts with environmental aggressors every day and this includes climate conditions, sun rays, pollution, and even man-made environments like central heating and air-conditioning. So, when the season is changing from summer to winter, your skin reacts in multiple ways. It creates an unhealthy balance so, it's advisable to invest in a proper skincare routine and know what all products require your attention the most.
Winter Skincare Routine To Invest In 
When it comes to seasonal skincare, there's a multitude of permutations and combinations of products that one must follow. It all boils down to the timing and order of layering your skincare product with the seasonal change. Fret not, we've chalked out a transnational skincare routine from the summer to winter season with all the essential skincare products. So, you're all sorted now! 
Also Read: Ultimate Skincare Routine For Dry Skin
#Skincare Swap 1: A Hydrating Cleanser
In the fall season, your skin needs all the moisture and it's the perfect weather to experiment with the cleansing balm and cream cleansers. These types of cleansers try to restore the natural oils in the skin while cleansing away dirt and impurities. It's important not to overdry the skin as it's already deprived of moisture to an extent. Opt for a gentle cleanser that does its job while nourishing your skin at the same time. 
Product Recommendations: Cleansing Balm With Matcha Green Tea & Matcha Moringa Cleansing Buff
#Skincare Swap 2: A Layer of Hydration with Serum
To go the extra mile to combat skin dehydration, invest in a nourishing cum hydrating serum. A serum is lighter in terms of texture in comparison to thick creams that tend to clog your pores during this season. Plus, serums are usually high in antioxidants, vitamins, and other nourishing ingredients that will boost your winter skin. 
Product Recommendations: Multi-molecular Hyaluronic Acid Serum 
#Skincare Swap 3: Say YES to Moisturizer
For the love of God, don't you dare skip moisturizing your skin during the winters! No matter how oily your skin feels, you've just had to find the right formula for your skin type. While during the dry winter months, your skin requires thick and heavy-based moisturizer, and make sure that it doesn't end up clogging your pores which might further lead to breakouts. 
Product Recommendation: Phyto-Ceramide Deep Moisturiser
#Skincare Swap 4: A Little EXTRA Facial Oil
There's no harm to add an extra protective layer to your skin. Facial Oil seal in the moisture, restore the skin's lipid barrier, provide vital nutrients and regulate sebum production. Also, facial oils provide a protective layer from the daily aggressors while sealing in serum, and soothing the skin. 
Product Recommendation: Kukui Nut Face Oil For Dry Skin
#Skincare Swap 5: A Shield Of SPF
As the scorching sunny daylight has approached, gear up to shield your skin from the harsh UVA and UVB rays emitted from direct sunlight. It's time to stock-up non-sticky and non-greasy SPF that easily gets absorbed into your skin while effectively protecting you from sun damage. Even on the days, when the sun is hiding behind the clouds, make sure to protect your skin with SPF every day. 
Product Recommendation: Ultra Defence Hybrid Sun Fluid SPF 50
#Skincare Swap 6: Hydrating Lip Balm
If you think your lips don't require extra attention, it's time you think again. And a thin layer of tinted lip balm can save your lips from getting cracked or chapped. Invest in lip balm or tinted lip balm, that will deeply hydrate and nourish your lips. 
Product Recommendations: Organic Lip Butter & Tinted Lip Balm SPF 30
Conclusion:
We get it, winter season isn't everyone's favorite season and it's not your skin's favorite as well. Last but not least, don't forget to drink lots of water. It is also advisable to maintain a healthy lifestyle to get glowing and radiant skin in the winter season.
 Related Articles:
Popular Searches: