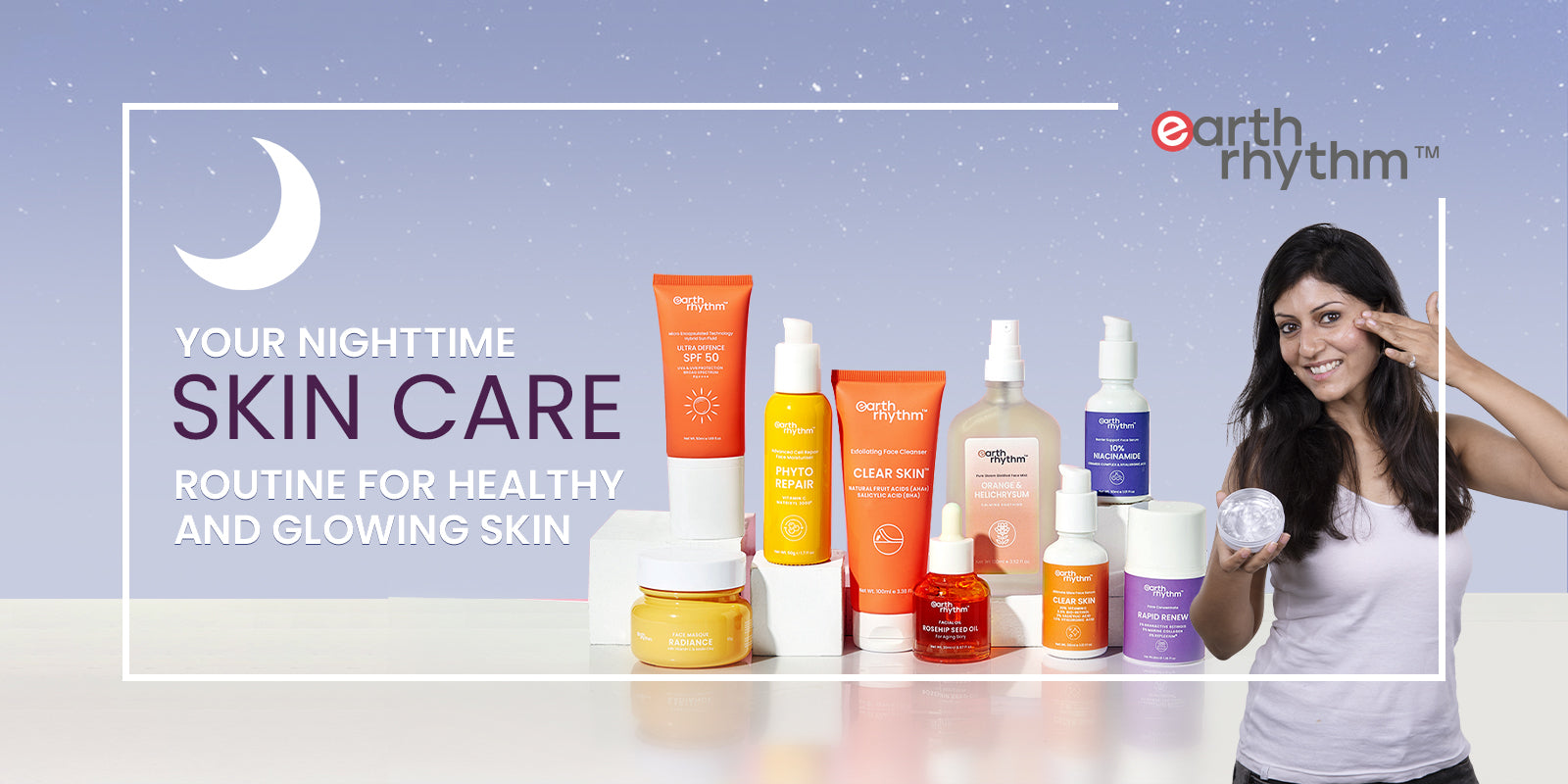 Your Night Skincare Routine For Healthy & Glowing Skin
Did you just wish your Christmas & New Year party lasted longer? While it's all fun, the next morning your skin feels all dull and dehydrated, didn't it? Well, figuring out what kind of skincare routine works the best can be a tricky business. And if you thought your AM and PM skincare routine is the same honey, you're mistaken! 
Some of us even make the cardinal skin of going to the bed without removing our makeup. On a day-to-day basis, our skin gets exposed to dirt, grime and even produces excess sebum that ends up clogging the pores. Hence, it's essential to do your night or PM skincare regime to keep your skin healthy, clean, and glowing. So, allow us to shed some light on your nighttime skincare routine.
Importance & Benefits of Night Skincare Routine:
There's a dearth to this whole concept that beauty sleep is the best when it comes to glowing skin. While you're busy dreaming, our skin repairs itself. Let's take you through a few reasons why our nighttime skincare routine is a MUST.
Our skin is busy repairing and actively growing new skin cells while we're sleeping. 

The products absorb better during the night, thus it makes your skin all plump and glowy in the morning. 

Our skin produces less sebum, so moisturizing skin at night will help you to reduce transepidermal water loss and keep the skin hydrated. 

When we clean our skin at night, it helps to prevent clogged pores and reduce the occurrence of pimples, acne, whiteheads, and blackheads. 

There's no chance of sunrays messing up your skin, hence it means one can safely invest inactive ingredients in your nightmare regime.
Recommended Kit : Damaged & Pigmented Skin Care Kit
Steps For Your Night Skincare Routine
Now that you're enlightened on why following a night skincare routine can be the best gift for your skin, team Earth Rhythm is here to help you with a simple nighttime skincare regime. 
Step 1: Double Cleansing Your Face
Your first step is to remove your makeup so that it doesn't clog your pores without irritating your skin. Invest in a Gel To Milk Cleanser-Pink Pomelo that will help you to get rid of heavy makeup, sunscreen, dirt, foundation, and other impurities. Follow it up with a creamy cleanser Restore Hydrating Cream Cleanser that will remove the remaining grime and dirt. Through double cleansing, it will ensure that your skin absorbs other products properly.
Recommended Products: Hyaluronic Acid Cream Cleanser, Pink Pomelo Makeup Remover Cleanser
Step 2: Use Face Toner
Once you have washed your face, one must ensure that the pH balance is on track, so don't forget to tone up your skin. Invest in an alcohol-free toner, infused with skincare-loving ingredients that help to maintain your skin's natural barrier. Spritz some toner on your face and gently pat it to hydrate your skin. This will avoid dehydration while prepping you up for the next steps of skincare. 
Recommended Products: Pore Refining Toner
Step 3: Face Serum
Now that we know that our skin repairs at night, it's time to feed your skin with great ingredients and products. And if you wish to wake up with gorgeous-looking skin, make sure to invest in a facial serum. It penetrates deeply into your skin and delivers a punch of actives and hydration. Whether you're a beginner or a pro, Vitamin C, Niacinamide, Hyaluronic Acid & Retinol are great picks. Well, choose the one according to your skin concerns and type! 
Recommended Products: 10% Vitamin C Face Serum
Step 4: Face Moisturizer
Never skip on investing in a night cream as it not only keeps your skin nourished but also keeps it looking hydrated and healthy. Even if you have oily skin, applying a moisturizer is a MUST! Honestly, this small step will help you to level up your skincare routine. And we host, hydrating formulas that feature replenishing antioxidants and ingredients that help to strengthen the skin's natural moisture barrier for a soft and supple look.
Recommended Products: Phyto Repair Multi-Vitamin Face Moisturizer
Step 5: Use Lip Balm For Dry Chapped Lips
Time to finish off your skincare regime with nourishing lip butter to moisturize, nourish your delicate lips, and keep them hydrated. And one of the easiest ways to prevent lips from getting chapped and cracked is by applying a lip balm before sleeping.
Recommended Products: Tinted Lip Balm SPF 30
Step 6: Use Body Lotion For Dry Skin
A body lotion is a topical treatment for the skin to moisturize and/or treat it. Applied with bare hands or cotton wool, a body lotion is meant to keep skin hydrated and moisturized while enhancing the skin's natural barrier and making it look firm and plump.
Recommended Products: Phyto Ceramide Body Lotion, Cocoa Vanilla Butter Lotion
P.S. if you have extremely cracked lips, invest in a lip masque to scrap off the dead skin cells and apply a hydrating product.
Now that you're through with what skincare products go into the nighttime skincare routine, your next step is to head to www.earthrhythm.com & start filling in your cart. And the role of a day and night skincare routine is clear—one protects & hydrates the skin whereas the other helps your skin to relax and heal. 
Related Articles:
Popular Searches: