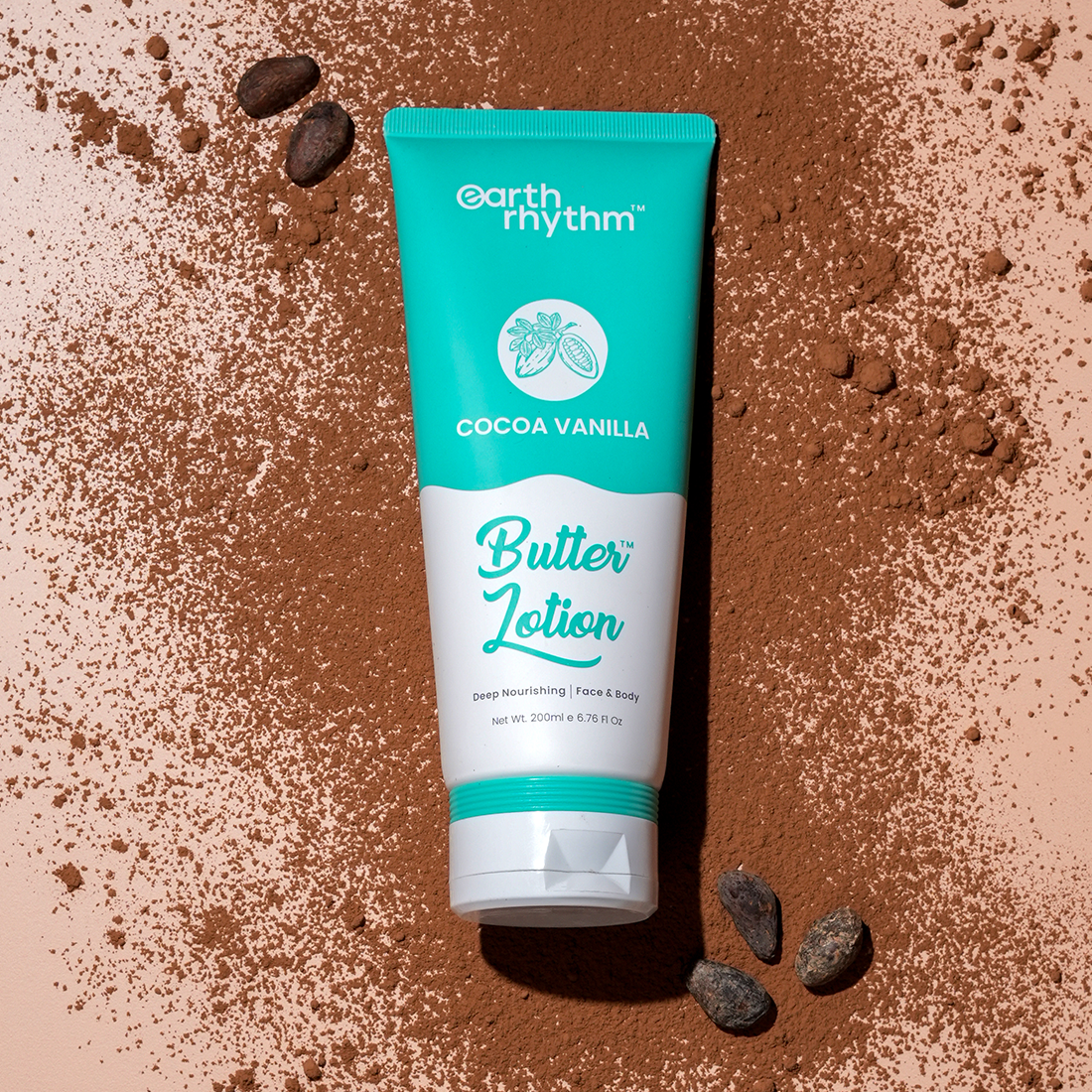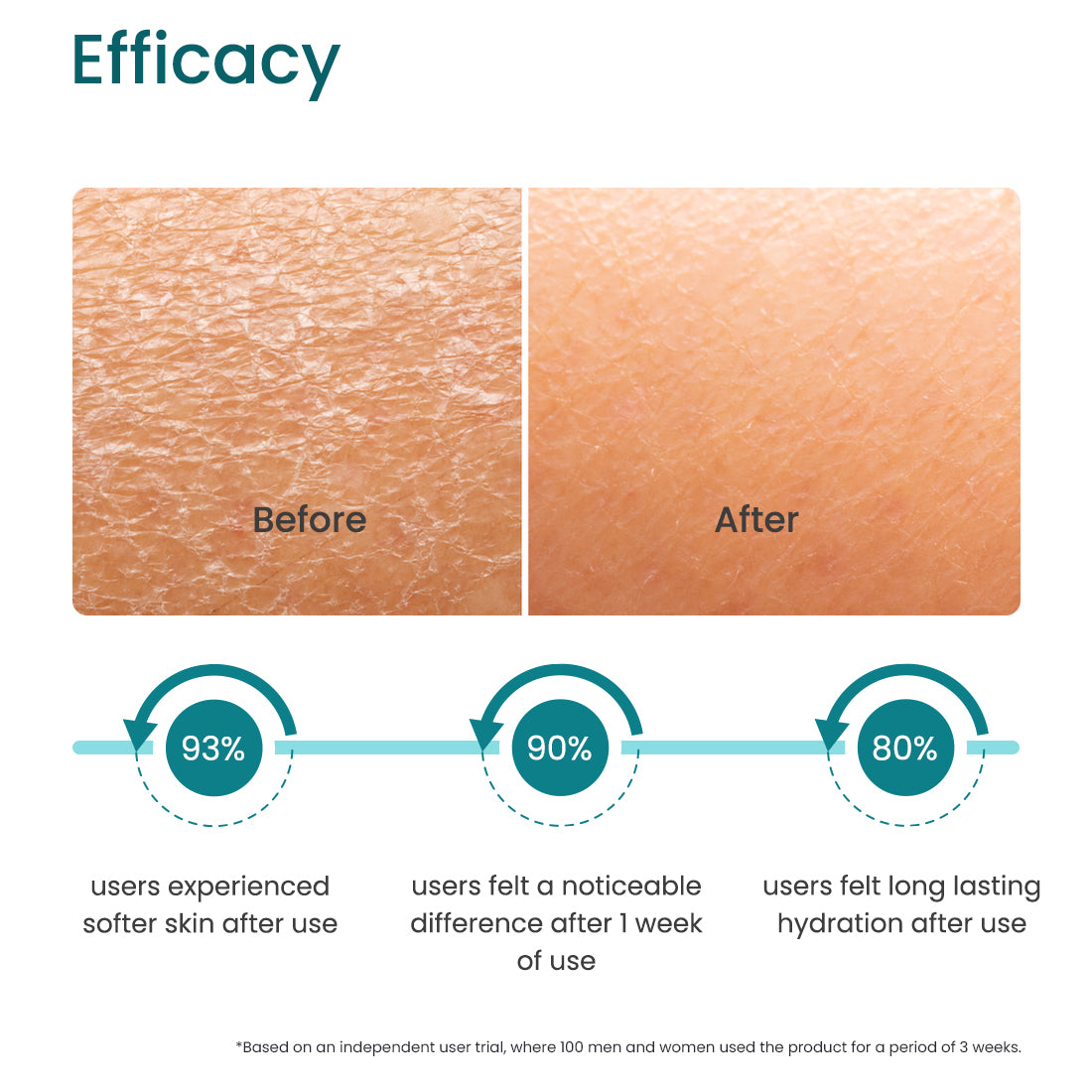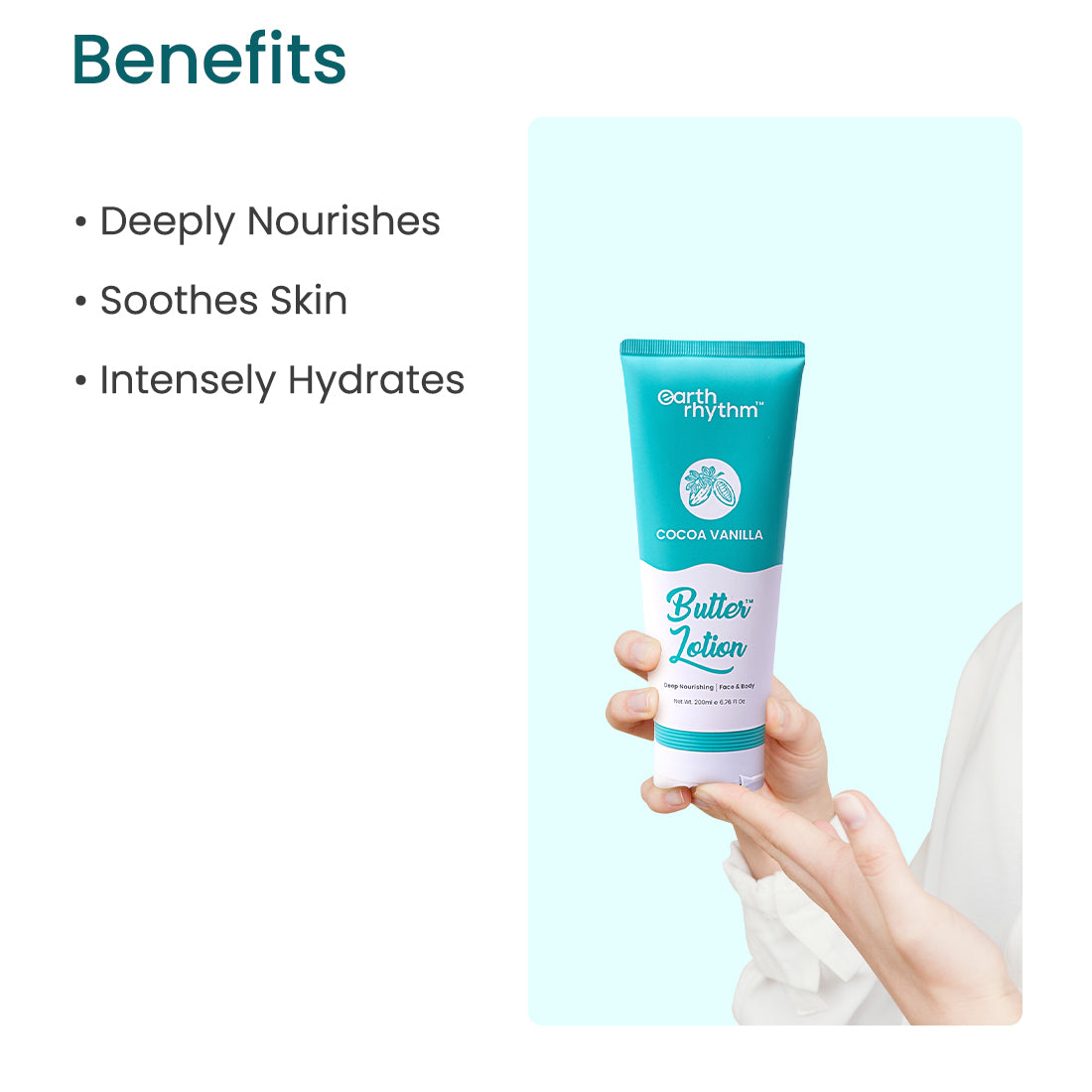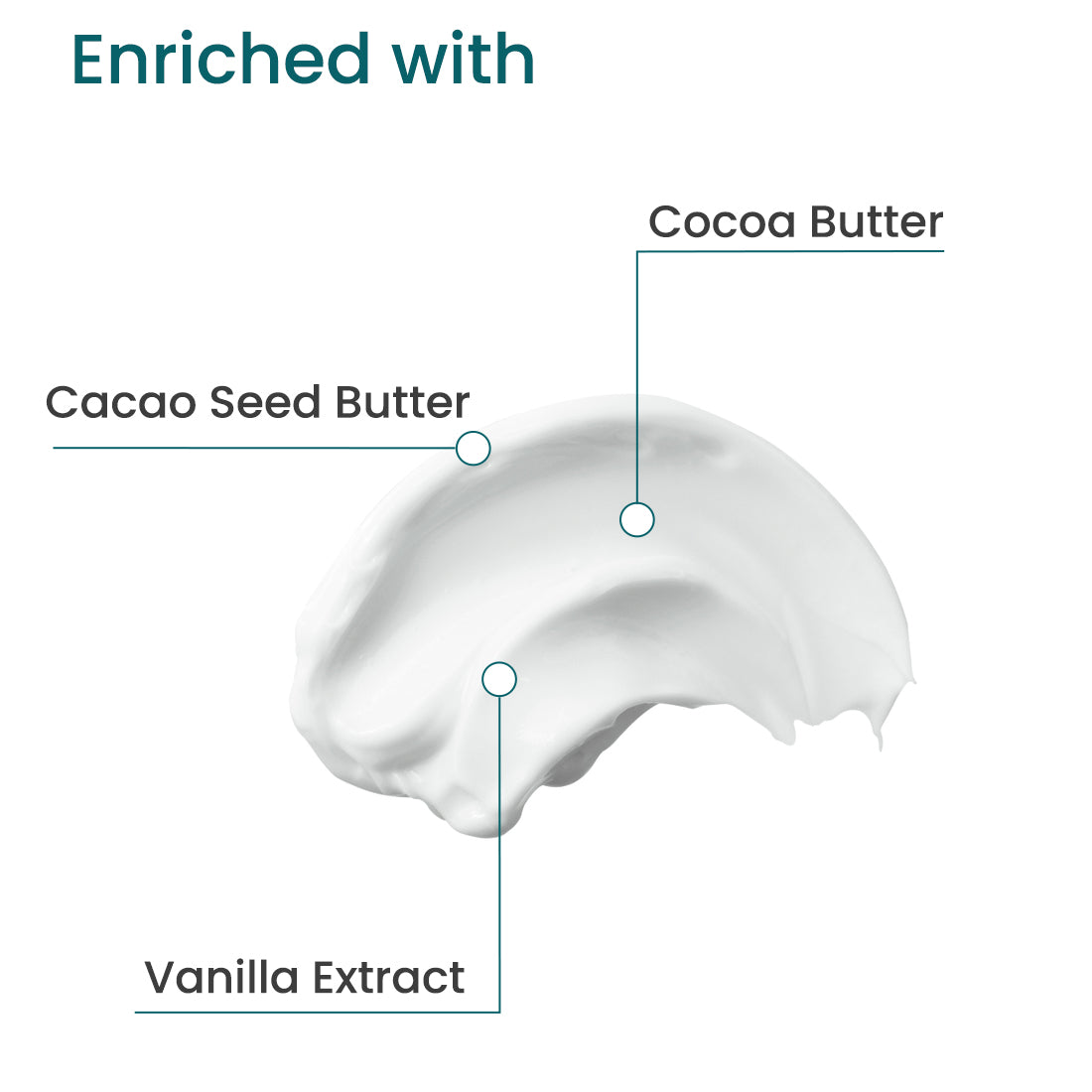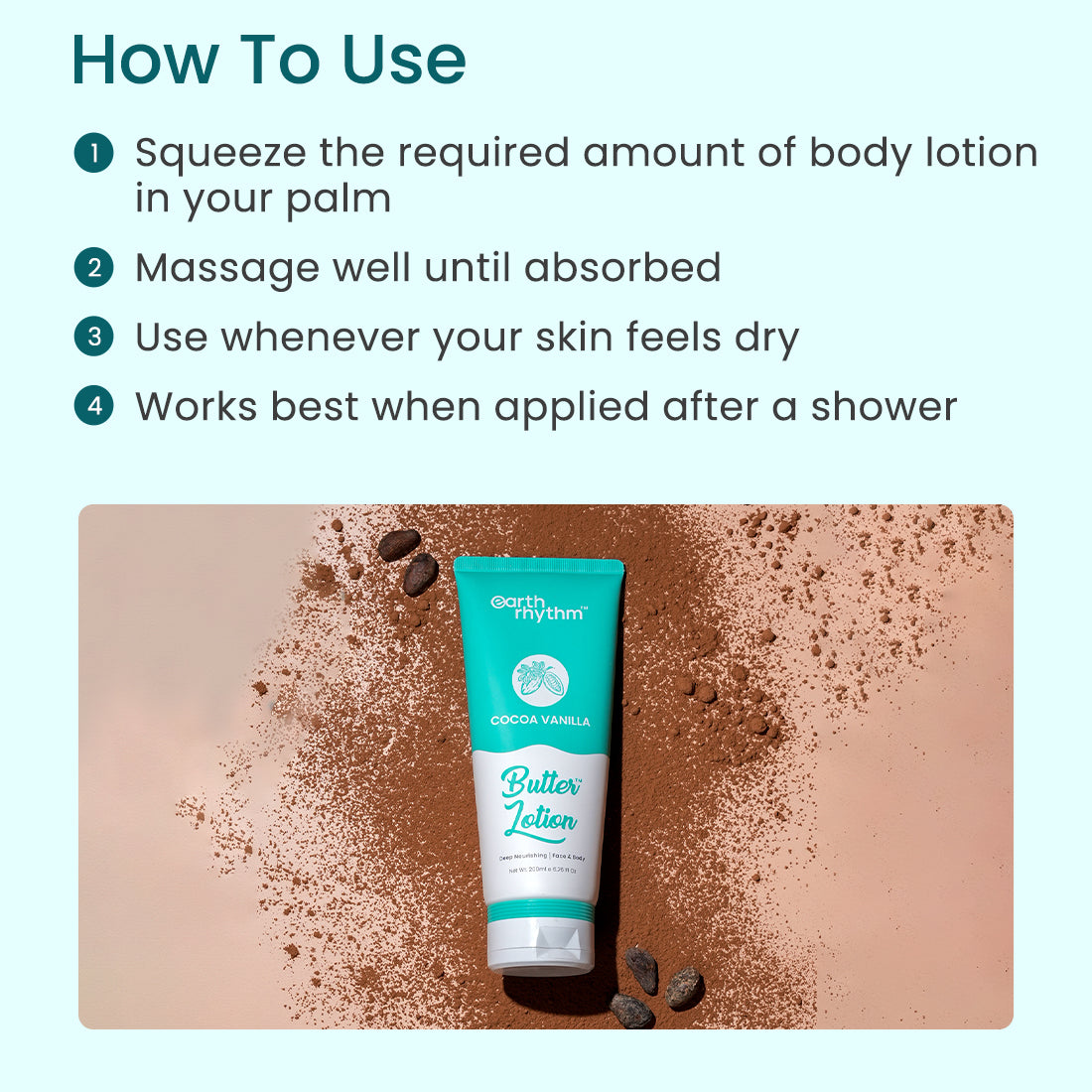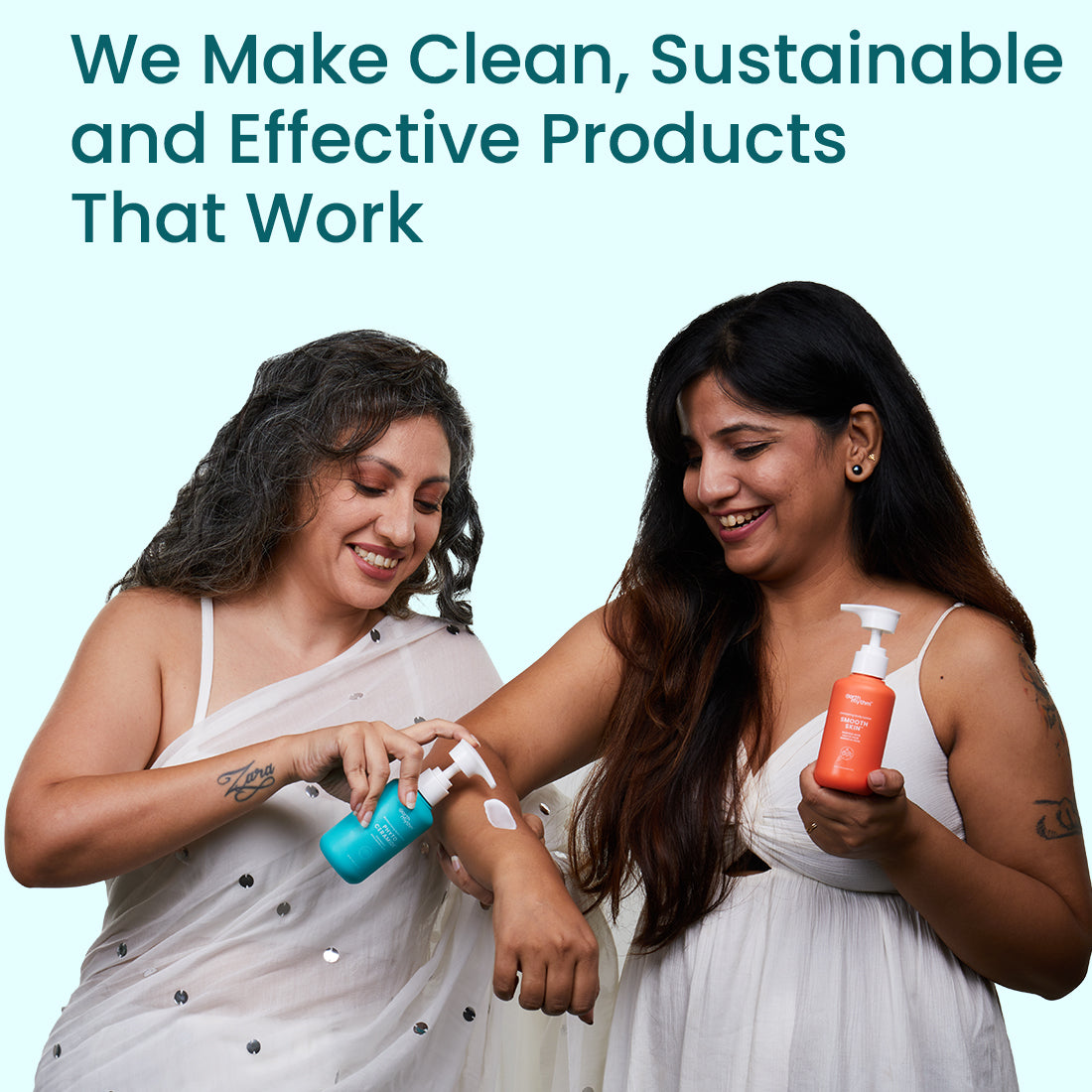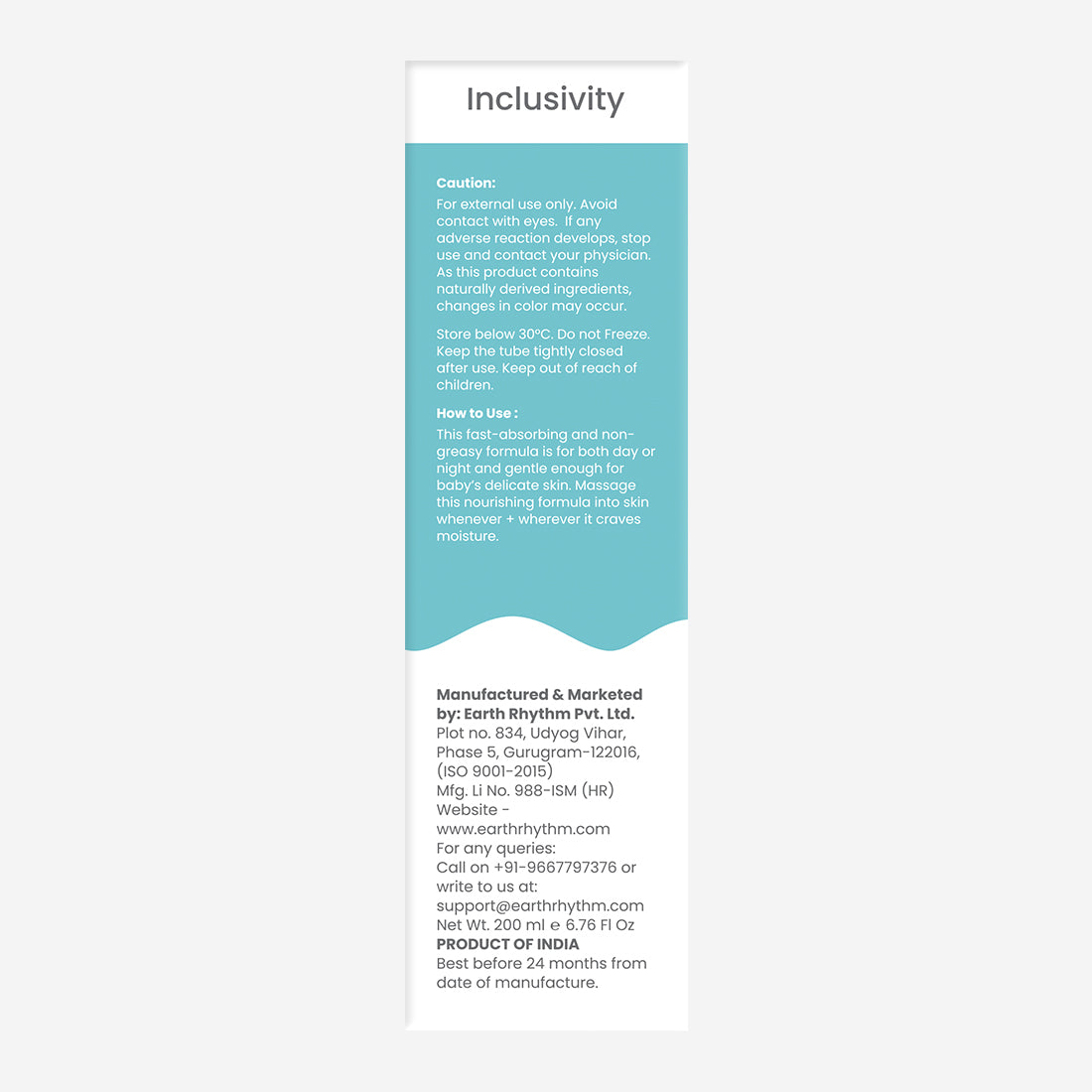 COCOA VANILLA BUTTER LOTION, 200ML
Deeply Nourishes + Soothes Skin + Intensely Hydrates
50% off
M.R.P.

Sale price

₹249.50
M.R.P.
Regular price

₹499.00
(/)
Inclusive of All Taxes. Shipping calculated at checkout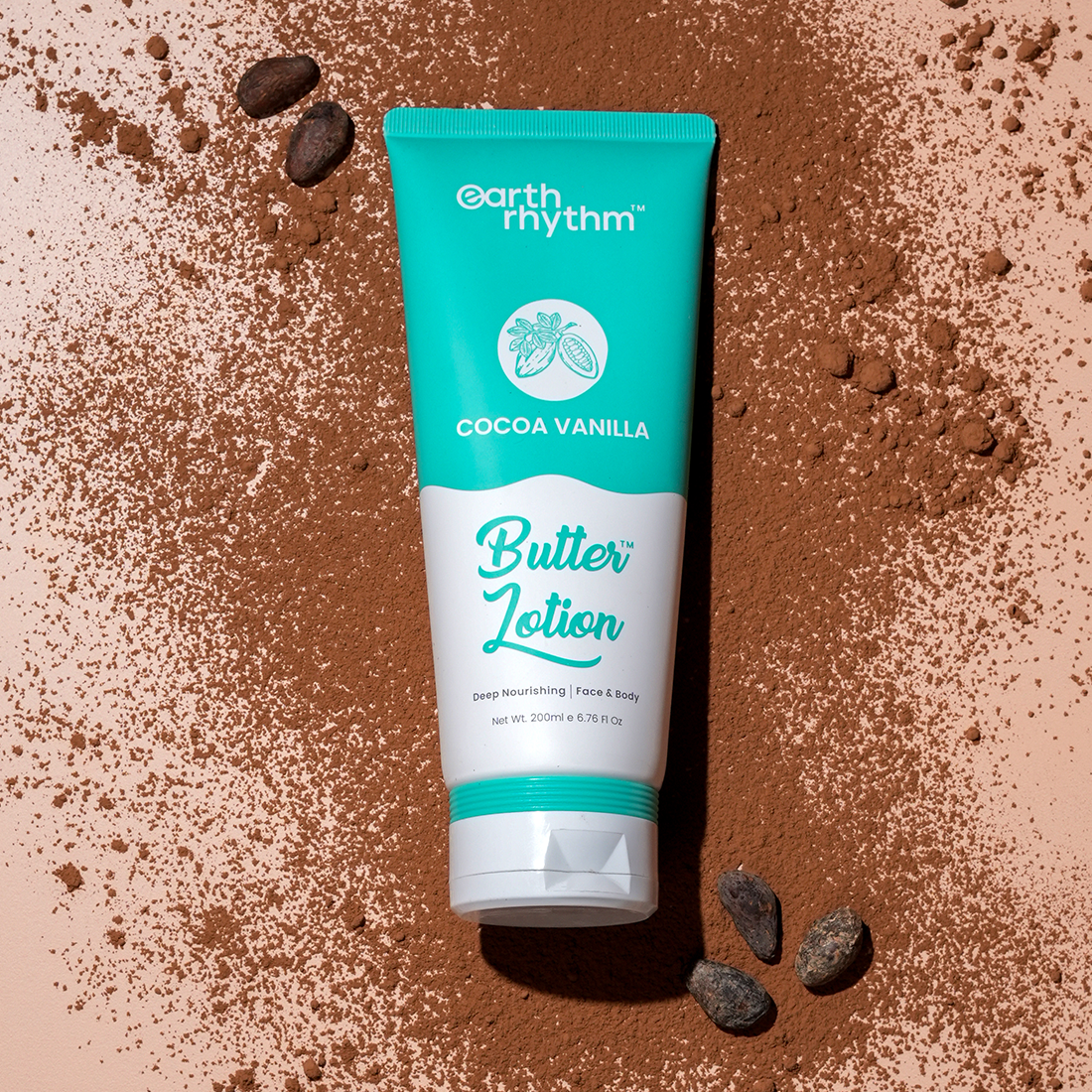 COCOA VANILLA BUTTER LOTION, 200ML
M.R.P.

Sale price

₹249.50
M.R.P.
Regular price

₹499.00
Choose options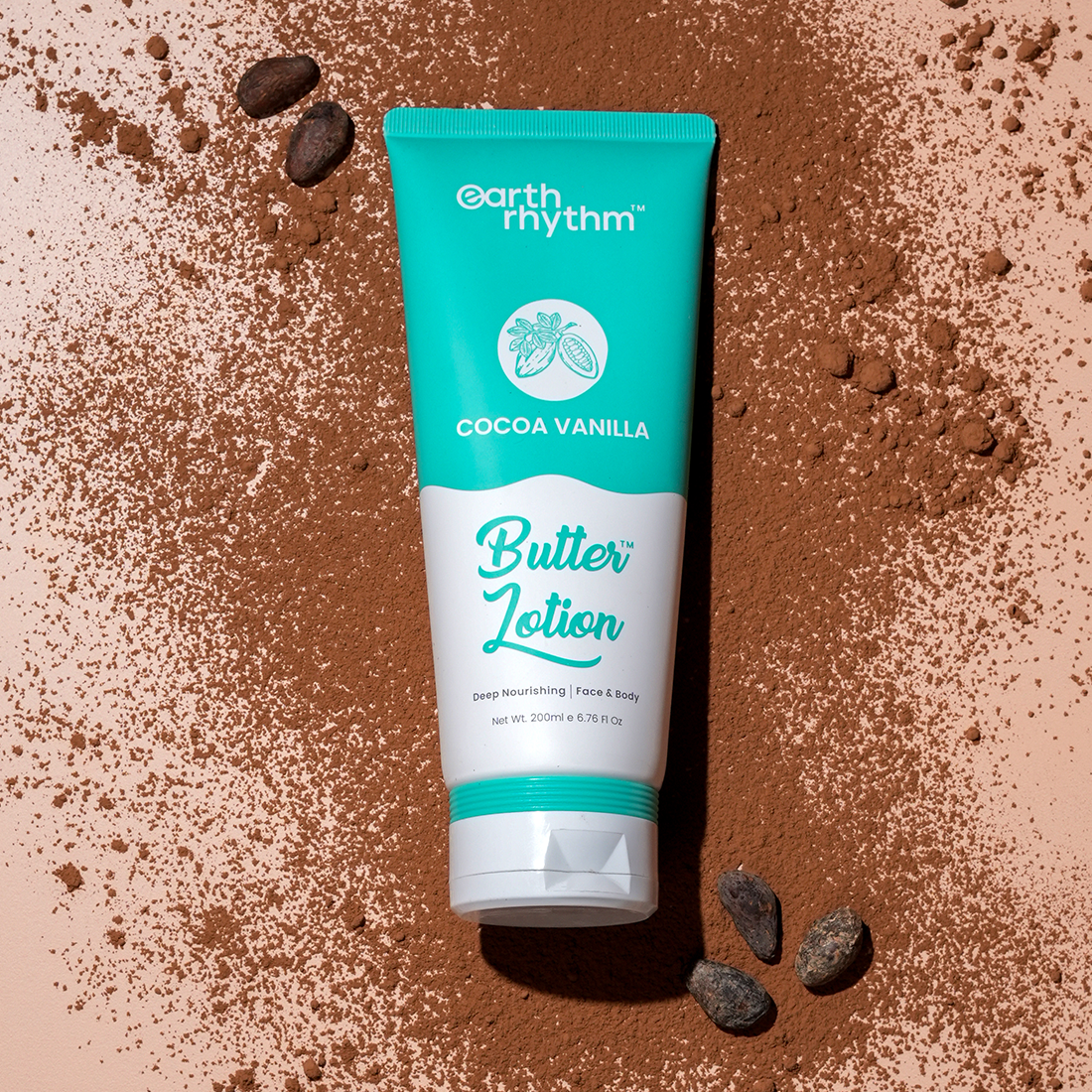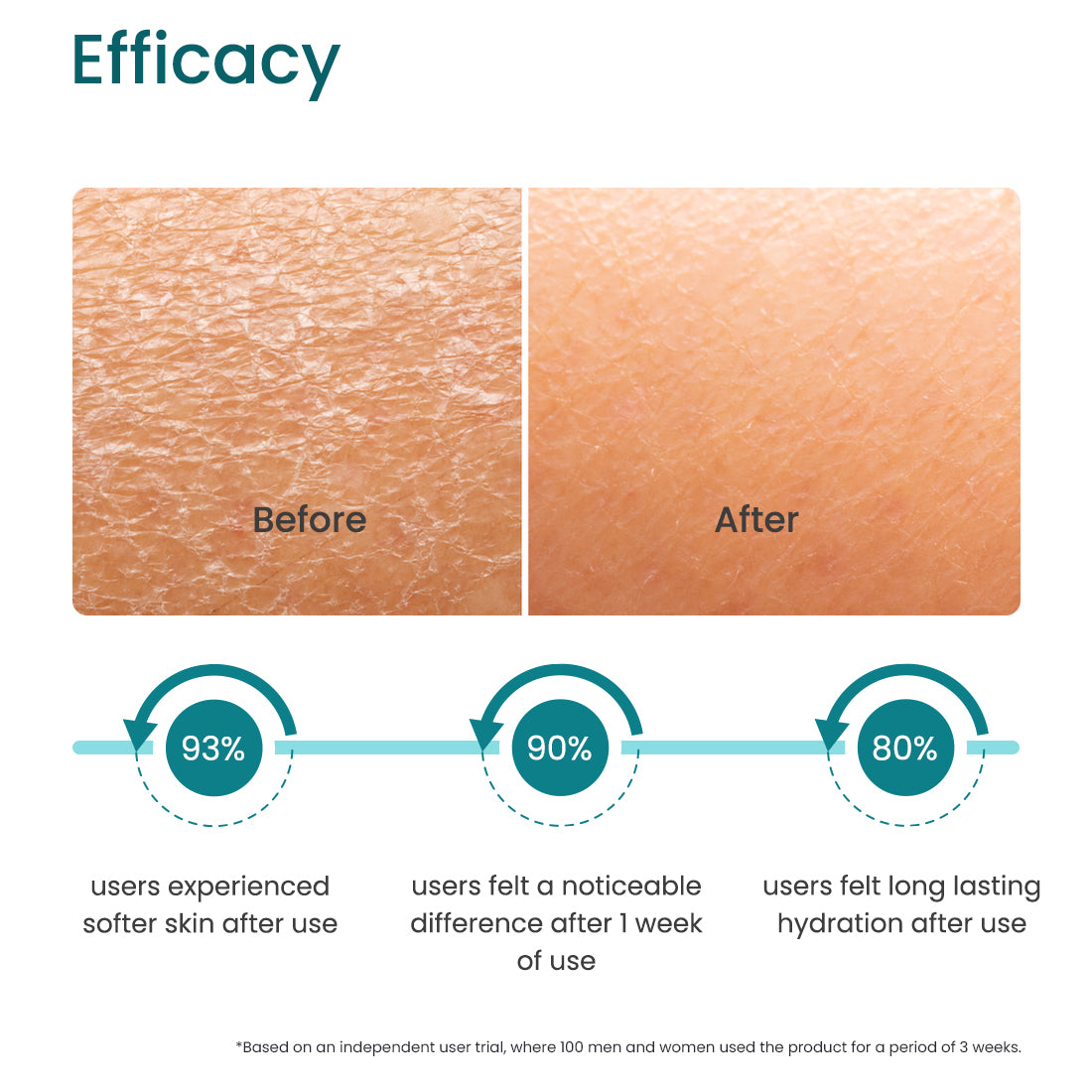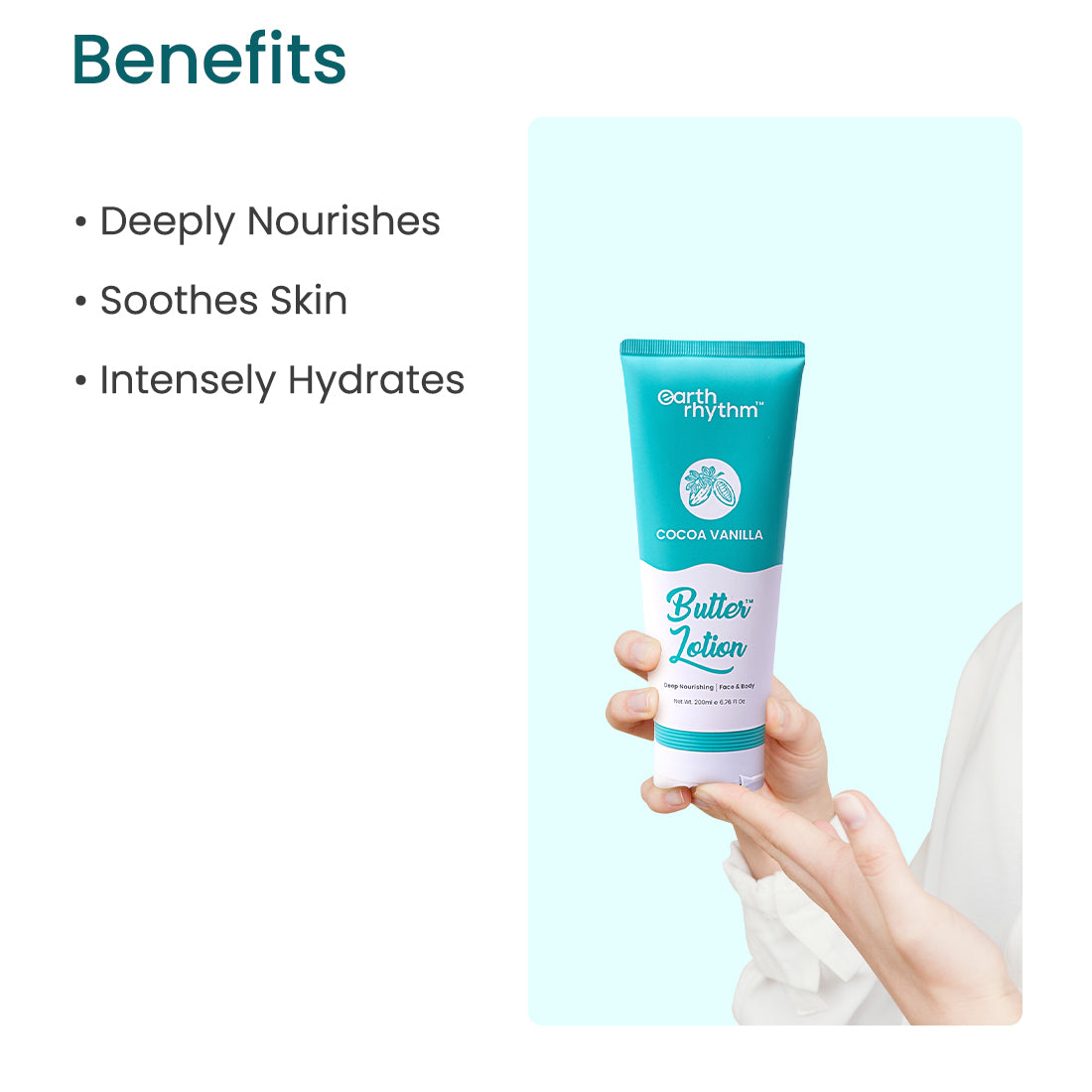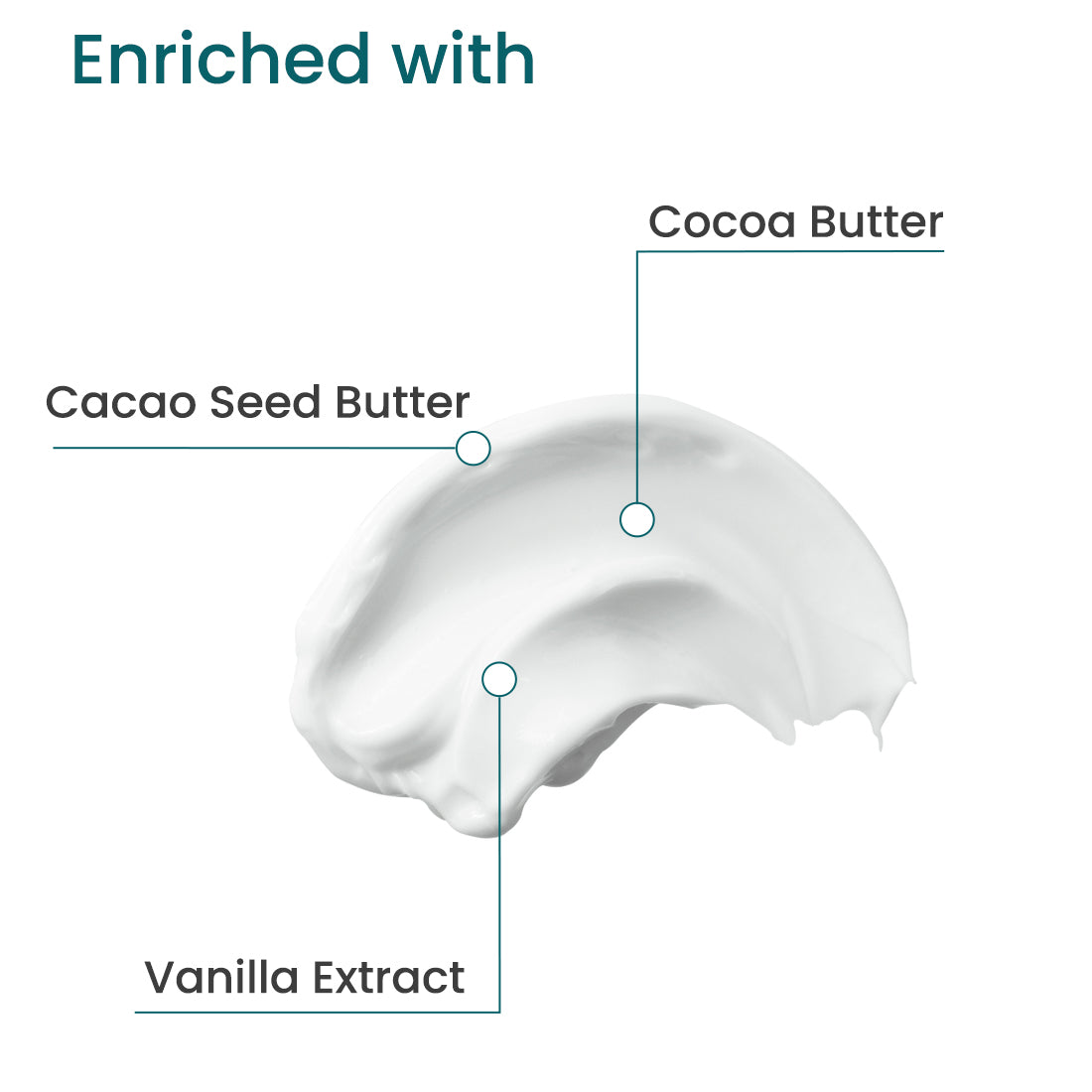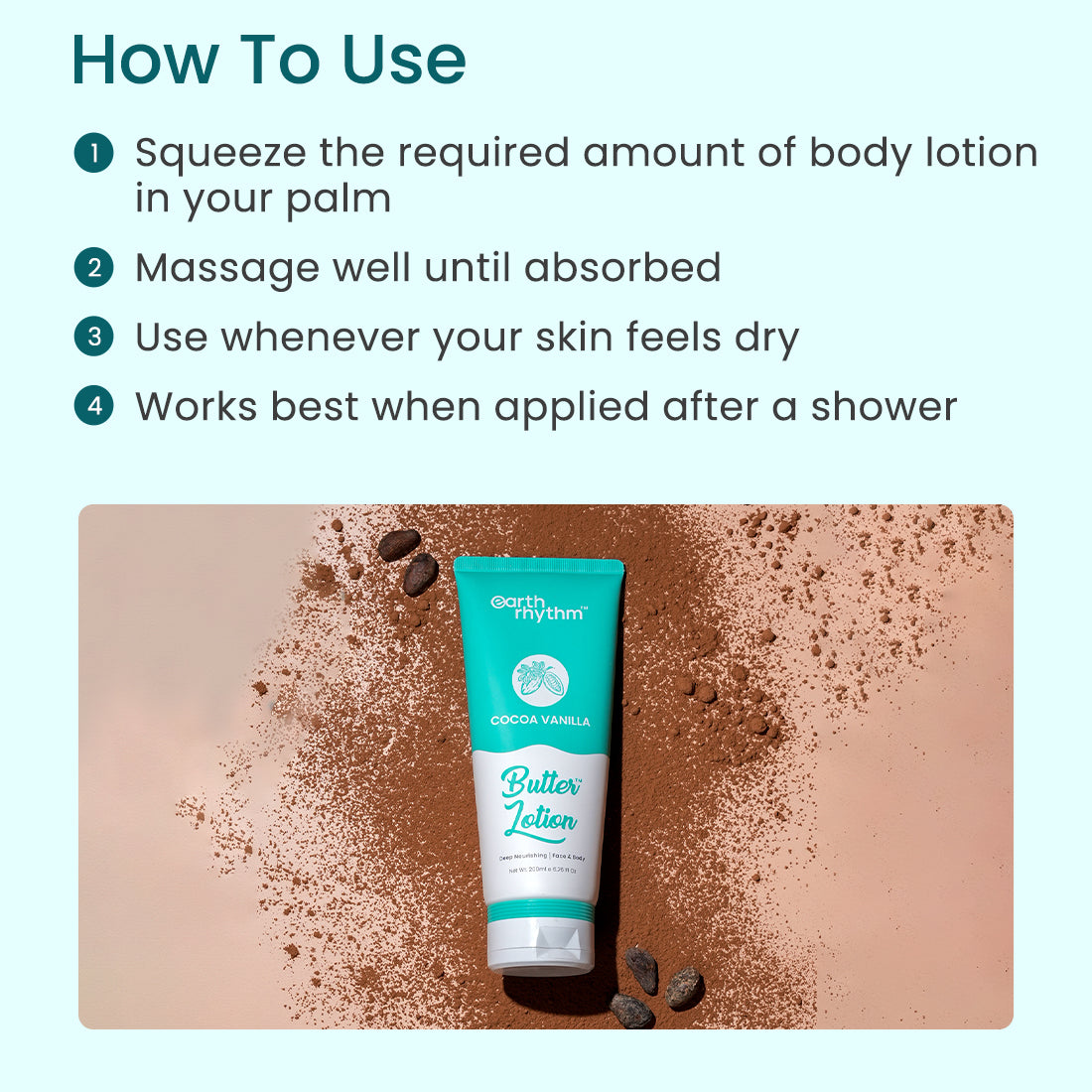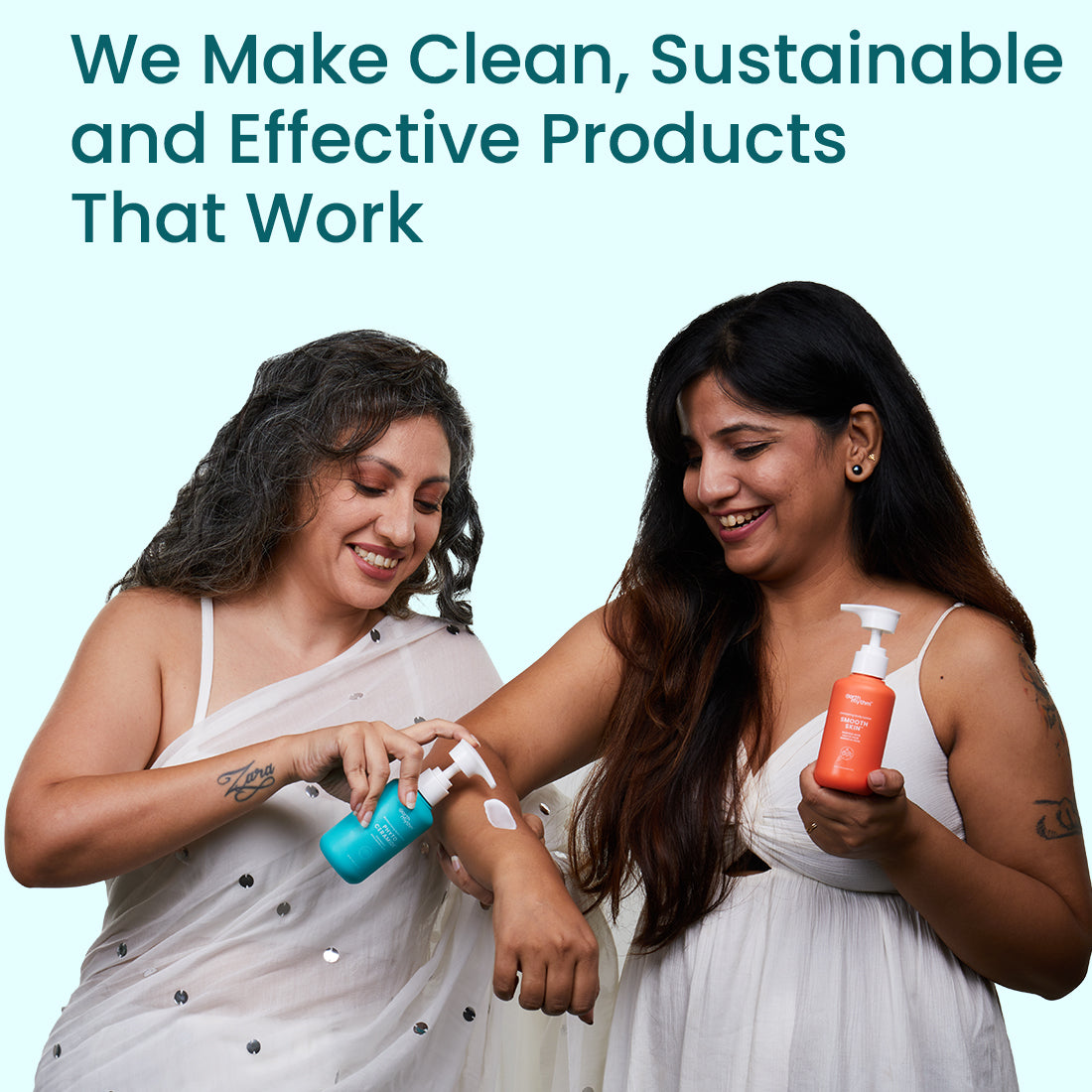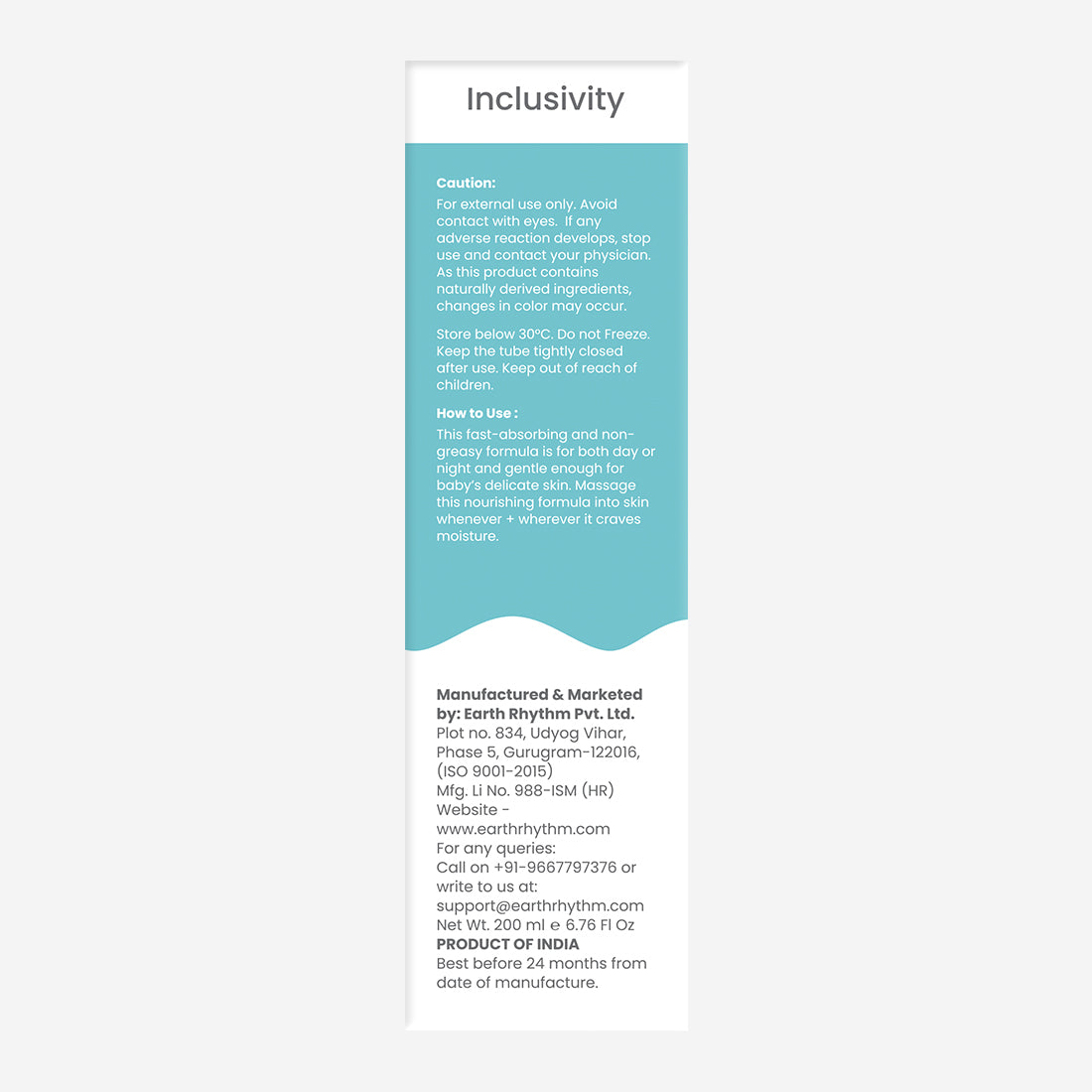 LIP & CHEEK TINT
Moisturizes Lips + 100% Natural Ingredients + Give Natural Flush Look
Sale price

M.R.P.

₹349.00
M.R.P.
Regular price

₹499.00
MURUMURU BUTTER SHAMPOO BAR
Softens Hair + Tames Frizz + Deep Conditions Hair + Detangles Hair
Sale price

M.R.P.

₹265.30
M.R.P.
Regular price

₹379.00
PHYTO CERAMIDE DEEP MOISTURIZER
Prevent Dryness+ Enhance Moisture Balance + Reduce Fine lines & Wrinkles
M.R.P.

Sale price

₹249.50
M.R.P.
Regular price

₹499.00
More Information

Cocoa butter body lotion is a luxurious and indulgent skincare product that has gained immense popularity in recent years. This product boasts a rich and creamy texture, a delightful cocoa scent, and a multitude of benefits for your skin. Derived from the cocoa bean, cocoa butter has been used for centuries by various cultures for its moisturizing and healing properties. In this article, we will explore the fascinating world of cocoa butter body lotion, discussing its origins, composition, benefits, and how it can transform your skincare routine.

The Origins of Cocoa Butter

Cocoa butter, scientifically known as Theobroma cacao, is extracted from the seeds of the cocoa tree. This tree is native to the deep tropical regions of Central and South America, where it has been cultivated for over three millennia. The Olmec civilization in Mexico was among the first to use cocoa beans for their nutritional and cosmetic benefits, dating back to as early as 1900 BC. The Aztecs and Mayans also revered cocoa for its restorative properties, often incorporating it into their religious rituals and medicinal practices.

Cocoa butter was initially used to make a rich, nourishing beverage known as "chocolatl." However, as cocoa became popular across Europe in the 16th century, its use evolved into making cocoa butter, which was later used for various skincare purposes.

Composition of Cocoa Butter

Cocoa butter is known for its unique composition, which contributes to its remarkable benefits for the skin. It primarily consists of three key components:

Fatty Acids: Cocoa butter is rich in saturated and unsaturated fatty acids. These fatty acids provide the skin with intense hydration and create a protective barrier that locks in moisture, keeping the skin soft and supple.

Antioxidants: Cocoa butter contains potent antioxidants, such as polyphenols and flavonoids. These antioxidants help protect the skin from environmental damage and combat the signs of aging.

Phytosterols: Phytosterols found in cocoa butter have anti-inflammatory properties, which can help soothe and heal irritated or damaged skin.

Benefits of Cocoa Butter Body Lotion

Deep Moisturization: Cocoa butter is renowned for its ability to provide deep, long-lasting moisture to the skin. It penetrates deeply into the epidermis, hydrating and nourishing from within. This makes it an ideal choice for those with dry, flaky, or dehydrated skin.

Skin Softening: Regular use of cocoa butter body lotion can help soften and smoothen the skin's texture. It is particularly effective in areas prone to roughness, such as elbows, knees, and heels.

Healing Properties: Cocoa butter is known for its ability to promote skin healing and reduce the appearance of scars and blemishes. It can aid in the recovery of minor burns, cuts, and stretch marks.

Anti-Aging: The antioxidants in cocoa butter help fight free radicals, reducing the signs of premature aging. Regular application can improve skin elasticity and reduce the appearance of fine lines and wrinkles.

Sun Protection: While cocoa butter does not replace sunscreen, it does offer some natural sun protection due to its antioxidant properties. It can help shield the skin from the harmful effects of UV radiation.

Improves Skin Tone: Cocoa butter has been reported to enhance the overall complexion and even out skin tone. It can help fade dark spots, hyperpigmentation, and uneven skin discoloration.

Soothes Irritated Skin: The anti-inflammatory properties of cocoa butter make it effective in calming and soothing irritated or sensitive skin, such as after shaving or exposure to harsh weather conditions.

Gentle for All Skin Types: Cocoa butter is generally well-tolerated by most skin types, including sensitive skin, as it is free from harsh chemicals and irritants.

How to Use Cocoa Butter Body Lotion

To fully enjoy the benefits of cocoa butter body lotion, follow these steps for the most effective application:

Cleanse: Start with a gentle cleansing routine to remove dirt and impurities from your skin. Use a mild cleanser that suits your skin type.

Exfoliate (if needed): Exfoliating your skin before applying cocoa butter body lotion can help improve its absorption and effectiveness. Use a gentle exfoliant to remove dead skin cells.

Pat Dry: After cleansing and, if necessary, exfoliating, pat your skin dry with a clean towel. It's important to apply cocoa butter lotion to slightly damp skin for better absorption.

Apply the Lotion: Take a small amount of cocoa butter body lotion and gently massage it into your skin using upward circular motions. Pay special attention to areas that tend to be drier, like elbows, knees, and heels.

Massage: Take a few extra minutes to massage the lotion into your skin. Massaging promotes blood circulation and helps the product penetrate deeper into the skin.

Allow Absorption: Give the lotion a few minutes to fully absorb into your skin before getting dressed. This ensures that you get the maximum benefit from the product.

Repeat as Needed: You can use cocoa butter body lotion as often as you like, but many people find that daily use, particularly after a shower or bath, yields the best results.

Cocoa Butter Body Lotion and Pregnancy

Cocoa butter body lotion is a popular choice among pregnant women due to its potential benefits in preventing and treating stretch marks. During pregnancy, the skin goes through significant changes, and it can stretch rapidly, leading to the formation of stretch marks. While genetics and hormonal factors play a role in the development of stretch marks, cocoa butter may help improve skin elasticity and minimize their appearance.

To use cocoa butter body lotion during pregnancy, follow the same application steps mentioned earlier. Apply the lotion to areas prone to stretch marks, such as the abdomen, breasts, hips, and thighs. While it may not completely eliminate stretch marks, it can help reduce their severity and prevent new ones from forming.

Choosing the Right Cocoa Butter Body Lotion

When selecting a cocoa butter body lotion, it's essential to consider the quality and purity of the product. Look for the following factors:

Ingredients: Opt for a lotion that contains pure cocoa butter as one of the main ingredients. Avoid products with a long list of synthetic additives and chemicals.

Organic and Unrefined: Organic and unrefined cocoa butter is the most natural and potent form. It retains more of its beneficial properties than highly processed alternatives.

Scent: Some cocoa butter lotions have a strong cocoa scent, while others are lightly scented or unscented. Choose a product with a fragrance that appeals to your preferences.

Packaging: Choose a lotion that comes in airtight, opaque packaging to protect the product from light and air, which can cause it to degrade over time.

Brand Reputation: Research the brand and read customer reviews to ensure you are purchasing from a reputable and trustworthy source.

Popular Body Lotion in India

Find the one that suits your needs and preferences. Some popular options include:

Conclusion

Cocoa butter body lotion is a time-tested and beloved skincare product with numerous benefits for the skin. It has a rich history dating back thousands of years and continues to be a popular choice for those seeking deep moisturization, skin softening, and overall skin health. Whether you're looking to prevent and treat stretch marks during pregnancy or simply want to indulge in a luxurious skincare experience, cocoa butter body lotion is a versatile and effective option.

When selecting a cocoa butter body lotion, prioritize purity, quality, and the reputation of the brand. With regular use and proper application, you can harness the power of cocoa butter to achieve soft, smooth, and radiant skin that feels indulgent and nourished. Make cocoa butter body lotion a part of your daily skincare routine, and experience the delight of nature's gift to your skin.
See All Ingredients

| Ingredient | Ingredient Type | Source | Benefit |
| --- | --- | --- | --- |
| Aqua | Natural | Water | Solvent |
| Glycerin | Natural | Plant | Humectant, Moisturising |
| Cetearyl Alcohol | Natural | Coconut palm tree | Emollient |
| Cetearyl Glucoside Caprylic Capric Triglyceride | Synthetic | Lab synthesized | Smooth skin, Anti-oxidant |
| Stearic Acid | Synthetic | Lab synthesized | Emollient |
| Helianthus Annuus Seed Oil | Natural | Sunflower oil | Emollient |
| Cocos Nucifera Oil | Natural | Coconut | Emollient |
| Sodium Acrylate,Acryloyldimethyltaurate,Dimethylacrylamide Crosspolymer | Synthetic | Lab synthesized | Gelling agent |
| Polysorbate 60 | Synthetic | Lab synthesized | Clinsing properties |
| Betaine Anhydrous | Synthetic | Lab synthesized | Anti-aging |
| Theobroma Cacao Seed Butter | Natural | Seed | Moisturising |
| Vanilla Planifolia Fruit Extract | Synthetic | Lab synthesized | skin-soothing agents. |
| Fragrance | Synthetic | Lab Synthesized | Aroma |
| Methylchloroisothiazolinone/ Methylisothiazolinone | Synthetic | Lab Synthesized | Preservative |
| Phenoxyethanol. | Synthetic | Lab Synthesized | Preservative |
COCOA VANILLA BUTTER BODY LOTION
Cocoa vanilla butter body lotion
Does not get greasy. Could have been great if there was more of coffee or vanilla fragnance.
Love it
So blendable, easily absorbed into the skin. Love the fragrance as well.