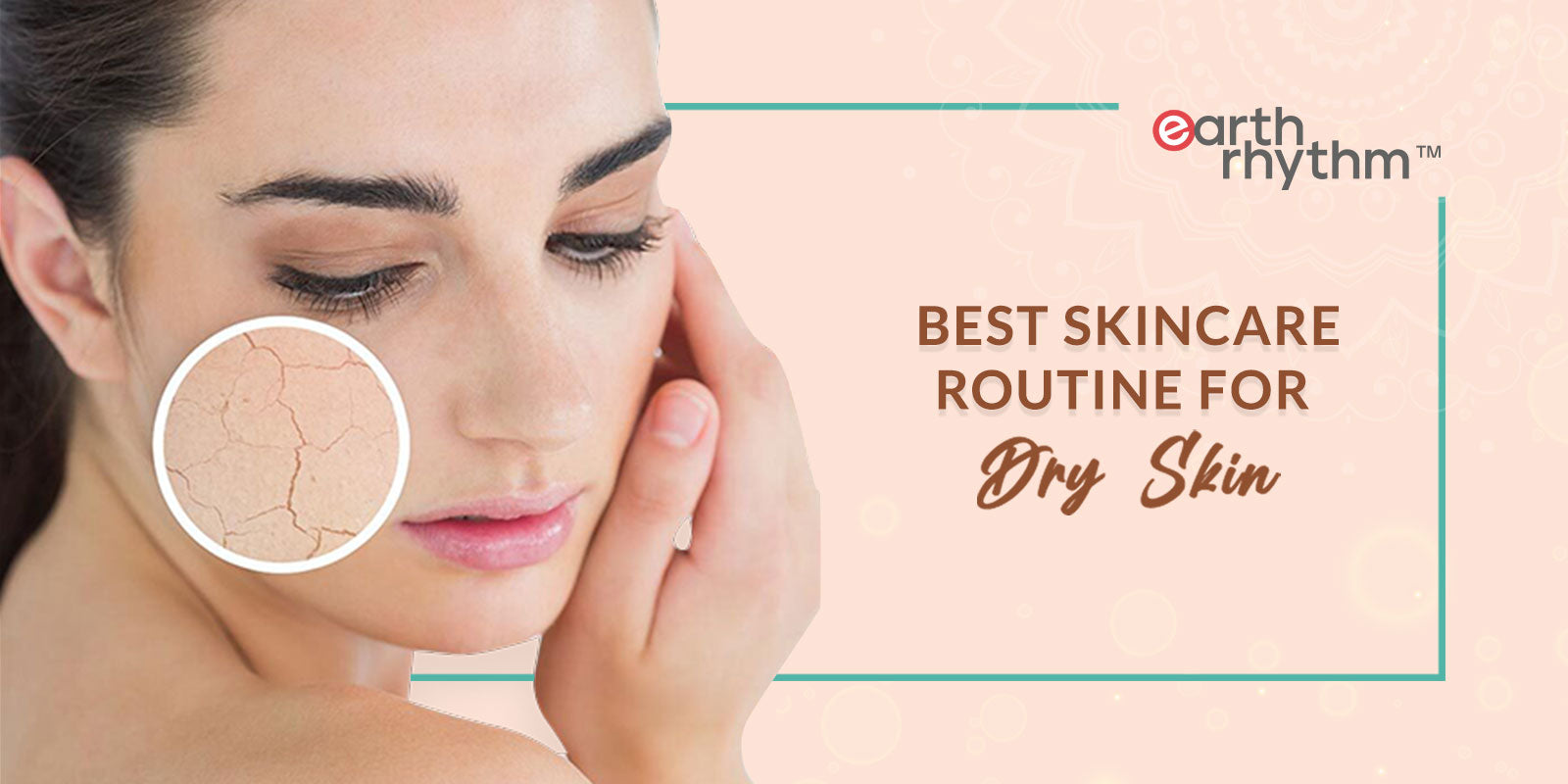 Your Ultimate Skincare Routine For Dry Skin Is Here!
Have you ever started putting on your base and witnessed that your foundation is peeling off like sandpaper? Well, sure short chances are that you are suffering from dry skin (just similar to the Sahara Desert). There are countless reasons for dry skin and one of the finest reasons is lack of moisture and hydration. And nothing strips skin than your hot showers, harsh soaps, hot air, and of course the genetics. 
Are baffled by how to take care of your dry skin? Dry skin treatment isn't as tough as first and foremost, make hydrating moisturizers your best friend. Also, harsh cleansers, scrubs & hot showers are a big NO-NO. Instead, one should opt for lukewarm showers and the best products for dry & dehydrated skin that won't wreak havoc on your skin daily. So, team Earth Rhythm is here to help you with the best skincare products for your dry skin, it's time you say goodbye to flaky skin. You can use Sunscreen For Dry Skin in Summer when going to outside.
Daytime / AM Skincare Routine For Dry Skin
Step 1: Use Gentle Cleanser For Dry Skin
Start your day with a dry skin care routine with an effective cleanser that removes impurities, dirt, and makeup without drying out your skin. Prefer to invest in a no-foam super mild formulation with soothing ingredients that do their job without disturbing the outer layer of your skin. Of course, fragrance-free formula with Glycerin (moisturizer) is a bonus! 
ER Recommends: Energising Water Gel Cleanser & Hyaluronic Acid Cream Cleanser 
Step 2: Use Face Toner or Mist For Dry Skin
Once you're done cleansing your face, choose a well-formulated mist or a toner for dry skin to balance your skin. However, always avoid alcohol-based products rather invest in toners enriched with ingredients such as Glycerin & Hyaluronic Acid that will help to hydrate your skin and won't strip off the natural barrier. 
ER Recommends: Orange & Helichrysum Face Mist & Pore Away Toner
Step 3: Use Hyaluronic Acid Serum For Dry Skin
Make sure if you have dry skin, layering the right products is always on point. And incorporating serum in your skincare regime will keep your skin hydrated and healthy all day long. A high potent antioxidant serum enriched with Vitamin A, C and E will help you to prevent collagen breakdown leaving your skin soft and supple. 
ER Recommends: 10% Niacinamide Acid Serum & Hyaluronic Acid Serum
Step 4: Use Moisturizer For Dry Skin
The next & the most important step is to moisturize your dry skin well. You shall ask which moisturizer we should invest in for dry skin? The best moisturizer for during summers is a lightweight moisturizer that helps to zap moisture back into your skin without weighing it down. And for cooler weather, invest in heavy moisturizers with the goodness of Vitamin E, Aloe Vera, and Rose-hip Seed Oil that helps to nourish your skin effectively. 
ER Recommends: Phyto Ceramide Deep Moisturiser & Phyto Repair Advanced Cell Repair Moisturizer
Step 5: Use Sun Protection Sunscreen For Dry Skin
If you're one of those who swear by SPF in your morning skincare routine, invest in an oil-free formula that feels light on your skin while providing a broad spectrum of protection from harmful UV rays. 
ER Recommends: Ultra Defence Hybrid Sunscreen SPF 50
Night-time/PM Skincare Routine For Dry Skin
For your night skincare routine for dry skin, start as usual with a cleansing and toning routine. But follow it up with a potent serum while finishing off with a sleeping masque. 
Also Read: Night Skincare Routine for Healthy & Glowing Skin
 Last Step: Use Overnight Sleeping Mask 
Once you apply an overnight sleeping masque it will hydrate your dry and flaky skin while leaving it nourished and soft. For dry skin, a sleeping mask works as a moisturizing punch, so slather this on before hitting the bed and wake up with well-hydrated skin. Well, it's that easy! 
ER Recommends: Renew Overnight Sleeping Mask Gel
Now that you know how to ace your skincare routine for dry skin, it's time you add the products for dry skin to your cart now. Plus, we've already put together some of our favorite and best-sellers product recommendations to make your life simpler and easier. 
P.S. you need a creamy formula that will help you to infuse hydrating ingredients into your skin to quench your thirst. 
Related Articles:
Popular Searches: