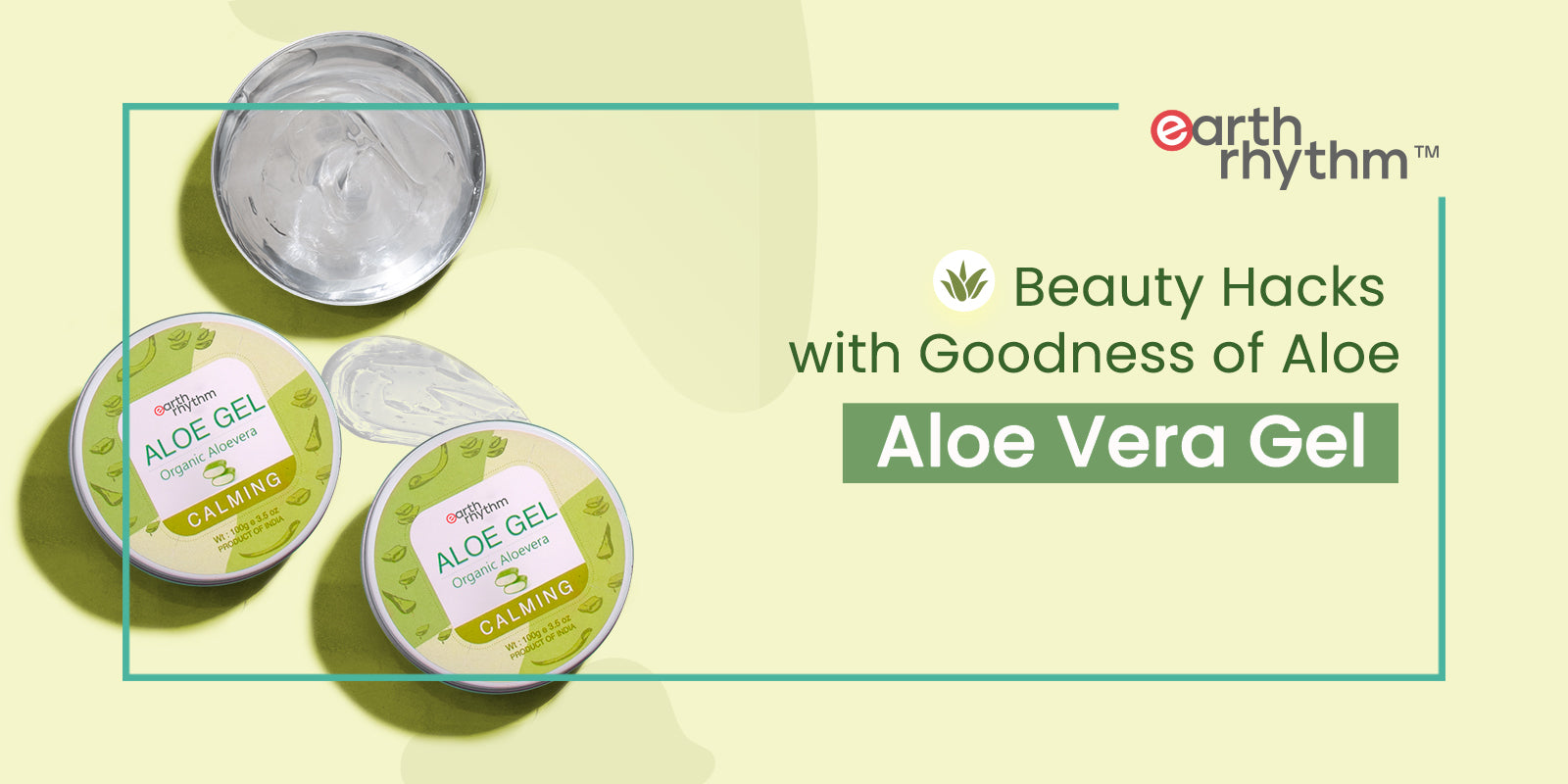 6 Easy & Magically Aloe Vera Gel Beauty Hacks!
Aloe there! For a long time, Aloe Vera has been considered the holy grail ingredient in the skincare industry for multiple reasons- it suits all skin types, best skin moisturizer, and hydrator as it quenches your thirsty skin while keeping it look fresh all day long. 
We know you're skintellectual, hence bombarding you with benefits for evergreen aloe may seem trite at this moment. Aloe Vera gel, a supremely rich in vitamins and antioxidants that deliver benefits like acne reduction, skin hydration, protection against UVA rays, and nourishing tresses. A natural antioxidant that protects your skin from sun damage, thereby keeping wrinkles and fine lines at bay as it also reduces inflammation, hence, it's great for treating sunburns (I guess you knew), it's a natural antioxidant that protects your skin from getting any further damage. Let's talk about being versatile!
Why sit back and read about the benefits when you can reap the advantages of some easy-peasy hacks which the Earth Rhythm team has pulled together for everyday use? Famously used as a tropical agent in form of skin lotions, gels, and ointments, Aloe Vera gel easily takes up multiple roles in haircare and skincare routines while giving the best results. 
# HACK 1: As A Face Primer 
Aloe Vera gel works as a convenient makeup primer and it even outs the skin texture while giving your makeup foundation a smooth surface to glide on. The gel makes your makeup application easy and holds makeup intact for a long period. It serves to heal your skin while providing a perfect base.
# HACK 2: Soothe Sunburns 
Aloe Vera comes wrapped up with anti-inflammatory and pain-relieving properties that help in soothing your dry skin. Contains sugars that play a vital role in collagen synthesis that contributes to wound healing. And a great way to treat your sunburnt skin is to apply fresh aloe vera gel to the affected area. Coupled with ultra calming properties, Aloe Vera gel helps to relieve and soothe your skin down. 
# HACK 3: Nourishing Hair Mask 
Loaded with anti-inflammatory and antimicrobial properties, Aloe Vera gel helps to quell dandruff and soothe down your irritated skin. It works as a hair mask, so apply a handful to your scalp and strands while leaving it for 30 mins and finally rinse off. 
# HACK 4: Shaving Gel 
One can replace their shaving cream with aloe vera gel before you start shaving. Post shaving, Aloe Vera gel works as a moisturizer to calm down the burns and cuts as it contains antiseptic properties. 
# HACK 5: For Cracked Heels 
Cracked heels are a common issue & can be treated easily with our aloe vera gel. To get rid of dead skin cells from your cracked heels, mix aloe vera gel with a sugar scrub. Massage this wonder on your cracked heel directly & save the goodness by wearing socks. Just leave them overnight and wait for your dry heels to heal, calm down, and feel buttery soft.
# HACK 6: Makeup Remover
Did you just run out of your favorite cleansing balm? Aloe Vera being gentle moisturizes your skin and has a gel-like consistency that works as a natural makeup remover, especially for sensitive and acne-prone skin. Smooth it on and wipe it off with a washcloth to cleanse and moisturize your skin at the same time. Also, don't forget to follow up with a cleanser! 
Earth Rhythm's World Best Aloe Vera Gel
Boasting 100% pure, organic Aloe Vera Juice which is impressively calming, Aloe Gel is designed to gradually bid farewell to your irritated skin. Well, it's a must for anyone whose skin needs some TLC!
With an impressive 100% concentration of Aloe Vera Juice, Aloe Gel supports skin regeneration, eases irritation, and soothes your skin. The key 'super plant' active used across the range – helps to calm inflammation and protect your sensitive cell membranes against free radicals. 
Buy 100% Pure Natural Aloe Vera Gel: Shop Now...
Do you know any other beauty hacks you do with aloe vera? Share them with us! 
Related Articles:
Popular Searches: