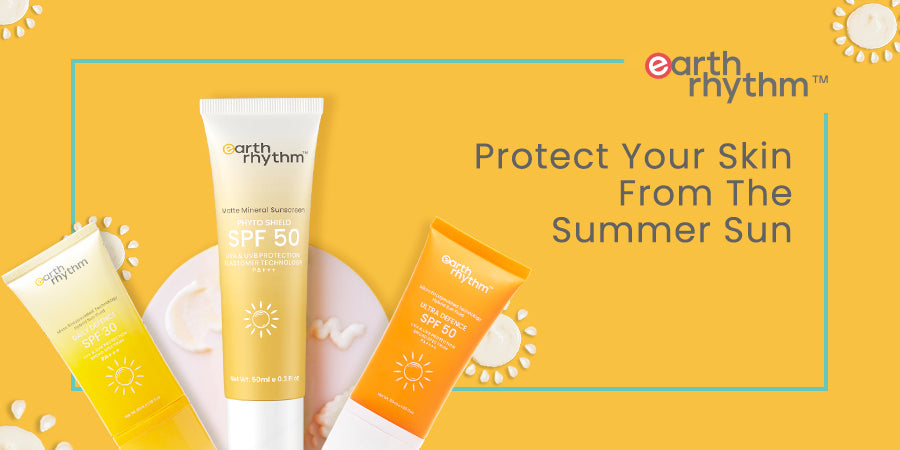 This Summer Protect Your Skin From Sun Rays
For the longest time of our lives, we have considered sunscreens to be a once-in-a-while (especially if we stay indoors) wonder. But, sunscreens have always been and will continue to rule the skincare world. Are you feeling the warmth of skin on your skin? You can expect Vitamin D, a great source to boost your bones and serotonin. But the trouble is that the harmful sun rays damage your skin and cause sunburn. It's time to reap the benefits of sunny days, we must protect the skin first!
If you haven't started using sunscreen yet, then surely you're missing out on one of the most essential steps of skincare. With increased UV exposure and tanning, there has been an expansion of skin problems too. The immediate damage from the sun is sunburn and if look closely you'll find damaged cells and blood vessels. Our skin starts suffering from harmful skin problems like dryness, sunburn, pigmentation inflammation, and unevenness.
What are sunscreens? 
Sunscreens or sunblocks or SPF are chemical compounds that penetrate our skin and absorb the UV rays in a harmless way possible. You must have heard this before while choosing an SPF, one should go beyond just looking at the SPF number if you truly care about your skin. 
Earth Rhythm offers a range of sunscreen for the face, it's time to invest in the right one owing to your skin concerns and types. Stop your search for the best sunscreen in India because Earth Rhythm is here! 
Ultra Defence Hybrid Sunscreen SPF 50
Our *star product* Ultra Defence Sunscreen SPF 50 provides lightweight protection for busy lifestyles. It protects your skin against the harmful effects of UV rays. The SPF has a dry, soft & water-resistant finish. The formulation includes both chemical and mineral filters that are encapsulated to provide long-lasting skin protection against UV rays. It suits all skin types and this sunscreen is best for oily skin. It works on the go and with make-up so that you can embrace those everyday outdoor adventures.
Daily Defence Hybrid Sunscreen SPF 30
This creamy-based sunscreen is lightweight and comes packed in antioxidants that help to protect your skin against pollution. Daily Defence Hybrid Sunscreen SPF 30 reflects the sun's rays off your skin as opposed to absorbing them into the skin. This hybrid sunscreen is ideal for all skin types. 
Phyto Shield Matte Mineral Sunscreen SPF 50
Matte Mineral SPF 50 Sunscreen with Elastomer Technology is a gentle formula that delivers effective broad-spectrum protection against UVA rays. It's mild on sensitive skin and free of fragrance, chemicals, and parabens. It's the best sunscreen for oily skin! This SPF dries with a non-greasy and has a lightweight finish. Elastomer Technology helps to diffuse your wrinkles and fine lines while giving a silky and powdery feel to your skin. The formulation provides long-lasting protection against skin rays.
Sunstick SPF 60 Invisible Sunscreen Stick
Keep away from everyday skincare woes like sunburns, age spots and discoloration with the Invisible Sunstick - a fuss-free sunscreen on the go. 
Sunstick SPF 50 Mineral Sunscreen Stick
With the benefits of a mineral sunscreen and the convenience of a stick, this Sunstick Mineral is the perfect companion for all your time outdoors. It effectively prevents skin damage caused by the harmful rays of the sun.
Mineral Sunserum SPF 50 Sunscreen Serum
A lightweight formula that leaves no white cast, this multitasking sun serum hydrates and moisturizes your skin and reduces sun damage by providing excellent broad spectrum sun protection through the day. Rich in vitamins E, A, C, K & D, Sunflower Oil soothes, protects and evens out your skin.
Invisible Sunserum SPF 50 Sunscreen Serum
Weightless and invisible, this Sunserum Invisible has a light and silky finish that is perfect for everyday wear. Suitable for all skin types, it effectively shields your skin from the harmful effects of the sun and prevents sun damage and premature ageing.
Tips & Tricks to Protect your Skin From Sun Rays 
You might have got lots of tips to protect your skin from getting damaged and de-tan. How about preventing the pesky issue rather than dealing with after effects later. Take a look at pro tips and tricks that will keep skin protected from sunburn, tanning, and radical damage even when you're strolling on a sunny day. It's best to find effective sun protection measures. Let's take a look at ways to protect your skin this summer. 
Wear SPF Daily: You can forget your mobile phone at home but not your sunscreen. This one is a no-brainer! The best and easy way you can shield your skin from sun damage is to coat it with SPF 30 or 50. You can even invest in products that offer maximum protection to your skin. Even on cloudy days or if you are indoors, your skin can be harmed by the sun. No matter what put it on every morning as harmful UV rays penetrate from your home windows as well. 
Choose the right clothing: The best and most comfy summer clothes you can opt for the loose while adequately covering the skin. Wide-brimmed hat and scarf will also help in protecting your face, neck, and scalp. 
Avoid Peak Hours: Believe it or not, you can dodge UV rays and sun damage. It's time to protect your skin from tanning and sunburn by simply avoiding sun exposure during certain hours of the day. The time between 12 Noon to 3 PM has high intensity of UV rays and avoiding the sun rays during that time will save your skin from free radicals and skin cancer. SPF alone will never make you immune to the risks of harmful UV rays, so a place in the shade is what you need for extra protection. 
Cleanse & Exfoliate: Cleanse your skin twice a day–morning and night. It helps to detoxify your skin while calming it down. Invest in a mild yet gentle cleanser and splash it off with lukewarm water to get rid of all the impurities. Also, make it a point to exfoliate your skin to get off dead skin cells, impurities, grime, and excess oil. 
Hydrate Your Skin: Hydrating your body is the key to keeping your skin hydrated and healthy from within. It prevents dryness and keeps sunburn and tanning at bay! It's time to keep your skin hydrated by drinking gallons of water and using a hydration serum enriched with hyaluronic acid that seals in the moisture and gets away with the environmental damage. 
Home Remedies For Sunburn For Instant Relief
Nothing ruins your mood after a beach vacay—sunburn. Proper sun protection can indeed help to prevent skin burning, there are still various places where excess sunlight takes a toll on our skin. If you're looking to expedite your healing process, keep looking for tested sunburn home care remedies. 
Often known as a burning plant, Aloe Vera is a wondrous plant that has natural properties. You can apply this gel to your burned areas as it has anti-inflammatory properties that reduce swelling and calm your irritated skin. 
Tomato Face Mask
Tomato induces a natural glow into your skin and evens out your skin tone. If you have got a nasty suntan? It's time to fight away with a homemade face pack. Gather three tablespoons of tomato pulp, and add lemon juice and yogurt. Mix them well and apply that pack for 15 minutes. You'll see the difference in your skin easily. 
Potato Juice 
A natural bleaching agent, potato juice corrects your skin tone and makes it look brighter. Potato is recommended for getting rid of dark circles and suntan overnight. Just take one raw potato extract and apply it to your tan area. Let it dry and wash it after 5 minutes to reveal healthy look skin. 
With these safe tips & tricks, you can call yourself summer ready!
Related Articles: