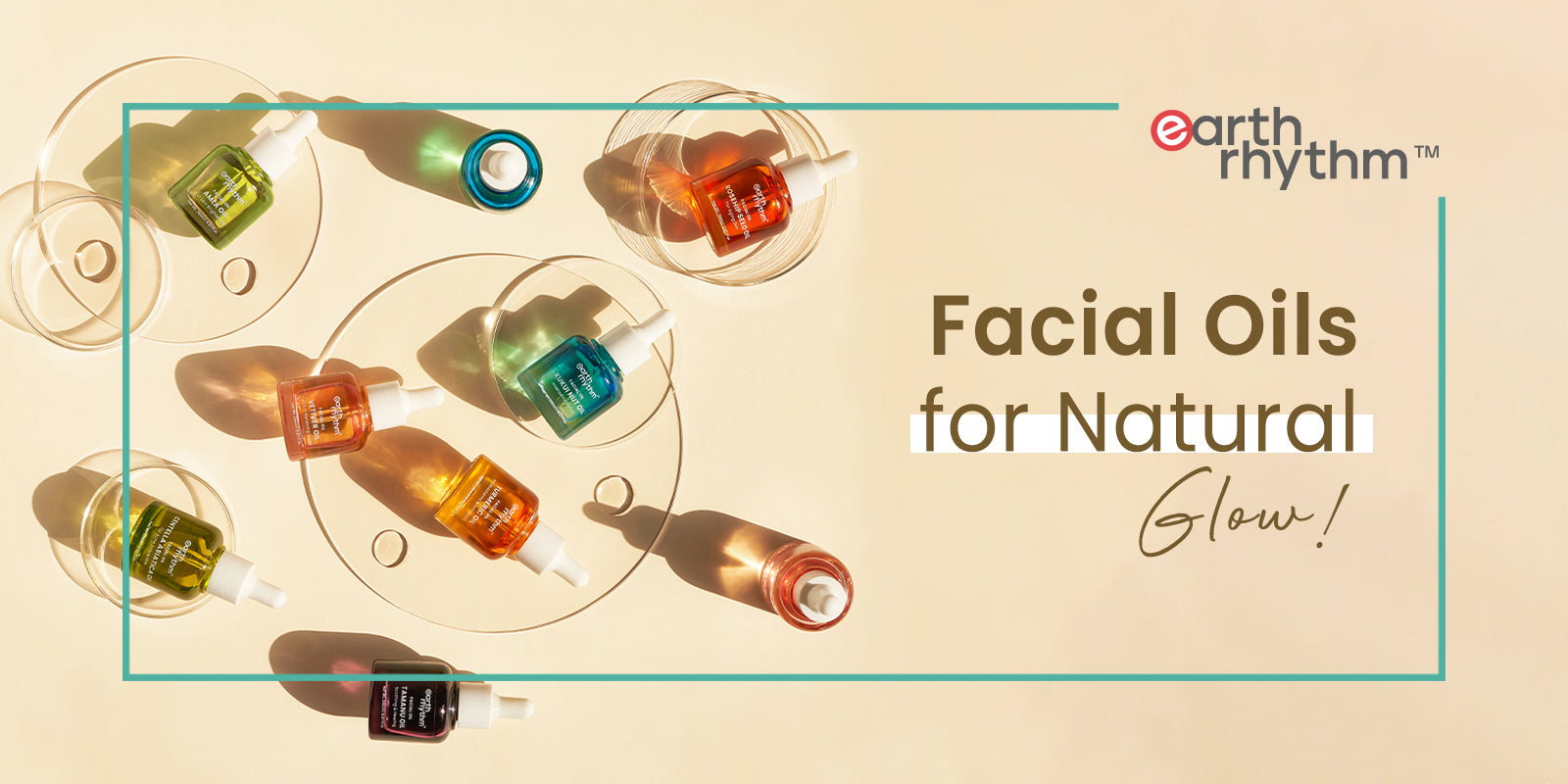 Facial Oils: The New Buzz In The Skincare Routine
What are face oils? Why are people obsessed with them lately? Facial Oils are all over our Insta feeds and honestly speaking, we too are hooked. A few years ago, we all used to go 'eww' at the consistency, but now they're all luxe, luscious and lush to us, well all thanks to scientific advancements. We can proudly say, facial oils occupy a prideful place in our skincare cabinets! Peeps, consider this as your 'book of facts' on everything about facial oils. Are you ready to get schooled? 
What is Facial Oil? 
Oils are non-negotiable for our skin, and well, our body too produces oil naturally, but as we age the sebum production gradually decreases. You must be thinking why does our skin require oil? Oils are required to maintain our skin's delicate pH levels, its elasticity as well as the overall health of the skin. Facial Oils are emollients unlike our creams or ointments, they penetrate deeper into the skin. Made from botanical extracts and plant actives, they are more potent than a jar of cream or serum as they have nourishing and moisturizing properties combined with antioxidant benefits. 
Each bottle of facial oils is packed with nutrients like fatty acids, antioxidants, mineral oil, and Vitamin C. These ingredients help to build a stronger layer of your skin known as the lipid barrier. Best of all, each of these facial oils is harmless and well-accepted even by sensitive and acne-prone skin types. 
Let's Bust Some Common Myths About Facial Oils
#Myth 1: Facial Oils Will Clog Pores & Cause Breakouts
When it comes to clogging pores, the concentration of facial oil counts as using a heavy oil can cause problems, but applying oil that has a light texture formulation is not just safe but beneficial too. Well, they do if you're going to slather on an oil slick on your face. The delicate botanical formulae derived from the antioxidant-rich essential oil create a protective barrier against pollution and external toxins. And for best results, apply it on freshly cleansed skin in the morning and just before bedtime. 
#Myth 2: Oily Skins Don't Need To Use Face Oils
Shiny skin attacking at midday? We all have been there, but you know that using a certain oil can regulate the problem and lessen the oiliness? Not only do these facial oils regulate sebum production during oil attacks, but they'll also soothe skin inflammation during drier hours. One should invest in oil-stopping facial oils that can create a healthy yet give your skin. 
#Myth 3: Facial Oils Should Be Used Only In Winters
Well, it's not true! Just invest in a lighter formula during hot days if you have oily or combination skin type. All you need to do is find the right kind of oil for your skin that can be invested all year. Facial oils are like your best friend as they are super hydrating & preserve qualities. 
#Myth 4: Oils Are Heavy On Your Skin 
Not true as facial oils are similar to the oil that our body produces. Therefore, facial oils are lighter and get quickly absorbed while saturating your skin with antioxidants and vitamins. Since the formulas are so light it means they get instantly absorbed, and plump up your dehydrated complexion while keeping it fresh and hydrated. One application of facial oil & you're hooked! 
Earth Rhythm's Facial Oils Are Heaven! 
When it comes to investing in a facial serum, buy one that fits your skin concerns and types needs. For dry and flaky skin, a heavier moisturizer will be your best bet. Also, when choosing a facial oil, pay attention to the ingredients, whether it's for pore refinement, acne treatment or even brightening skin. 
Rosehip Seed Facial Oil
This pure Rosehip Seed facial oil for dehydrated skin helps to relieve irritated skin. It's the perfect facial oil to use if you have been dealing with dry and dull skin as it works hard to repair and improve the texture of the skin. Rich in Vitamin A, this facial oil fight against age spots, and wrinkles while boosting collagen production that firms and tones your skin. The oil penetrates deep into the skin layers that thoroughly hydrates and nourishes the skin.
Jojoba Oil
Suitable for oily and acne-prone skin, Jojoba Oil contains powerful antioxidants, essential fatty acids, and vitamins that help to regenerate skin cells and help in repairing damaged cells. Blended with rich antioxidants that fight premature aging, but this oil helps to brighten your dull skin while allowing skin regeneration. Jojoba Oil balances oily skin, hydrates dry skin, soothes sensitive skin and even prevents breakouts. It's surely a win-win product! 
Pomegranate Oil 
Pomegranate Facial Oil rich in antioxidants and polyphenols, Pomegranate shields your skin from UV and free-radical damage. Supporting cell regeneration and repairing skin, this oil effectively prevents wrinkles as it has the superior moisturizing ability, softening skin, and nourishing properties. Our facial oil is suitable for all skin types including oily and acne-prone skin leaving long-lasting moisture. 
Hemp Seed Oil 
Hemp Facial Oil is rich in a wide range of nutrients that include calcium, iron, zinc, and Vitamin E. This facial oil acts as a moisturizer to prevent the skin from catching dryness, especially during the winter season. Keeping your skin hydrated, the facial oil ensures that your skin remains radiant and soft throughout the year. 
Coffee Seed Oil
Improving the blood flow, the Coffee Seed Oil makes your skin appear bright, radiant, and alive. This facial oil helps to decrease the appearance of redness, dark circles, fine lines, and sunspots. Well, it's a fact that coffee can calm your inflamed and red skin, all thanks to the same antioxidants that protect your skin from premature aging. So be rest assured that this facial oil will make your skin supple and dewy.
Grape Seed Oil 
Our Grape Seed Oil contains high levels of linoleic acid, an omega-6 fatty acid that helps to control acne by decreasing the clogged pores. You'll find Vitamin C, Vitamin-E in our facial oil that will help to prevent and undo pollution & protect your skin from UV damage. Deeply moisturizing and balancing, this Grapeseed oil treats your skin in the best way possible. 
Passion Fruit Oil 
Giving a shiny outer mystique to your skin, Passion Fruit Cold Pressed Facial Oil heals your chapped and cracked skin. With anti-inflammatory benefits, this facial oil works as a magical cure for skin problems like acne and rashes. A blend of healing properties, this facial oil penetrates deep into your skin, so it's time you say goodbye to dry skin issues. With a lightweight and gel-based texture, it's gonna be your favorite! 
Buriti Face Oil 
If you have dry skin, this Buriti Cold Pressed Facial Oil will do good to your skin. Helping in nourishing, moisturizing, and repairing damaged skin, Buriti Oil works as a protective barrier to prevent any further damage. Blended with healing properties, this light-textured oil penetrates deep into your skin to provide a healthy touch. Relax at home & experience spa-like luxury with our Buriti Oil. 
Conclusion:
If you thought this is it, then hey, we've got you covered with more of our best-selling facial oils. Hit the collection page here. Simply massage 2 drops of facial oil into your face and neck for that coveted glow & radiance. It might be the answer to all your beauty prayers!
FAQs
Can A Facial Oil, Replace A Moisturizer? 
The straightforward answer to the question is NO, you can't replace your moisturizer with a facial oil. You can blend a drop or two in your moisturizer for that extra radiant glow to the skin. It helps in nourishing your skin without making it look greasy! 
Is Facial Oil A Multi-Purpose Product? 
It can double up as a cleanser, moisturizer, and makeup remover, making it an all-star multi-purpose product. One can even use it as a body oil, cuticle, or essential oil, if necessary, as it's all to do with the hydration and nourishment of your skin. Think about it, you can even use it on your lashes, or as a brow setter, and even on your pout like a lip balm. Well, voila! 
Popular Searches: 
LIP & CHEEK TINT
Moisturizes Lips + 100% Natural Ingredients + Give Natural Flush Look
Sale price

M.R.P.

₹349.00
M.R.P.
Regular price

₹499.00
MURUMURU BUTTER SHAMPOO BAR
Softens Hair + Tames Frizz + Deep Conditions Hair + Detangles Hair
Sale price

M.R.P.

₹265.30
M.R.P.
Regular price

₹379.00
PHYTO CERAMIDE DEEP MOISTURIZER
Prevent Dryness+ Enhance Moisture Balance + Reduce Fine lines & Wrinkles
M.R.P.

Sale price

₹249.50
M.R.P.
Regular price

₹499.00