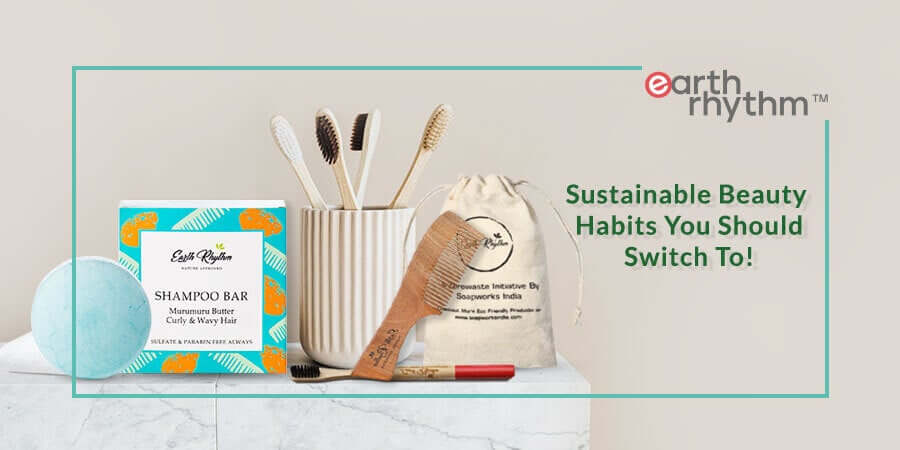 Switch To These Eco-Friendly & Sustainable Beauty Habits Right Away
Each day, we all get acquainted with events that show how we humans are polluting our mother nature. For years we've been polluting clean water with toxins and plastics including those found in our skin and beauty products. This is something that is killing our environment and as a beauty brand, we urge people to stop using toxins in their everyday lives. 
On the other hand, being under lockdown for months one thing we all have learned is how important it is to take care of your skin and even your surroundings. And with COVID-19 pandemic, made us realize how important is our ecosystem and we shouldn't be messing with it. And somewhere or the other, we all have contributed to living a sustainable lifestyle and switching to zero waste products. And if you're someone who's on the lookout for zero waste products, team Earth Rhythm has curated a list of things you should incorporate into your lifestyle instantly. 
Wooden Neem Comb A Total Win-Win
A neem wooden comb can do wonders to your hair as well as for the environment. When it comes to the environment, wood is biodegradable and doesn't harm the soil while plastic remains for years. Meanwhile, the neem comb is known to have medicinal properties that help to treat dandruff and control hair fall while preventing frizziness. Neem Comb by Earth Rhythm massage your scalp and this, in turn, helps to increase the blood flow to the scalp – bringing all important nutrients to the hair roots. Isn't amazing?
Time To Switch To Shampoo Bars
It's time that you gradually replace your plastic shampoo bottles with handmade shampoo and conditioner bars. The solid shampoo bars require less water as compared to your liquid shampoo. Also, you tend to avoid supporting bottles of plastic and they take little space in your bathroom shelf. Earth Rhythm Murumuru Shampoo Bar is curated to control frizz, it's whipped with murumuru butter and vitamin E. The butter is added to tame dehydrated hair while vitamin E comes as a powerful antioxidant that improves the health of your scalp. Also, infused with coconut oil, it helps to restore moisture on rough ends. 
P.S. if you're still not convinced about investing in shampoo bars, make sure you recycle or refill your plastic shampoo bottles rather than investing in a new bottle.
Get A Bamboo Toothbrush Rather Than A Plastic-One
It's best to avoid plastic as much as possible. Now, that we have an eco-friendly alternative then why not invest in a bamboo toothbrush rather than using those harmful plastic toothbrushes. In turn, bamboo toothbrushes are natural, can be composted after being used, and are recyclable. It's time to start your mornings with the Environmental Toothbrush by Earth Rhythm which is curated of biodegradable bamboo and infused with activated charcoal that comes infused in the bristles.
Ditch Your Regular Cotton Pad Balls
Are you also someone who depends on cotton pads or balls to apply a toner or even to remove makeup? Well, you should know that you are equally contributing to wastage every time you use & throw a cotton ball. Rather invest in an eco-friendly solution like investing reusable cotton pads that are reusable for a prolonged period. And what better than Earth Rhythm's Reusable Makeup Remover Cleansing Pads can be as they are easily biodegradable & even safe for our environment. 
Donate Or Reuse Empties
If your moisturizer bottle got empty, did you just think to throw it away? Wait, how about you invest in it DIY method & make it a planter instead? Throwing away will only create more waste. 
It's time that we look around with a different eye view. If you start today, even your small step will make a switch and be kind to the planet, and of course to your skin as well. 
Let us know in the comments below how are you taking care of our planet?
Popular Searches: