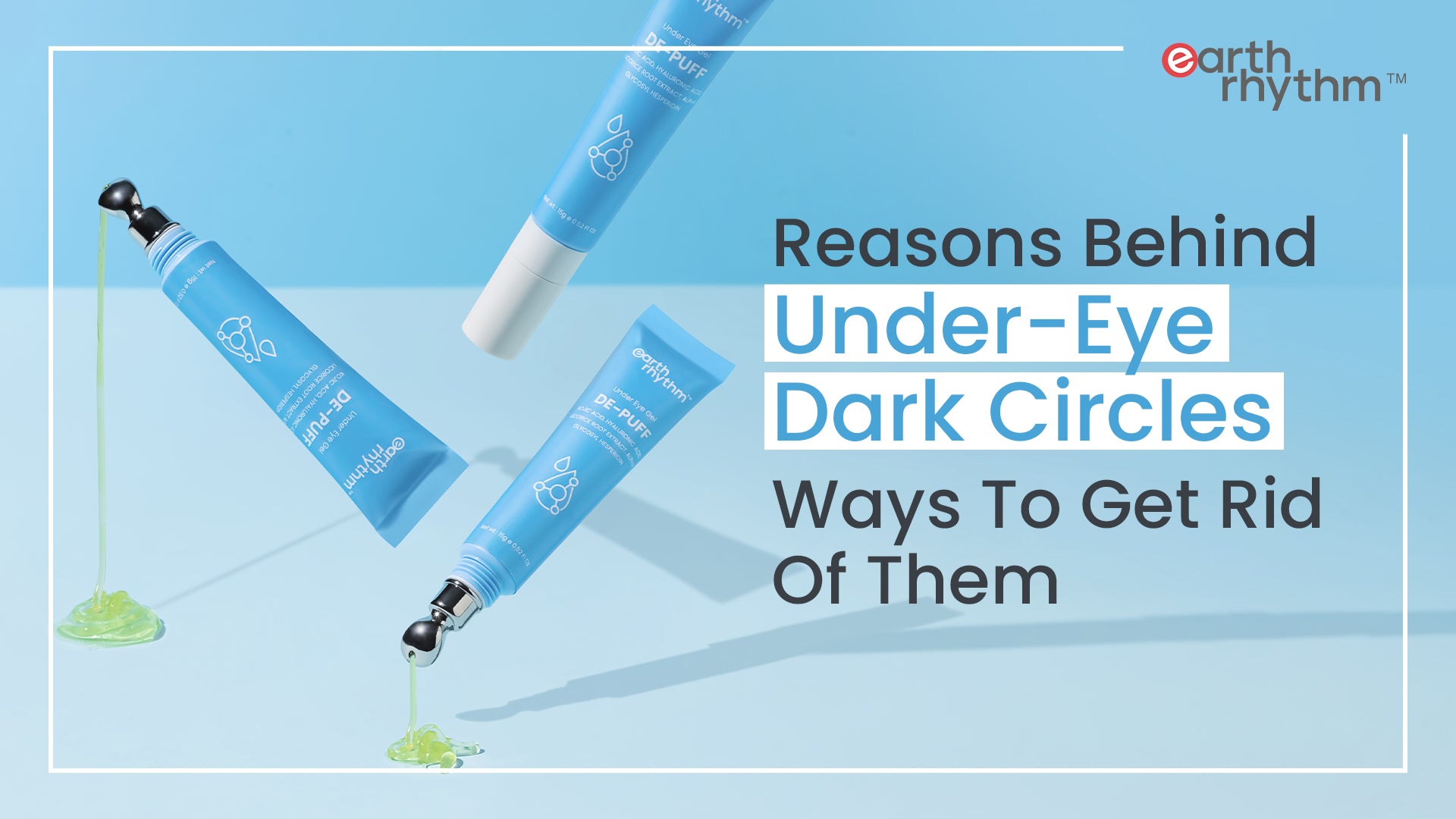 How to Get Rid of Dark Circles Under Your Eyes?
We are no strangers to the dreaded phenomenon of dark circles. Being one of the most common skincare issues both for men and women, dark circles are a bane of our present-day lifestyle, hectic schedules and pressing deadlines. These circumstances are faced by even the best of us. Although generally not signifying a serious issue, dark circles still can be quite difficult to remove. Before we go on to explore ways to treat this familiar skin issue, let's look at its most common causes.
Causes of Under Eye Dark Circles:
Fatigue Due to An Erratic Lifestyle and Stress: Fatigue due to hectic schedules, erratic work hours and lack of sleep can be reasons causing formation of dark circles under the eyes. Sleep deprivation especially can cause dullness and make the skin look pale. This in turn makes dark tissues and blood vessels to be seen from beneath your skin. It is also a major reason for fluid build-up and puffy eyes. 
Natural Ageing: Dark circles can also be a natural age phenomenon. Our skin naturally becomes thinner as we age. With a decrease in collagen in our skin, the skin loses its elasticity. It causes the blood vessels beneath the skin to show through and the area beneath the eyes to darken.     
Eyestrain: We live in a digital world, and this has taken a toll on our skin as well. Staring at a screen for long, be it television, computer or your phones can cause eye strain that can enlarge blood vessels and darken the skin surrounding your eyes. 
Allergic Reactions: Dark circles can also result from allergic reactions, which can cause blood vessels to dilate and become more visible beneath your skin.  Allergies also increase the urge to rub the itchy skin around the eyes that results in inflammation and swelling. It can cause the area around the skin to darken.
Sun Exposure and Dehydration: In tropical countries, there is always the risk of overexposure to the sun uv rays. This causes the delicate skin around the eyes to darken due to pigmentation. Dehydration contributes to dark circles as it causes the skin to thin out and appear dull as the blood vessels show through. Otherwise use Sunscreen with SPF 50 before exposure to sun.
Hereditary Reasons: Sometimes your lineage plays an important part in your skin conditions. It can play a part in developing dark circles as well. Susceptibility to medical conditions such as thyroid and anaemia can also lead to dark circles under the eyes.
Also Read: Facial Oils New Buzz in the Skincare Routine
Lifestyle Changes That Can Help Reduce Dark Circles  
A Proper Sleep Cycle:  A hectic schedule contributes to an erratic sleep cycle. Lack of proper sleep can lead to dark circles and can worsen pre-existing ones. Eight hours of sleep is much required for the body to rest adequately.
Appropriate Food Habits: Processed foods and snacks are abundant in sodium which is known to cause dehydration.   Consuming these foods can worsen your dark circles. Include foods rich in antioxidants as they protect the skin from various impurities and help avoid dark circles  Foods like dark chocolate, berries, beetroot, citrus fruits etc are rich in antioxidants. Foods rich in omega-3 fatty acids like salmon and walnuts improve blood circulation and thus prevent dark circles.  
Keeping Yourself Hydrated: Dehydration is a common cause for dark circles, lack of water can cause puffiness and dullness around your eyes. Foods rich in sodium, especially highly processed and junk foods can cause dehydration and cause dark circles to become worse. Hence, they should be avoided. Steering clear of alcohol and smoking also helps avoid dehydration hence reduces dark circles.  
Exercising Regularly: While maintaining overall health, exercise is also good for your skin. It combats stress which reduces under eye pigmentation. It also improves blood circulation which overall benefits your skin.  
Ingredients good for dark circles under the eyes
Hyaluronic Acid: Your undereye area is very fragile and moisture gets depleted quite quickly. A serum rich in hyaluronic acid keeps your skin plump and hydrated.
Retinol: Derived from Vitamin A, it increases collagen production and is known to reduce fine lines and wrinkles. Strengthening skin, it also reduces dark spots and hyperpigmentation.
Niacinamide: Niacinamide is extremely beneficial for your skin. It treats pigmentation and visibly brightens and smoothes the undereye area.
Vitamin C: Skin brightening Vitamin C is very much known for its benefits for your eyes. Suited to even the sensitive undereye area, it helps maintain elasticity and supports collagen production.
Vitamin E: Known for its moisturising properties, Vitamin E works wonders for your eyes too. It keeps dark circles at bay and nourishes your skin to keep it supple and smooth.
Earth Rhythm Recommendation:
De Puff Under Eye Gel For Dark Circles: With the goodness of antioxidants like Kojic Acid and ingredients like Liquorice extracts that lighten and soothe the skin, this under eye gel comes with a cooling roller that is refreshing for your skin. With targeted benefits, this miracle product is the answer to all your under eye woes including puffy eyes, fine lines and dark circles.
10% Vitamin C Serum: Enriched with Vitamin C, this serum improves your skin texture and reduces fine lines and wrinkles. Boosting collagen and to make skin smooth and plump, it makes your skin appear radiant and glowing.
Niacinamide Face Serum: Giving your skin a boost of Niacinamide, this serum strengthens your skin barrier to make it more resilient to environmental damage. It also helps maintain the moisture levels and protects the skin from hyperpigmentation.
Retinol Intense Repair Night Cream:  A nourishing night cream with the benefits of Retinol along with Vitamins B&C, it works wonders for your skin by improving skin tone, reversing environmental damage and reducing fine lines and wrinkles to give you a radiant and youthful look.  
Vitamin E Antioxidant Face Serum: Enriched with Vitamin E, this serum nourishes and protects your skin from within. Filled with the goodness of antioxidants, it reduces inflammation and other skin woes to keep it soft, supple and naturally radiant. 
Related Articles: