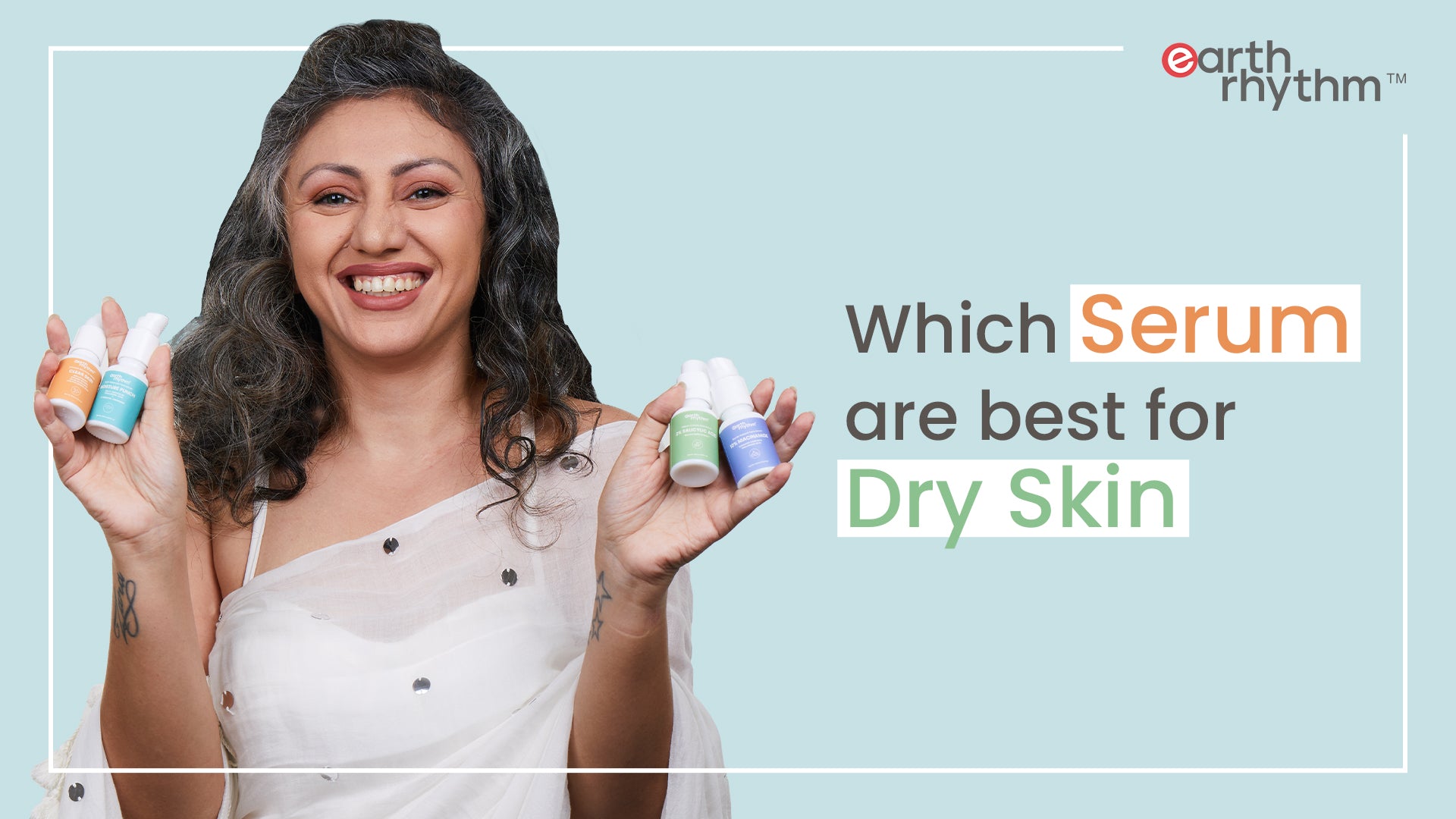 How to Choose Face Serum for Dry Skin?
Come winter and dry skin tops the list of skincare worries,  but contrary to popular belief, your skin can dry out in the summer too. Known in medical terms as xerosis or xeroderma, dry skin can be caused due to a multitude of reasons.
A change in weather can cause dryness. People living in hot and arid regions can experience dry skin too as lack of humidity causes the skin to lose moisture. Soaps or skin cleansers are another factors that can cause moisture imbalance in your skin as harsh ingredients like sulphates and parabens strip essential moisture from your skin. Constant exposure to UV rays can also make your skin dull and dry. 
Why Dry Skin Needs A Serum?
Provides Nourishment From Within: A serum penetrates the skin on a deeper level than a moisturiser and retains and locks in the moisture. It improves skin tone and intensely hydrates, restoring the moisture balance of your skin. A Face serum gives targeted benefits repairing and restoring dry skin. Smoothing out fine lines and wrinkles, a serum also rids your skin of dullness and dryness for a luminosity that makes your skin radiant and glowing.
It Absorbs Quickly: Compared to moisturisers which either dry out too quickly or feel oily on your skin, the consistency of a serum is quite light. Because of its thin viscosity and light texture, the serum absorbs quickly and easily, delivering all its benefits into your skin. It also maximises all effects of the serum for your skin.
Protects Against Environmental Damage: Apart from being known to hydrate and rejuvenate your skin, a serum also protects it from environmental damage. Harsh elements like UV rays, air conditioning and natural pollutants can make your skin dry and dull, a serum thus acts as a protective layer against these elements.
Ingredients To Look For In A Serum For Dry Skin
1. Hyaluronic Acid: Best known for its moisture binding properties, hyaluronic acid works by attracting and locking in moisture and helping it penetrate the deeper layers of skin to make skin look smooth and plump. It is also said to have the amazing ability of holding a 1000 times its weight in water. And though hyaluronic acid is naturally present in our bodies, it begins to diminish as we age and thus needs to be replenished.

Also Read: A Complete Guide to Hyaluronic acid
2. Polyglutamic Acid: Unlike hyaluronic acid, polyglutamic acid is a rare ingredient and does not naturally occur in our bodies. It gives a smooth complexion, minimises the appearance of pores and gives an overall moisturised look to your skin. It is also quite effective for both dry and sensitive skin.
3. Squalane: It is very close to your skin's natural oils, in composition. Being lightweight, it leaves your skin hydrated, supple and luminous. Since it has such a close resemblance to our skin's natural oils, it gives your skin the optimal dose of hydration.
4. Plant-based Oils: Loaded with nutrients, plant-based oils have been used since time immemorial to hydrate and nourish your skin. They can give your skin intense hydration in spite of having a lightweight consistency. Loaded with essential nutrients, plant-based oils give your skin a soft dewy feel.
Best Dry Skin Serums Recommended by Earth Rhythm
Moisture Punch Multi-Molecular Hyaluronic Acid Serum For Dry Skin: With Hyaluronic Acid as its key ingredient, along with five ceramide complexes, this serum gives your skin a boost of that much-required hydration. It ensures the proper functioning of your skin barrier and reduces the appearance of fine lines and wrinkles. 
3% Polyglutamic Acid Face Serum For Dry Skin: A one-stop solution for skin hydration and moisturisation, this serum is also enriched with liquorice extract that helps with skin conditions such as rosacea, melasma, eczema, dark spots and pigmentation. The astringent properties of cactus flower extract clear excess sebum and help renew skin cells. It also contains goji berry extract that protects your skin against environmental damage  
100% Sugar Squalane Face Serum For Dry Skin: Hydrating and Plumping Serum Keeping your skin moisturised to prevent fine lines and wrinkles, this serum with sugar squalane helps to prevent irritation caused by dehydrated skin. Fading dark spots, it also restores your radiance over a period of time. A lightweight formula, it feels non-greasy and doesn't clog your pores. 
100% Olive Squalane Face Serum For Dry Skin: Hydrating and Plumping Serum Mimicking your skin's natural oils, olive squalane has the ability to penetrate deep into the pores to make you look youthful and radiant. Giving a plumper, healthier look by promoting the formation of collagen, it also protects your skin against the harmful rays of the sun and environmental damage.
Serums are a boon for dry skin as they provide the much-required hydration that moisturisers alone cannot replenish. So next time your skin feels stretchy and dry, just reach out for that bottle of your favourite serum and let it work its magic!
 Related Articles:
LIP & CHEEK TINT
Moisturizes Lips + 100% Natural Ingredients + Give Natural Flush Look
Sale price

M.R.P.

₹349.00
M.R.P.
Regular price

₹499.00
MURUMURU BUTTER SHAMPOO BAR
Softens Hair + Tames Frizz + Deep Conditions Hair + Detangles Hair
Sale price

M.R.P.

₹265.30
M.R.P.
Regular price

₹379.00
PHYTO CERAMIDE DEEP MOISTURIZER
Prevent Dryness+ Enhance Moisture Balance + Reduce Fine lines & Wrinkles
M.R.P.

Sale price

₹249.50
M.R.P.
Regular price

₹499.00