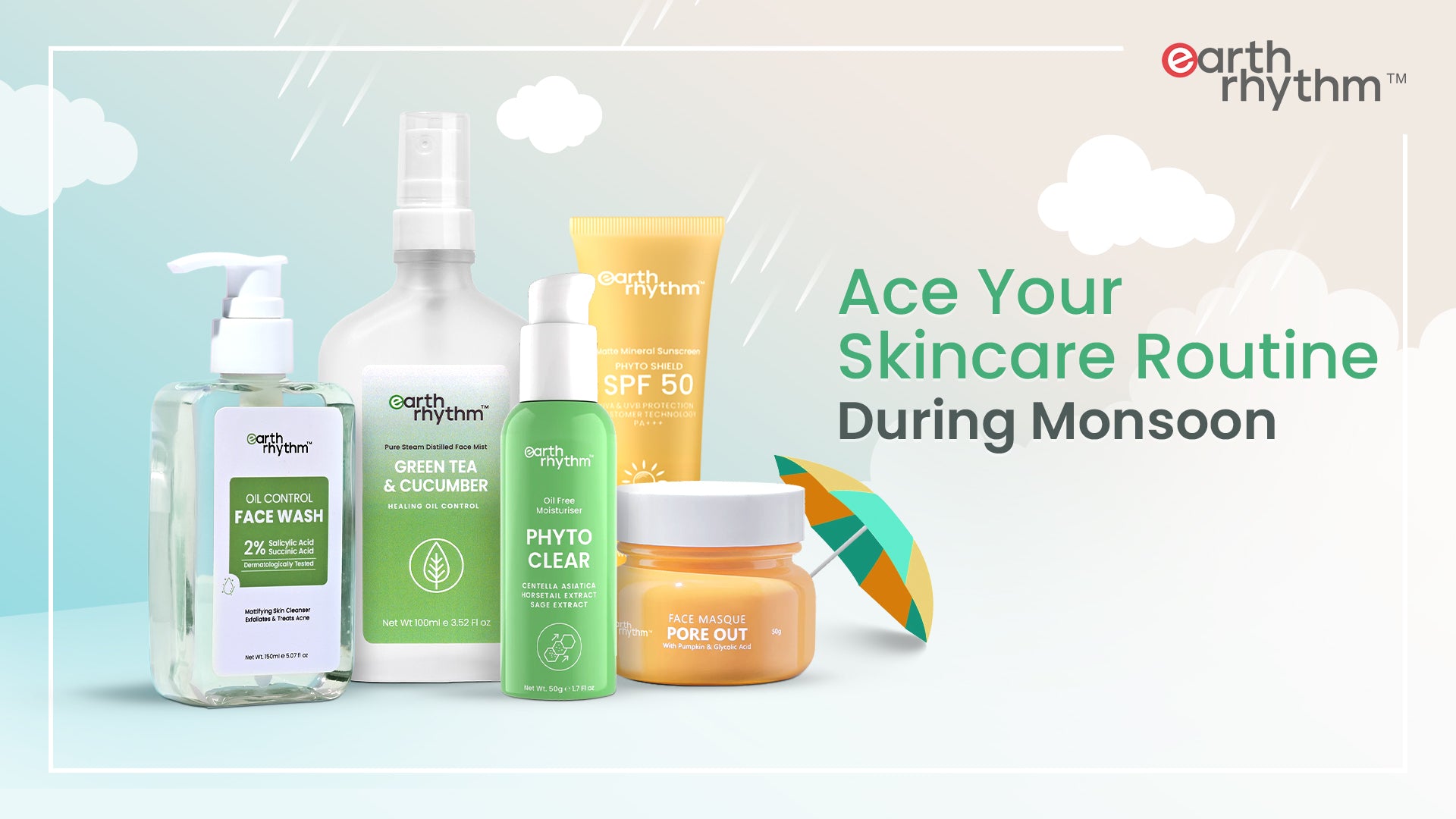 Ace Your Skincare Routine During Monsoon
The transition from summer to monsoon skincare can be quite tricky. While it brings the much-sought relief from the heat, an increase in humidity also leads to an increase in dirt and sweat that causes your skin to become dry and dull. It can also lead to a rise in skin problems like acne, eczema, dryness and skin sensitivity.
Essential Monsoon Skincare Tips
Skincare during any season needs to keep in mind your skin type and monsoon is no different. While the quintessential skincare routine remains the same, your skin needs extra TLC during the monsoon season.

Dry Skin:
When it comes to dry skin, hydration is quite important. The damp weather may be a relief from the summer heat, however, the humidity and moisture can easily cause breakouts during this season. Make sure to wash your face with a mild and gentle facewash that gently cleans yet retains the natural balance of your skin. The weather outside may give a false sense of hydration to your skin but following up your facewash with an excellent hydrating moisturiser is a must. Contrary to popular belief, the UV rays are the harshest during monsoon and even in cloudy weather, sunscreen is a skincare essential.
Oily Skin:
Irrespective of your skin type, cleansing is an essential skincare step that keeps dirt and sweat at bay. A salicylic acid facewash works wonders to control excess oil and prevent dullness, acne and other common monsoon skin woes. Apart from being essential to boost immunity during the monsoon, Vitamin C is a miracle ingredient in maintaining your skin balance. A serum rich in vitamin C, post your face wash prevents clogged pores and a greasy complexion giving a refreshing boost to your skin. Considered a skincare boon, especially during the monsoon season, face masks are quite effective to draw impurities from the skin maintaining its healthy appearance.
Normal Skin:
While having a normal skin type is a blessing, monsoon can cause breakouts. During this time it is important to become a little sensitive to your skin's needs. Being diligent with your skincare routine goes a long way in seeing you through this season. A purifying face cleanser followed by a light yet hydrating moisturiser is what works best for this type of skin. A thorough cleanse especially before bed works best. Follow up with your favourite serum, treatment or moisturiser for best results. Indulge in the benefits of a nourishing mask once in a while for that extra nourishment when your skin needs it.
Combination Skin:
Combination skin can be pretty sensitive to seasonal changes and taking care of it can be quite tricky, especially during monsoons. Opt for a lightweight cleanser that gives a clean yet non-greasy feel. Large pores typical to combination skin can be quite worrisome as it traps dirt and makes skin look dull. A toner comes in quite handy here as it minimises the appearance of pores and maintains skin balance. A gentle exfoliator is another must-have for combination skin as it does away with dead skin cells and renews clogged pores with ease.
In this delightful season, go ahead and pamper yourself giving your skin that much-required break. With these basics of cleansing, moisturising and sun protection, you can make sure that your skin also enjoys the delights of monsoon as much as you do.