Article: Celebrating Bonds of Love with Clean & Safe Skincare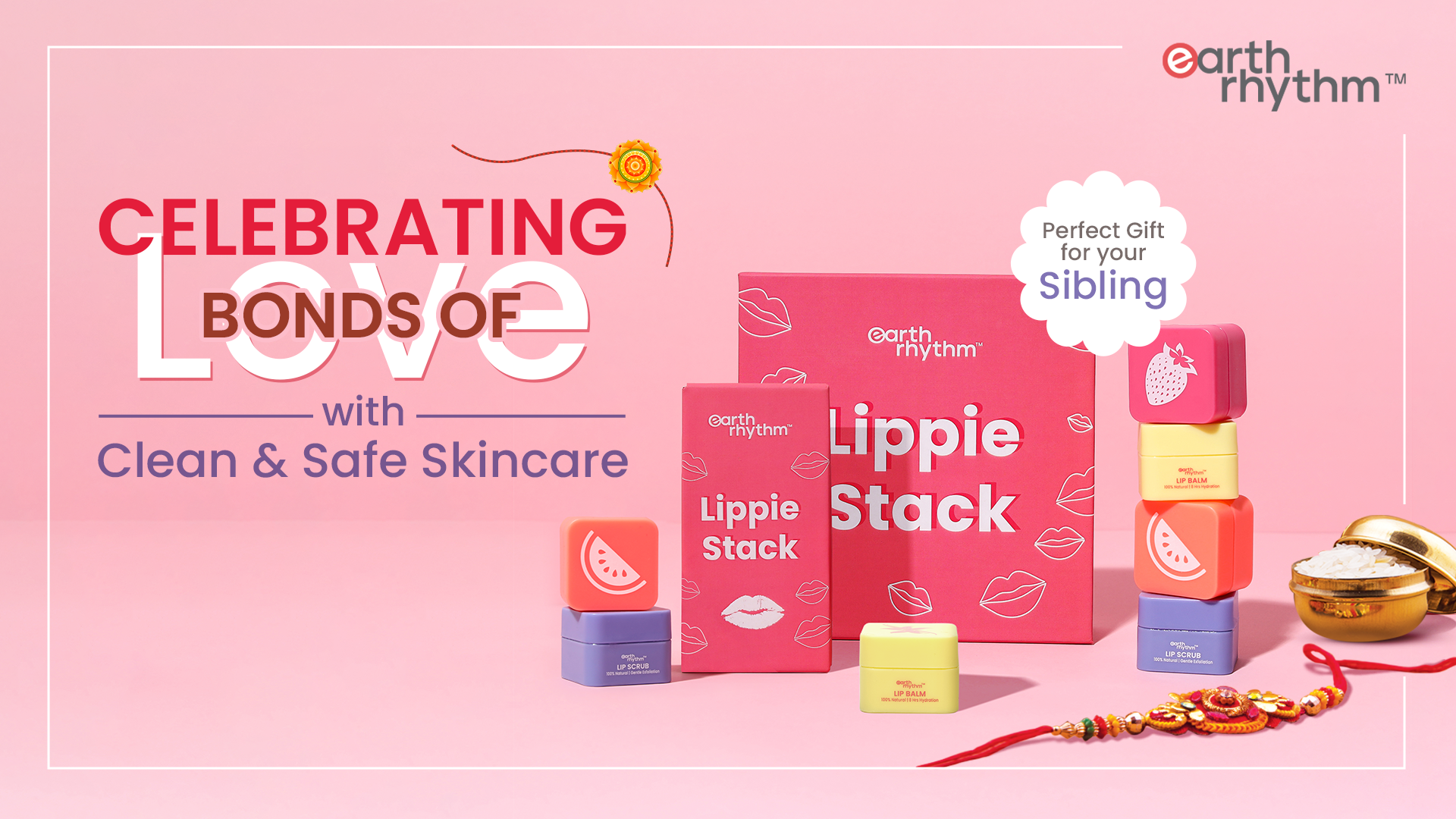 Celebrating Bonds of Love with Clean & Safe Skincare
India is a land of festivities, and Raksha Bandhan is one of the ancient celebrated days in India. Marking the bond between siblings, this sacred thread represents a vow to love protect and honour. However, with the evolving times, this festival is celebrated in unique ways that encompass celebrating bonds of love for all. Giving these celebrations a thoughtful twist, Earth Rhythm believes in the gift of holistic wellness which is conscious, clean and kind not just to your skincare needs but to the planet as well, Here are four ways in which we share gifts of love and care.
Love For The Environment
We make it a point to choose ingredients that are sustainably sourced and processed. Sustainable elements are kind, not just to your skin but to the planet as well. As a certified brand, Earth Rhythm demonstrates that it has passed strict standards set by ECOCERT. This ensures that our products do not contain any harmful chemicals, parabens, synthetic fragrances, or GMOs. It guarantees that we operate with ethical and social responsibility toward people and the planet. Breaking the norms of general gifting, share with your friends & family, the gift of clean skincare! Our Radiance Reviver Kit, with the goodness of Vitamin C, is set to get you that festive perfection. Get blemish-free, plump skin that gives you a healthy and happy glow.
Conscious Skincare For All
It is our continuous effort to provide the consumer with efficacious formulations. We believe that the key to efficacy is careful, constant innovation. Our environment is forever changing and to keep up with the transition and its impact on the health of our skin and hair, we need to match it with the pace of our innovation. Besides efficacy, it is convenience that consumers of today constantly seek. At Earth Rhythm, we meticulously examine these areas of potential innovation that help bring convenience to the consumer. With constant innovation and transparency in our processes, we help our customers make a well-informed and conscious choice. Celebrating this special bond with a special gift, our festive gift box has everything that you need to make it a must-have for all your festive needs.
Standing Up For What We Believe In
We believe real beauty lies in embracing yourself, irrespective of any skin colour, gender or age and in a broader sense, caste, orientation, or preference. We want our products to cater to an inspiring and diverse community that is not limited by labels or tags. Right from inclusivity in our products to inclusivity in our workplace we believe in providing solutions for specific skin & haircare concerns of users from all walks of life. Owning your true self, celebrate this season with the nourishing and protecting care of this festive gift box that helps you put your best face forward.
Love For All Nature's Creatures
A love for all creations is our core ethos. Animal cruelty is the dark underbelly of the skincare industry and we are strictly against it. Working towards protecting animal rights, we have a strict policy against animal testing and it gives us a sense of huge satisfaction to know that none of our products and processes go through animal testing or are derived from animals making it 100% cruelty-free! Embrace this change and indulge in this festive gift box that ensures kindness not just to your skin but to animals as well.
Observing this ceremony that stands for unconditional love and the vow to protect, we take pride in giving it our own unique touch that spreads love and peace not only within ourselves but the environment too.