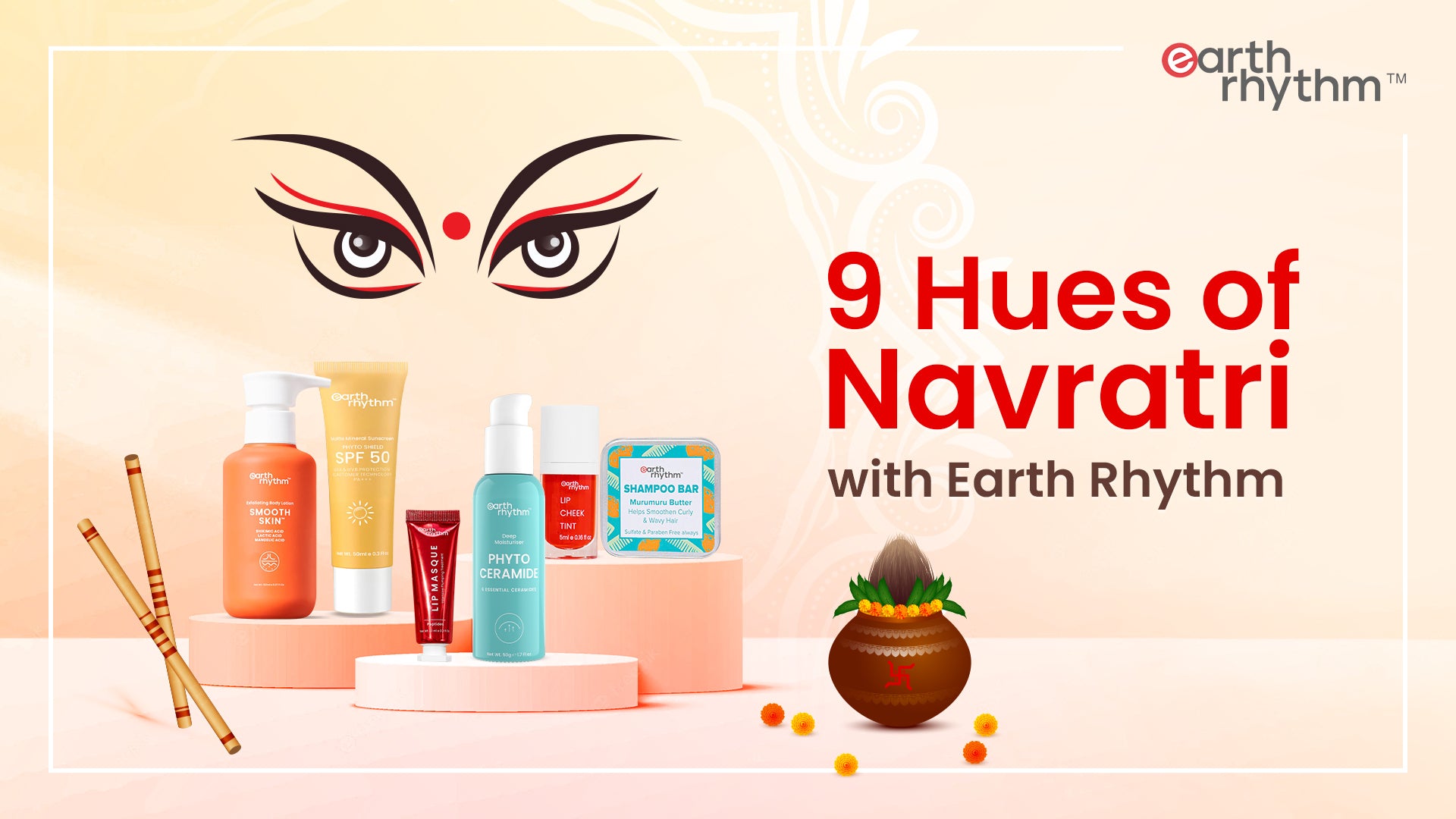 Celebrating the Spirit of Navratri with Earth Rhythm
The season of festivities has begun, and ushering in the celebrations with great fervour, we welcome the Goddess in all her divine manifestations. Symbolic of each of these divine forms, each day of celebration is marked by a colour that is representative of one of the several attributes of the Divine Goddess. Inspired by the simple yet deeply illustrative effects of these nine hues, here is how the colours of Navratri play an interesting role in our everyday lives.
Orange: Enthusiasm to Innovate
We believe that innovation is the key to efficacy, greater consumer satisfaction and a reduced environmental impact. Our Cosmetic Chemists thus work tirelessly to innovate in-house formulations to solve new-age beauty & personal care concerns. We meticulously research and encourage the innovation potential. With the world going through an endless change, our processes and practices call for a change, too. From utilization to storage and then disposal, it is our constant endeavour to innovate how we present and package our products.
White: Purity of Ingredients
Being India's first homegrown, non-toxic and clinically effective beauty and personal care brand, we believe in making products that are safe for both people and planet Earth. Our haircare and beauty products thus focus on superior quality ingredients that are dermatologically tested and toxin-free.  Our formulae are a result of extensive research that we share in a very transparent way.
Red: Passion for Clean Beauty
Born of a will to follow a passion and scale it from a home-based setup to a full-fledged brand, we have kept true to the ethos of being inclusive, sustainable and honest.  Being passionate about the cause of Clean Beauty, we are proud of our multifaceted solutions that combat several skincare and haircare issues through clean ingredients. Our certifications and global recognitions also attest to our principles of clean beauty.
Blue: A Sense of Confidence In Our Endeavour
"Going Slow is Good". Nurturing this faith in our people and processes, we are confident of our endeavour that embraces the concept of Real and Clean Beauty. We experience a great sense of calm, knowing that every product that leaves our premises has been meticulously crafted and checked to bring you the best for your skincare needs.
Yellow: Learning and Sharing Knowledge
Armed with the knowledge of how chemically laden products can harm consumers, we believe that while it is important to adhere to our principles of Clean Beauty, it is also important to maintain a sense of transparency. Including a list of all ingredients that go into our formulations helps our consumers make a conscious informed decision, building and retaining their trust.
Green: Ethical and Sustainable Processes
Committed to sustainable practices, we ensure that our raw materials are sourced in an environmentally and ethically responsible manner.  Seeking every possible way to reduce our carbon footprint, we actively look for sustainable ingredients and biodegradable or recyclable packaging. Our products are ECOCERT certified, which also guarantees ethical production and processing norms.
Grey: Strength of Transformation 
We are among the very few Indian D2C brands in the country that own their manufacturing process as well. Besides being responsible for the entire supply chain, all our formulations are also created in-house. We thus ensure that each of our products meets the highest quality standards. We have grown consistently and it shows the trust that our customers have in us. In a short period, with great products and good strategies, we have made our presence well known.
Purple: Understanding Our Customer
We cater to the needs of skintellectuals and take into consideration, the concerns of customers from all walks of life. We encourage the culture of feedback which helps us make constructive changes in our processes. Taking pride in our customer-centric endeavours, we strive to give customers a personalised experience with relevant recommendations keeping the best of your skin health in mind.
Pink: Kindness to All
We believe in Kindness towards all creatures thus we refrain from commissioning any animal testing right from the beginning of our production process to the end. Flaunting a strict No Animal Testing Policy, we are proudly 100% Cruelty-Free.
Flaunting these nine hues proudly, we wish you a blessed celebration of peace, joy, self-reflection and growth.
LIP & CHEEK TINT
Moisturizes Lips + 100% Natural Ingredients + Give Natural Flush Look
Sale price

M.R.P.

₹349.00
M.R.P.
Regular price

₹499.00
MURUMURU BUTTER SHAMPOO BAR
Softens Hair + Tames Frizz + Deep Conditions Hair + Detangles Hair
Sale price

M.R.P.

₹265.30
M.R.P.
Regular price

₹379.00
PHYTO CERAMIDE DEEP MOISTURIZER
Prevent Dryness+ Enhance Moisture Balance + Reduce Fine lines & Wrinkles
M.R.P.

Sale price

₹249.50
M.R.P.
Regular price

₹499.00