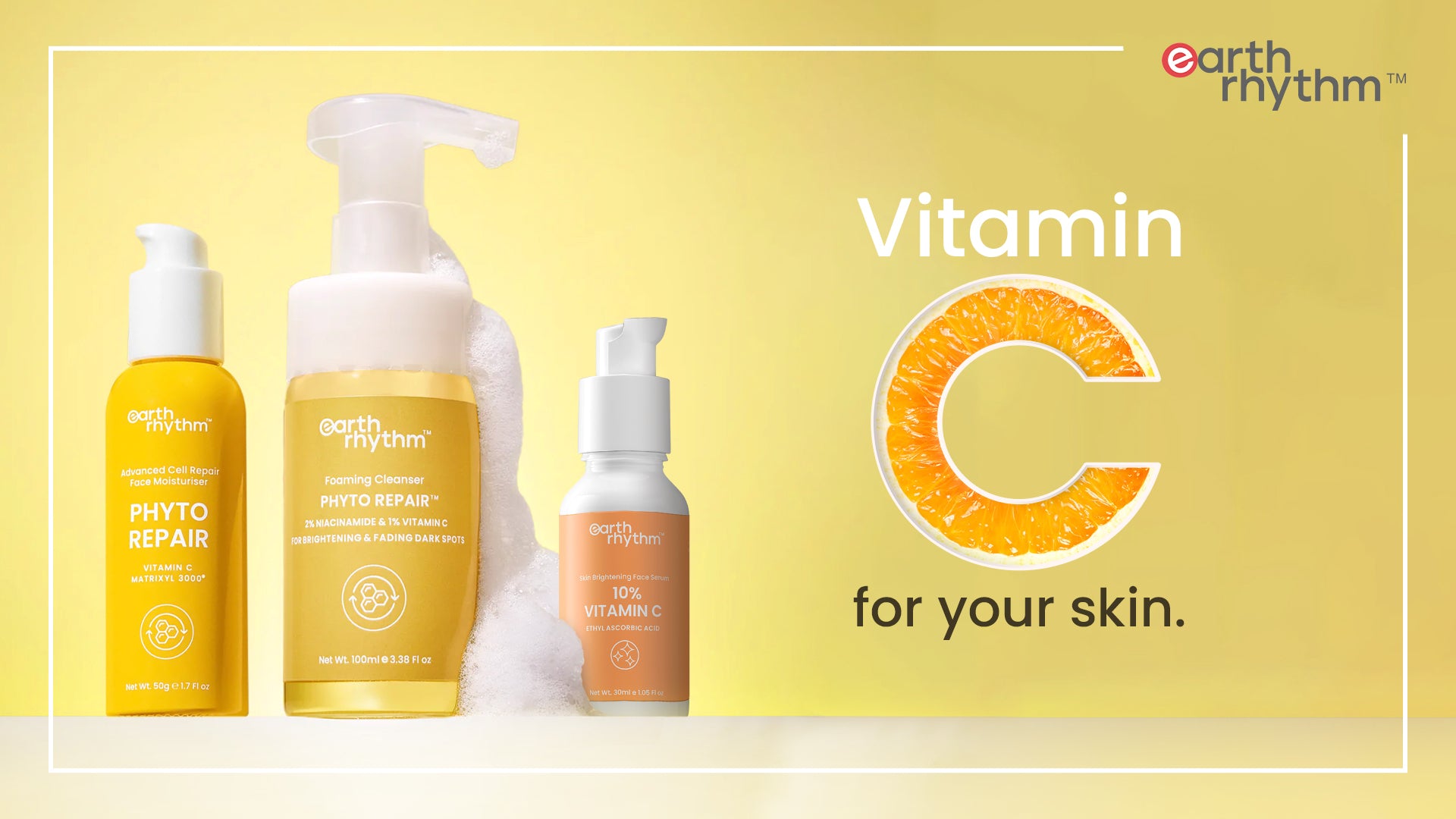 Why Vitamin C is Such a Revered Ingredient for your Skin
Remember a time when your mom was adamant to feed you that orange?... Well rightly so.  While the benefits of Vitamin C for your health have been widely known, it has recently become a game changer for the skincare industry as well.  Commonly known as Ascorbic Acid in skincare terms, Vitamin C is a water-soluble nutrient that plays an important role in keeping your body and skin healthy. A multi-faceted skincare wonder, when applied topically revives skin with a boost of benefits.
Benefits of Vitamin C
Boosts collagen production: Our Skin is made up of Collagen and as we age, its production slows down. Protecting your skin from sun damage, Vitamin C helps remove oxidative stress from your skin. It promotes collagen production so that your skin appears smooth, supple, and plump.
Reduce the appearance of dark spots: Vitamin C is known for its antioxidant properties that help prevent melanin production. With anti-ageing and anti-inflammatory benefits, it significantly reduces redness and pigmentation.
Keeps your skin hydrated: Preventing water loss from your skin, Vitamin C retains moisture keeping your skin hydrated for longer periods. It soothes skin and helps it look and feel healthy.
Common Myths Regarding Vitamin C
Vitamin C causes sun sensitivity: Contrary to popular belief, Vitamin C curtails free radicals.  Free radicals are formed due to pollution and UV rays of the sun and. They damage the collagen structure of the skin to cause fine lines and wrinkles. Applying Vitamin C daily not only protects the skin but repairs it too.
Orally ingested Vitamin C has more benefits than topically applied Vitamin C: It is a known fact that Oral Vitamin C plays an essential role in keeping the immune system healthy. However, to have a direct effect on our skin, it is recommended to use a topical form of Vitamin C that shows better results on your skin.  Staying on the skin, it also nourishes and benefits the skin for a longer period.  While the debate about the choice of oral or topical Vitamin C is never ending, it is a good idea to topically apply and orally consume this vitamin so that you can reap its benefits, both internally for your body and for your skin.
It can't be used by people with sensitive skin: Vitamin C can be used by people of all skin types. However, people with sensitive skin should take care that they use a low concentration of Vitamin C first so that they can see better how it affects their skin.  The best way to know for sure whether the Vitamin C product is suitable for your skin is to do a patch test. The people new to Vitamin C can start with a lower concentration and gradually build it up.  
A higher concentration of Vitamin C is better for your skin: More is not necessarily good especially when it comes to Vitamin C.  Though it is a very potent ingredient when it comes to skincare, a higher concentration of it can lead to breakouts, skin irritation and redness. A good way to increase your skin's tolerance towards this ingredient is to start by using products with low concentrations and gradually work your way up towards using products with higher concentrations
Incorporating Vitamin C in Your Skincare Routine  
Cleansing: Using a Vitamin C cleanser gently exfoliates and cleanses your skin while retaining moisture. Its antioxidant properties protect your skin from environmental and sun damage. Boosting collagen levels, it also improves the skin's elasticity. Our Phyto Repair Foaming Cleanser gives your skin the much-needed respite from everyday dullness and breakouts. Not only does it gently cleanse your skin but also fades dark spots and brightens skin.  
Toning: Removing excess oil from your skin, a Vitamin C toner not only clears excess oil from your skin but prevents the recurrence of acne too. Helping to shrink enlarged pores, it retains moisture in your skin to prevent dullness and dehydration. We recommend the  Pore Away Tonique to give your skin a refreshed feel. With the goodness of Niacinamide, Vitamin C and Licorice Extracts, this pore refining toner almost instantaneously gives your skin a radiant glow.
Serums: A serum is the most effective way of incorporating Vitamin C in your skincare routine. Made for faster absorption, it reduces redness and inflammation and helps to achieve a uniform skin tone. Our best seller 10% Vitamin C Face Serum  brightens your skin and boosts radiance and glow. It also reduces fine lines and wrinkles for a youthful look. Strengthening the skin barrier, it also aids in retaining skin moisture and is suitable for all skin types.
Moisturising: Choosing a Vitamin C rich moisturiser is ideal for beginners who have just been initiated to the idea of using it in their skincare routine. A Vitamin C cream improves the skin barrier and provides the skin with all the nourishing benefits of Vitamin C. Ideal for sensitive skin, it delivers the much required hydration yet is gentle on the skin. The Phyto-Repair Advanced Cell Repair Moisturiser is a miraculous product that repairs the skin cells and gives it a youthful radiant glow.   
Vitamin C is a multipurpose and greatly beneficial ingredient when it comes to skincare. Using it in your skincare regime helps you retain that radiant youthful glow that you have always desired.
Related Blogs: