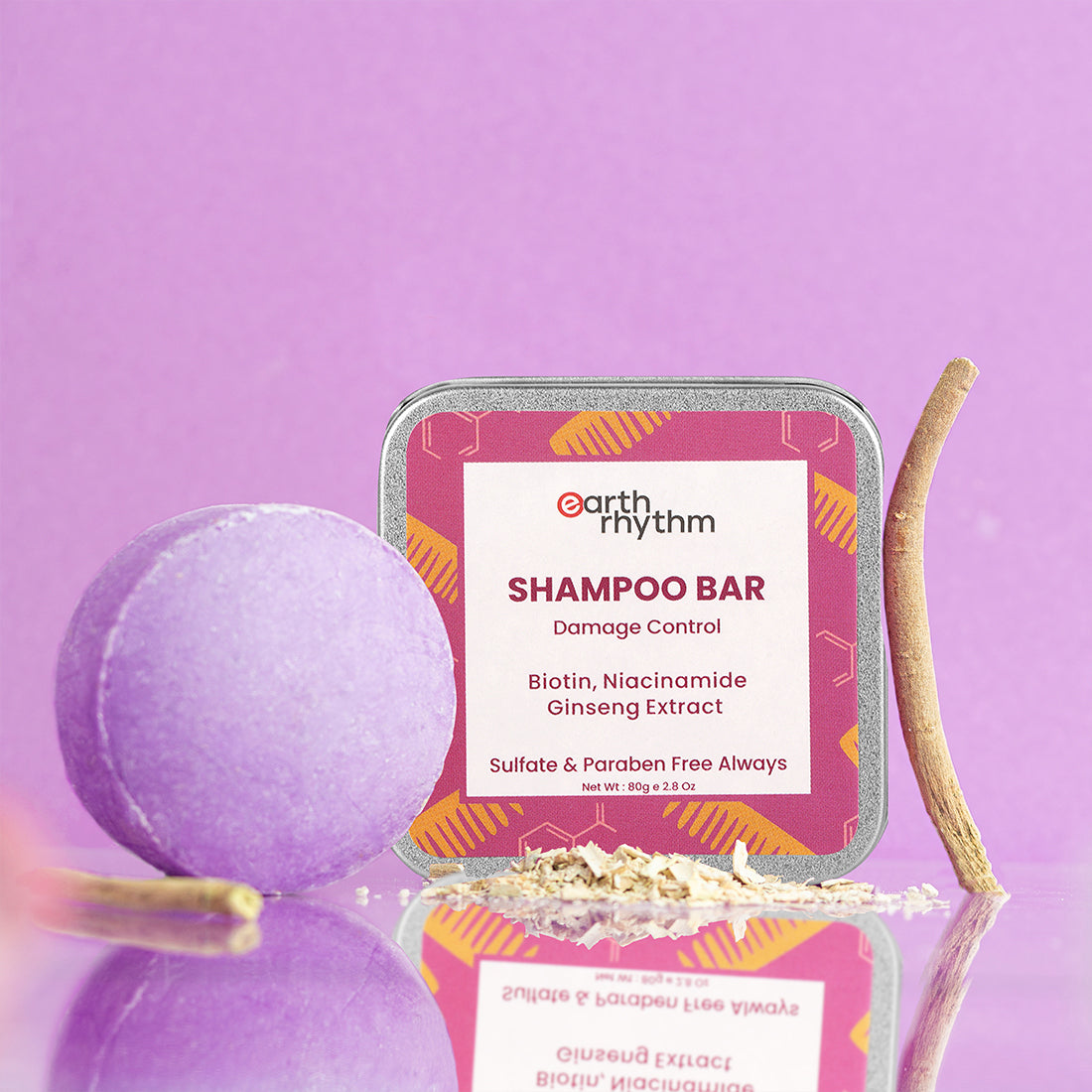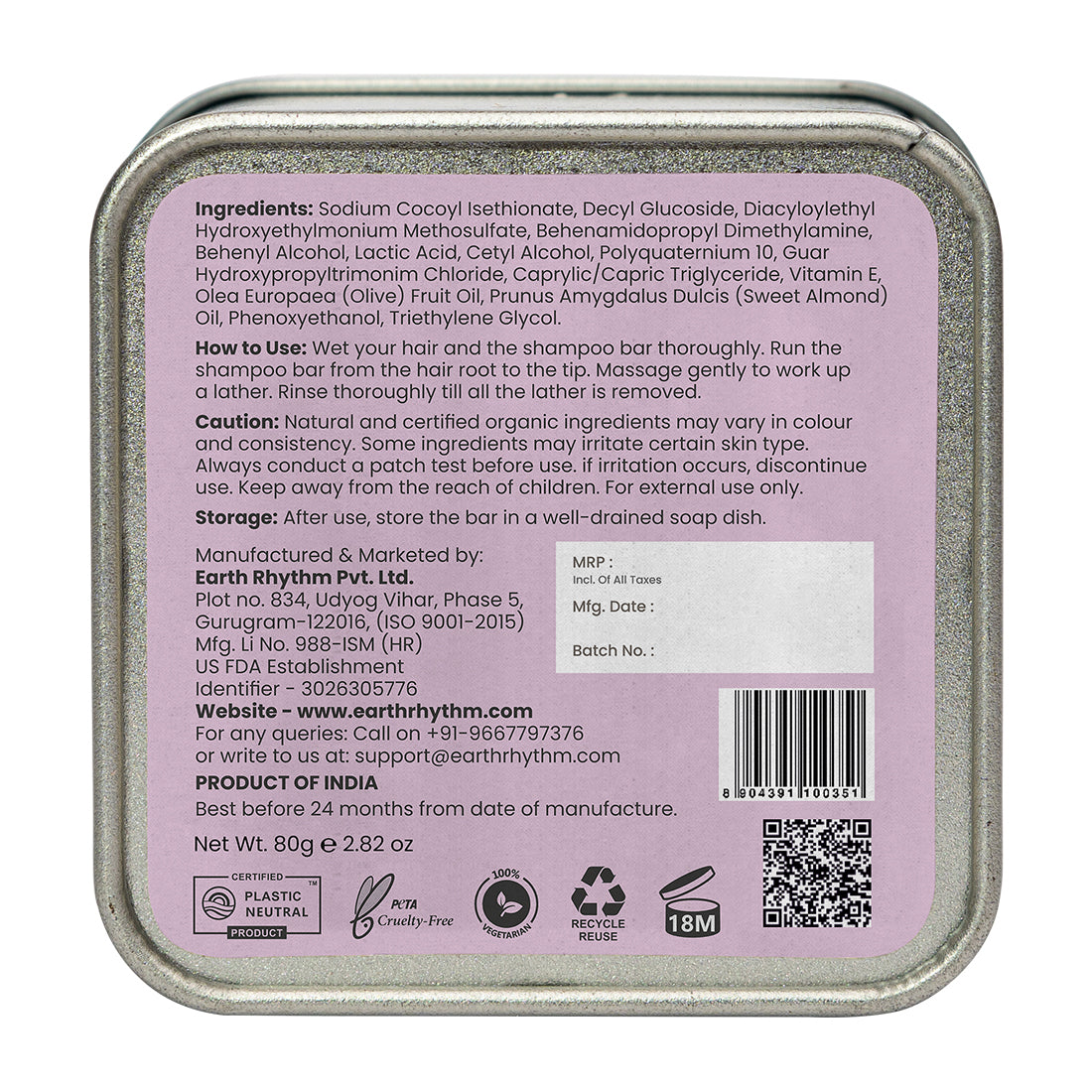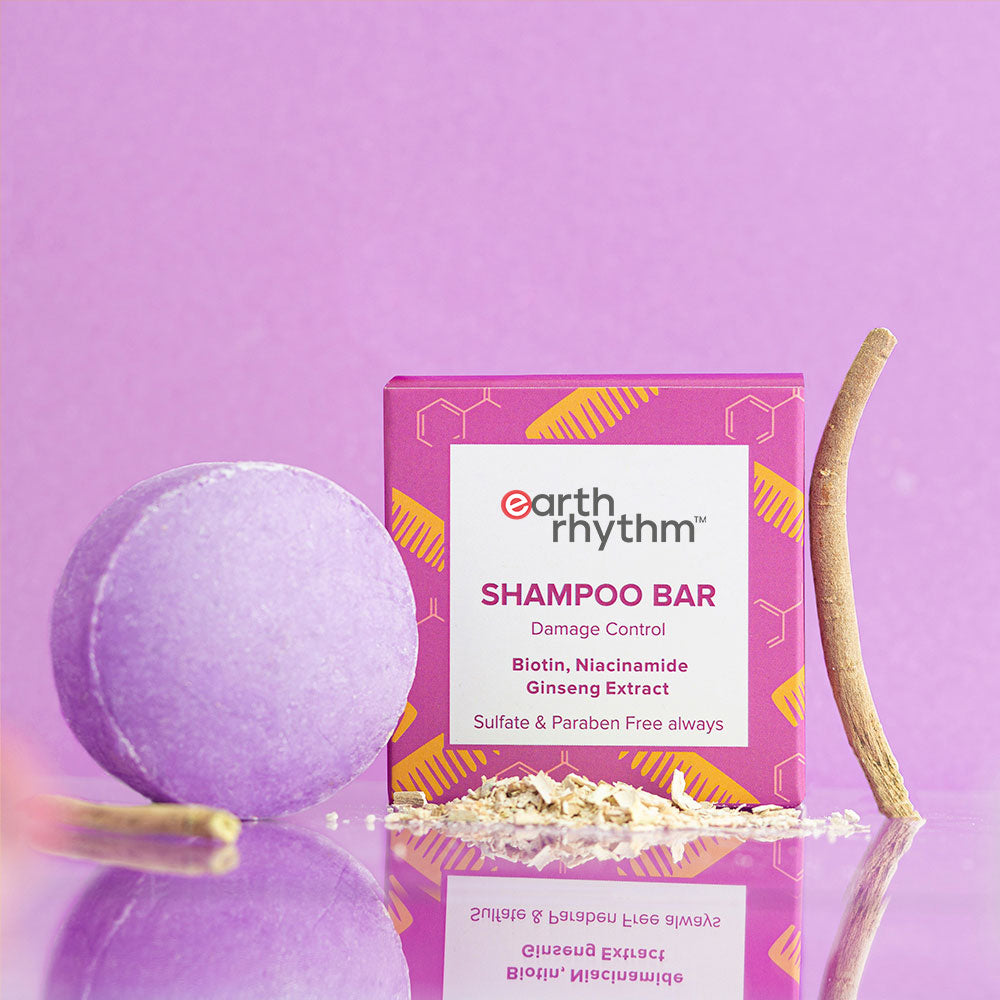 SHAMPOO BAR WITH BIOTIN, NIACINAMIDE & GINSENG EXTRACT
Controls Heat Damage + Restores Suppleness
30% off
M.R.P.

Sale price

₹349.30
M.R.P.
Regular price

₹499.00
(/)
Inclusive of All Taxes. Shipping calculated at checkout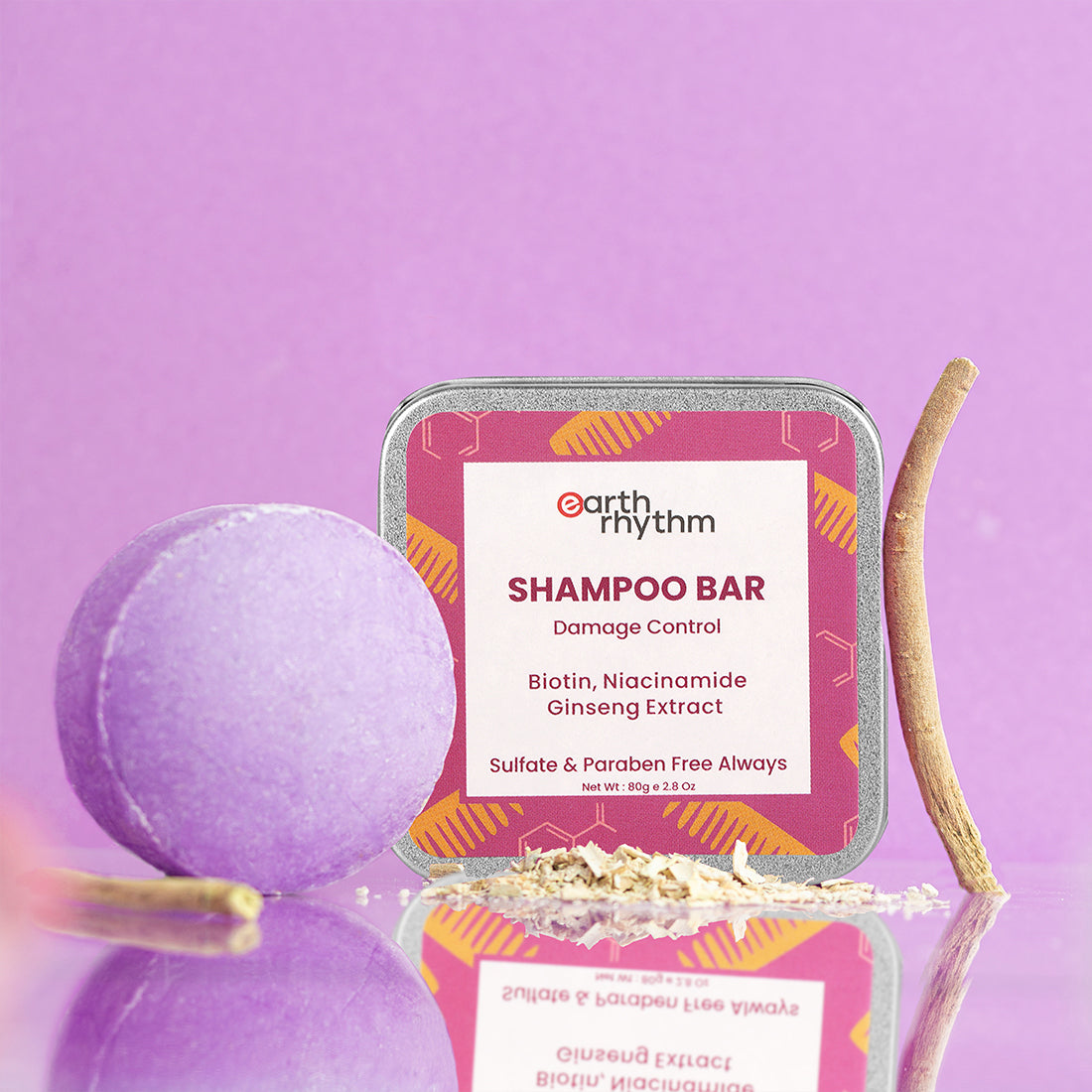 SHAMPOO BAR WITH BIOTIN, NIACINAMIDE & GINSENG EXTRACT
M.R.P.

Sale price

₹349.30
M.R.P.
Regular price

₹499.00
Choose options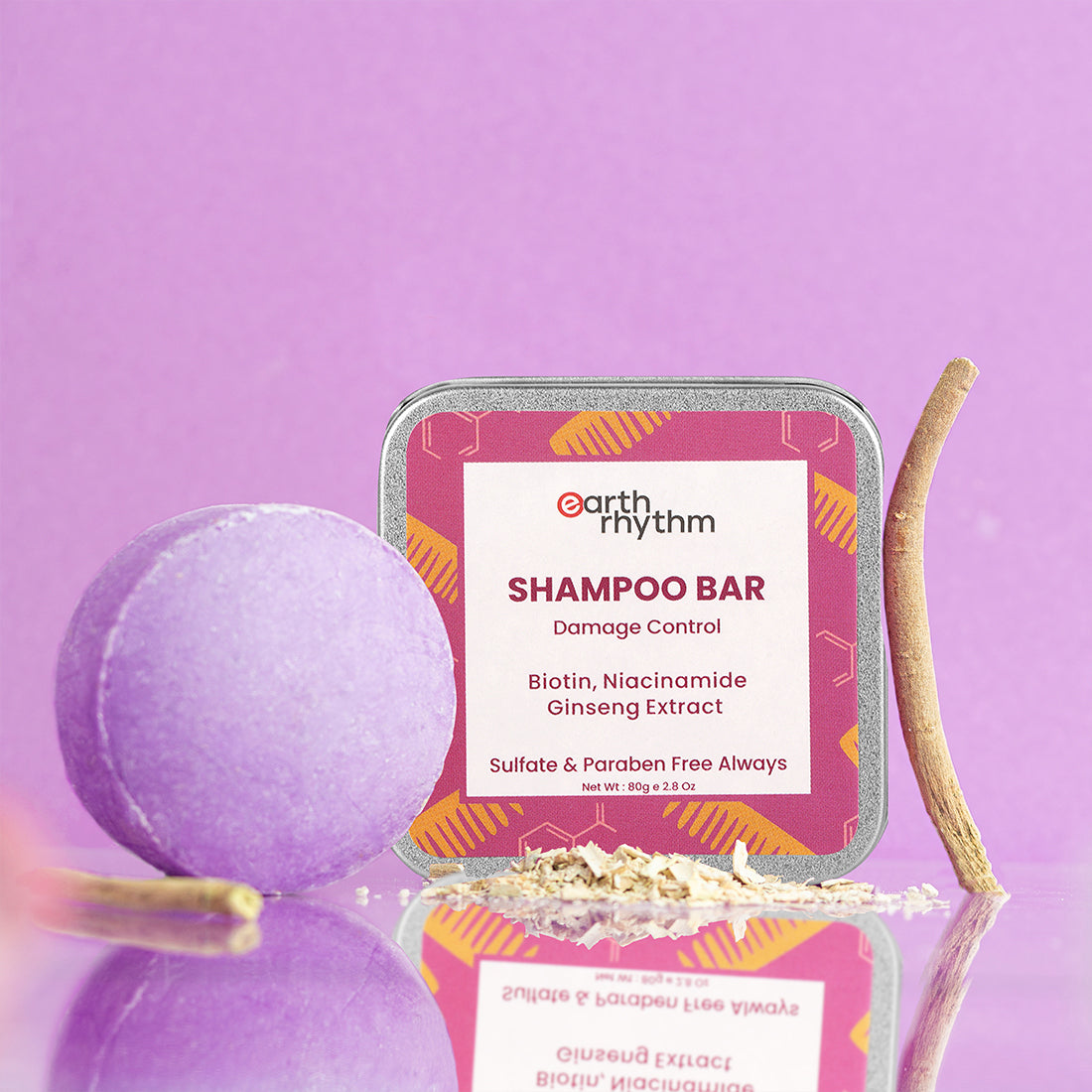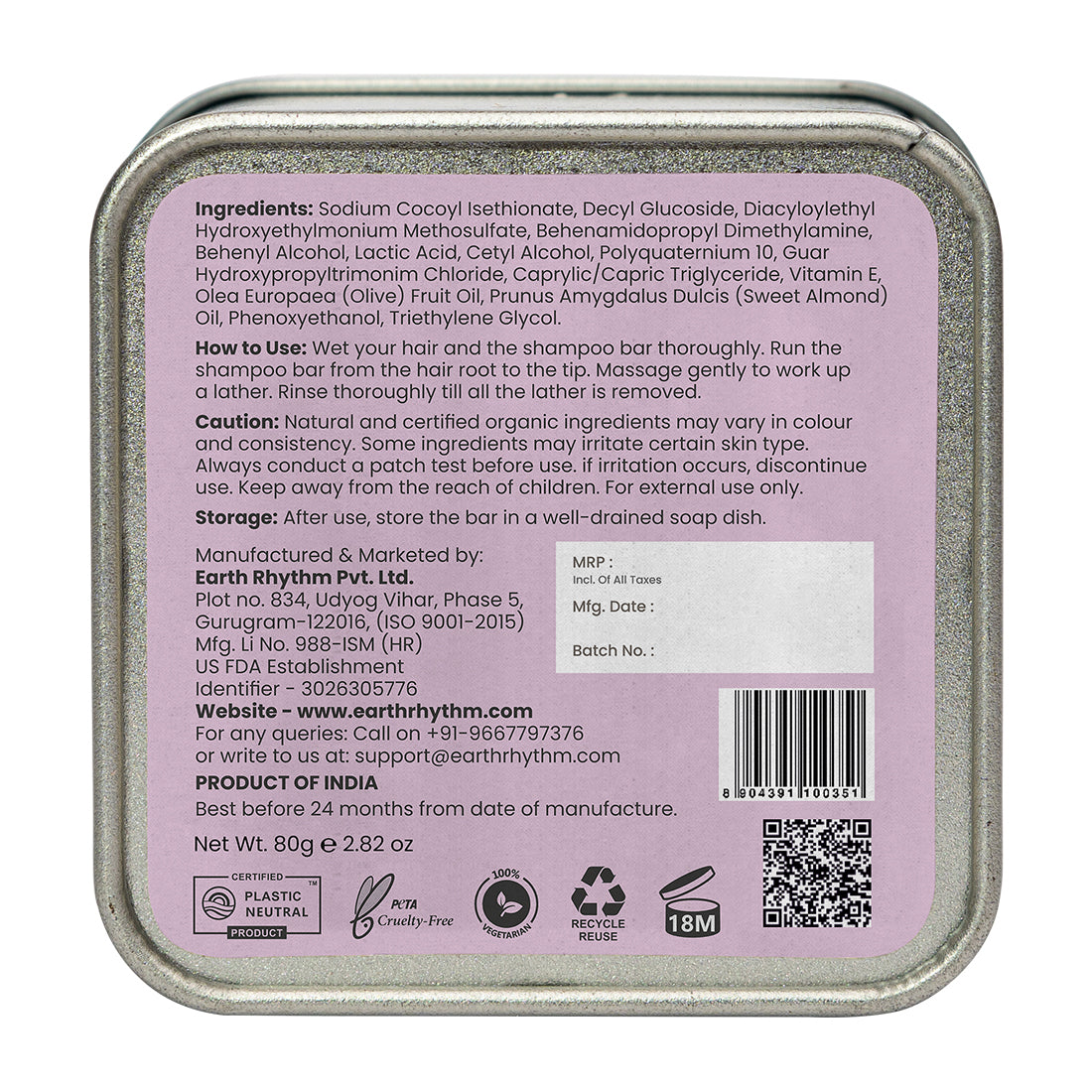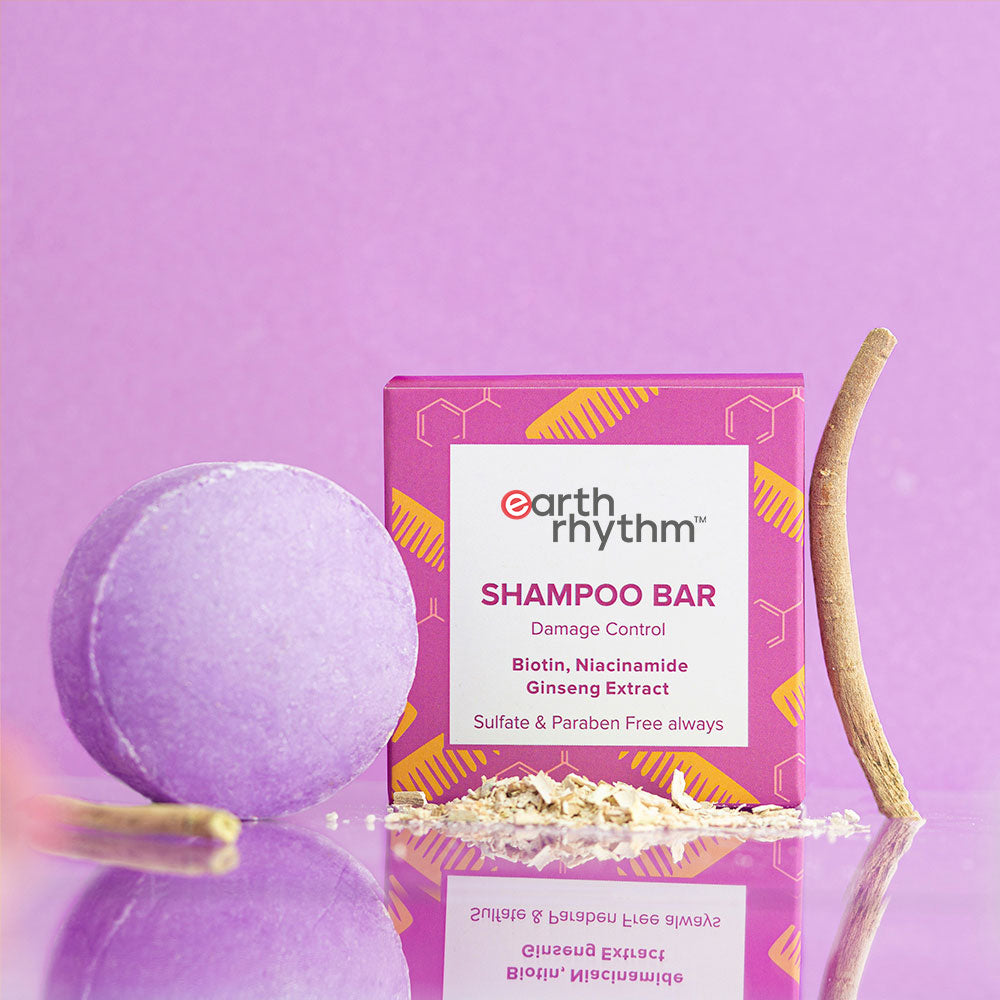 LIP & CHEEK TINT
Moisturizes Lips + 100% Natural Ingredients + Give Natural Flush Look
Sale price

M.R.P.

₹349.00
M.R.P.
Regular price

₹499.00
MURUMURU BUTTER SHAMPOO BAR
Softens Hair + Tames Frizz + Deep Conditions Hair + Detangles Hair
Sale price

M.R.P.

₹265.30
M.R.P.
Regular price

₹379.00
PHYTO CERAMIDE DEEP MOISTURIZER
Prevent Dryness+ Enhance Moisture Balance + Reduce Fine lines & Wrinkles
M.R.P.

Sale price

₹249.50
M.R.P.
Regular price

₹499.00
More Information

Haircare is of utmost importance just like skincare. Among several hair products in the market, Earth Rhythm brings only natural and pure things for haircare. Hydration is crucial for hair! It also requires nourishment and Earth Rhythm has formulated its shampoo bar with Biotin, Niacinamide, and Ginseng Extract. An innovative creation, this uniquely devised shampoo bar is more user-oriented and long-lasting. Made with ingredients picked out from mother nature, this solid cleansing shampoo bar does wonders for your tresses and cares for them.

Texture, Aroma, And pH Value

The Shampoo Bar with Biotin, Niacinamide & Ginseng Extract is a hard, solid bar. This soap bar is durable and convenient for you to use for a long time. The solid shampoo bar is fragrance-free. There's no artificial aroma or scent added to it. The natural shampoo bar has a pH value of 5.5 to 6. It doesn't bother the tresses and balances the pH proportion of your hair.

Benefits of Shampoo Bar

Promotes Hair Growth

This natural shampoo bar from Earth Rhythm is infused with Biotin. Biotin is also known as vitamin B7. It is praised for its impressive quality of promoting hair growth and improving hair structure. The shampoo bar containing vitamin B7 stimulates keratin production in hair. This leads to increasing the rate of follicle growth and thus, you see the difference in your tresses with every use. Choose this shampoo bar for better hair care.

Strengthening and Reviving

As we know, this natural shampoo bar has biotin in it, so this makes your hair grow stronger than it was before. The weak, affected hair becomes revived and rejuvenated with new life as you include this natural shampoo bar into your hair care regimen. The product strengthens your roots, hence, you get stronger and longer locks that are fully rejoiced with nourishment.

Boosted Circulation

The natural shampoo bar has a remarkable ingredient named Niacinamide. This significant ingredient plays a vital role in growing long and strong hair. Niacinamide has circulation-boosting properties. To enhance hair texture use this shampoo bar infused with Niacinamide and observe how your tresses become longer and healthier. Also, it improves the texture of hair that has gone through the effects of chemical-based hair products. The physically or chemically damaged hair gets a boost of Niacinamide that helps to build Keratin. Gradually, you see your hair enhanced in its appearance and feel. Niacinamide supports better circulation. The improved circulation aids in increasing the body, suppleness, sheen of your beautiful locks. Try the shampoo bar and see the transformation.

Suppleness Restored

The Shampoo Bar with Biotin, Niacinamide & Ginseng Extract is enriched with Niacinamide. This vital ingredient helps in healing damaged, dull hair. It boosts Keratin production and enhances the appearance of dry or damaged skin on the scalp by reducing flaking. It restores suppleness to your tresses and makes them nourished and lively. Your hair feels softer, smoother, and healthier. Include this shampoo bar into your hair care routine and get naturally beautiful locks.

Advanced Scalp Care

Several shampoos just wash away the dirt and impurities leaving the scalp dry and undernourished, but Earth Rhythm has formulated an advanced haircare shampoo bar that does wonders for your scalp as well as your hair. This natural shampoo bar is enriched with Ginseng Extract. This particular ingredient is believed to increase the dermal cells on your scalp. By doing so, the hair follicles and roots are strengthened. This not only promotes the new growth of hair strands but also prevents thinning and breakage of hair. Ginseng extract nourishes your scalp and encourages it to grow long, gorgeous locks.

Heat Damage Controlled

The scorching heat of the sun damages hair. We look for products to solve this crisis, especially during the summer season. Heat damage can harm your hair and make it dry. Earth Rhythm cares for your hair and thus, this natural brand has formulated the Shampoo Bar with Biotin, Niacinamide & Ginseng Extract. This shampoo bar has the goodness of Niacinamide that has damage-controlling properties. The Niacinamide infused in the shampoo bar aids in protecting your tresses from heat damage. It also heals chemically damaged hair. Thus, with every use of this shampoo bar, your tresses feel rejuvenated and get better shielding from heat damage.

All Natural Ingredients

Earth Rhythm promises only the best for you. Skin and hair care gets a new definition with their naturally developed products. Similarly, Earth Rhythm's Shampoo Bar with Biotin, Niacinamide & Ginseng Extract is based on all pure fundamentals collected from the laps of mother nature.

Ginseng extract, biotin, and Niacinamide - all are gained from nature and those common vegan ingredients that we use and eat every day. The shampoo bar contains no nasty chemicals. This shampoo bar has vitamin-B7 which improves hair follicles and Keratin production. Ginseng revives the scalp and hair while Niacinamide boosts circulation and restores suppleness to it. All these powerful fundamentals create magic to naturally heal your weak, damaged hair by transforming it into thicker, longer, and healthier hair with sheen.

Hydration and Zero Irritation

The Shampoo Bar with Biotin, Niacinamide & Ginseng Extract is infused with Niacinamide that adds suppleness to your hair. Biotin helps keratin production that smoothens hair. Dry scalp causes irritation and dandruff as well. To prevent such tantrums, this hair wash bar cares for your hair by restoring moisture to your scalp. You feel no irritation or dryness as the Niacinamide reduces flaking of the scalp. This natural product doesn't harm your hair like other shampoos containing sulfates and parabens. The natural shampoo bar boosts nourishment and makes your hair youthful. Its cent percent pure ingredients revive hair. The shampoo bar washes impurities and restores hydration. Your scalp and locks feel hydrated in hot and dry weather.

Durable Shampoo Bar

The natural shampoo bar from Earth Rhythm is hard and solid. Other liquid shampoos and fancy hair products don't go a long way. Whereas, this solid bar doesn't finish that easily. It works up a good lather to wash your hair and scalp. It's convenient and durable, so it can be used for a longer period of time than other products.

How To Use?

Wet your hair thoroughly with warm water.

Moisten the Shampoo Bar and then rub it directly through your hair from the scalp to the ends or tips of the hair.

Work up a thick lather with the pads of your fingers (Do not use your fingernails).

Rinse your hair thoroughly with warm water until all of the shampoo lather is removed.

Use it twice or thrice a week or as required to keep your tresses and scalp supple, long, and strong.
See All Ingredients

| Ingredient | Ingredient Type | Source | Benefit |
| --- | --- | --- | --- |
| Cocos Nucifera (Coconut) Oil | Natural | Plant | Cleanse hair, |
| Behentrimonium Methosulfate (and) Cetyl Alcohol | Natural | Colza oil | Conditioning |
| Sodium PEG-7 Olive Oil Carboxylate | Synthetic | Lab Synthesized | Hair Growth |
| Guar Hydroxypropyltrimonium Chloride | Synthetic | Guar Baens | Hair conditioning |
| Sodium Cocoyl Isethionate | Natural | Coconut oil | Soap-free cleansing agent |
| Acacia Concinna Fruit Extract | Natural | Shikakai | Conditioning |
| Tamarindus Indica Fruit Extract | Natural | | Rich in anti-dandruff and anti-bacterial properties |
| Tocopheryl acetate (Vitamin E) | Natural + Synthetic | Lab Synthesized | Anti-oxidant |
| Benzyl Alcohol, Glycerin & Sorbic Acid. | Synthetic | Lab Synthesized | Preservative |
Biotin, niacinamide and ginseng bar
It's really good reduces hair fall with regular usage overall very good product.
SHAMPOO BAR WITH BIOTIN, NIACINAMIDE & GINSENG EXTRACT