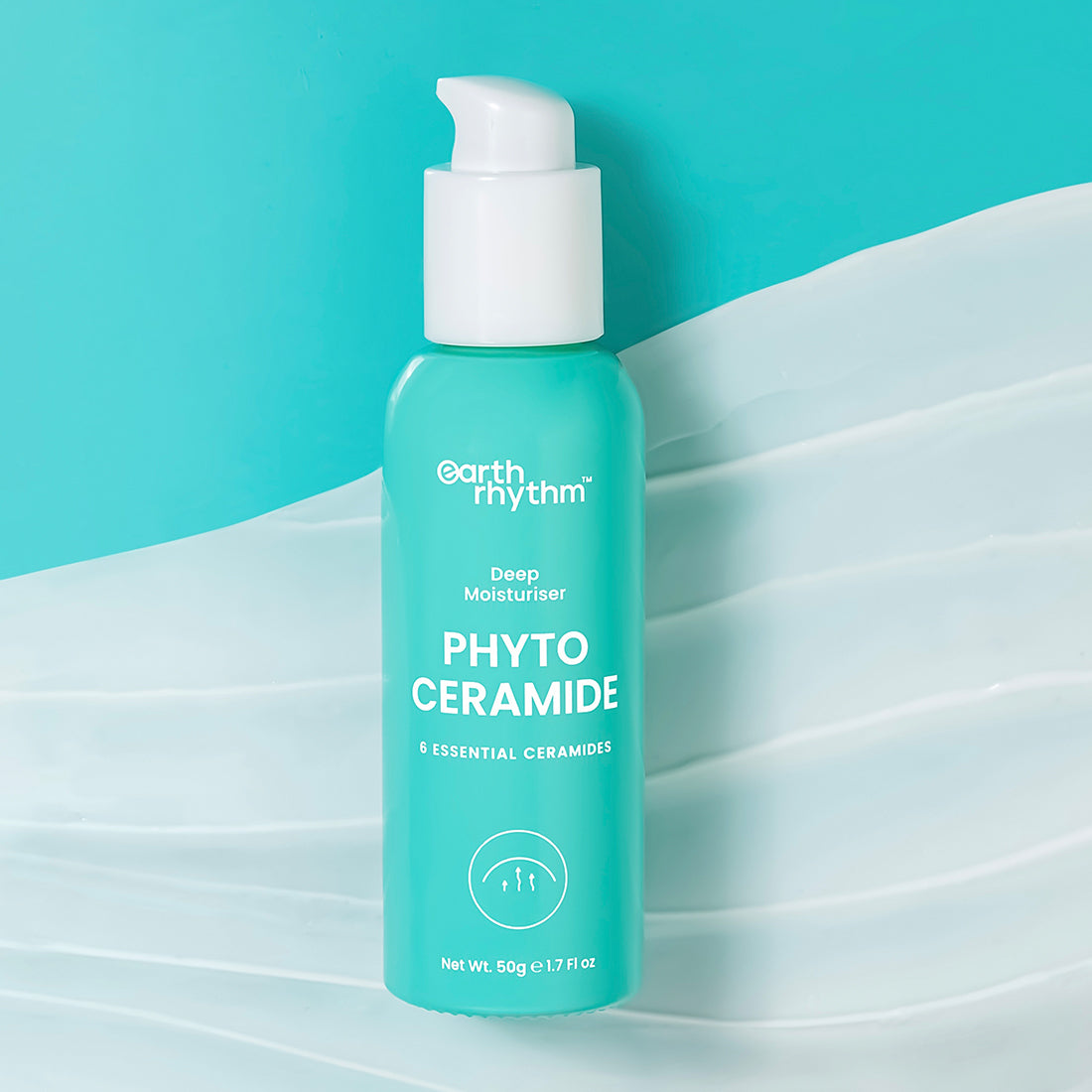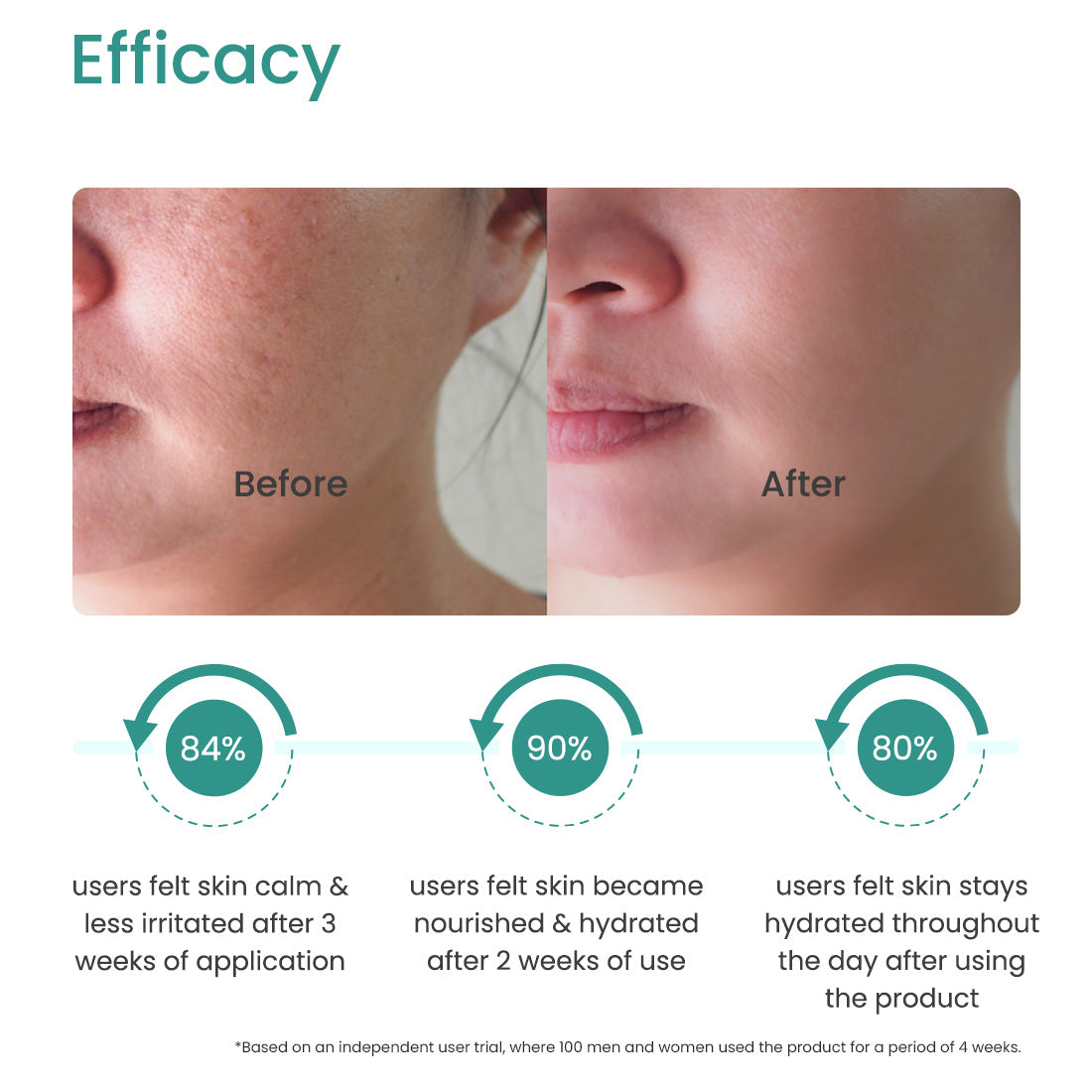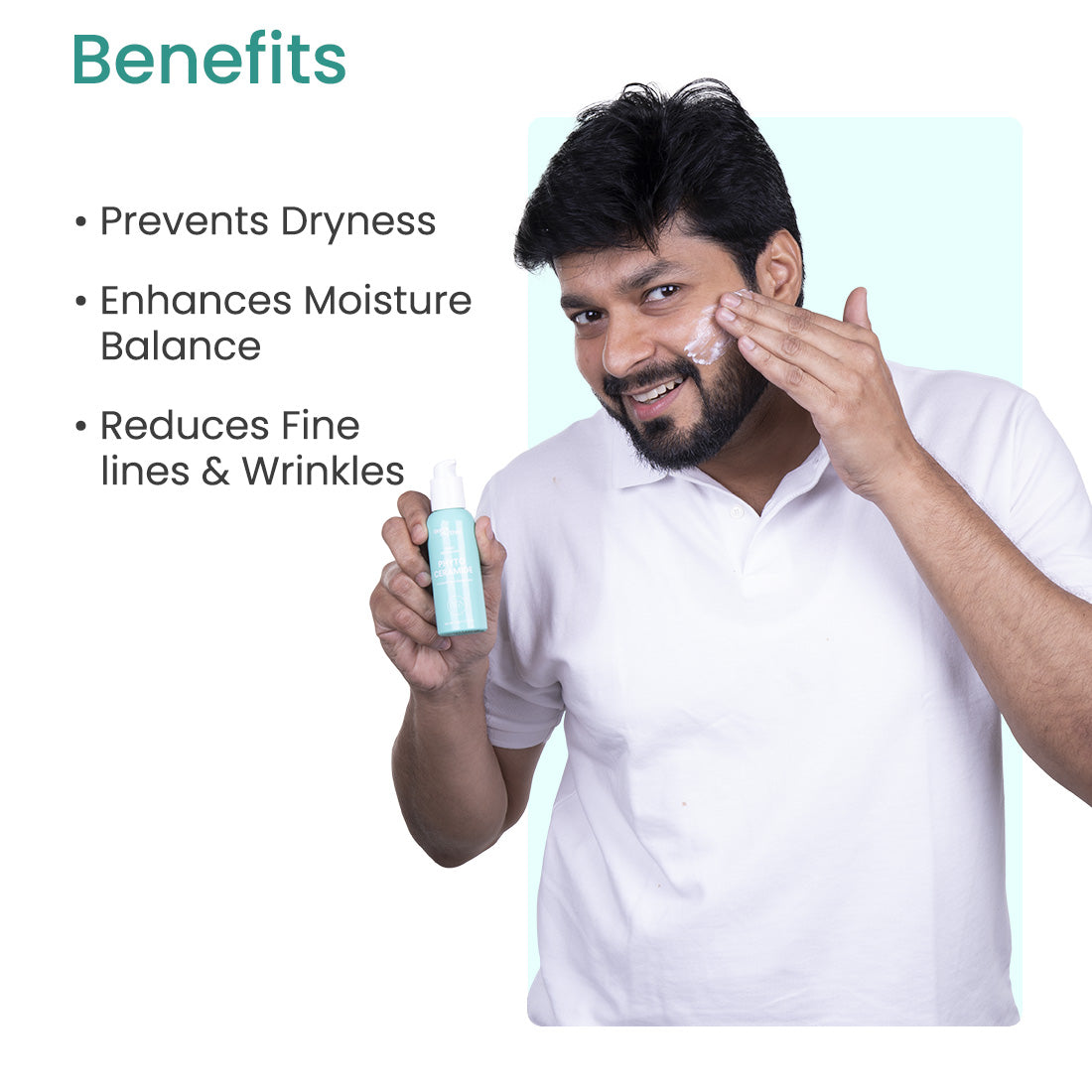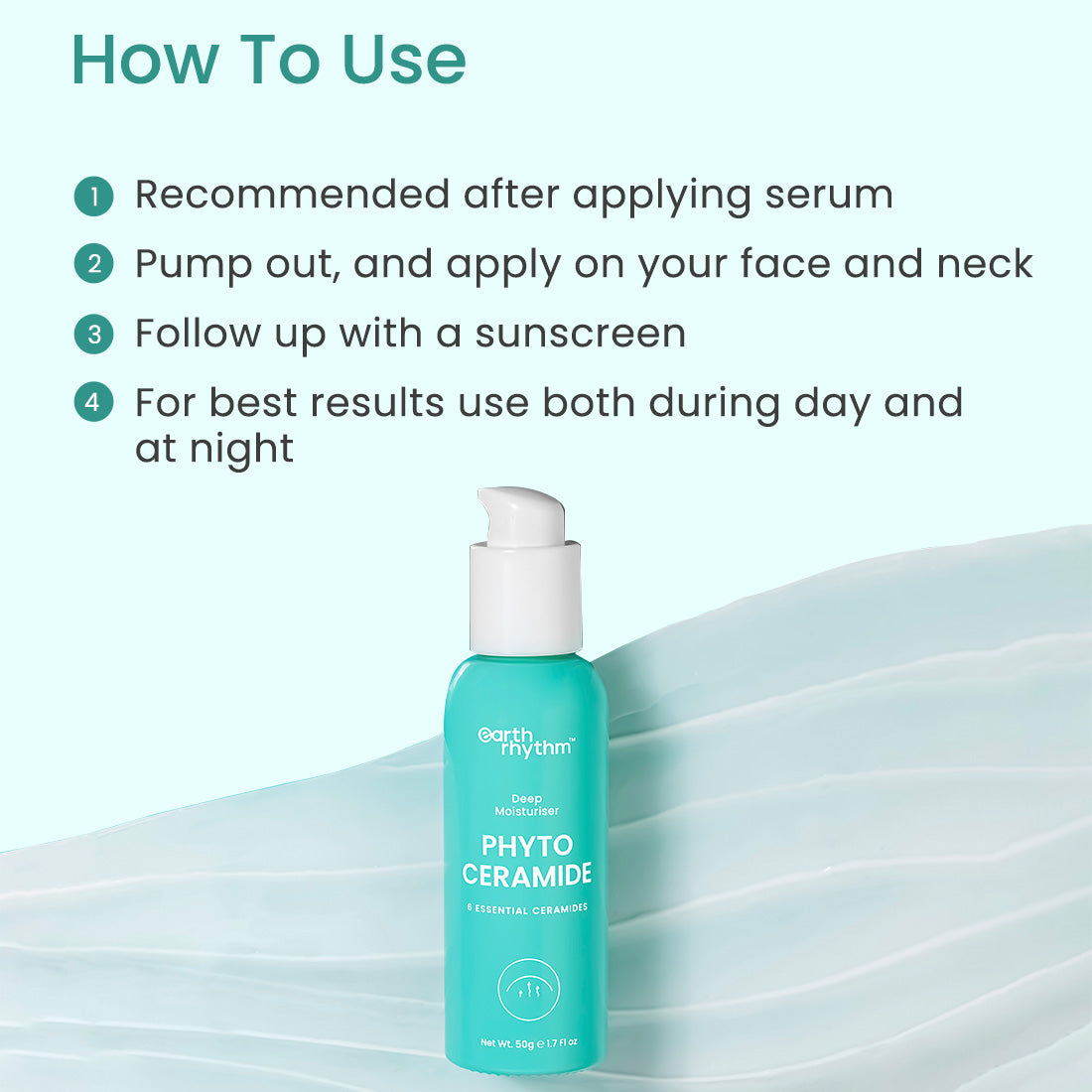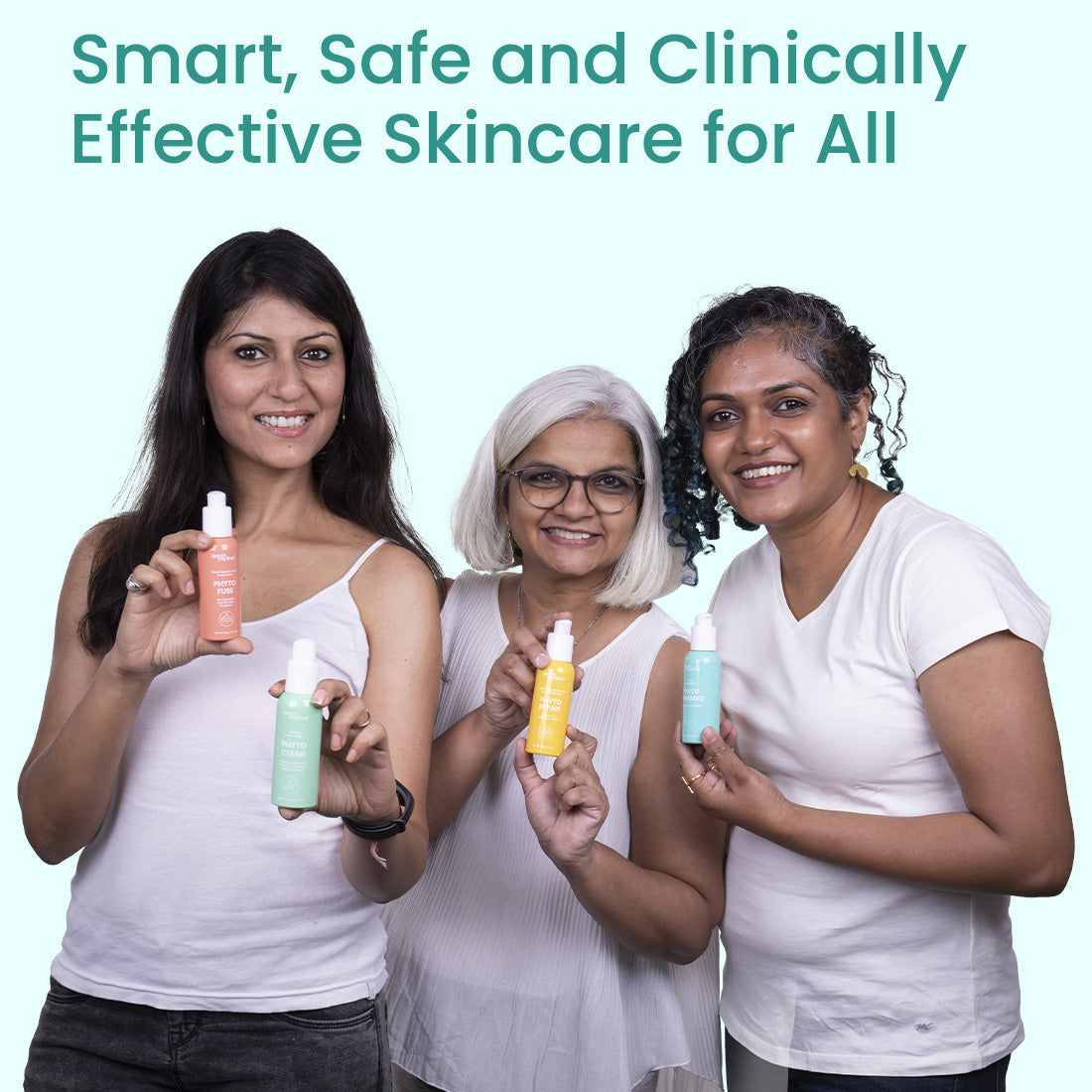 PHYTO CERAMIDE DEEP MOISTURIZER
Prevent Dryness+ Enhance Moisture Balance + Reduce Fine lines & Wrinkles
50% off
M.R.P.

Sale price

₹249.00
M.R.P.
Regular price

₹499.00
(/)
Inclusive of All Taxes. Shipping calculated at checkout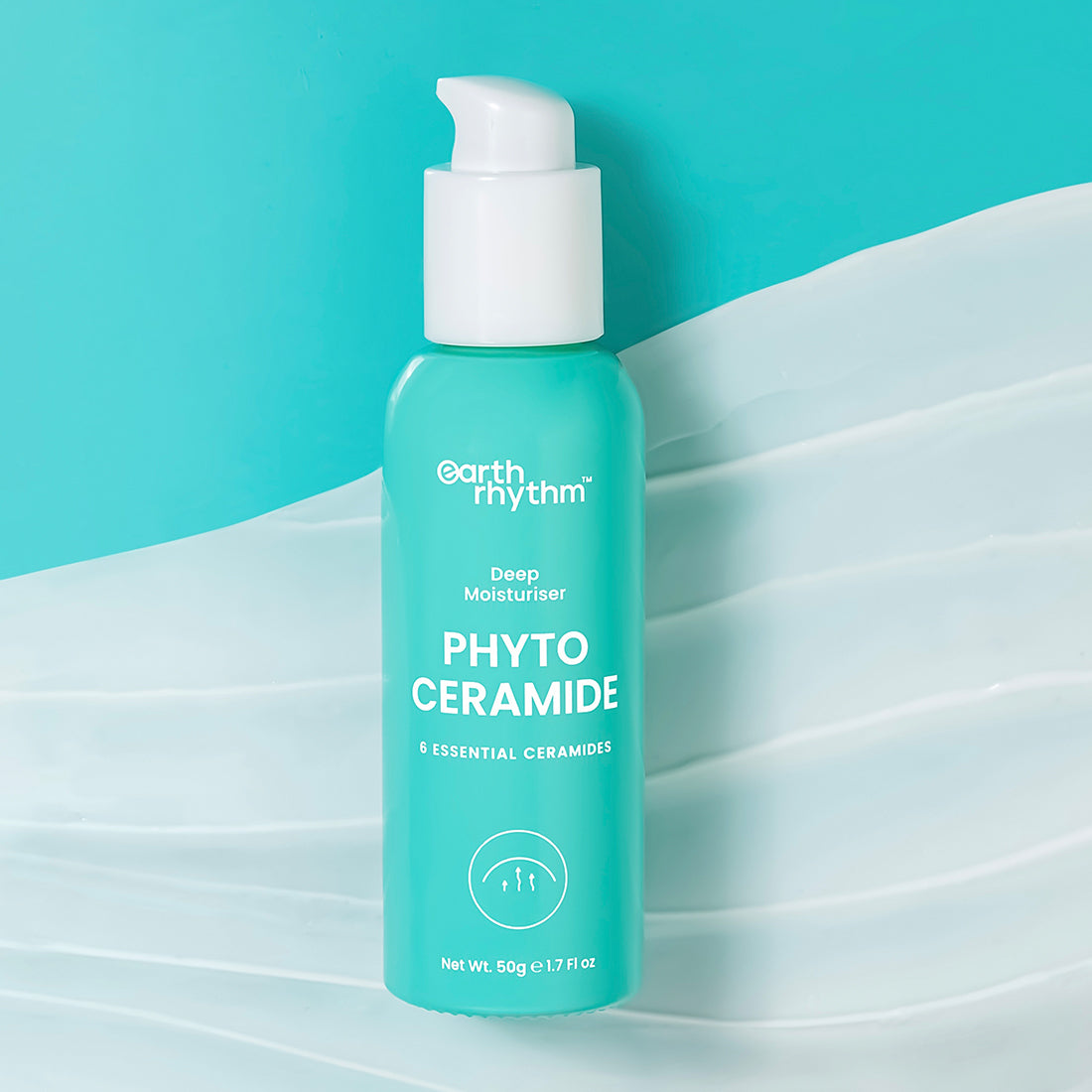 PHYTO CERAMIDE DEEP MOISTURIZER
M.R.P.

Sale price

₹249.00
M.R.P.
Regular price

₹499.00
Choose options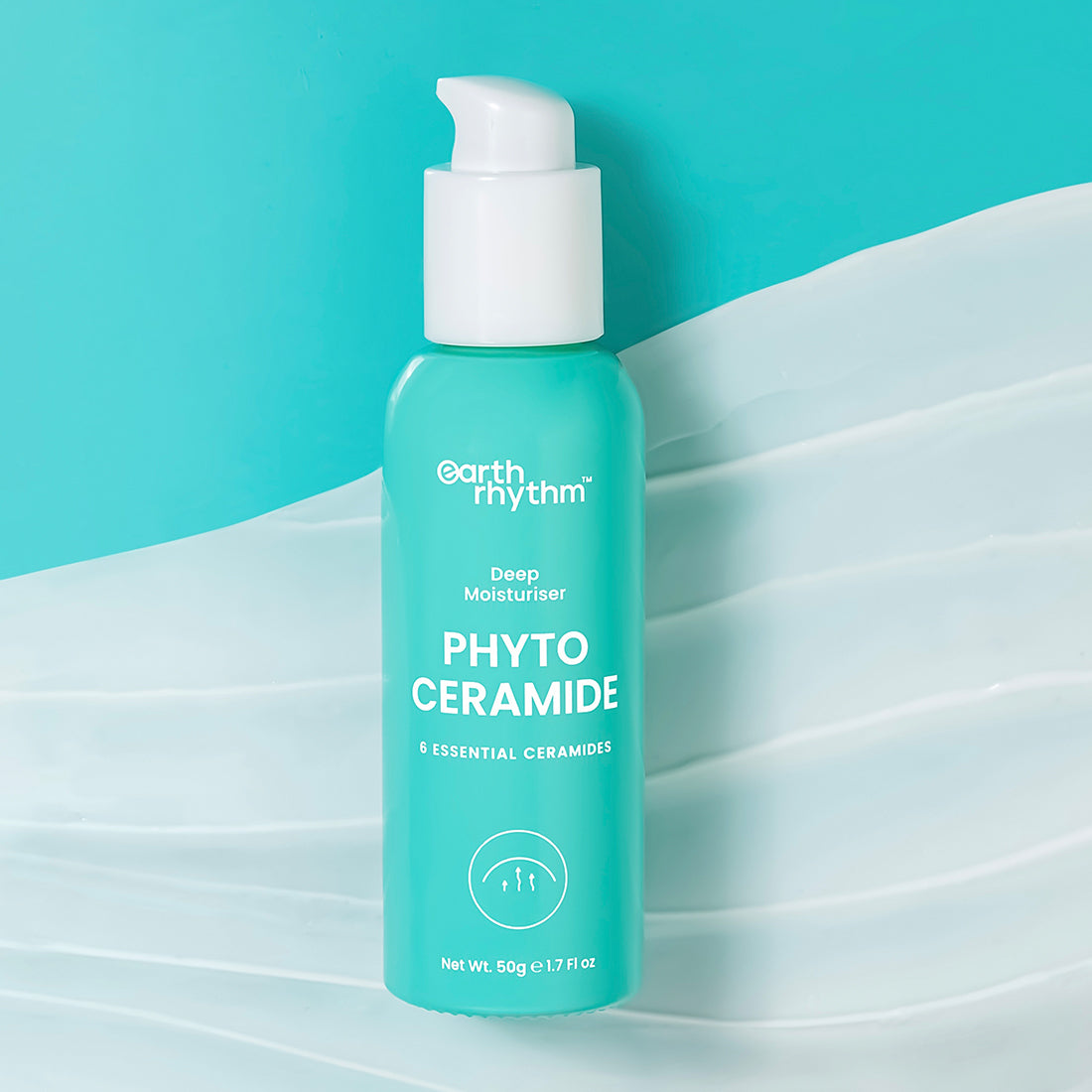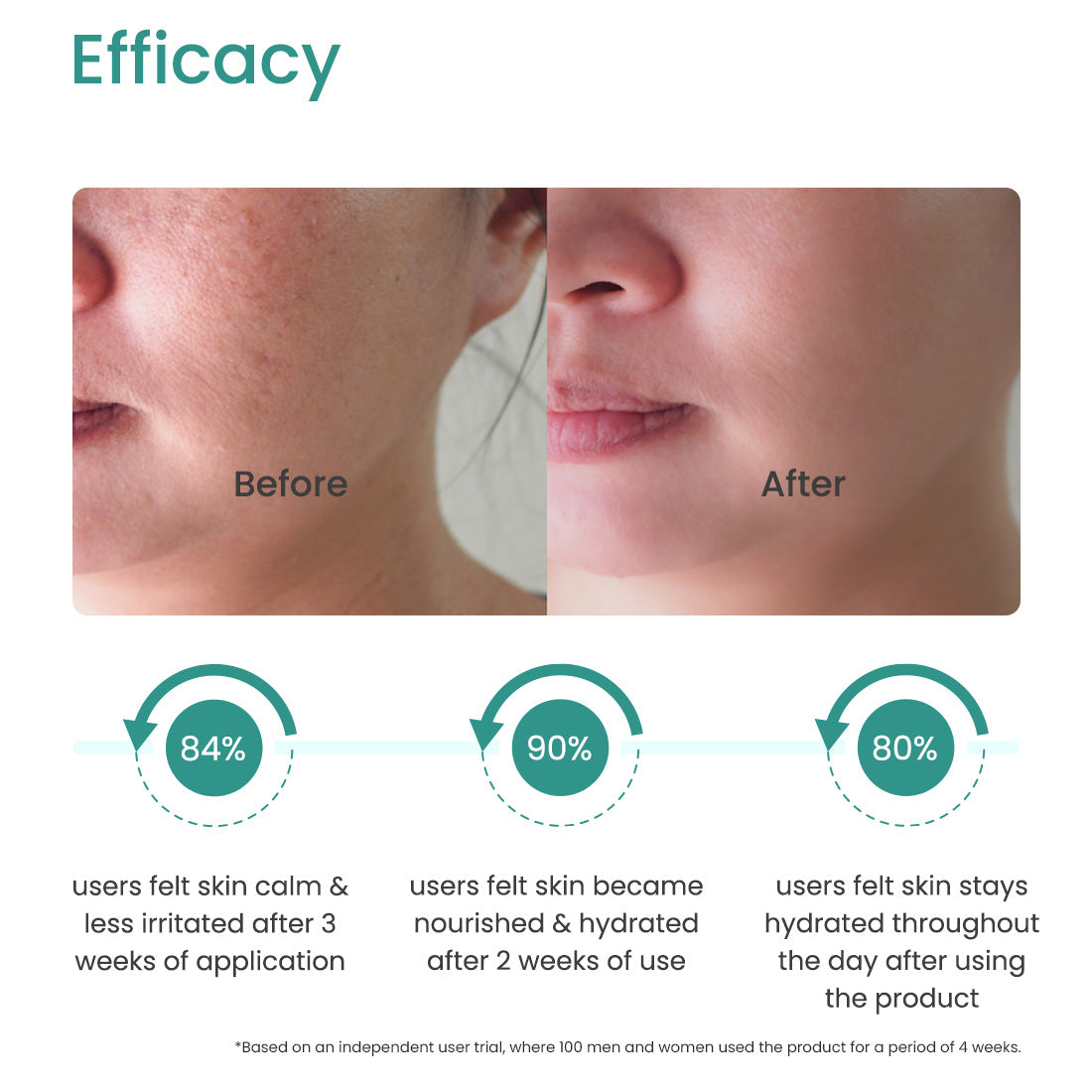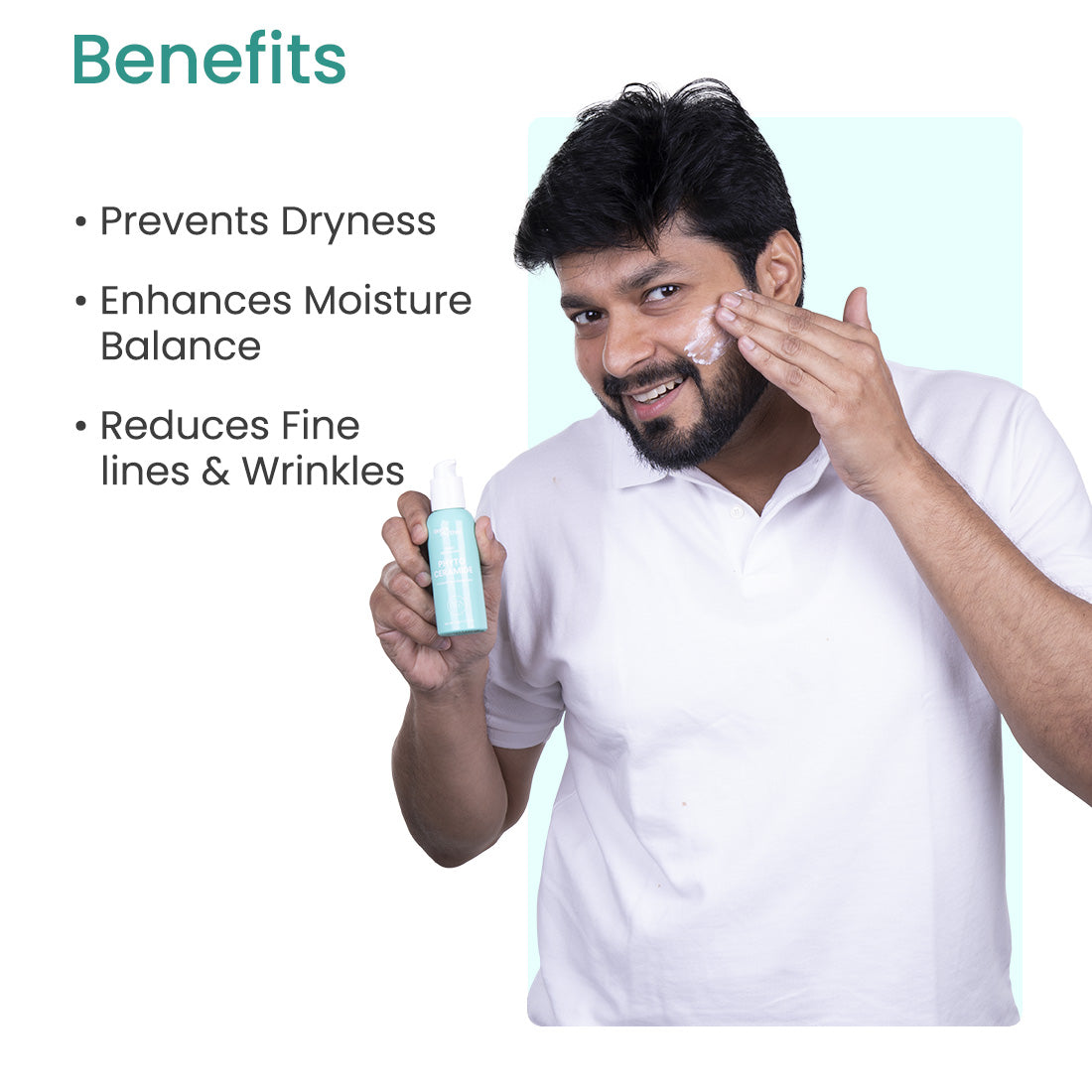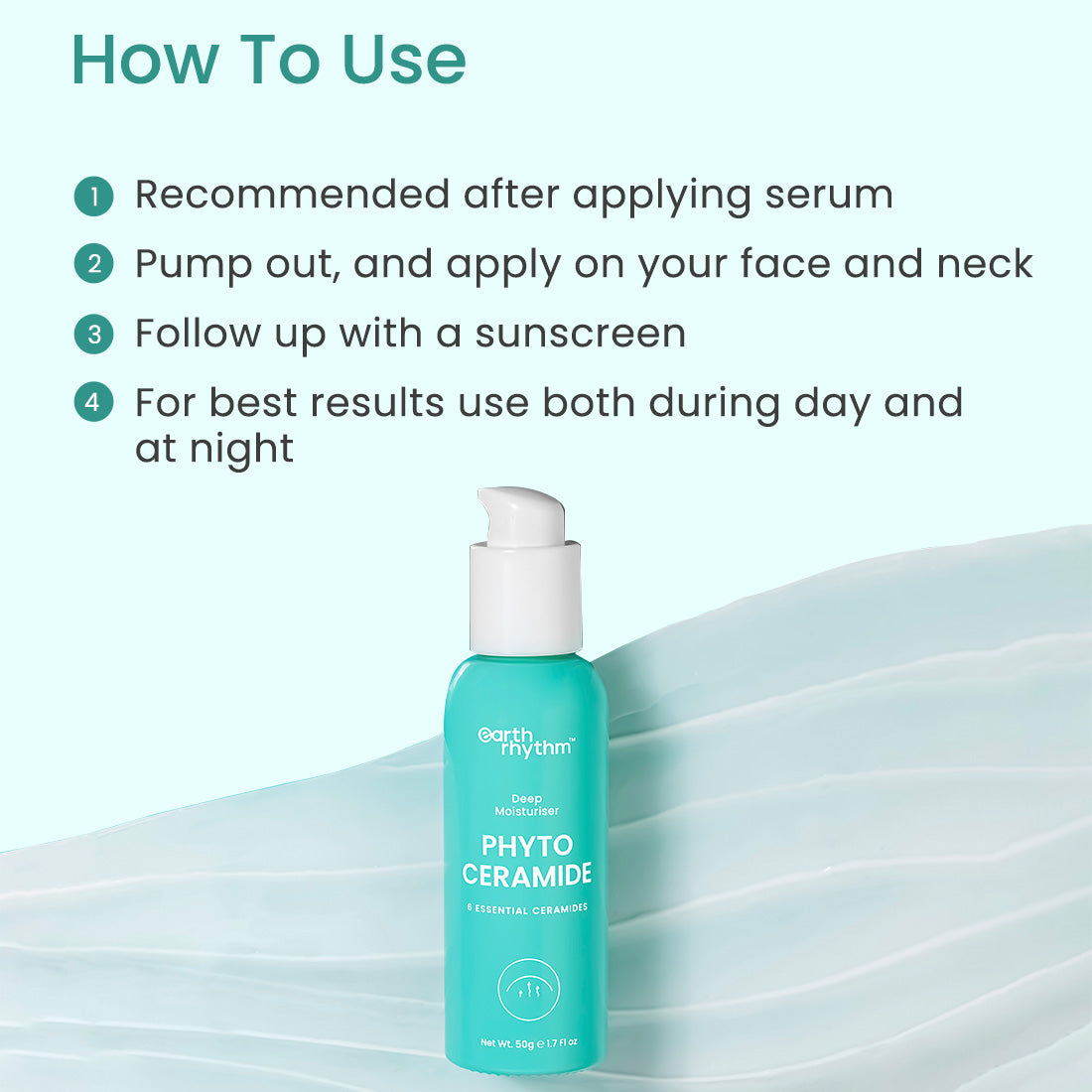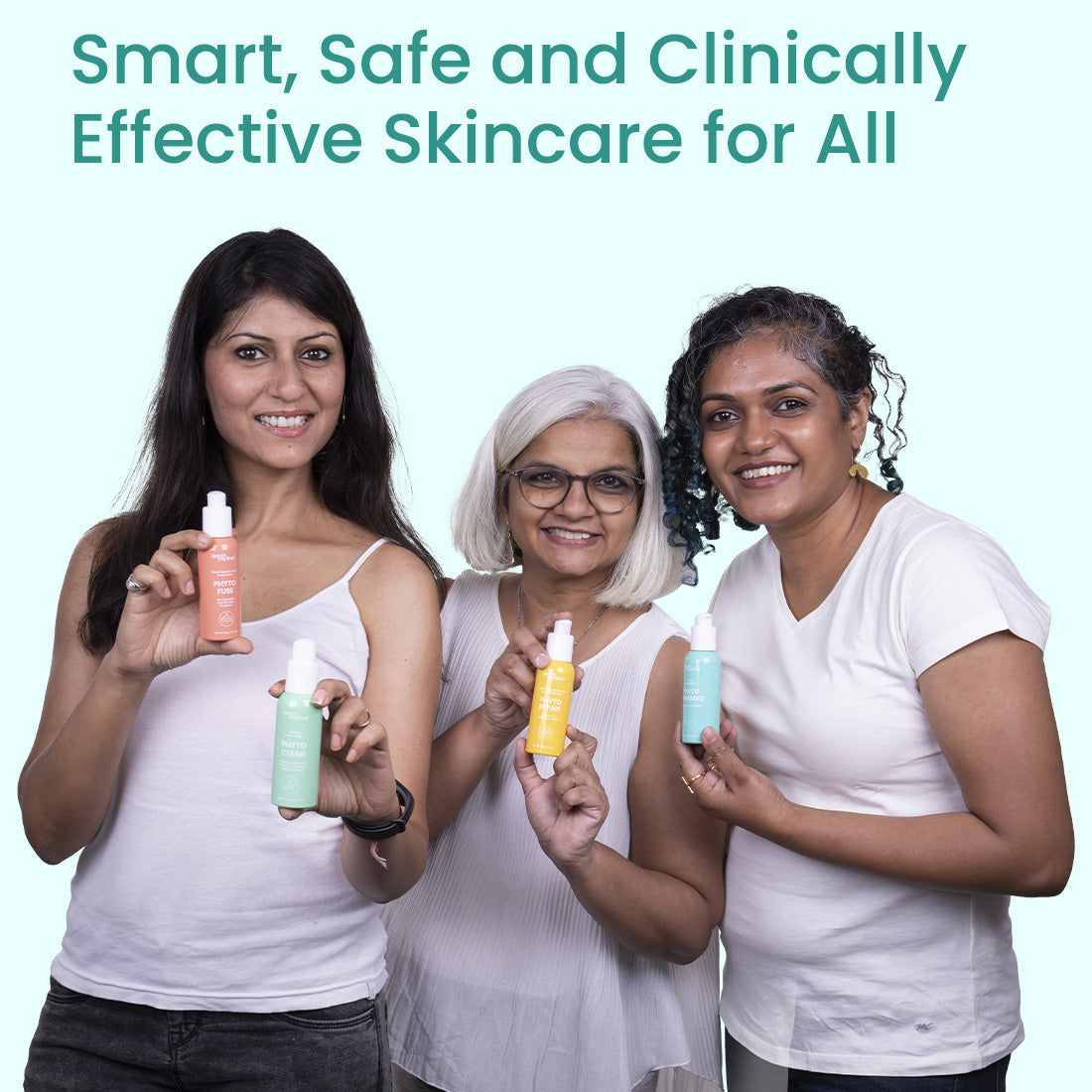 LIP & CHEEK TINT
Moisturizes Lips + 100% Natural Ingredients + Give Natural Flush Look
Sale price

M.R.P.

₹349.00
M.R.P.
Regular price

₹499.00
MURUMURU BUTTER SHAMPOO BAR
Softens Hair + Tames Frizz + Deep Conditions Hair + Detangles Hair
Sale price

M.R.P.

₹246.35
M.R.P.
Regular price

₹379.00
PHYTO CERAMIDE DEEP MOISTURIZER
Prevent Dryness+ Enhance Moisture Balance + Reduce Fine lines & Wrinkles
M.R.P.

Sale price

₹249.00
M.R.P.
Regular price

₹499.00
FAQs
Moisturizer acts as a protective barrier for your skin, keeping it hydrated and healthy. While there tends to be confusion about the need for moisturizer in the first place, most experts recommend using it on a daily basis. The basic rule of thumb is that you should choose your moisturizing cream based on your skin type. If you are oily or combination, a lighter texture a think lotion will be better. If you are dryer, you need more nourishment a think cream formula. But always look for the ingredients and go for the one that is make using natural formula and ingredients, having no chemical components.
Yes, you can absolutely use Phyto ceramide deep moisturizer for men and dry skin. It is a plant-derived lipid mixture consisting of phospholipids and at least 10% sphingolipids which easily penetrates deep into your skin keeping it highly moisturised and supple.
Yes, a ceramide moisturizing cream should be applied daily to your face. It will help in maintaining your skin's moisture and will act as a barrier to prevent environmental damage to your skin making it look and feel healthy.
Yes, you can use a Phyto Ceramide Deep Moisturizer as a winter cream as they have the tendency to seep down to you skin, making it highly moisturised and supple, this is what is exactly needed from a moisturiser. This is what makes it the best winter cream.
You should buy Earth Rhythm Phyto-Ceramide Deep Moisturizer as it is loaded with all the natural plant-based ingredients with no chemical use. They are also bombarded with vitamins which work best for all skin type, helping in improving the quality of skin. It is the best face cream for all skin types from dry to oily skin and suits all skin conditions.
More Information

Phyto-Ceramide Moisturizer For Dry Skin

Do you use a moisturiser on your dry skin on a daily basis? You should if you don't already. Using a high-quality face moisturizer everyday has numerous advantages for both men and women. Moisturising your dry face will make you feel and look younger by making your skin elastic and softer, along with keeping you nourished. Even though moisturising on a regular basis appears to be a simple task, there are a few things to consider before putting it to use.

First and foremost, now that you are aware of the advantages of moisturising dry skin, including the anti-ageing effects, you should understand more about when and how to apply moisturiser. You all may feel that simply applying any lotion on your face would reap your benefits, but this is not the case. You should only use a moisturiser specifically designed for the face, which contains SPF 15 or higher sunscreen. There are moisturisers for both men and women, as well as varied formulae.

It is recommended that you moisturise every day after you take a bath or shave. Because your skin is still wet at this time, which makes it the best moment to use moisturiser. This wetness will aid in the lotion's absorption. Cleanse your face using a mild cleanser before applying moisturiser. You don't want something that is overly abrasive.

Then, apply the moisturiser softly and in upward strokes while your face is still damp. This aids in the penetration of the moisturiser into the pores, where it belongs. Your skin will absorb the moisturiser nearly instantly, and it will be entirely absorbed in about five to ten minutes.

Benefits of Daily Moisturising

-Moisturising helps to prevent dry skin issues.

Maintaining the balance of your dry skin can be easy. You just have to make a conscious effort to use the correct moisturiser for your skin. A lot of common skin disorders, like acne, pop up only when your skin is excessively greasy or dry.

-Blemishes can be reduced by daily moisturising.

Dry Skin moisturised freshly has a healthy shine to it, which can help conceal any existing imperfections. Some moisturisers also have a slight tint to them which can be used on the skin of any colour.

-Moisturising your skin keeps it looking healthy and fresh.

Your skin's most sensitive parts, such as your face, ears, neck, and chest, replace themselves more frequently than any other part of your body. This regular loss of skin cells exposes these places to dryness and the weather, making them the most prone to skin cancer. So Moisturising your sensitive skin might give it the boost it needs to heal and stay healthy with increased skin cell production.

-Wrinkles are reduced by moisturising dry skin.

It's not an optical illusion when your face feels full and firm after moisturising. On the contrary, people with properly moisturised skin generate wrinkles at a fraction of the pace of individuals with dry skin.

-It's the ideal way to end a hot shower.

Let's face it: a hot shower feels wonderful and refreshing, but it also dries out your skin. Using a moisturiser for only a minute will ensure that your skin is not only clean but also protected from the hustle of the day and feeling amazing.

What is a Phyto-ceramide Moisturiser?

Plant-derived ceramides are known as phytoceramides. Ceramides are lipids present in the skin's outer layers, and the word "phyto" means "plant." They operate as a barrier, allowing moisture to be retained in the skin. However, ageing, environmental factors such as cold weather, air pollution, UV rays, and skin conditions such as psoriasis and eczema can all lower ceramide levels in our skin. Phytoceramides moisturisers are moisturisers that contain phytoceramides as an additional ingredient.

Is phyto-ceramides are beneficial to the dry skin?

Those with dull, itchy, and dry skin may benefit from using phytoceramides on a regular basis. According to some research, using a ceramide cream on the skin can help persons with dry skin disorders like eczema and psoriasis.

Phytoceramides are also non-toxic because they are derived from plants. However, any product might induce irritating dermatitis. Thus a test patch should be done before use. Furthermore, research on the use of ceramide supplements is sparse. As a result, it is preferable to be safe than sorry later.

What are phyto-ceramides advantages?

Phyto-ceramides are a must-have ingredient in your dry skin moisturizer if you want smooth, radiant skin. These plant-derived skin savers may appear to be too wonderful to be true, but there is a lot of science behind them.

-They hydrate the body.

Ceramides, usually naturally found in our skin, help keep moisture in. Their principal function in the epidermal barrier is to prevent water loss. As a result, phytoceramides appear to have promising skin-quenching properties when added to your skincare routine.

-They aid in the smoothing of the skin.

It's all about being proactive and protecting your skin's integrity when it comes to fighting wrinkles. Sun exposure is responsible for 90% of visible ageing, with air pollution, smoking, and stress coming in second and third. So when it comes to dealing with all of those skin stresses, you'll want to start from the inside out.

Wrinkles are part and parcel of the natural ageing process, and phytoceramides aren't a mystical fountain of youth. Keeping your skin hydrated and healthy, on the other hand, can help you look younger.

-They act as a barrier between you and the outside world.

It's critical to safeguard your skin's barrier function. It is more prone to water loss and irritation from external aggressors when it is impaired. This causes a slew of issues. Mechanical injury, low humidity, cold, heat, sun, wind, chemical exposure, germs, viruses, fungus, and other pathogens are all protected by a strong skin barrier. Normal skin function requires a healthy barrier.

Ceramides are an important component of your skin's structure and are simple to include in your internal and external skincare routine. Earth Rhythm Phyto Ceramide moisturiser is rich in Phyto Ceramides, a plant-derived lipid mixture containing phospholipids and at least 10% sphingolipids that are easily absorbed by the skin. It aids in the formation of a barrier that prevents permeability. This helps to keep moisture in your skin, preventing dryness and irritation. It is also a key aspect in protecting your epidermis from the effects of the environment.

It is also loaded with the goodness of Hyaluronic Acid, which helps to decrease the appearance of fine lines and wrinkles by maintaining moisture in the skin and giving it a plumping effect. In addition, because the skin is moisturised and protected, it is likely to produce more skin cells because it isn't battling for hydration.

This results in skin cells that are smoother and plumper. It also contains Vitamin E, a potent antioxidant that may help to reduce UV damage to the skin. In addition, using vitamin E topically to your skin can help nourish and protect it from free radical damage.

Shop Best Moisturizer's For All Skin Types Online in India at Best Prices From Earth Rhythm.






See All Ingredients

| Ingredient | Ingredient Type | Source | Benefit |
| --- | --- | --- | --- |
| Distilled Water, | Natural | Water | Solvent |
| Aloe Barbadensis Leaf Juice, | Natural | Aloe | helping to calm inflammation and protect sensitive cell membranes against free radicals. |
| Caprylic/Capric Triglyceride, | Natural | Coconut | Emollients |
| Cetearyl Alcohol (and) Cetearyl Glucoside, Acetamido Ethoxyethanol, | Natural | Coconut | Emollients |
| Propanediol, | Natural | Sugar | Humectant, hydrates the skin. |
| Butylene Glycol | Natural | sugar | Humectant |
| Oryza Sativa (Rice) Bran Extract, | Natural | Rice | hydrates the skin. |
| Phospholipids, Sphingolipids, | synthetically derived from natural sources | Lab Synthesized | to promoting a healthy, hydrated complexion. |
| Sodium Hyaluronate Crosspolymer, | synthetically derived from natural sources | Lab Synthesized | hydrates the skin. |
| laminaria Digitata Extract & cetyl-pg Hydroxyethyl Palmitamide, | synthetically derived from natural sources | Lab Synthesized | hydrated, plump & healthy skin. |
| Ceramide 1, Ceramide 2, Ceramide 3, ceramide 4, Ceramide 6 II, | synthetically derived from natural sources | Lab Synthesized | Prevent Dryness, Enhance Moisture Balance, Reduce Fine lines & Wrinkles |
| Tocopherol (Vitamin E), | synthetic | Lab Synthesized | Anti-oxidant |
| Phenoxyethanol, Triethylene Glycol. | synthetic | Lab Synthesized | Preservative. |
Hydration at its core
Really quick blending moisturizer
PHYTO CERAMIDE DEEP MOISTURIZER