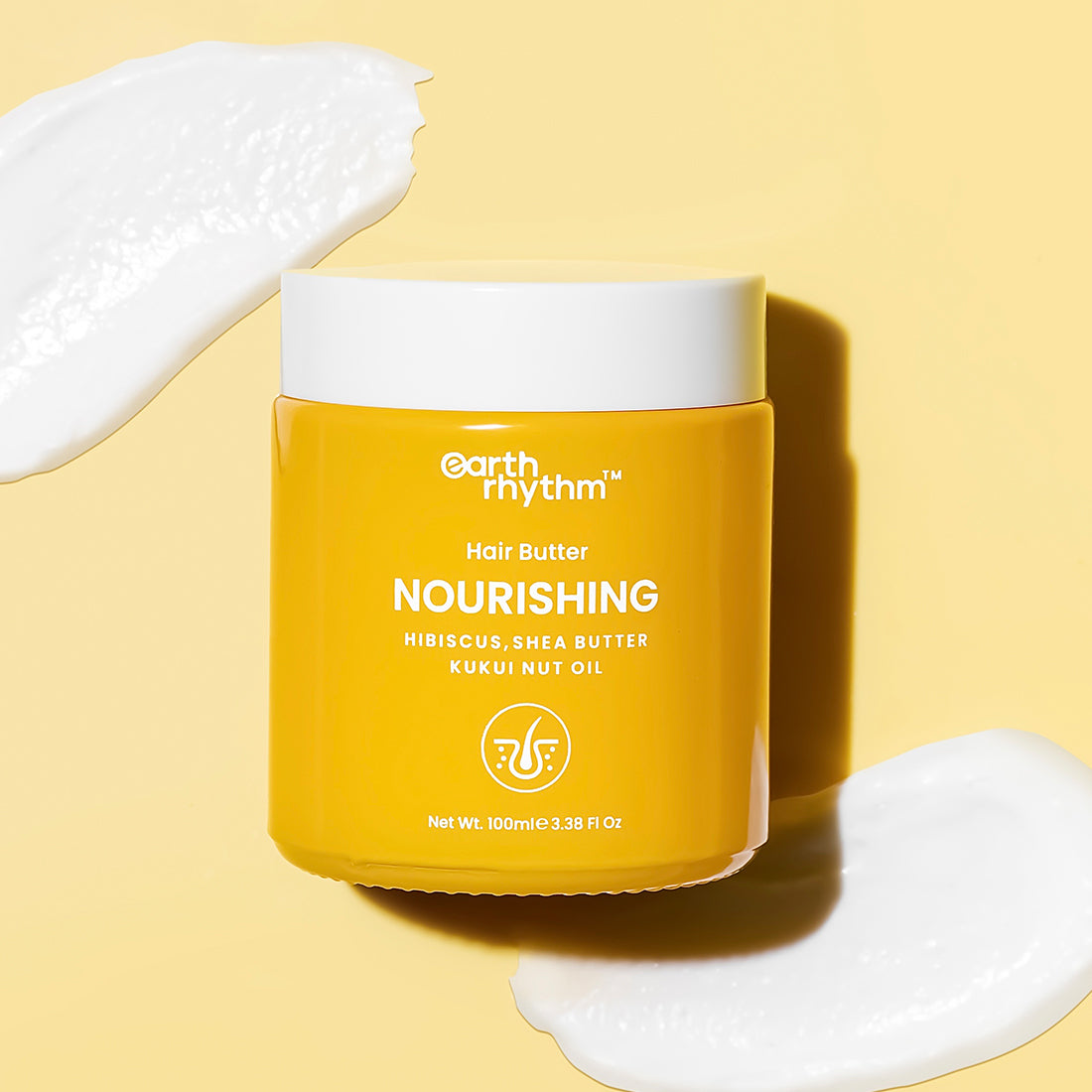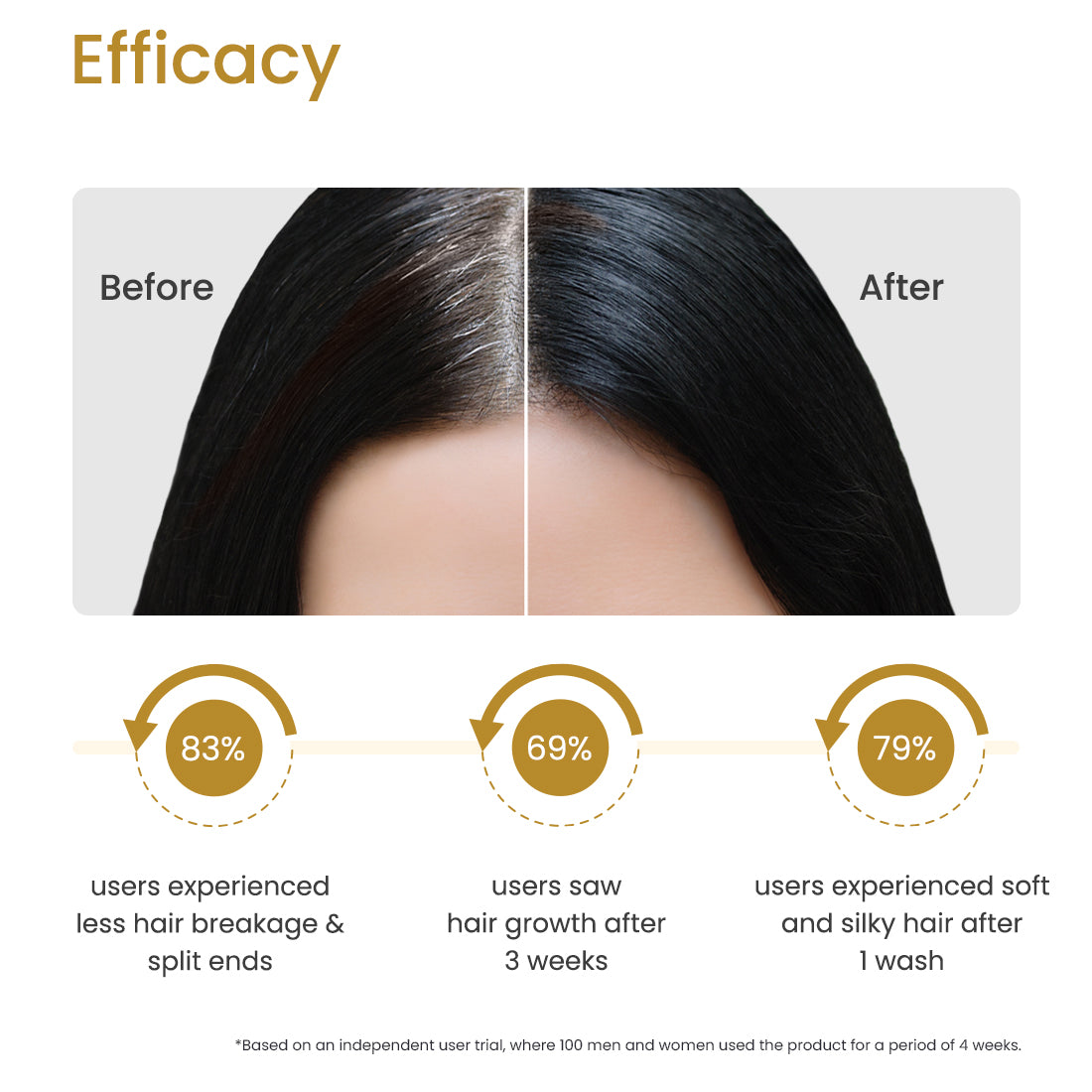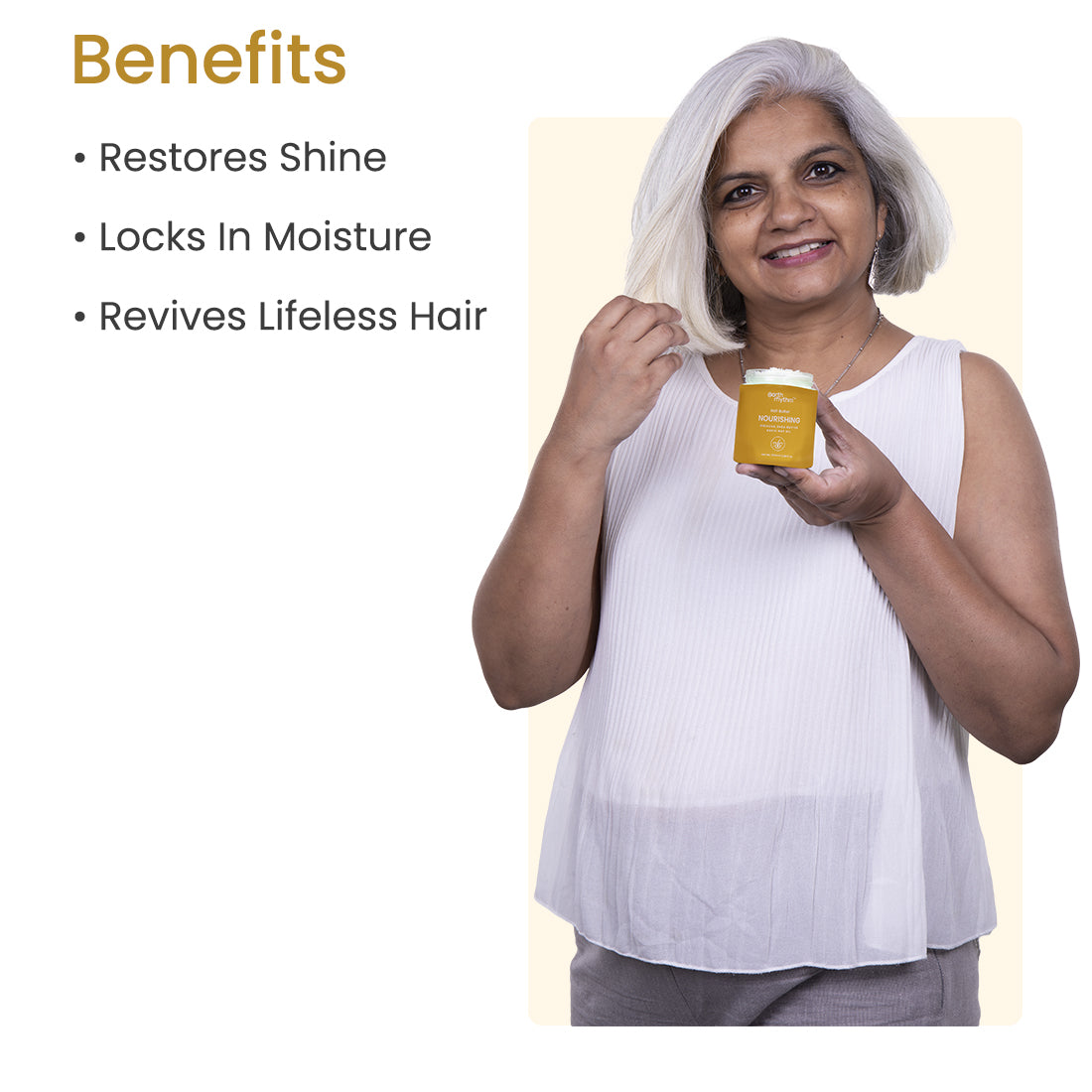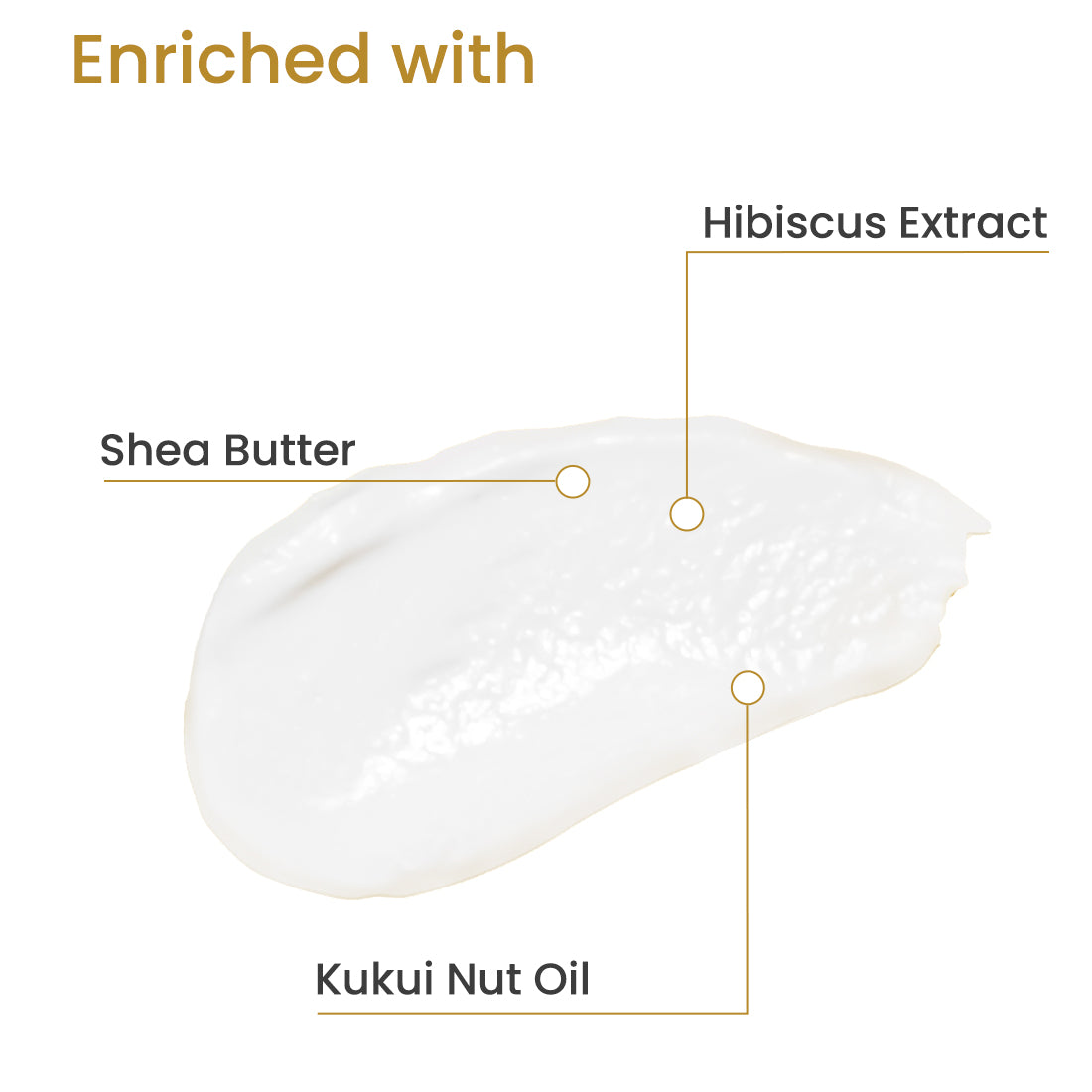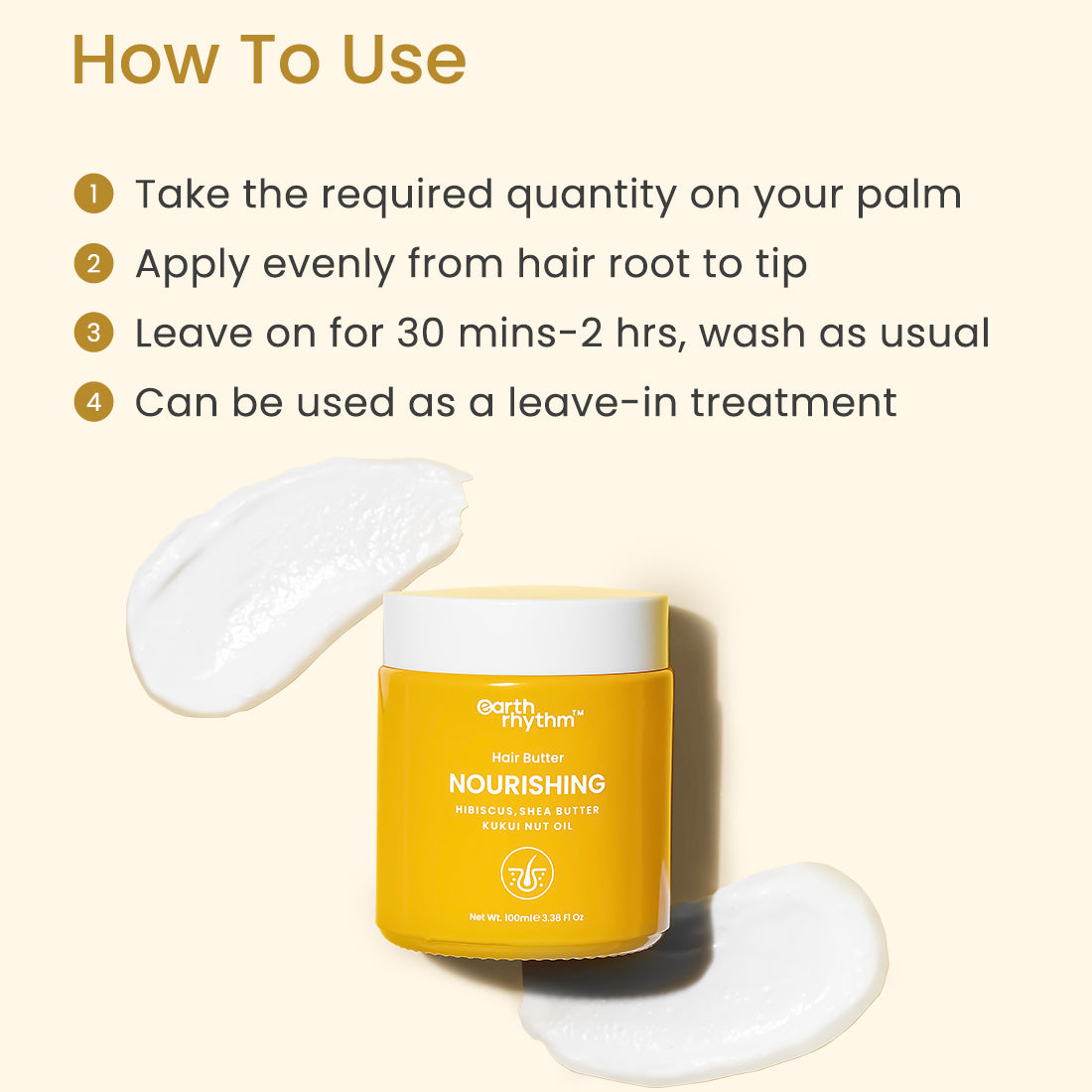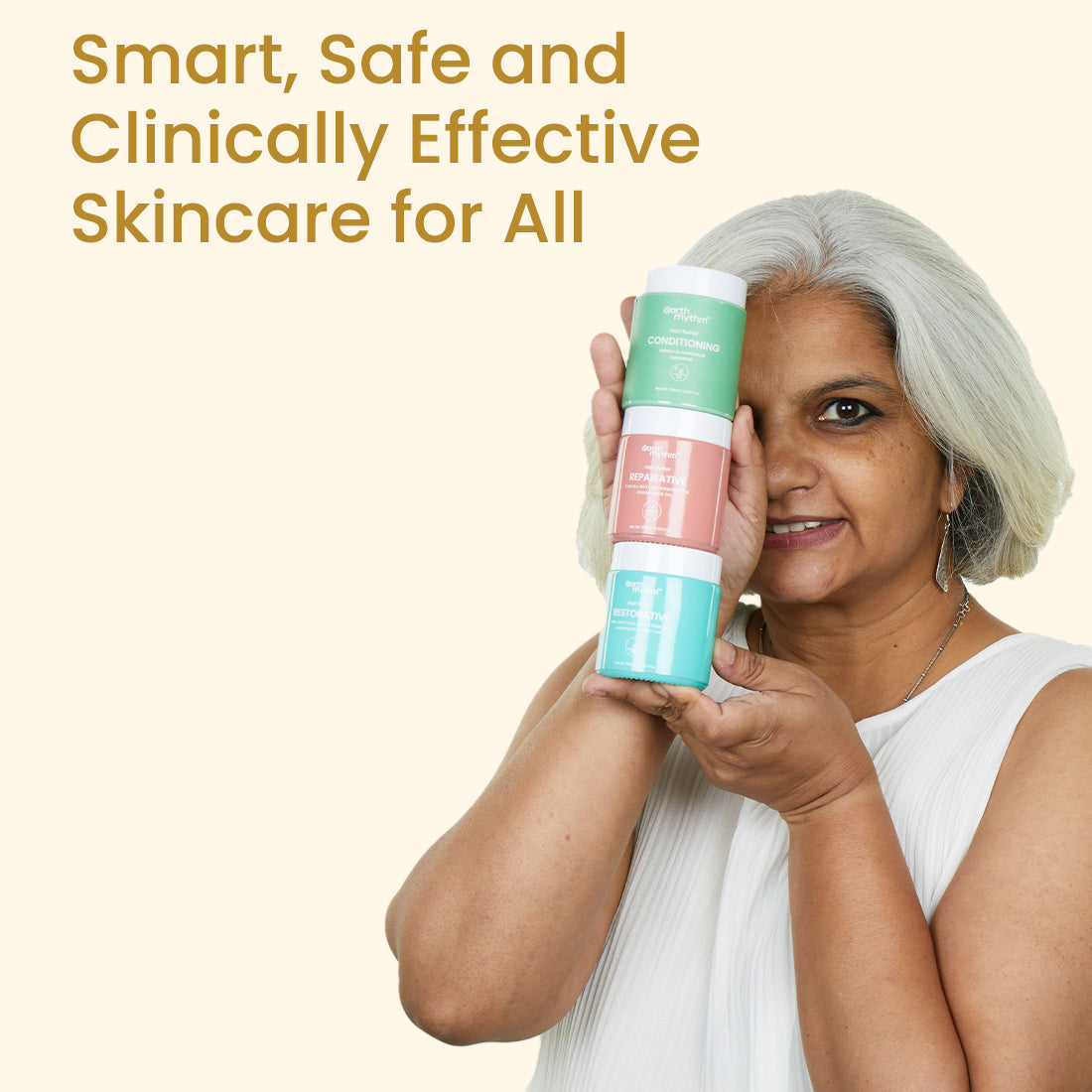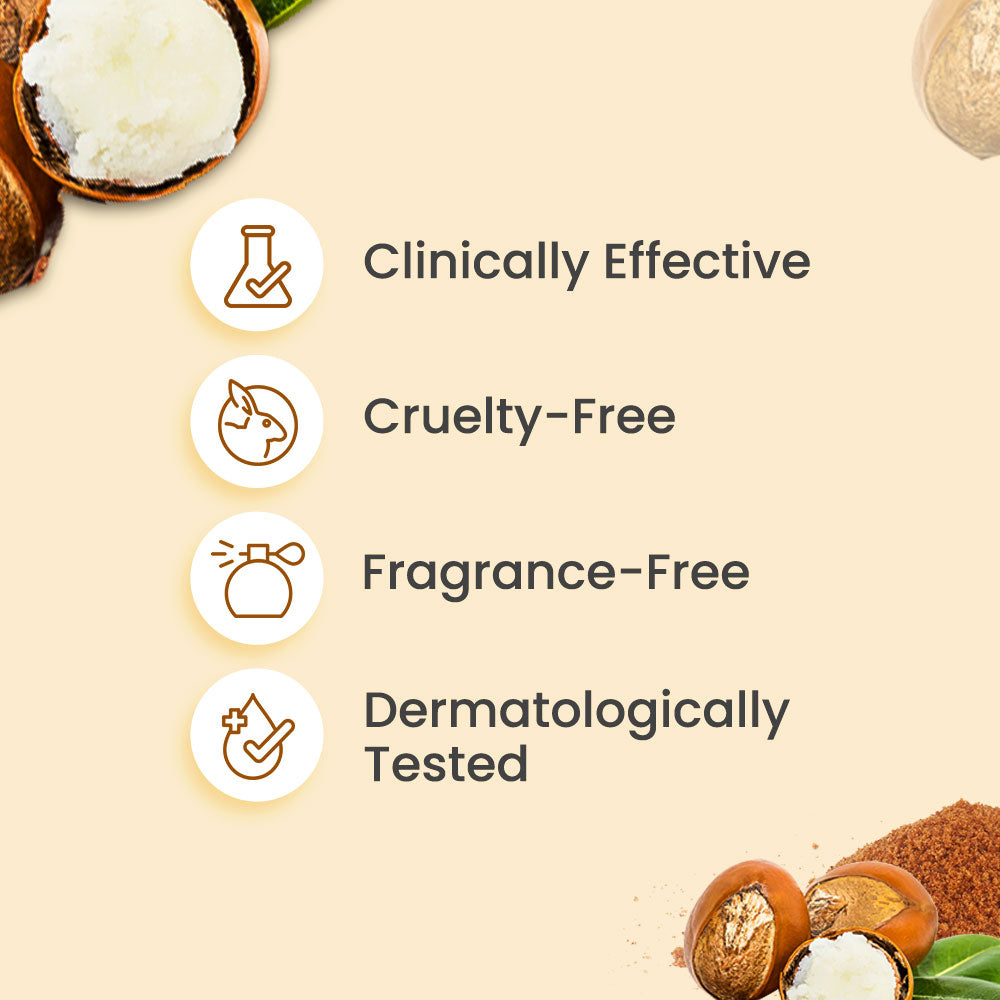 KUKUI NUT, SHEA BUTTER & HIBISCUS HAIR BUTTER
Restores Shine + Seals Hydration + Revives Lifeless Hair
40% OFF
M.R.P.

Sale price

₹269.40
M.R.P.
Regular price

₹449.00
(/)
Inclusive of all taxes. Shipping calculated at checkout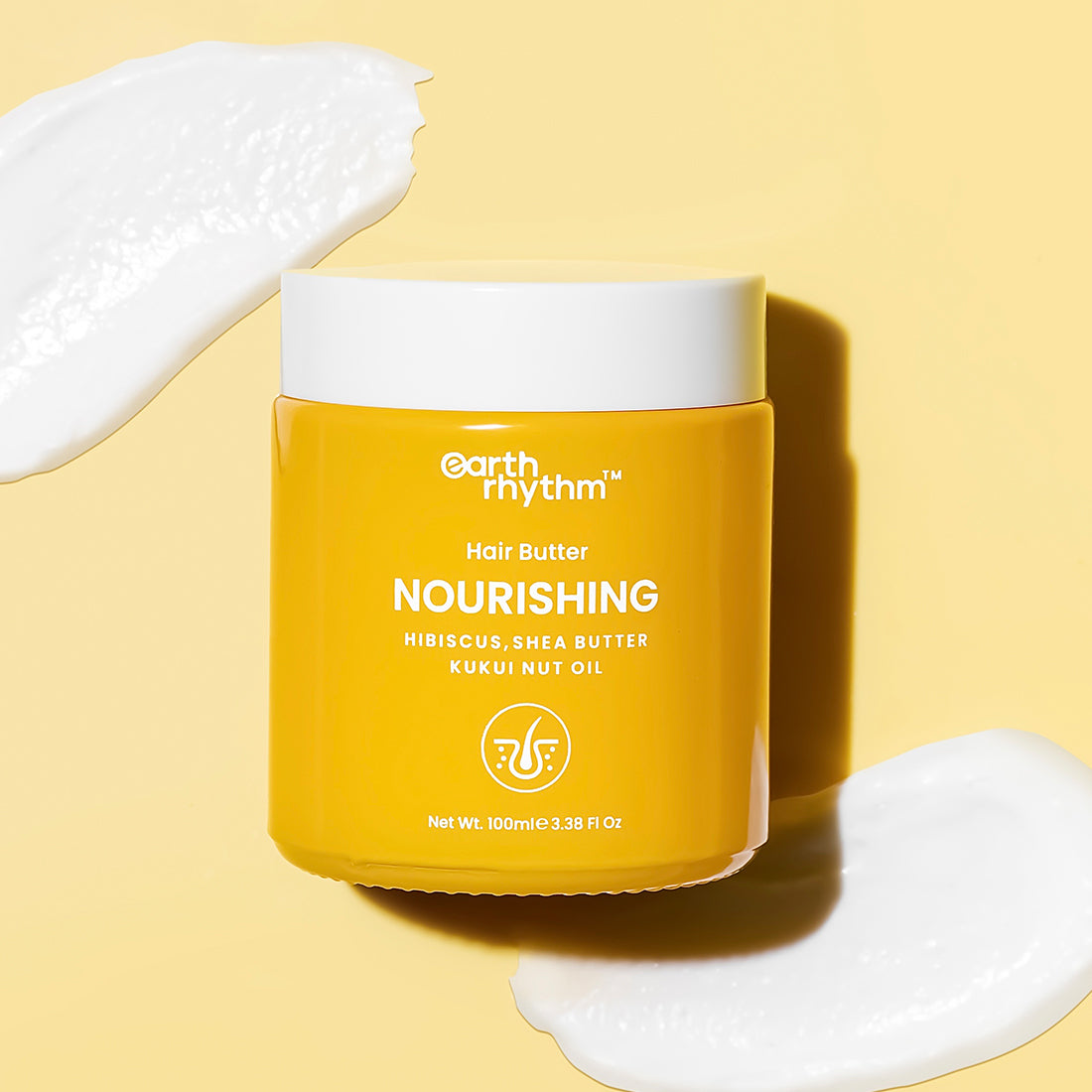 KUKUI NUT, SHEA BUTTER & HIBISCUS HAIR BUTTER
M.R.P.

Sale price

₹269.40
M.R.P.
Regular price

₹449.00
Choose options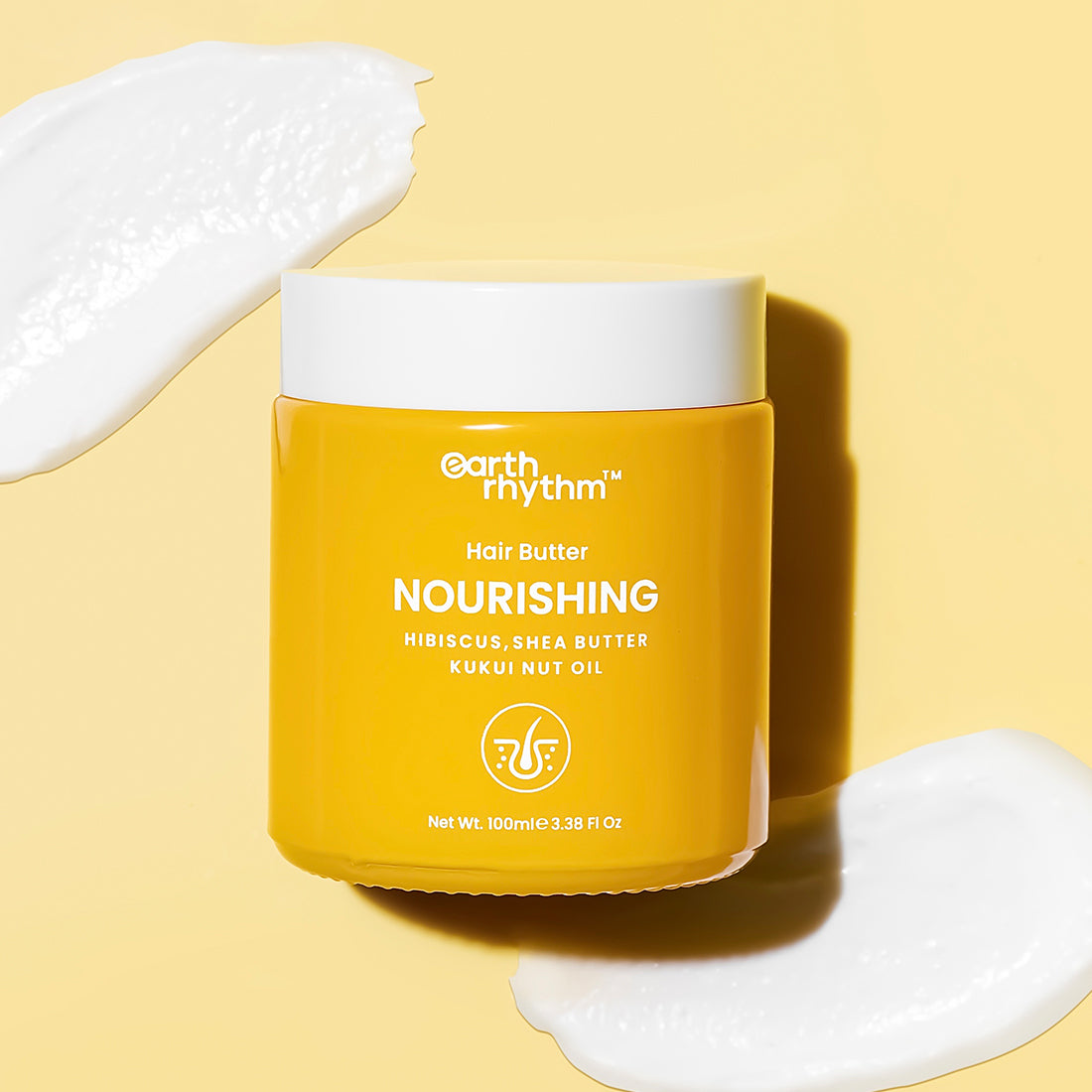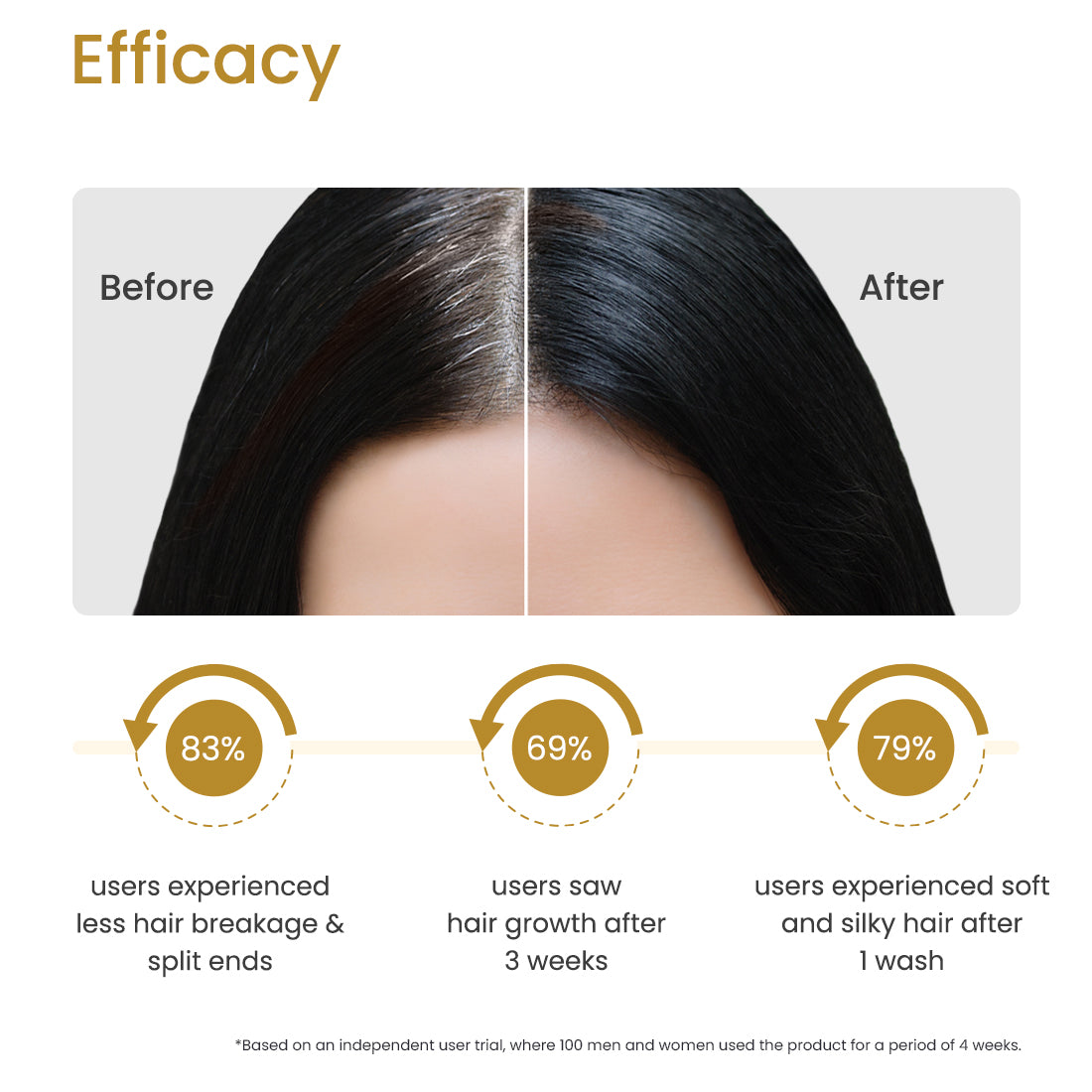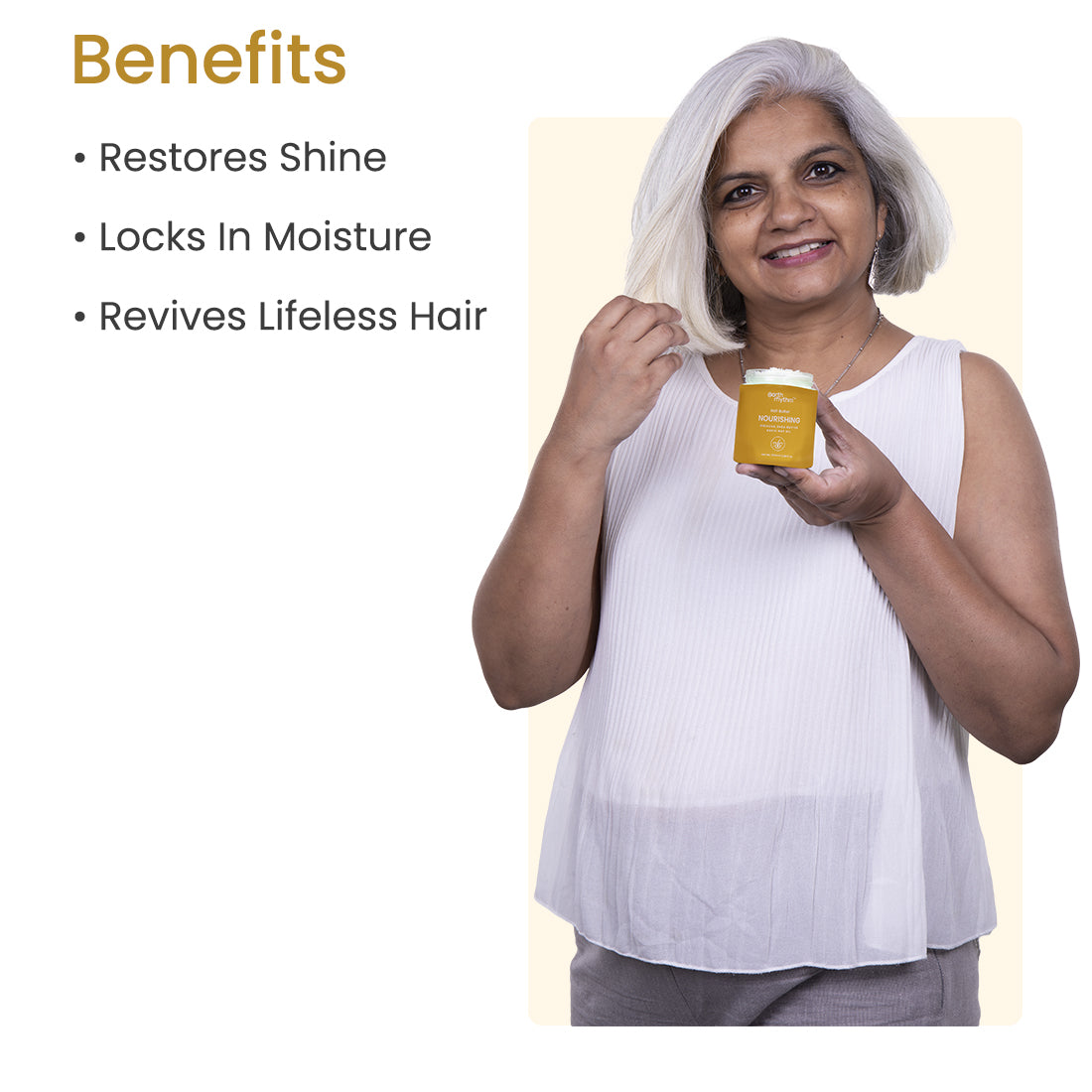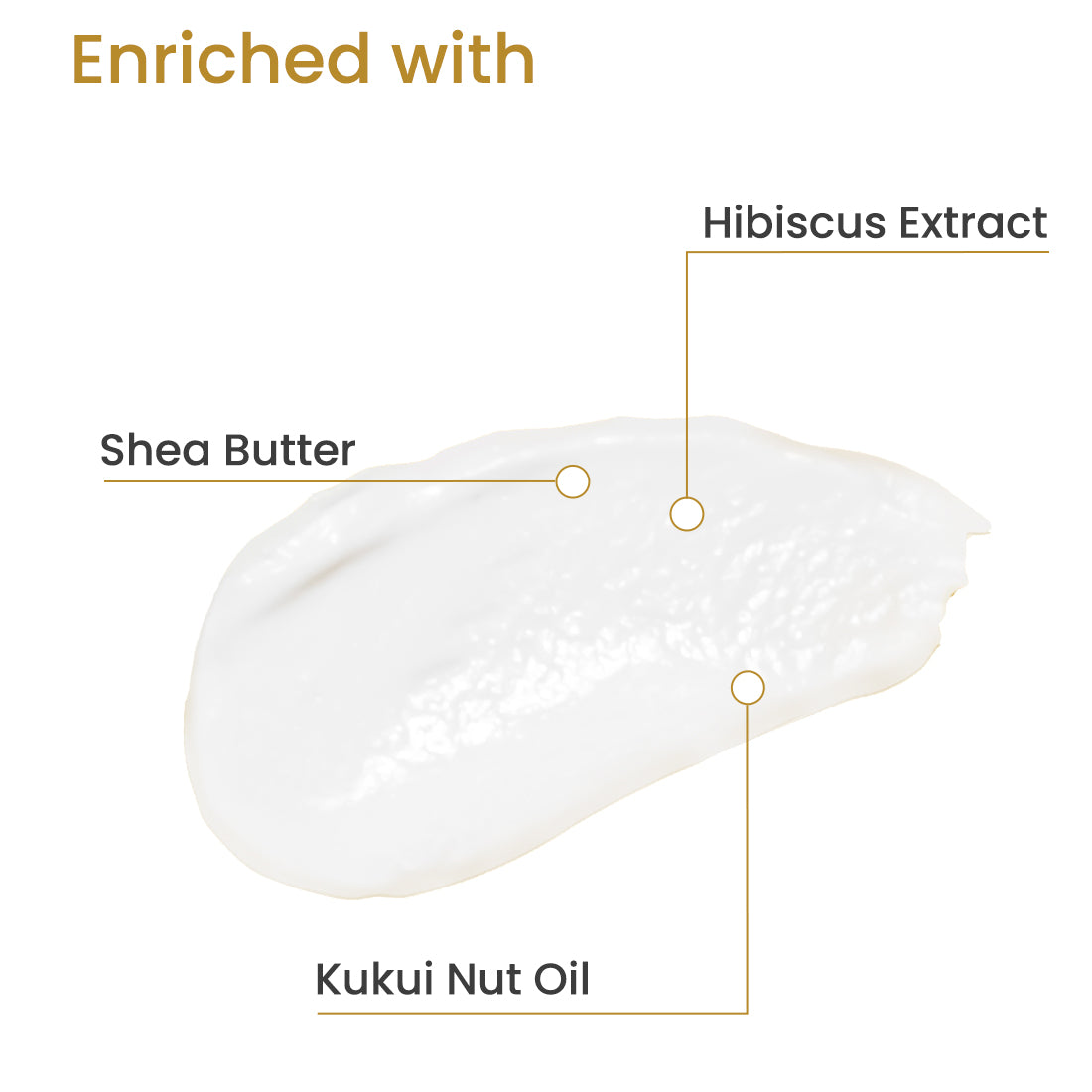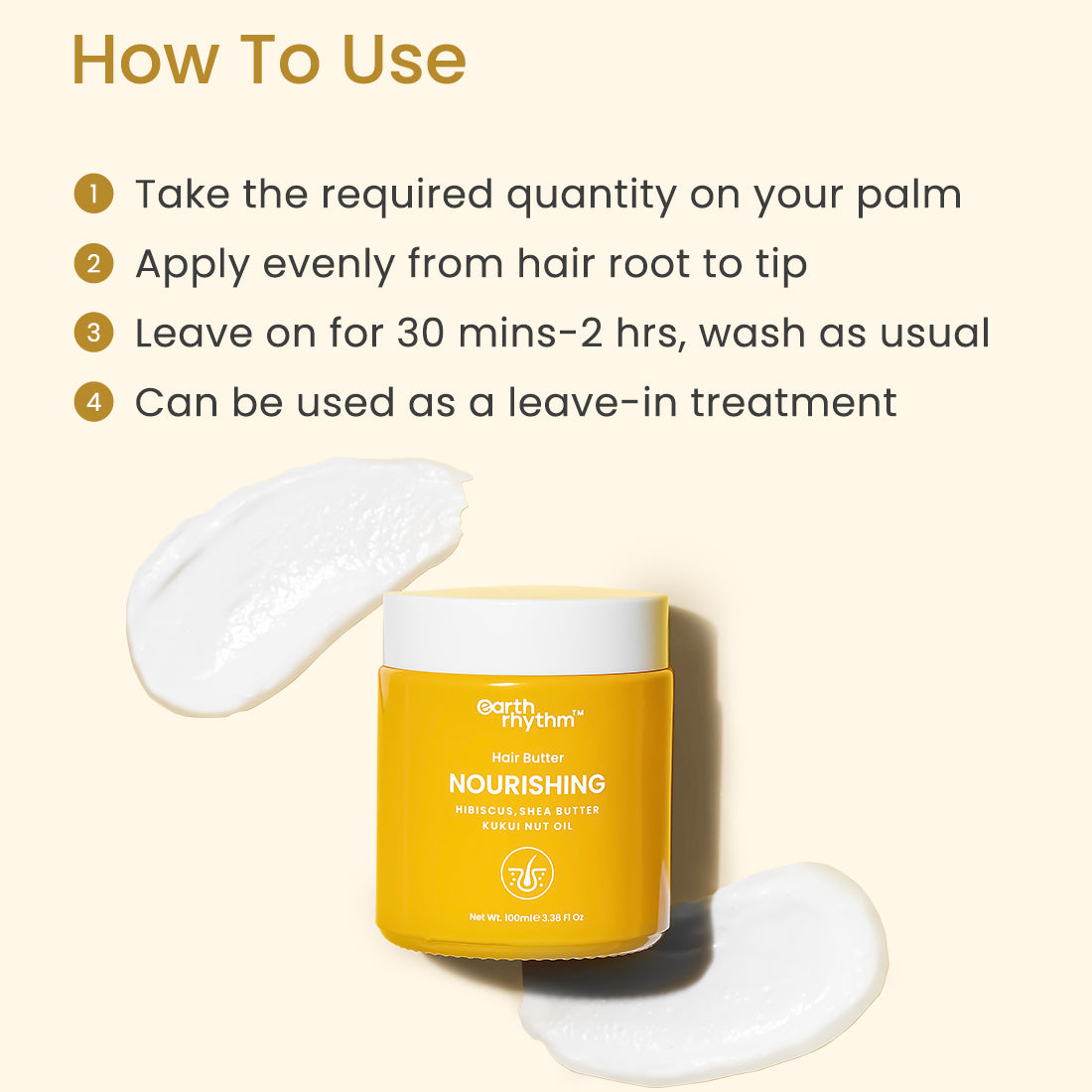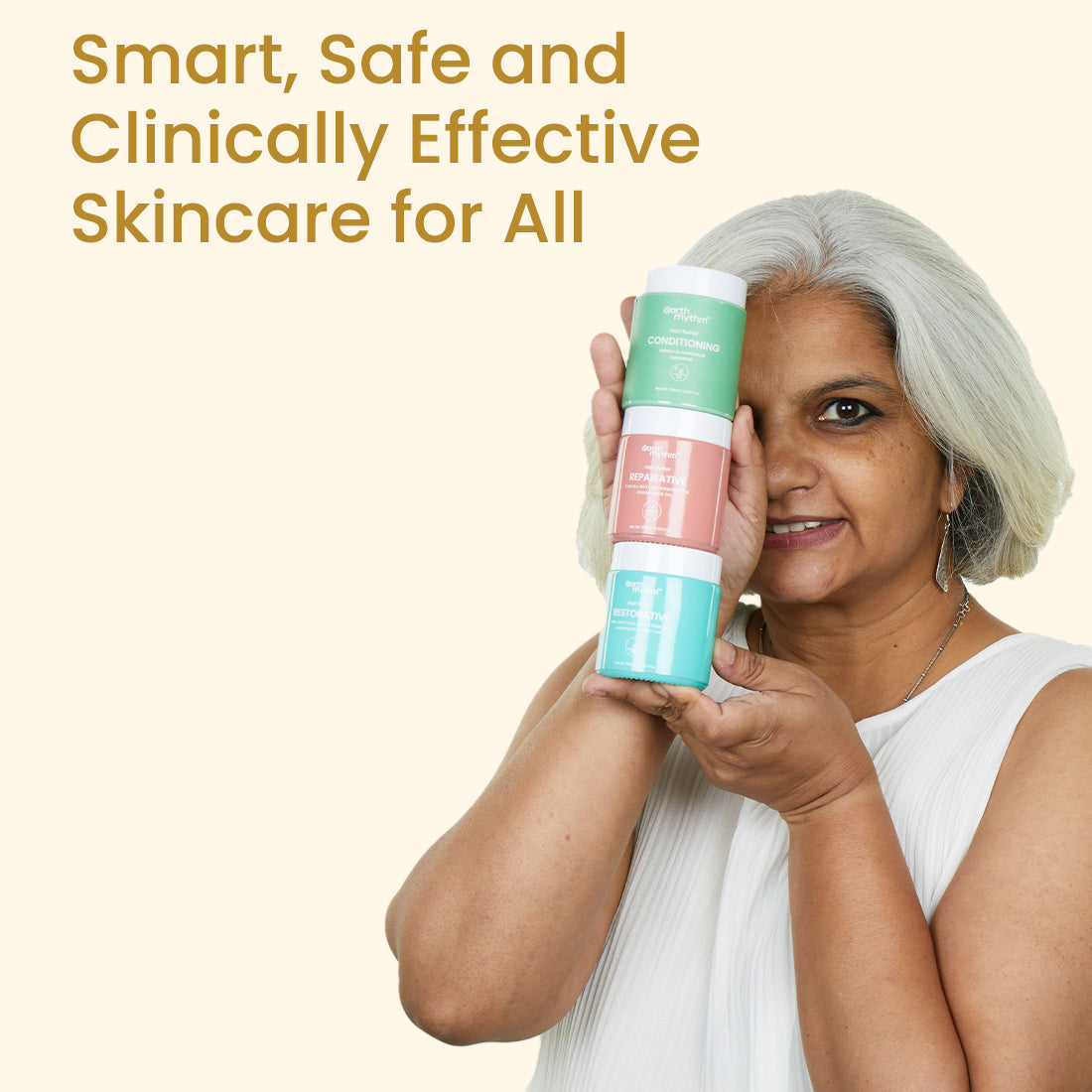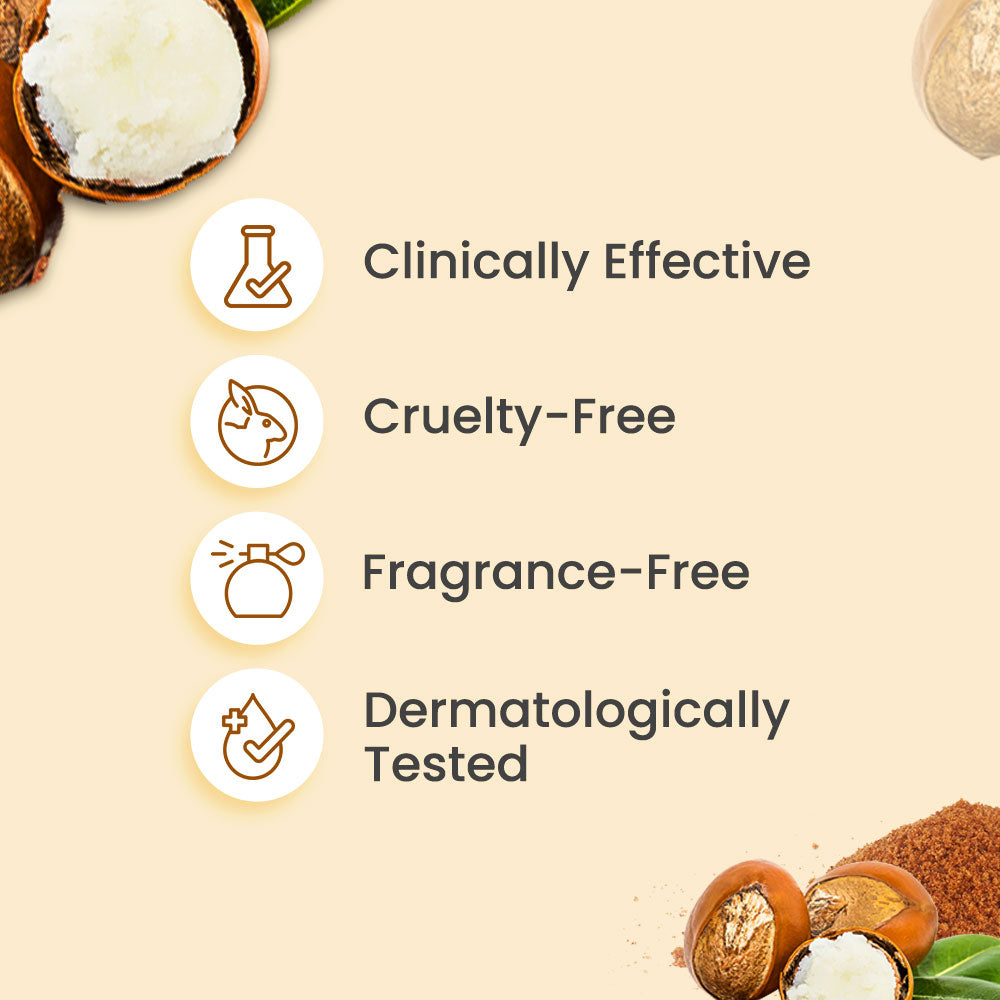 More Information

KUKUI NUT, SHEA BUTTER & HIBISCUS HAIR BUTTER

Perfectly done eye-liner, amazing glossy lips, cheek blusher, and the most beautiful clothing. We missed something. Hair! A good hairstyle, without a doubt, enhances your overall appearance. Styling the unruly, unmanageable, and frizzy hair, on the other hand, appears to be an added challenge to life. We completely understand how unmanageable hair can ruin your day. Rejoice; hair damage that you have inflicted, whether deliberately or unknowingly, can be reversed. Overuse of heat-inducing style devices, a lack of vital vitamins, and improper shampoo and conditioners are the most common causes of rough, dry, and frizzy hair.

To your rescue can be a hair butter, which is a hydrating sealant made from organic oils and unprocessed kinds of butter that protects your hair from dryness and breakage. Hair butter is excellent for protective styles like twist outs, braid outs, and sleek buns. It can be used on both dry and wet hair on a daily basis. And what better than a Kukui nut, Shea butter and hibiscus hair butter by Earth Rhythm.

Kukui nut, shea butter, and hibiscus found in the hair butter are infused with hydration and moisture, penetrating the deeper hair layers. It is a wonder ingredient for all hair types, especially curly hair, due to its high fatty acid concentration and natural hydrating characteristics. Its topical application helps to restore hair elasticity and overall health, allowing them to appear their finest in their natural state.

Benefits of using a Kukui nut, Shea butter and hibiscus Hair Butter

- Nourishes hair

One of the most significant advantages of Earth Rhythm's Kukui nut, Shea butter, and hibiscus hair butter is that it provides deep nourishment to your strands and scalp. In addition, it has a high concentration of lecithin and tocopherol (Vitamin E, phenoxyethanol, trimethylene glycol), which helps to minimise frizz and quickly mend split ends. Furthermore, the oils in his hair butter aid in alleviating dry, itchy, and flaky scalp.

- Seals moisture

Curly hair has a low porosity, which implies that moisture does not reach the hair shaft due to the cuticle's compact structure. As a result, hair butter helps moisture penetrate the hair cuticles. Another advantage of natural conditioner is that it locks moisture in your hair strands, resulting in shinier, softer, and healthier hair. As a result, it's regarded as the ideal hair butter for curly hair.

- Restores hair elasticity

Earth Rhythm's Kukui nut, Shea butter, and hibiscus hair butter help hair restore elasticity by deeply hydrating it. It strengthens and protects hair from environmental damage while improving elasticity and strength.

- Penetrates into the hair cuticle

The medulla, cortex, and cuticle are the three layers that makeup hair. The cuticle protects your hair, but once damage begins and reaches the medulla, your hair becomes dull, brittle, harsh, and dry. This hair butter can feed the hair from deep within the cuticle.

- Lightweight and non-greasy

Another advantage of Earth Rhythm's Kukui nut, Shea butter, and hibiscus hair butter is that it is incredibly light and non-greasy. It won't leave any residue behind. It also provides you with smooth and shiny tresses.

Dos and Don'ts of using a hair butter

Dos

- After you've applied a leave-in conditioner, use hair butter next. It should be the last thing you do before styling.

- Use as often as necessary, but not excessively.

- To prevent breakage, apply enough hair butter to dry split ends.

- Use if you have a dry scalp.

- Hair butter is ideal for protecting styling since it aids in the creation of a smooth, defined look.

Don'ts

- If you're going for a curly look, avoid using hair butter. Hair butters are thick sealants that can weigh down your hair.

- Don't keep the same hair butter for longer than its expiration date. Look for the M sign on the bottle to see how long it's good for after it's been opened. Once you've reached that date or notice a peculiar odour, throw out your butter.

- Mixing hair butter with a strong sealer can result in product accumulation.

- Hair butter should not be used with harsh gels that contain alcohol or silicones.

Ingredients Used

The Kukui nut, Shea butter and hibiscus hair butter by Earth Rhythm is loaded with the goodness of hibiscus extract, which is extremely high in nutrients such as amino acids, which are required for the production of keratin, our hair's building blocks. It also contains Shea Butter, which has anti-inflammatory characteristics that aid to relieve redness and scalp irritation while also mending the pores without clogging them. It's also safe to use on all types of hair, including damaged, dry, or colour-treated hair, because it's a natural product. In addition, Kukui Nut oil includes linoleic and linolenic fatty acids, which coat the hair, supplying important nutrients, hydrating it, preventing breakage, and even increasing the appearance and sheen of hair.

Wondering how to use butter for hair?

- Apply a tiny amount to the palm and evenly spread into hair from root to ends as a deep conditioning treatment (before showering). Allow the steam from the shower to penetrate each strand for best results. Allow 30 minutes to 2 hours on hair before showering and rinsing with a shampoo bar.

- Apply a small amount to damp hair after showering as a (Leave-In) treatment. Then detangle with a comb or your fingers. As usual, the style is impeccable.
LOVED IT
This is so so soft, it's very velvety, and it's my current favorite leave-in. It doesn't make my hair feel too heavy or clumpy when it dries, and instead gives it a soft sheen. I love that it's fragrance-free, because it doesn't clash with the scent of my other products.
KUKUI NUT, SHEA BUTTER & HIBISCUS HAIR BUTTER
KUKUI NUT, SHEA BUTTER & HIBISCUS HAIR BUTTER