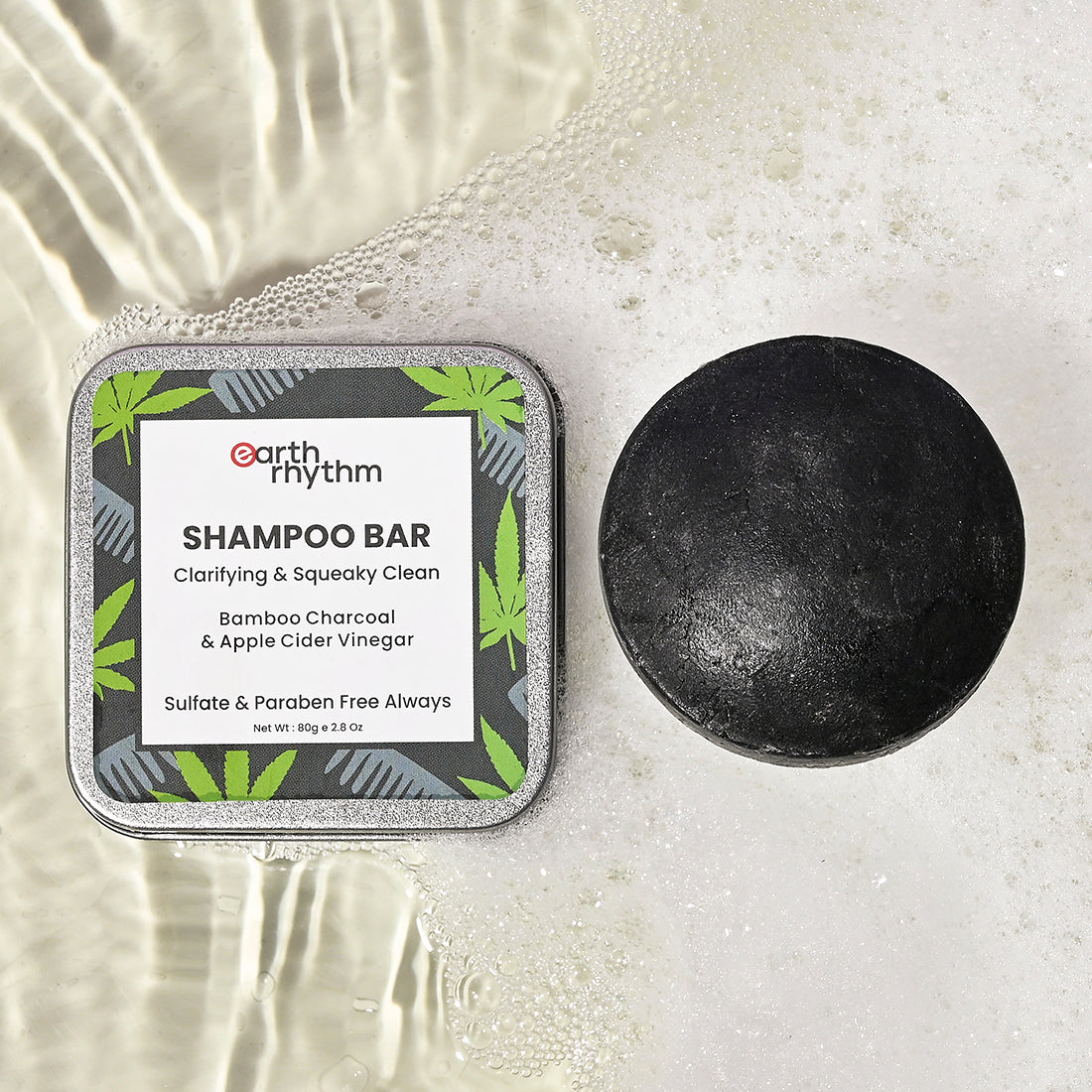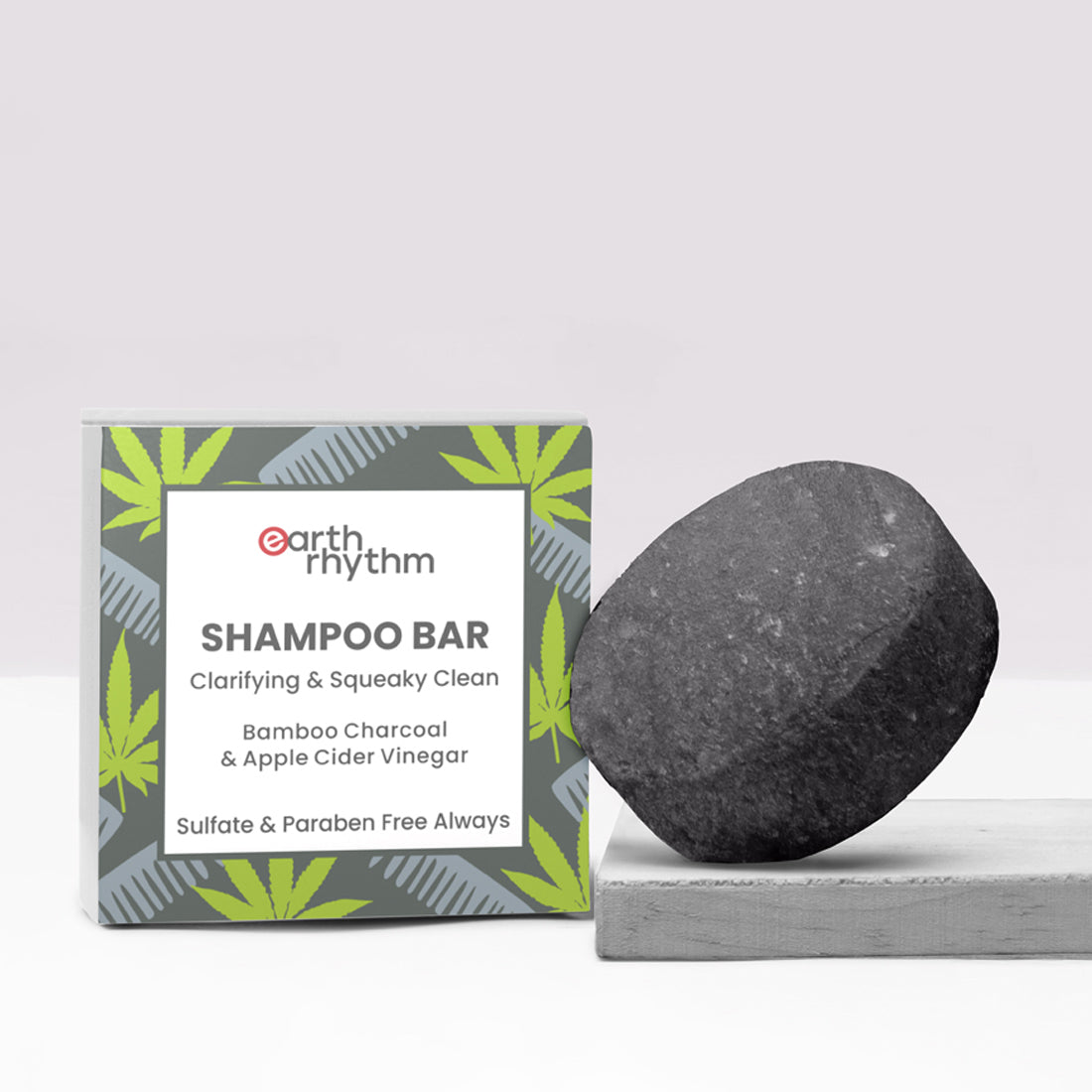 BAMBOO CHARCOAL SHAMPOO BAR
Clarify scalp + Strengthen Roots + Revitalise Hair
40% OFF
M.R.P.

Sale price

₹239.40
M.R.P.
Regular price

₹399.00
(/)
Inclusive of all taxes. Shipping calculated at checkout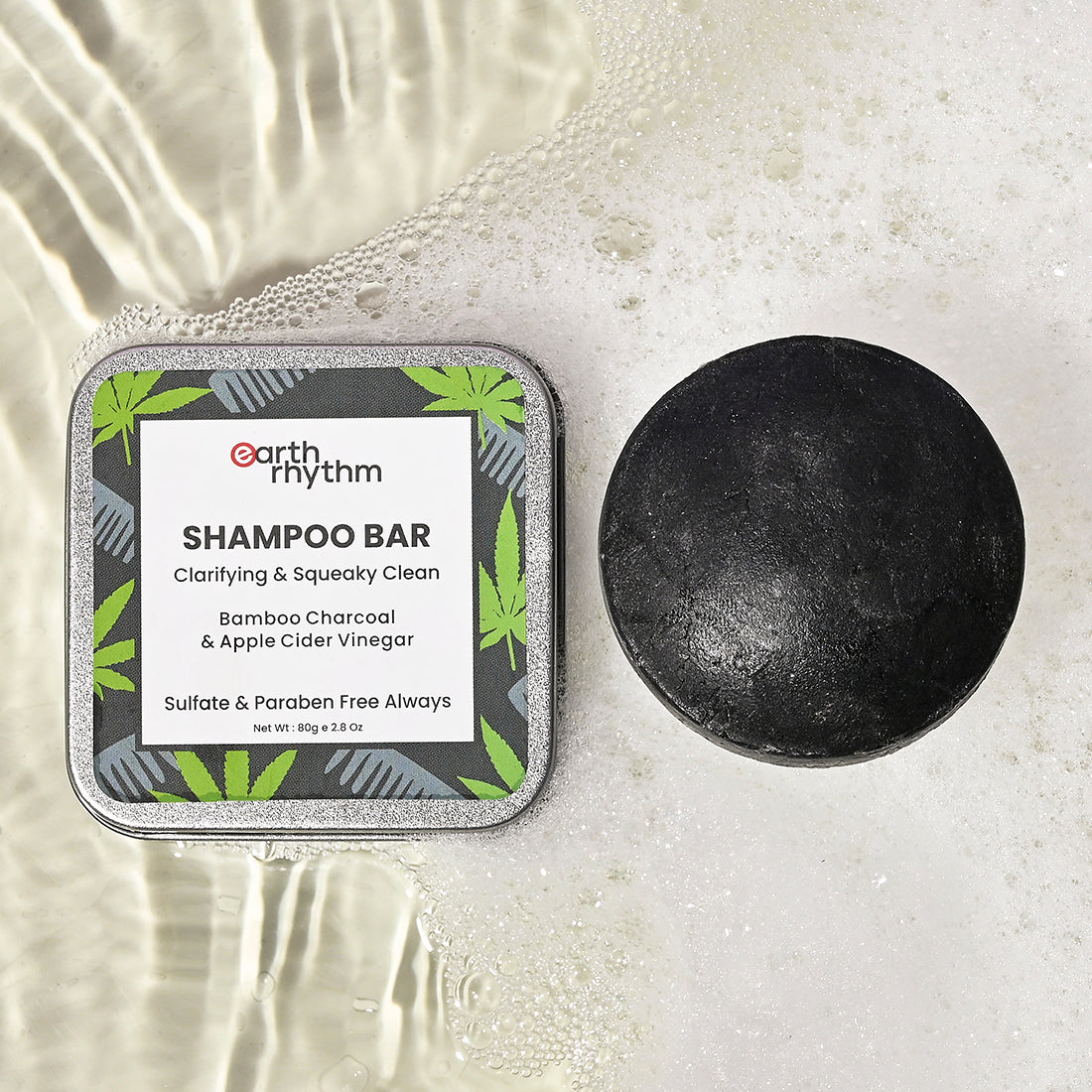 BAMBOO CHARCOAL SHAMPOO BAR
M.R.P.

Sale price

₹239.40
M.R.P.
Regular price

₹399.00
Choose options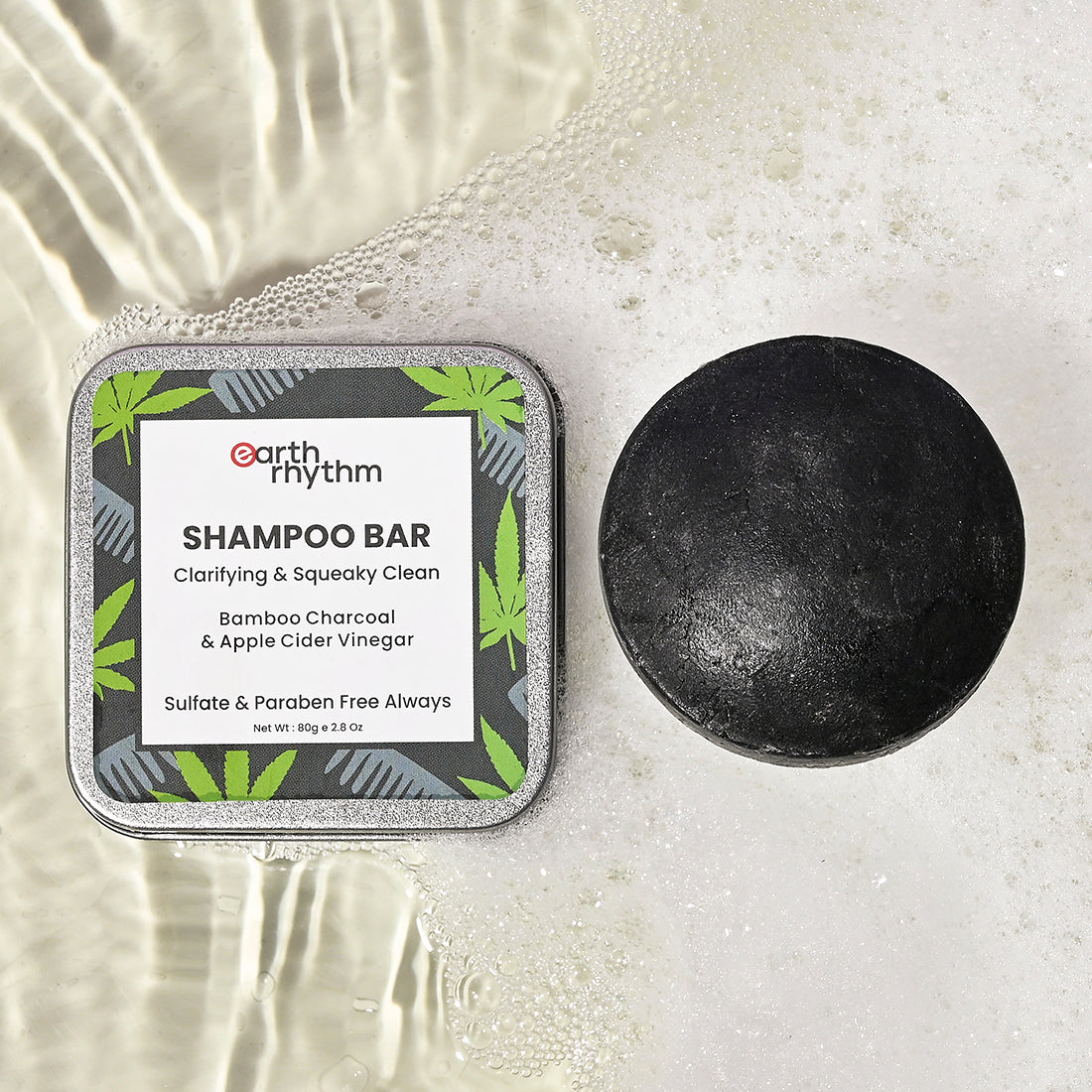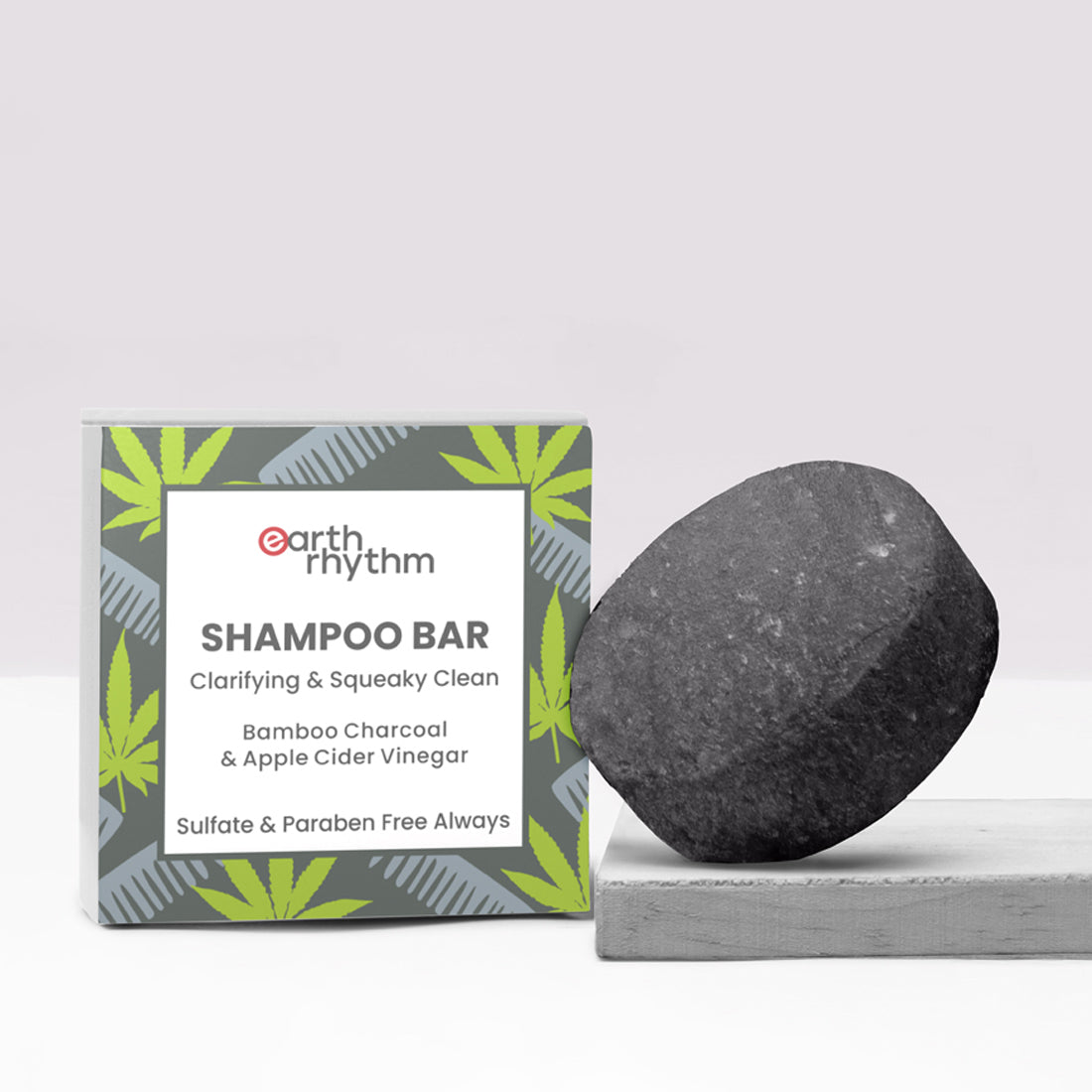 More Information

BAMBOO CHARCOAL SHAMPOO BAR FOR MEN & WOMEN

Haircare is equally important as skincare! Earth Rhythm is a skin, hair and personal care brand that brings innovative, unique products to you. Cleansing your hair from time to time is crucial to having healthy hair and scalp. Earth Rhythm presents to you— Bamboo & Charcoal Shampoo Bar. It's a solid bar containing all the goodness your hair needs. Unlike other liquid hair cleansers, this one promises more effective results, and its benefits are given below.

Bamboo & Charcoal Shampoo Bar Texture & pH Value

The Bamboo Charcoal Shampoo Bar has a solid bar-like texture. Compared to liquid shampoos, this solid shampoo bar has more contentment and lasts longer. Pure, natural, and uniquely made, the shampoo bar is fragrance-free. There's no artificial aroma added to it so it's not harmful. This solid shampoo bar has a well-balanced pH level of 5.5-6. Other shampoos may prove harsh on hair but this solid bar has cleansing power along with a perfect pH balance that maintains the gentleness of your hair.

Bamboo Charcoal Shampoo Bar Benefits:

Superb Hair Cleanser : Earth Rhythm's Bamboo & Charcoal Shampoo Bar is an all-natural cleansing solid shampoo bar for hair and scalp. Its deep cleansing power removes dirt, pollutants and gently cleans your hair and scalp without stripping away the natural protective oils. It clarifies the scalp properly. Packed with natural ingredients, this shampoo bar works effectively on all hair types. It doesn't bother the gentleness of your delicate scalp and protects it.

Nourishment Boost : Bamboo & Charcoal Shampoo Bar is infused with Hemp seed oil that is rich in several fatty acids and proteins. The 21 essential amino acids including 9 essential amino acids contained in the hemp seed oil are beneficial for skin, hair, and scalp. It provides total nourishment to your hair strands and scalp. This oil extracted from Hemp seed gives your tresses the love and wellness you require during the scorching summer and all year round. Use this shampoo bar enriched with nutrients for utmost nourishment and care.

Strengthening While Cleansing : Earth Rhythm's Bamboo & Charcoal Shampoo Bar has fundamentals chosen from nature. It contains natural bamboo charcoal that strengthens the hair follicles while cleansing away build-up, oils, and contaminants. Pollutants tend to mess up the health of hair, so bamboo charcoal is an apt ingredient that cleanses all impurities and conveys goodness to the scalp. Natural Bamboo Charcoal has natural hair strengthening properties that work cent percent in making hair follicles stronger than ever. Henceforth, choose this uniquely formed shampoo bar for treating your scalp and hair strands.

Rich Lather Rinse : The Bamboo & Charcoal Shampoo Bar has the potential to exfoliate hair and scalp deeply and thoroughly. Other shampoos contain harmful chemicals that harm your hair, but this magnificent solid and natural shampoo bar is pure. It works up a rich, fluffy lather for better exfoliation. Include this rejuvenating shampoo bar into your hair care routine and see the difference in just a few weeks.

Moisturisation With Shine : The Bamboo & Charcoal Shampoo Bar is a natural solid bar that cleans hair while preserving natural protective oils. It doesn't wash away them and protects the scalp for its betterment as it contains Aloe Vera and Coconut Oil. These natural fundamentals soothe the scalp while moisturizing hair. It brings luster and shine to every strand. Aloe vera has super healing and soothing power and coconut oil is known for its dynamic quality when it comes to deep conditioning. Both the ingredients aid in enhancing your hair and scalp health. This innovative shampoo bar moisturizes and nourishes your hair, so it feels revived and healthy with a natural shine.

Revitalizes Hair : The shampoo bar is a harmonious creation that enhances your hair treatment. It's not just a cleansing shampoo bar, but also it functions as a natural medicine to damaged hair and affected scalp. The Natural Shampoo Bar revitalizes your hair and not only rinses hair but cleanses it deeply as it provides Charcoal benefits for hair with its pure bamboo charcoal. Your hair feels clean and rejoiced.

Natural Rejuvenating Formula : The Bamboo & Charcoal Shampoo Bar has no parabens or harmful chemicals. Other shampoos contain harmful ingredients that take away the purity and natural oils of your gentle hair. Unlike these harmful products, Earth Rhythm accumulates fundamentals from mother nature. The shampoo bar consists of all-natural ingredients such as bamboo charcoal, aloe vera, coconut oil, and hemp seed oil. They make an equilibrium that maintains the natural oil balance of your hair. The unique shampoo bar cleans the scalp thoroughly while securing its natural protective oils. Thus, your hair doesn't dry up and stays moisturized and revitalized. Choose this shampoo bar to rejuvenate your hair as well as your scalp.

How To Use Shampoo Bar?

Wet your hair thoroughly with warm water.
Moisten the natural shampoo bar with water and then rub it directly through your hair from the scalp to the ends or tips of the hair.
Work up a thick lather with the pads of your fingers (Do not use your fingernails).
Rinse your hair thoroughly with water until all of the shampoo lather is removed.
Use the shampoo bar twice or thrice a week or as you desire to keep your hair and scalp healthy, strong, and shiny.

Most shampoos are liquid but Earth Rhythm has an innovative idea to produce a hair cleansing shampoo that is solid. The Bamboo & Charcoal Shampoo Bar from Earth Rhythm is a solid bar. It is uniquely formed so it has better usage. It lasts longer than liquid shampoos and it contains only pure fundamentals selected from nature.
See All Ingredients

| Ingredient | Ingredient Type | Source | Benefit |
| --- | --- | --- | --- |
| Cocos Nucifera (Coconut) Oil | Natural | Plant | Cleanse hair, |
| Behentrimonium Methosulfate (and) Cetyl Alcohol | Natural | Colza oil | Conditioning |
| Sodium PEG-7 Olive Oil Carboxylate | Synthetic | Lab Synthesized | Hair Growth |
| Guar Hydroxypropyltrimonium Chloride | Synthetic | Guar Baens | Hair conditioning |
| Sodium Cocoyl Isethionate | Natural | Coconut oil | Soap-free cleansing agent |
| Acacia Concinna Fruit Extract | Natural | Shikakai | Conditioning |
| Tamarindus Indica Fruit Extract | Natural | | Rich in anti-dandruff and anti-bacterial properties |
| Tocopheryl acetate (Vitamin E) | Natural + Synthetic | Lab Synthesized | Anti-oxidant |
| Benzyl Alcohol, Glycerin & Sorbic Acid. | Synthetic | Lab Synthesized | Preservative |
HEMP & CHARCOAL SHAMPOO BAR
Excellent shampoo bar as it cleanses the hair well and leaves your hair healthy.
HEMP & CHARCOAL SHAMPOO BAR
Most recommended
It must be said that the shampoo bar is one of the best shampoos that I have used till date. It has given my hair very good texture including the softness. The icing on the cake is that, there's no guilt of polluting our earth with another plastic bottle. I will definitely be returning for more.